OUR LADY OF HOPE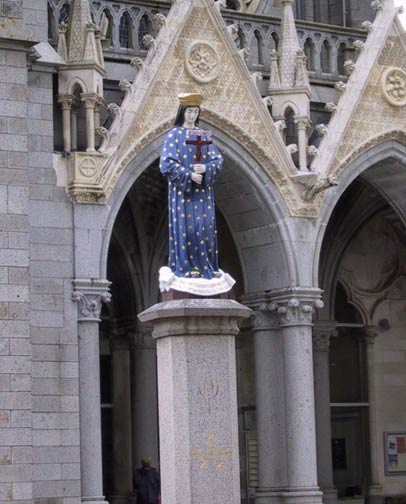 MARY COMES TO PONTMAIN, FRANCE 1871
MY SON ALLOWS HIMSELF TO BE TOUCHED
At Pontmain, France on a cold winter morning, January 17, 1871, the Virgin Mary appeared to four children above a barn of the farm of the Barbadette family. Eugene, age 12, and his brother Joseph, age 10, were the first to see her in the sky. They described a beautiful lady in a dark blue dress covered with stars. She wore a black veil with a golden crown on her head. Two little girls, Francoise Richer, age 11, and Jeanne Marie LeBosse, age 9, also saw her in the sky.
Almost all the village was there that night. It was war time and the invading Prussians were near. The village people, strong in their faith, had been praying for a miracle to save them from the enemy. A written message appeared on a large white banner which unrolled beneath the feet of Our Lady. A message was given to the people that God had heard their prayers and that He would answer their needs shortly. The single apparition lasted three hours. Within eleven days, Prussia had mysteriously withdrawn its troops. An Armistice was signed and the war was over. It was hardly a victory for France, but Pontmain and France had been spared.
Within a year, the Bishop of Laval Diocese, Bishop Wicart, authorized devtion at the site. Today a basilica is there and 200,000 pilgrims come there to pray to Our Lady of Hope. the basilica is called the Basilica of Our Lady of Hope.

BACK TO
---
---