THE HUNGER FOR GOD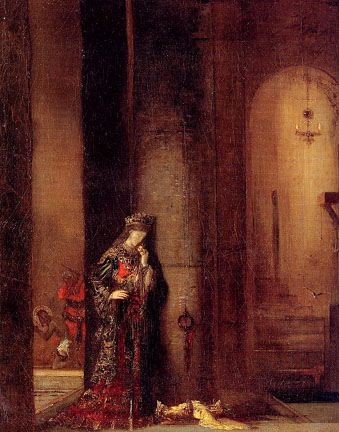 Salome in the Prison
Moreau
RASA VON WERDER ANSWERS DEVOTEE ACHIM
---
RASA, I AM AGAIN AMAZED BY YOUR INSIGHTS AND BY THE PRICE YOU PAID PERSONALLY TO BE PREPARED TO SEE GOD FACE TO FACE.
RASA: When you see what I saw, all the sufferings of life are as nothing to that. It is eternal bliss so complete, so ecstatic that you look back on your life as nothing.

There are some important issues I must bring up. One of them is the desperation that makes a person pay this price which seems great, but in the end is quite small. I believe the reason most people to not go here is because they are not desperate - not hungry enough for God. Yes, they are desperate and hungry, but they take out this need onto other things than the pursuit of God. They drown their pain and need and emptiness through the things of the world and flesh. And so, they do not reach God. You cannot hold on to people, things, flesh, world or anything on this final stretch.
I FEEL THAT YOU DID NOT WANT JUST TO HAVE SOME SPIRITUAL FEEL GOOD EXPERIENCES (ALTHOUGH YOU FINALLY EXPERIENCED SOME KIND OF ECSTASY IN GOD'S EMBRACE AND IN HIS HUGGING AND KISSING YOU) BUT YOU WERE GOING FOR THE REAL EXPERIENCE. MAYBE YOU WERE ASKING YOURSELF IF IT IS REALLY POSSIBLE TO HAVE AN ENCOUNTER WITH GOD THAT CAN TRANSFORM YOUR LIFE OR IF THERE ARE ONLY THOUGHTS AND PRACTICES THAT USE RELIGIOUS TERMINOLOGY AND SOME KIND OF TECHNIQUES BUT ULTIMATELY PEOPLE MUST STAY INSIDE THE BORDERS OF THEIR OWN SMALL MINDS, OF THE LIMITATIONS OF SPACE AND TIME AND OF THEIR OWN HAPPY OR NOT SO HAPPY HISTORY. BUT YOU WANTED TO REALLY KNOW. THAT SPEAKS TO MY HEART. YOU WERE FOLLOWING THE DIVINE VOICE IN YOUR HEART AND YOU WERE WILLING TO SURRENDER EVERYTHING WHICH INCLUDES NOT TO SURRENDER TO THE OPINION OF PEOPLE WHO THINK THEY KNOW BETTER BUT TO FIND OUT FOR YOURSELF. YOU WERE CHOOSING A WAY THAT IS TOTALLY GOD-ORIENTED AND BECAUSE OF THAT (AND NOT IN SPITE OF THAT) OPPOSED TO A NARROW MIND SET, WESTERN AND EASTERN ALIKE. THAT ALLOWS ME TO TRUST YOU AND TO REALLY DESIRE TO LEARN FROM YOU. THE EASY WAY IS POPULAR BUT SUPERFICIAL. IT DOES NOT LEAD TO TRUE ECSTACY AND DEEP LOVE AND JOY. IT DOES NOT GIVE TRUE PEACE AND YOU CAN NEVER SAY BY EXPERIENCE THAT THERE IS A GOD AND HOW "HE"/SHE IS LIKE AND WHAT GOD DESIRES US TO BE LIKE. YOU WILL NEVER BE "BORN AGAIN" (A PHRASE THAT INDICATES THAT GOD IS FEMALE AT LEAST IN SOME RESPECT)THAT WAY ALTHOUGH U MAY USE THAT PHRASE. YOU CAN ONLY REPEAT WHAT PEOPLE HAVE TOLD U.
RASA: Achim, I am trying to recall what I was feeling and thinking those days. I assure you I had no idea that such a thing was possible - nor was I striving to see God face to face! Truly, truly I tell you I was propelled by something within, the love that made me want to know God rather any experience. Simply love. Wanting to be closer to the One I loved! No other desire but to be One with God in love, nothing else. One thing I have found lacking in yoga - for all that they speak of bhakti - I don't see much on the groups. They are it seems to me obsessed with techniques. That has its place, but that cannot lead to the Absolute. Here emotion has to play a vital role. I will write my observations on the experiences later, the next installment will be in a day or two.
IT AMAZES ME HOW FAMILIAR YOU ARE WITH THE SAINTS (MUCH MORE THAN I AM, I AM A PROTESTANT), AND EVEN MORE THAT YOU WERE FINDING OUT MANY TIMES THAT U WERE EXPERIENCING THE SAME "THINGS" BEFORE READING ABOUT THEM OR KNOWING IN WHICH WAY TO DESCRIBE THEM.
RASA: I have always been fascinated by Saints and Protestant as well as Catholic and also of course other religions. I wish the Protestants would venerate and canonize their saints.
WHAT YOUR SISTER MAY HAVE THOUGHT ABOUT YOU IS THE SAME THING JESUS WAS HEARING FROM MEMBERS OF HIS FAMILY AT A TIME OF HIS LIFE WHEN IT WAS NOT YET CLEAR WHERE EVERYTHING WOULD END. ("NUTS")
RASA: You have to just move ahead with your own inner voice, leaving everyone behind even those you love, if need be!
I WOULD LIKE TO SAY MORE ABOUT WHAT U WERE SHARING BUT I HAVE TO CLOSE NOW. BUT I WILL STAY IN TOUCH.
DISCUSSIONS ON

---
---