IS GOD'S FACE A HUMAN FACE?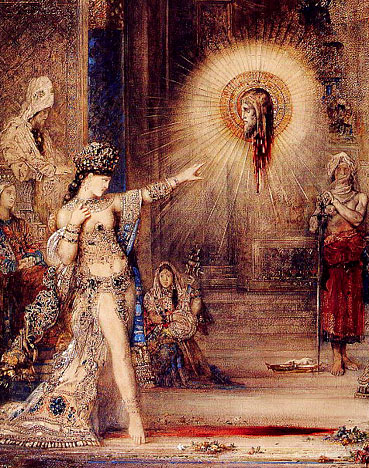 The Apparition
Moreau
RASA VON WERDER ANSWERS DEVOTEE ACHIM
---

RASA, YOU WERE SEEING NO FACE WHEN YOU SAW GOD FACE TO FACE


RASA: Dearest Achim, What is God? God can take any form! What is wrong is that we are not looking at God with 'supernatural' sight but with normal sight in our natural world. But when GOD CHANGES OUR SIGHT WE SEE THE SUPERNATURAL.

Now what is God? My Holy Trinity (and it was confirmed correct to me in a great dream... Jesus and Mary appeared to me and called me out of the restrictions and limitations of the Catholic Church. I followed them. One of the things Jesus did was He knelt before a large painting of Nature, to confirm to me the intuition I had shortly before - that God is Nature - was correct!) My Holy Trinity is God the Mother, God the Creation, and God the Holy Spirit. If there has to be a 'Trinity' this is it for me.
Now thinking further, I have always learned of the attributes of God, which are:
God is Truth
God is Beauty
God is Love.
If you see these things with SUPERNATURAL Vision you have seen God! We could go on and on with this and add other attributes of God, such as Justice, Mercy, Abundance, etc. But this will do for our purpose now. I believe all is covered by those three attributes.

YOU HAD A VERY INTENSE EXPERIENCE OF THE NATURAL ASPECTS OF THE DIVINE WORLD. THAT SEEMED A BIT STRANGE TO ME AT FIRST. CAN YOU CALL A VISION OF NATURE (ALTHOUGH EXTREMELY REAL AND INTENSE) A FACE TO FACE ENCOUNTER WITH GOD? DON'T YOU HAVE TO SEE SOME KIND OF PERSON ALSO? THEN I WAS REMINDED OF THE SOMETIMES DIFFICULT TO UNDERSTAND BIBLICAL BOOK OF JOB.
RASA: It is extremely helpful that you were aware of this item. I was not even aware of it. And you explained it well. So it confirms my Vision of God. Thank you.
JOB IS DESPERATE AND IS FINALLY CHALLENGING GOD TO GIVE HIM AN ANSWER AND TO GRANT HIM A FACE TO FACE ENCOUNTER (JOB 31,35 AND SIMILAR VERSES). JOB WANTS GOD TO SHOW HIM HOW THE "ALMIGHTY" CAN JUSTIFY AND LEGITIMATE THE PAIN AND THE GRIEF THAT JOB HAD TO GO THROUGH. AND FINALLY, AFTER HE CRIED HIS HEART OUT AND WAS DESPERATE TO HEAR FROM GOD, GOD IS ABLE TO GIVE HIM AN ANSWER AND GRANTS JOB A FACE TO FACE ENCOUNTER. GOD IS TALKING TO JOB FACE TO FACE, FRIEND TO FRIEND. AND IN THAT ENCOUNTER GOD IS SHOWING JOB ALL THE WONDERS OF CREATION. THEY ARE DESCRIBED IN DETAIL, IN CHAPTERS 38, 39 AND 40. IN CHAPTER 39
RASA: The main thing I recall is the Behemoth! Because in those days, they had some kind of dinosaur!
GOD IS SHOWING JOB SOME EXPERIENCES OF DIFFERENT ANIMAL MOTHERS, FOR EXAMPLE. JOB IS OVERWHELMED AND FINALLY FINDING OUT THAT BEFORE THAT "ONLY FROM HEARSAY HAVE I KNOWN YOU,BUT NOW MY EYES HAVE SEEN YOU". (JOB 42 VERSE 5). SO I THINK ALSO THE BIBLE SUPPORTS THE VALIDITY OF YOUR EXPERIENCE AS A TRUE GOD ENCOUNTER. I DON'T THINK THAT IS NECESSARY BUT IT'S AT LEAST INTERESTING IN MY OPINION.
If anyone has any more questions regarding seeing God face to face, please ask.
DISCUSSIONS ON

---
---