OUR LADY OF KNOCK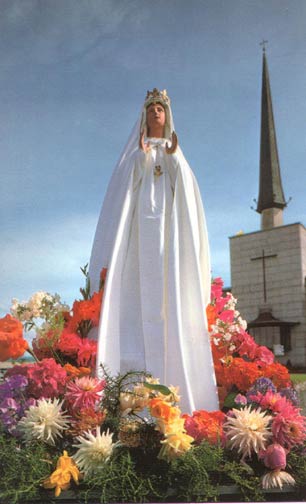 LISTEN WITH YOUR HEART, 1879
County Mayo was in the center of a region of Ireland that had suffered great distress in the 1870's. Various famines and economic dislocations produced by forced evictions had created yet another wave of Irish immigration. It was into this environment that the Lord again sent His Mother to visit with His oppressed children.
August 21st, 1879 was another rain-swept day in County Mayo. As evening arrived, Margaret Beirne, a resident of the village of Cnoc Mhuire, was sent by her brother to lock up the local church for the evening. After she had completed this task, as she was returning home she noticed a strange brightness covering the church. However, preoccupied with other thoughts, she mentioned this to no one else. At about this time, another member of the Beirne family, Mary, had just completed a visit with the church's housekeeper, Mary McLoughlin. As they were walking down the road they came to a location where they could clearly see the church and its gables, at which time Mary O'Beirne turned to her companion and said, "O look at the statues! Why didn't you tell me the priest had got new statues for the chapel?" Her companion responded that she had heard nothing about new statues but she decided to look more closely. As they approached the church, Mary Beirne remarked, "But they are not statues, they're moving. It's the Blessed Virgin."
What they and thirteen others saw in the still-bright day was a beautiful woman, clothed in white garments, wearing a large brilliant crown. Her hands were raised as if in prayer. This woman was understood by all who saw her to be Mary, the Mother of Jesus and the Queen of the Angels.
On her right stood St. Joseph, his head inclined towards her. On her left stood St. John the Evangelist, dressed as a bishop. To the left of St. John was an altar on which stood a lamb and a cross surrounded by angels. All of this was seen on the gable wall of the church in a cloud of light and lasted for about two hours. Other villagers, who were not involved with the apparition, nonetheless reported seeing a very bright light illuminating the area around where the church was located. There were subsequent reports of inexplicable healings associated with visits to the church at Knock.
The Church response to this series of events was typically circumspect. A commission was formed to gather testimonies of those claiming to see the apparition and then a record of purported cures and devotional material was maintained until 1936. At that time, the head of the diocese of Tuam, Archbishop Gilmartin, authorized the publication of a pamphlet supporting devotion to the apparition at Knock.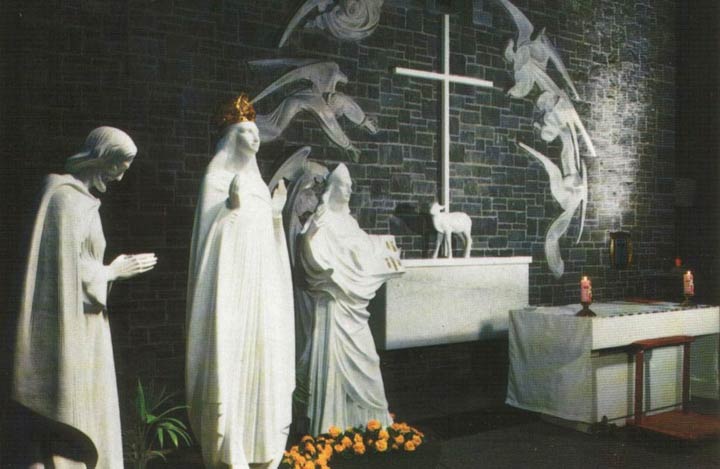 BACK TO
---
---