PASTOR'S LETTER
APRIL 12, 2005
FASTEN YOUR SEAT BELTS,
IT'S GOING TO BE A BUMPY RIDE!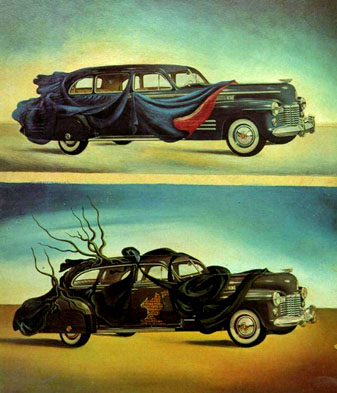 Salvador Dali
A little time has passed since the "shakeup" of the 10th of this month, and logic and sanity prevail.
A few good souls have responded - Steve, Billy, Andrew, Tom, William, (and Priestess Avril) to the tremors of the last few days. All my children, devotees, some brilliant, some articulate, some learning, all seeking - but they are with me. I know that waiting in the wings are more. I also know that many people have been reading the MotherGod site without joining as they were able to look in. Am going to have my webman change that. If I am going to dance for you, I want to see you in the audience.
INSIGHT ON THE MIRACLE
Had an insight. The miracle happened so suddenly. (Don't they always?) First, all day I was being lead to put on Holy Mary's words concerning sex, off the Woman site and onto the MotherGod yahoo site.
I was too busy to do it and the next day, did so. By mistake I sent it to the WomanThouArtGod yahoo site, and then, had to do it again for the other. When I did so the miracle occured. The picture of Mary - just as it is on my site - as well as the text - appeared exactly as the original. This does not happen, but it did. Three people that I know saw it. It appeared at different times on different computers. On mine, right away, and when I looked three hours later, it was gone. My webman - whom I called - saw it on his computer after it dissapeared from mine. Then Billy said he saw it later but I do not know what time. There may be other people out there who saw it, but didn't realize the miracle. My webman is still scratching his head trying to figure out how the technology made it happen. He asked me how I did it. I did it the same way I sent everything else - through the e-mail, where it turns into traditional type, no images. If it is a technical fluke - one that can be explained - it is a fluke that MARY CONTROLLED.
Now further insight on WHY. I realyze now that not only was She saying, "I am here...with you." But She was saying more. Listen. She said, "This message is true. Rasa channelled me, leaving a disclaimer, that her mind and interpretation and vocabulary could be at fault. But I am telling you that this is a message THAT I GAVE AND IT IS NOT FAULTY. (Steven was shaken by the force of the message, and defended me, saying I made a disclaimer that I could be at fault in interpreting the message...Steven, hear this...Mary appeared WITH the message, Her image and words in a marvelous way. She is telling us "this is Me!" (Perhaps the honor was awarded us, in part, because I put most of the apparitions of Mary, known to the world, about 31 of them, on the site, with pictures and stories. It took my webman a full week or about 30 hours to do this...This is done out of PURE LOVE AND DEVOTION, not any kind of earthly rewards.)
Now we know. She is here, She spoke through me TO YOU. OK, why? Why that particular message? When I reviewed it, my immediate thought was, "A lot of people are going to be pissed. This is pretty hard on men." But I do what I am told and now I know the reason. GOD WANTED THE SHAKEUP.
It probably sounds like "ho hum, so what's the big deal? A couple people didn't like the message and got mad and some don't like Christian channelers...so, let them say what they want."
It was a little more than that. I LIKED THIS MAN SO MUCH THAT THE THOUGHT BEGAN TO FORM IN MY MIND, 'LET US GO THERE. LET US TAKE A TRIP, CHECK IT OUT, AND MAYBE START THE CHURCH/ ASHRAM THERE...AFTER ALL, THIS FINE MAN IS DOING GREAT THINGS AND BUILDING COMMUNITY OF ALTERNATIVE LIFESTYLES AND SPIRITUALITY...WE WOULD BE A PART OF COMMUNITY INSTEAD OF GOING COLD TO L.A.'
That's why Mary/God had to POP ME IN THE HEAD.
Let's go into details then you'll see. I will name the Lady and man "Jack and Jill." The man reaches out to me in a loving way. He belongs to Jill, who is far off. I get so friendly with Jack and Jill that I communicate every day for a week. They become the focus of my life. I learn a lot from Jack as he is educated and has lived a full, rich life and is a man of accomplishment. (If he listened, he also learned lots from me.) Is this an ally? "You are not alone any more, he says." He, you might say woos and talks me into emotional bonding. Jill is also soothing, comforting and supportive in her e mails. I feel a warm glow of a mother I never had. (My mother was Hitler on wheels) Ah, the old soldier sighs, "This is family. Spiritual family. I won't find people like this very often. This man understands me. He's strong, a real mensh (he-man, dependable.) I could throw my lot in with him and his group. This could be the answer. Must think about going there."
The next thing that happens is Mary suggests I put the sex interview on the yahoo and all Hell breaks loose. Jill disagrees wholeheartedly with every word, and writes a stern letter. (I forgot to mention that Jack and Jill were my closest confidants on the group. They wrote and answered daily, giving ideas, advise and answers to letters. They took, what seemed to me, loving responsibility. We were a team!) Being confused by Jill's rebuke, I ask God what to say. Jill was abashed by the throttling of men through Our Bl. Mother. They are not all bad, says Jill! (Mary didn't say they were. Only a possible 50%) I did not want to argue with Jill - as she is a great lady, so I am told. It seemed to me that it might not be respectful, (although I will put a man in his place in a split second.) So I asked God what to say. AND GOD SAID:
"Tell her you forgot a p.s. to the message...if you live on a farm, don't let your man go to the barn alone where you keep the cows and sheep."
I doubled over with laughter. I thought it was a joke, my own mind. But God said, no, it was not a joke, it was the truth and put it as your response. Obeying God, I did. So that was the end. Jill did not answer, but immediately took herself off the group and the next day off the other group. I awakened in the morning hearing a man's voice (I am psychic) saying, "I'M GOING TO KILL YOU."
Jack compares me to the Ku Klux Klan, in his letter. This is not Matriarchy, he says. No more calls from Jack, no more e mails from Jill. The honeymoon is over. What had I done? I obeyed God. God split us apart.....WHY?
The vision that I get today is this. God says:
"YOU ARE NOT LIKE ANY OTHER GROUP. YOU CANNOT JOIN A GROUP OR COMMUNITY ALREADY FORMED OR BEING FORMED. YOU CANNOT STEP INTO SOMEONE ELSE'S AGENDA. THEY SAY YOU ARE ALLIES OR PARTNERS, SO TO SPEAK, BUT IT WILL NOT BE THAT WAY. IF YOU WENT TO HIS AGENDA, SOON YOUR VISION WOULD BE BENT (IF SUCH A THING WERE POSSIBLE) TO SUIT HIS VISION. IT MIGHT NOT BE OBLITERATED, BUT BENT, CHANGED, TURNED. THERE WAS A DANGER HERE AS YOU REALLY LIKED THIS MAN AND BELIEVED IN HIM. NOW, WHAT YOU MUST DO IS TRUST AND RELY WHOLLY ON GOD, AND TAKE ON NO PARTNERS. GOD IS YOUR RULER, YOUR DESTINY AND YOU CAN PUT NO OTHER FLAG UP BUT YOUR OWN. ONE FLAG, ONE PRESIDENT, ONE GURU, ONE DEPENDABLE SOUL, ALL UNDER ONE. YOU ARE THE ONE WHO CHANNELS GOD. LET THE OTHERS GO TO THEIR OWN GREATEST GOOD. ALL ARE LEARNING. WHERE YOU ARE GOING, NO ONE HAS GONE BEFORE. AS IN THE PAST, IT WAS ALWAYS UNIQUE. LEWIS AND CLARK WENT THROUGH THE WILDERNESS, AND SO WILL YOU. YOU WILL CHART NEW TERRITORY. IN ORDER TO DO THIS, YOU MUST BE COMPLETELY FREE. YOU CANNOT HAVE ANY SORT OF MINDS - NOT MATTER HOW INTELLIGENT, WISE OR EXPERIENCED, ADVISING YOU. THEY ARE NOT GOD. YOU LISTEN ONLY TO GOD, DO WHAT GOD SAYS, AND EVERYTHING THAT MUST HAPPEN, WILL HAPPEN. YOUR DESTINY IS NOT TO BE TRIFLED WITH."
Now, to the next question. William Bond said that some might be angered by a religious Christian, saying they are speaking to God, bringing messages from on High, but using such to exploit the innocent sheep. (My take on his words.) William, perhaps you do not believe in Bl. Mary or Christianity, but hear this. Did not the words of Mary resonate with your own beliefs? Have you not yourself decried the evils of Patriarchy? If you are anything like the great Ashley Montagu, your countryman, then you know and understand how much evil comes from male rule and domination. You understand the abuses - you wrote the books (To the don't knows he has two published books - "Make Love, Not War" and "Gospel of the Godess.") Now a message comes from Mary, saying what to do, in a practical sense, to protect children and women from such abuses. What to do with your infant in diapers, your daughter and granddaughter setting out on dates, and so on. What is it that bothers you regarding the message? Are you mad because it is Mary, or are you mad at what Mary is saying?
Now, on another note - lately I've been speaking with many that are Pagans, Wiccans and New Age. They are mad because I have Christianity in my cosmology. Shall I now apologize to them for loving Our Blessed Mother? If I am big enough to love them, and accept their beliefs, why can't they accept mine? Can't they see that God is in myriad forms? If they can see God in trees, in water and mountains, and in themselves, why can't they see God in The Blessed Virgin? And after I apologize to them, do I have to apologize to the Catholics - and the feminists - for having artistic nude images on my site? I paired many of my own photos with parrallels from Michaelangelo's Sistine Chapel. That didn't cut it. It's still "borderline pornography." No trading links here, with your degenerate art. Ditto with a Holy Mary site link. I must apologize to them for using material off their site and they ARE NOT IMPRESSED WITH MY SITE they tell me. Of course, I am not a traditional Catholic. Who in their right mind could be? But can't they see the good on the site? Why only what they perceive as bad?
Now...to other men like Jack who object to my view on men. I always say to them that I will speak the truth about evil men, and about the evils of men. This is my job! I am fighting Patriarchy. How can I fight Patriarchy without speaking of the evils of men? Those men who agree with me - whom the shoe doesn't fit, will walk with me. They will defend my thesis. If I lived in a wicked Matriarchy (if such a thing were possible) I would assist the man or woman that would want to change it. I am on the side of right, not men or women. I am of God, Who is Truth. DOES NOT PATRIARCHY ABUSE MEN?
My next thoughts:
WHAT KIND OF A WOMAN DID YOU EXPECT?
Men come to me, and then they are shocked because I break the mold. What kind of a woman did you expect? What kind of a woman would God send to fight Patriarchy, the International Government of Hell? Did you expect a wilting flower? A domme who lets you sit at her feet and masturbate, with payment following? It HAS TO BE A WOMAN OF GOD. IT HAS TO BE A WARRIOR AND A WOMAN OF ZEAL AND COURAGE. It cannot be a CEO, a latter-day feminist or Patriarchal saint. It has to be a woman who has broken all the rules, gone where she wasn't supposed to go, and did what she was told not to do. It has to be a wild woman, wild and free IN HER BODY AND IN HER MIND. Why do you get nervous when she preaches? Normal people hold their peace, bite their tongues, hide in the safety of shadows, stay with family and friends and underground culture. Not this woman. She has to stand alone, with others following. Did you expect a woman carefully stroking egos? God is no respector of persons. What did Joan of Arc do?
Did what she had to do. She won. If you expected anything else but this, it was foolish. Joan of Arc wore physical armor. My armor is spiritual and I fight with mind and words and Holy Spirit. The anointing will tell me where to go, what to say. I must be totally free. I cannot be told what to do by people of the world and the flesh. The article on "The Weapons of Women" tells what they are, on the www.womanthouartgod.com site.
That is it for now, until the next communication.
How can you help? Get my URL on as many yahoo groups as possible. I've saturated the femdom scene quite well. Have not yet reached yoga and various women's groups. Look around, get ideas, and help. Send me the groups you've joined and posted on. Recommend me to the group as Guru Rasa. That's an order!
One last quirky thing noticed: Ostara, taken apart, says "TO RASA"
Lots of Love,
Rasa Von Werder
April 12, 2005