THE PURPOSE OF LAUGHTER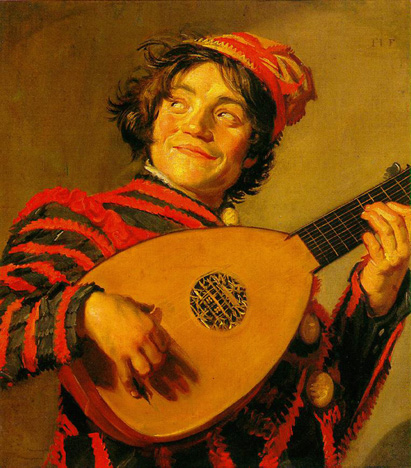 Jester with a Lute
Frans Hals
GENE POOLE, RESIDENT YAHOO ANALYSIS, & RASA DISCUSS THE PURPOSE OF LAUGHTER AND THE ROLE OF "COURT JESTER" GARY FALK

Gene Wrote:
While I appreciate your wild and far-flung humor, and its irreverence, I hope you save some time for at least a little vital relevance.
Do you support our efforts to move toward healing the unnecessary (and IMO, unnatural) rifts which have occurred here in our online world?
If I were you (which is a really stupid saying, BTW) I would not attempt to 'correct' anyone (such as the evil sculptor) whose presence and 'energy' seems to be permanently geared to causing such rifts.
In other words, as my little 'evil sculptor' ditty implies; such as 'he' are best done by their own hand, and we need not dirty our own by grabbing such tar-babies (no racial slight is implied).
RASA ADDS PERSPECTIVE:
AHA. THE PURPOSE OF GARY. YES, HE HAS A PURPOSE. GOD TOLD ME. TO CUT TENSION.
HAVE YOU NOTICED WHENEVER A SERIOUS PERSON IS GOING TO START A SERIOUS SPEECH, THEY TELL JOKES FIRST? THE LAUGHTER BREAKS THE TENSION, AND PEOPLE ARE MORE AMENABLE TO WHAT HE HAS TO SAY.
ALSO, LAUGHTER IS THE BEST MEDICINE.
DURING SOME TIMES WHEN I WAS BEING REVILED, I BROKE OUT INTO LAUGHTER WHEN IT SEEMED STRANGE AND UNNATURAL, TEACHING MYSELF TO BREAK THE TENSION. TENSION IS UNHEALTHY.
I THINK GARY IS SENT BY GOD AND HAS HIS PLACE IN THIS LILA. A BIG PLACE, IN FACT. AS IMPORTANT AS ANYONE. HE IS HILARIOUSLY FUNNY AND ALSO, KNOWS ALL THE SCRIPTURE AND SPIRITUAL TEACHINGS TO MAKE IT EVEN MORE RELEVENT AND ON FOCUS.
COULD GARY SAY SOMETHING ON TOPIC? HE DOES, IN HIS OWN WAY. HE CAN'T GIVE AN ANALYSIS OF YOUR STYLE, OR MY STYLE, OR SARLO'S TYLE. HE IS WHAT HE IS, A COMEDIAN.
I USED TO GET UPSET WHEN HE WOULD SAY DIFFERENT THINGS ON DIFFERENT GROUPS,...ON MY GROUP, BEST BUDDIES. ON SARL'S GROUP, BEST BUDDIES (WHEN WE WERE FIGHTING) AND NOW, ON A NEW GROUP, HE'S BORED WITH RASA! YET TO MY FACE, UNDYING AFFECTION. HAHAHA GARY, I GOT YOU.
GARY IS NOT ABOUT ANY SIDE AT ALL, HE IS ONLY FOR THE TRUTH OF LAUGHTER. THAT'S GOOD ENOUGH FOR ME BECAUSE I LOVE TO LAUGH!
I ALSO DO RECALL THE PAINTINGS OF 'COURT JESTERS' WHEN A SERIOUS KING WOULD BE ON THE THRONE. THE COURT JESTER WAS A CHARMING, IRREVERENT FELLOW WHO IN REAL LIFE DID MORE THAN TELL JOKES. BUT MOSTLY, HE RAISED SPIRITS BY DIVERTING MINDS TO RELAX. COULD THIS BE GARY? (TELLING JOKES TO PEOPLE WHO ARE FRIGHTENED OF SOMETHING LIKE AN OPERATION, ETC., SOMETIMES HELPS THEM FEEL A LOT BETTER!)
FOR ONE THING, IF YOU NOTICED THE 500 PICS I POSTED ON ANTI SARLO YOU WILL KNOW THEY ARE HILARIOUS. THINGS LIKE THAT KEPT ME GOING IN THE SERIOUS WORK OF ACTIVISM. SERIOUSNESS CAN BE DEADLY.
INFINITE LOVE,
RASA VON WERDER
APRIL 12, 2006