RASA & GENE DISCUSS SEX AND SPIRITUALITY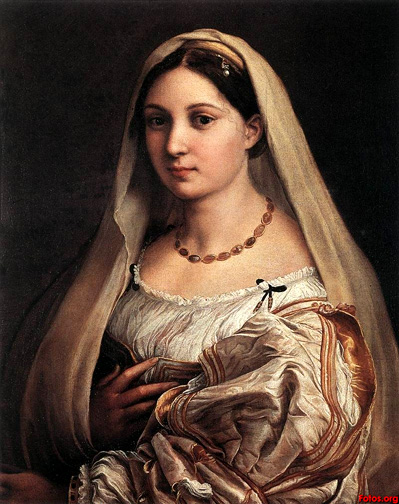 Woman with a Veil
Raffaello Sanzio

REPARTEE BETWEEN YAHOO ANALYST & RASA

'Guru' Rasa
(Gene, do you put the word in parentheses because my guruhood is in question? Like 'actress' Jayne Mansfield?),advocate for women, perseveres Despite heavy attacks and attempts to discredit her, Rasa maintains her balance,
RASA: THIS IS A GOOD POINT. MY BALANCE IS NOT SHAKEN WHEN ATTACKED,BECAUSE MY IDENTITY, MY BEING, IS IN GOD, AND GOD WORKS THROUGH MY BODY.
WHEN PEOPLE ATTACK MY BODY OR EARTHLY PERSONA, I AM NOT THERE. LIKE I SAY, 'YOU CAN'T KILL ME, I'M ALREADY DEAD.'
...and persists in her mission of empowerment of women.
Rasa is 'one of the few' who dares bring her whole Being to the task of helping women and men to confront the damages done by our contemporary culture; and she fearlessly offers that human sexuality is entirely relevant to every aspect of human nature.
RASA: THE BIG BREAK AGAINST SEX WAS DONE BY PATRIARCHY, NOT SO MUCH TO DISTURB THEIR OWN ACTIVITIES, BUT TO KEEP WOMEN IN CHECK. (WOMEN HAVE TO BE CONTROLLED FOR PATRIARCHY TO WORK.) A SMALL PORTION OF THE REPRESSION DID FALL UPON MEN - ONLY A SMALL AMOUNT.
THIS PARADIGM OF ANTI-SEXUALITY IS NOW ERODING AS MATRIARCHY RISES QUICKLY. THE OLD ANTI-SEX CONDITIONING, FROM A FOUNDATION OF 'RELIGIOUS VIRTUE' IS FALLING APART. PEOPLE ARE FEELING LESS GUILTY ABOUT SEX, ABOUT LIVING TOGETHER, AND ABOUT NUDITY. THEY ARE FINDING THE TEACHINGS AGAINST SEX, FORNICATION, MASTURBATION, TO BE, FUNDAMENTALLY IRRATIONAL. RELIGIONS ARE HAVING TROUBLE CONTROLLING WOMEN AND MEN THESE DAYS, IN THAT ARENA.
WHEN WOMEN ARE FREE, THE ENTIRE PLANET WILL BE LIBERATED. ANIMALS AND NATURE WILL BE SEEN AS GOD, JUST AS THE BELIEFS OF PAGANS AND MANY OTHERS PROMULGATE. MEN AND ANIMALS WILL BE FREE ALSO. WELL, MEN WILL NOT BE COMPLETELY FREE. THEY WILL BE 'SECOND CLASS CITIZENS.' I AM NOT IN ANY WAY NERVOUS ABOUT MAKING THIS STATEMENT, AS NOTHING CAN STOP WHAT IS COMING - NOTHING. IT IS INEVITABLE.

Sexuality cannot be removed, ignored, or censored, in our task of understanding ourselves and the terrible twists and deformations which are enforced upon us as we have lived our lives in contemporary culture.
RASA: IN MATRIARCHAL DAYS (NORMAL) SEX WAS NOT A SIN. PEOPLE WERE RELAXED ABOUT IT. THEY WERE NOT FEARFUL OF IT.
We will not succeed in healing, if we try to compartmentalize ourselves and try to sequester our sexuality away from those aspects which we are able to deal with 'comfortably'.
It is easy, convenient, and 'normal' to ignore or avoid taking our own sexuality into account, as we try to make sense of our lives. If you come to know, or at least know of Rasa, you may also come to appreciate how she embraces sexuality as a necessary and inevitable aspect of our Being.
RASA: THE REASON PEOPLE GOT SO HYSTERICAL WHEN I PREACHED AND DANCED NUDE WAS BECAUSE I WAS TO 'STAY IN MY CAGE' OF WHORE, AS OPPOSED TO MADONNA. WHEN I DID BOTH, I BROKE THE MOLD, BY BECOMING 'MADONNA AND WHORE' AT THE SAME TIME.'
THIS FLEW DIRECTLY IN THE FACE OF PATRIARCHY, AND DESTROYED AN ASSUMPTION, THAT A WOMAN IN THE SEX TRADE WAS OUTSIDE THE GRACE OF GOD; THAT SHE WAS SPIRITUALLY DEGRADED. HOW COULD SHE MAKE MEN LUST AND THEN SAVE THEIR SOULS? HOW COULD SHE BE A SINNER AND BRING MEN TO VIRTUE? THIS SEEMED LIKE A CLASH, A DICHOTOMY AND A CONTRADICTION IN TERMS. IT SEEMED IMPOSSIBLE, YET SHE WAS DOING IT.
Contrary to assumption, the human Being may be 'retrained' in regard to how sexual energy arises and is deployed. Most of us have come to assume that once sexual arousal has begun, that the course of its actions and results is writ in stone. We seldom wonder how 'others' sexual energies manifest, and what courses those energies take as they expand. And this is much of the chronic disagreement and disappointment which arise between men and women, from puberty onward into maturity.
Rasa 'goes the distance' as very few, man or woman, ever has, and she does this in service of our whole Being. In truth, sexuality and spirituality are not only intermingled in us by nature, but because each is an alias of the other, suppression of one leads to disturbance of the other. It is seen by adepts, that the two are inseparable, and if taken together, reveals the power and glory of both, as one unified expression of alive Being.
RASA: IN THE CHURCH, WOMAN THOU ART GOD, WE ALSO CREATED QUITE A STIR BY MIXING IN PROVOCATIVE AND NUDE PHOTOS, AS WELL AS TALKING ABOUT ECSTATIC MYSTICAL EXPERIENCES THAT SOUND JUST LIKE SEX. THAT WAS A NO-NO. WE HERE BROKE ANOTHER TRADITION, THAT RELIGION, A CHURCH, DO NOT TALK ABOUT SEX IN A POSITIVE WAY. NUDITY IS NOT TO BE PROMOTED, AND SEX IS NOT TO BE SPOKEN OF EXCEPT IN NEGATIVE TERMS. BUT WE MAKE THE CLAIM THAT SEX IS NOT A SIN, EXCEPT FOR RAPE AND EXPLOITATION, (WHILE AT THE SAME TIME ADMITTING THE VALUE OF CELIBACY TOWARD THE LIFE OF UNION WITH GOD.) AS IN 'STRIPPING FOR GOD', PEOPLE ONCE MORE SCRATCHED THEIR HEADS, SAID IT DIDN'T SOUND RIGHT, AND ATTACKED RASA FORCEFULLY WITH RIDICULE AND CONDEMNATION.
We ignore this truth, at our own peril. Disturbances of 'sexual ecology', such as blockades created by sexual abuse, lead to isolation, and worse. Personal/sexual boundaries which have been breached by abuse, create 'defenses' which are in fact very serious vulnerabilities which masquerade as the ability to control oneself, and as is all too common, to the assumption that we can control others.
We humans have become so boggled by our own native power, that we have long since lost track of what it is, what it means, and how to use it properly. I have found the approach used by Rasa, which seems to emanate directly from her heart, to be one of the most challenging to our social conventions which push our painful dilemmas 'under the rug', indefinitely deferred, and left to fester and infect us and individuals and as a culture.
RASA: INDEED, RASA IS BRINGING INTO THE OPEN - WITHOUT HAVING FIGURED IT ALL OUT AHEAD OF TIME - WHO SHE IS, AND WHAT SHE THINKS. IT IS JUST HER, NOT SOME ELABORATE SCHEME PLANNED OUT IN HER HEAD. SHE WAS IN THE SEX TRADE, SHE LOVED GOD, AND THIS ENTIRE EVENT, OF HER LIFE, IS A PUBLIC EXPOSITION OF SEX AND SPIRITUALITY.
HEADS ARE GOING TO WAG, BOATS ARE GOING TO ROCK, AND THIS WILL GO ON INDEFINITELY, UNTIL THE DAY THE WORLD CATCHES UP WITH HER. ON THAT DAY, NUDITY AND SEX WILL BE REGARDED AS TOTALLY NORMAL, NO GUILT OR SHAME WILL BE IMPUGNED TO IT.
RASA VON WERDER & GENE POOLE
APRIL 23, 2006