AFTERMATH OF SARLO WAR
GENE POOLE CLEANS CLOCKS OF RASA ENEMIES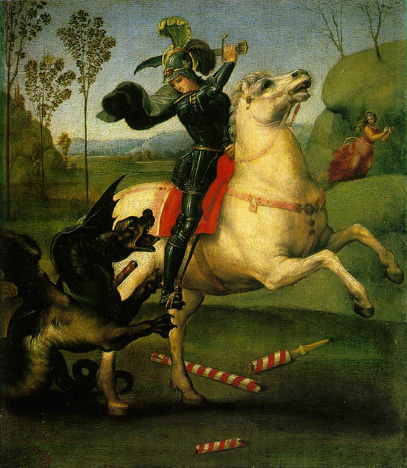 St. George Fighting the Dragon
Raphael
'Assoid', for too long you have gotten away with postings such as this;
You manage to incorporate both criticism and insult into one short, non-conversational posting.
One of the main 'insults' you deposited into this group, is the fact that you posted 4 lines, and then neglected to signify yourself as author, and worse, left all 36kb of unedited, irrelevant text trailing below.
Your method of posting is described as 'sniping'.
There is nothing wrong with criticism, and there are many formats (direct, sarcastic, hyperbolic, etc) which can convey it with some minimal degree of art, at least.
You seem to feel, like BruceM, that you can simply orbit up there in the zone of aloofness, and amuse yourself by producing such droppings.
And I am probably correct, in my assumption that you don't give a flying fuck about any conversation happening here. You seem to enjoy helping others to fail.
I am pointing out, how your persistent, disguised affronts to Rasa and others, serve only one purpose; that being, to seize and change the entire context of the 'Rasa affair' into one of sneering cynics, such as yourself, vs airheaded idealists, such as Rasa (has been presumed to be).
The contempt you generate within yourself is plain to see here and elsewhere; and I am very disappointed to see an 'otherwise intelligent' person smear their own noxious joices all over the efforts of others.
So, 'Assoid'; you are on notice. Your behaviour exceeds those whom you accuse. You are filled with contempt, and your sneer can be seen all the way across the room.
---
---


Member:
"...and assumes that men, in general, are inferior and abusive."


RASA: STATISTICS, EXPERIENCE BEAR THIS OUT. MEN ARE INFERIOR, HAVEN'T YOU HEARD. I ONLY REPEAT WHAT SCIENCE AND STATISTICS HAVE PROVEN.


Mooj:

"BWWWAAAAAAAHHHHHHHHAAAAAAA!!! give me a break!!!"
GP: Ahhh... thus enters 'the schmooze', and his oh-so-delicate sensibilities! What a TREAT we all have in store!
Mooj:
"come on folks ... WAKE UP! REALITY CHECK! PLEASE! peeps!... WHY, why, why ... do you continue to buy into this crap?"
GP: 'This crap' being, I assume, 'this crap' you are posting here?
Mooj:

"you are NOT 'helping' her. do you not get that? why not give her a break? do right by her ... stop enabling her ... stop encouraging her in this delusion. you are part of the problem, folks ... no shit. she couldn't continue this game without you.
Game? And does that make you, 'the schmooze', the 'emergency referree'?
shame on every last one of you who continues to contribute to this bullshit ... her [and btw, your] ... delusion.


come on ... get real"
GP: 'Shame', you say? SHAME? Like the TOXIC LOAD OF FECAL SHAME that serves as the SOLE CONTENTS of your bloated, deformed SKULL?
My 'sage advice' to you, 'el schmoozo', is this:
BLOW IT OUT YOUR ASS!