ALL I WANT FOR CHRISTMAS IS
THEIR FRONT TEETH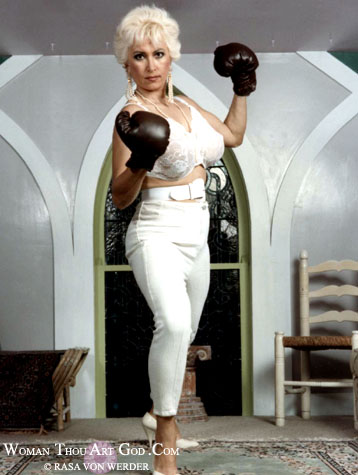 Photo © Rasa Von Werder
ORIGINALLY POSTED DECEMBER 23, 2005
AT THE BEGINNING OF THE SARLO WAR THIS ARTICLE WAS WRITTEN IN RESPONSE TO NUMEROUS INSULTS UPON THE AUTHOR BY THE PEOPLE NAMED
Who is this Sarlo who comments on Gurus? Better let Micky Mouse explain the Theory of Relativity.
And who lingers and lurks on said group? Dyed in the wool goatherds and raging transvestite creeps. To wit, BAD Goat 'iamgorakh' and jodyrrr. (Jody good name for switch hitter. Can't tell - male or female?)
These femme fatales and animals disguised as men preside over Sarlo's 'Guru Ratings.' They are the loudest, fowlest hens in the henyard. And no one is stopping them, least of all Sarlo. Robert Meiser is putting a stone in their sandals, but that's about it. No one else dares get near these guys for fear of odor and excrement.
These prima donnas of diatribe are off on a big kick. First they made short work of 'Swami G' who was too much of a lady to stoop to their level. Then they came after Saintly Amma. They hand out vice between their lips to absent gurus and holy souls. They cannot face their opponents on open ground. They cannot face facts, or their own dire selves. There are many things they cannot face nor want you to know, as these porkies have no identity. Their yahoo ID has no picture, (except an animal, not a bad idea to improve on the looks) and no info whatsoever, except, (for gorakh):
'I follow the rules as much as I want to, then I say, 'Down with the rules!'
His best number?
'666!'
He reminds me of this. I was invited, sight unseen, to a group, which later noticed had demonic roots. Name - 'Order of Chaos.' As soon as I posted, the owner asked,
'Do you get laid by your devotees a lot?'
I was just about to unsubscribe when something made me check the photo section. Going through it, I noticed a 'this is me' shot.
Understand, in my mind, this was an evil, demonic, sinister group. The names of the people indicated 'demon, darkness and Lucifer.'
Would make one shudder, just feel your hair going up. Then I saw the 'this is me' shot. A little pudgy boy of about 14, with all colors hair, looking babyish and harmless. This cherub who obviously has not grown up nor become a man, is hiding (so commonly seen) behind a gruff exterior and persona of the demonic! It is the injured, perhaps anonymous neglected child, who seeks so hard to be heard and noticed. And he can't find any other way than this.
That is how one pictures Gorakh. Short, chubby, no one wants him. Neglected, passed over, unloved and hates his own guts. Now the world owes him an answer and he is going to take it out on all of us. Case closed. Lucky (or unlucky) for him somehow the owners of some groups allow him to spew spittle and throw acid rain on the just.
Now enter Mr. jody, frilly dress and rocks in hand. Who does he want to stone? Women! Why? Because he wants to be one. Bruce Morgen, self proclaimed macho man, tries to appease him glee club style. I can see it now. Mr. Morgan tells jody to bend over. jody complies, crying,
'Oh, Brucie, Brucie, not so hard, I won't have enough strength to scream at GuruRasa'! ....as he's getting buggered he sputters,
'Oh that bitch! Such big tits! So voluptuous and womanly! And all I have is a big A---hole the size of a truck.....how can I compete with her? Can't....better destroy her with this piehole of mine....'
Brucie tells him to shut up and slaps him around a couple times. Jody stands up (like a man, sort of) cleans up and gets ready to attack Rasa again. It's gotta' be a woman. First, Swami G. Then Amma, the Hugging Saint. Call her everything - pull out the arsenal. (She's a woman, isn't she? Fair game!) Now Rasa. This is the only fun the man has in life - excrete onto gurus. The Gayer they come, the lower they Crawl! nothing better to do - except of course, Brucie. (Oh, you Brute!)
Rasa grows weary of reading their posts. Like watching delinquent kids to see whose got the dirtiest mouth, who can fart loudest and come first in the scout circle jerk. Jody, Gorakh and Brucie so far are way up front. But who cares? Are they making an impact? Are they curing cancer, saving souls? What is their stock in trade except buggering and being buggered? They are insult comedians. Not much between the ears, but oh, what fowl language the hens use. At first, it's funny. Gurus stay a day or two, maybe some weeks, and they leave. These guys are here forever!
They are lost in a time warp, stuck, in a place called,
'What the ashram did to me!'
Reminds me of the guys who never got over toilet training, forever seeking a mistress to continue the job. They mean to get approved that their excrement is important!
'Mommy, see my piss and shit coming out! Am I a good boy?!'
Pretty soon everyone tires of them and moves on. These are losers. Those who have work to do go back to it, the losers keep whining and fighting their own shadows. And the shadows have names - the latest guru who has tread into their waters. You feel sorry for these men. They have failed at everything but failure. What is left for them?
Rasa Von Werder
December 23, 2005