GURU MUST DRESS DOWN DEVOTEE
RAISON D'ÊTRE FROM RASA TO ALTON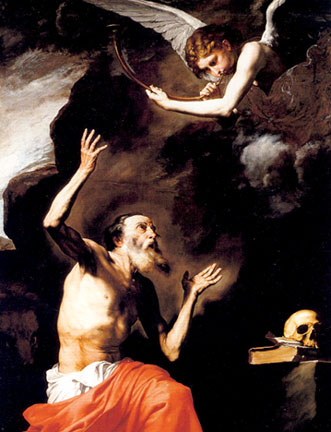 The Temptation Of Saint Anthony
Jusepe de Ribera
I offer you unconditional love and trust, I think you are perfect as you are and don't want you to make any changes to have me place you at the top of my gurus. However if you did a few things I would then hold you as my only guru.

I realize that women have been abused and many need to fight back. You seem to be the one that can motivate them to take action when necessary.

However I want my guru to turn the other cheek and not defend. "Who so ever shall smite me on the right cheek turn to him/her the other also. When thieves came to the Ramana ashram and started hitting devotees, Ramana said do that to me, not them and hit me again. He and Gandhi are my role-models for non-violence.

If you ever decide to end the Anti-Sarlo site, apologize to anyone that has been offended by you then you will be my RASA/Christ and my only guru.

Even though I was born Jewish I give my charity contributions to a Christian organization. The Friend Service Committee represents the non-violent philosophy that I worship.
I won't return to any group until I am a perfected being. Reading all those messages is a distraction from my spiritual training quest.

I know that I am not totally non-violent as of yet, but I am working on that. When I am about to finish my work on this planet I will resume a vegan diet. No-one can be non-violent if they kill other beings to survive.
Loving Rasa, her devotees & everyone.
Alton
February 10, 2006
RAISON D'ÊTRE FROM RASA


MY SON YOU HAVE FALLEN INTO A PIT. YOU HAVE A GURU AND YOU SHOULD GO TO HER.

YOU DO NOT DICTATE TO CHANGE YOUR GURU - WHOM GOD SENT.

GOD SENT ME TO YOU BECAUSE OF THE POWER THAT IS HERE. WHICH YOU NEEDED, AND STILL NEED. WHY DO I HAVE THIS POWER? BECAUSE GOD GAVE IT TO ME. DO YOU JUDGE ME AS UNFIT, IF GOD JUDGED ME FIT? DO YOU JUDGE ME AS NOT PERFECT ENOUGH FOR YOU WHEN GOD JUDGED ME PERFECT ENOUGH FOR THESE GIFTS? THEN IF I AM NOT PERFECT ENOUGH FOR YOU, WILL YOU GIVE BACK THE BETROTHAL WHICH I BROUGHT YOU TO?


HERE YOU ARE IN A PLACE WHERE YOU COULD HAVE QUICKLY GONE INTO MYSTICAL MARRIAGE, AND IT COUD HAVE BEEN IN DAYS, WEEKS, MONTHS. NOW WITHOUT ME, PERHAPS YEARS, PERHAPS NEVER BEFORE YOU DIE. I HAD A DREAM ABOUT IT YESTERDAY BUT DID NOT WRITE IT DOWN. WILL WRITE IT LATER. THEN I WILL KNOW FOR SURE IF IT WAS ABOUT YOUR MYSTICAL MARRIAGE.


I HAD A 'GURU FROM HELL' IN 1971 TO 1977. SHE WAS ABUSIVE LIKE HELL TOWARD ME AND DEMANDED A LOT OF MONEY. I GAVE IT TO HER. SHE WAS ALSO VINDICTIVE IN ACTIONS AND MEAN IN HER SPEECH, TONS OF PUT DOWNS. WAS IMMATURE AND JEALOUS. BUT SHE HAD AN ANOINTING.


I LEFT HER IN 1977 AND SHE DIED IN 1979. THE HOUR SHE DIED SHE APPEARED TO ME IN GREAT LIGHT, AND TRANSMITTED TO ME HER ANOINTING. I WAS THE ONLY ONE CAPABLE OF RECEIVING IT AND CARRYING ON WITH IT, AND I HAVE CARRIED IT. THE REASON I PUT UP WITH HER IS I SAID TO MYSELF,
'GOD ANOINTED HER, SO WHO AM I TO TELL GOD SHE IS NOT RIGHTEOUS OF ME?'


NOW YOU TELL ME WHAT I HAVE TO DO TO BE NUMBER ONE WITH YOU? YOU ARE AN INSULT IN THE FACE OF GOD. I OBEY GOD, NOT ALTON. I DID WHAT GOD TOLD ME TO DO AT GR, AND BECAUSE OF IT, MARVELOUS THINGS HAPPENED. (INCLUDING JODY BEING BROUGHT TO THE BETROTHAL.) YOU ARE STUCK IN YOUR ROUTINE THINKING AND NEED TO STRETCH OPEN YOUR MIND TO SEE ANOTHER PICTURE.


GOD IS BOTH VIOLENT AND NON VIOLENT. GOD IS ALL THINGS TO ALL PEOPLE. LOOK AT NATURE, AND SEE HOW IT WORKS. IS GOD PASSIVE? IS GOD REACTIONARY? OR IS GOD CREATIVE AND AGGRESSIVE? GOD IS BOTH. WE AS HUMANS MUST ALSO TAKE THE CALL FROM GOD WHEN TO BE WHAT.


YOU HAVE SO MUCH TO LEARN FROM ME BUT YOU ARE ACTING LIKE A SPOILED BRAT, WHO WILL PUT HIS GURU ON THE CROSS AND STRETCH HER ARMS AND LEGS TO FIT THE HOLES WHERE YOU MUST PUT THE NAILS.

I GUARANTEE YOU THIS: YOU GO OFF BY YOURSELF TO REACH PERFECTION, YOU WILL NOT REACH IT, BECAUSE YOU HAVE TURNED YOUR BACK ON THE GURU WHO GOD SENT. YOU HAVE NOW DE FACTO TURNED YOUR BACK ON GOD. YOU ARE SAYING THEY DID NOT INFLUENCE YOU BUT THEY WOUNDED YOU INSIDE LIKE THIS:
YOU WERE TOO BRAVE, FOOLHARDY AND DISOBEDIENT TO ME. NO PERMISSION, NO BLESSING, NO SANCTION, WENT OFF TO A PLACE WHERE I HAD BEEN AND WAS FINISHED. YOU WERE GOING TO PROVE YOUR LOVE.


BUT YOU WERE A MAN WHO OPENED UP YOUR COMPUTER WITH NO FIREWALL, NO VIRUS AND SPYWARE PROTECTION. YOU WERE OPEN, WITHOUT THE MANTLE OF THE GURU. YOU ARE ALSO GREEN AND WET BEHIND THE EARS, IN THIS AREA OF SPIRITUAL WARFARE. (OH YES, SPIRITUAL WARFARE IS WHAT WE DO ON EARTH EACH DAY, DEAR SON. WE DO NOT PASSIVELY WAIT FOR DEMONS TO HAVE THEIR WAY WITH US.)

AND THEN, AS YOU ENTERED AN ARENA FILLED WITH VIRUSES AND SPYWARE, YOU GOT INFECTED BADLY, AND YOU THEN TURNED AGAINST YOUR GURU. ALL THOSE WORDS, HOW WERE YOU PROTECTED? THOSE WORDS HAVE POWER, THE EVIL NEGATIVE HAD POWER OVER YOU HOWEVER YOU DENY IT, THOSE NASTY PUT DOWNS AND RIDICULE SHOOK YOUR WORLD. IT COULD ALSO BE YOUR PAST PERCEPTIONS OF THE PERFECT GURU, WHICH DOES NOT HOLD WATER.
OH, HOW YOU DESERVE A SPANKING NOW! OH, DO YOU HAVE IT COMING! THIS IS WHAT HAD TO BE SHOOK UP AND SHOWN UP THAT IS IN YOU THAT HAS TO COME OUT, BE REMOVED AND CLEANED OUT. YOU ARE NOW READY FOR CLEANSING.

IT CAN BE DONE TWO WAYS NOW. ONE THE HARD WAY, TWO THE EASY WAY. THE HARD WAY YOU GO OFF BE BY YOURSELF AND KEEP YOUR INFECTIONS INSIDE AND ALSO YOUR PAST DELUSIONS ABOUT GURUS. LET THIS WORK OUT THROUGH TORMENT AND GRIEF, AND MANY YEARS OF HUMAN TOIL.


THE EASY WAY IT IS YOU HAVE TO APOLOGISE, IN SO MANY WORDS (JUST COME TO ME IS ALL I WANT, NO FORMAL STUFF, JUST BE A HUMBLE SON AGAIN) AND THEN YOU GET MORE POWERFUL SHAKTI WHICH CLEANSES YOU FAST AND EFFECTIVELY LIKE ANTI VIRUS WARE, AND YOU ARE CLEAN AND WHITE AS SNOW, A LAMB WHO HAS HAD A GENTLE BATH WITH GOOD WARM SOAP AND GENTLE HANDS OF THE GURU CLEANSING YOU.


THE OTHER THING THAT IS IMPERATIVE INSTEAD OF ASSUMING YOUR GURU IS WRONG, ASSUME SHE IS RIGHT AND LEARN OF WHAT SHE IS DOING, WHY SHE IS DOING IT, AND THEN EVENTUALLY, FOLLOW IN HER FOOTSTEPS. DO NOT GO OUT LIKE A CHICKEN WITHOUT HEAD OR KNIGHT WITHOUT ARMOUR (PUT ON THE WHOLE ARMOUR OF GOD) TO FIGHT PREMATURE BATTLES. ADMIT YOU DID WRONG, WERE WOUNDED, AND MAKING AMENDS, QUICKLY, ALL WILL BE MADE RIGHT.


WHEN ONE GETS WITH A GURU, ONE DOES NOT TELL THE GURU WHAT TO DO. I AM HERE FOR YOU, BUT IF YOU GIVE ME LIP, FRANKLY, I WILL NOT CONTINUE THIS CHARADE. YOU MADE MY ENTIRE DAY YESTERDAY GO OFF KILTER AND FILL UP WITH GRIEF. MY DAYS ARE VALUABLE, MY TIME PRECIOUS.

NOW TODAY IS A NEW DAY. STRAIGHTEN UP AND FLY RIGHT. COME BACK WITH HUMILITY, ADMIT YOU MADE A MISTAKE AND IT WAS AN HONEST MISTAKE, NOW START LEARNING FROM ME (WE HAVE HARDLY BEGUN!) AND YOU COULD JUST BE ONE OF THE GREATEST STUDENTS I HAVE EVER HAD. AND YOU COULD DO AMAZING THINGS TO CHANGE THE WORLD IF YOU STICK WITH ME.

BUT IF YOU WANT TO STICK WITH YOUR DELUSIONS (NOT IN THE ADVAITA SENSE, IN THE SENSE OF PAST LEARNING) THEN YOU WILL GO ON YOUR OWN. YOU HAVE NO IDEA WHAT IS HERE. YOU GOT A TINY TASTE OF THE POWER THAT IS HERE -READ THE DEVOTEE PAGES AGAIN. YOU DO NOT SEE THIS HAPPENING WITH ANY OTHER GURU ON THE NET. JUST LOOK AND THE PROOF IS ALL THERE IF YOU NEED MORE AND MORE.


I WILL NOT PUT UP WITH THESE NEVER ENDING (NOW ERROL HAS FALLEN) INSULTS. WHAT DO I NEED THESE INSULTS FOR? GOD SENT ME TO EARTH TO CHANGE THE PLANET, AND IF YOU STUDIED MY WORDS AND ACCOMPLISHMENTS ON THE TWO SITES (INSTEAD OF DABBLING OVER AT GR LISTENING TO INSULTS) YOU WOULD HAVE BEEN WAY AHEAD.

NOW DO YOU WANT ME TO CONTINUE GUIDING YOU AND GIVING YOU MORE LOVE POWER, OR DO YOU WANT ME TO JUST FORGET YOU AND WRITE YOU OFF AS A WAYWARD SON WHO CANNOT BE DISCIPLINED?


AGAIN, I WILL BE HONEST. YOU HAVE INFURIATED ME WITH THIS CRAP ABOUT NONVIOLENCE. IF YOU READ THE OTHER SITE YOU WOULD KNOW THIS:

IT WAS ME WHO GAVE THE SERMON WHICH ENDED THE COLD WAR. THIS SERMON, IN FRONT OF THE WHITE HOUSE, MANIFESTED THE POWER OF OUR LADY OF FATIMA. I WILL SAY NO MORE. READ AND WEAP OVER YOUR SINS AGAINST GOD AND ME. MOURN OVER YOUR PRIDE AND ARROGANCE AND PRESUMPTION. AND I WILL FORGIVE YOU IF YOU ARE SORRY.
INFINITE LOVE,
RASA
FEBRUARY 10, 2006