FEBRUARY 15, 2005
A DAY IN THE LIFE OF PASTOR RASA
THE FAT MAN WHO BREAKS THE CHAIR &
WANTS TO EAT WITH HIS EYES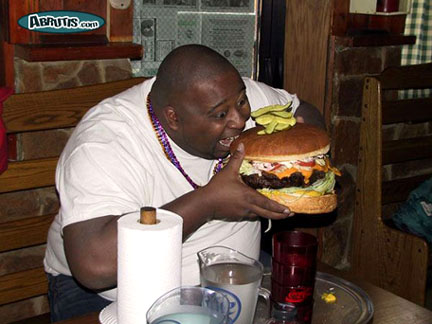 This is a day in the life of a lady minister. I go to the gym and end up in the whirlpool, saying my rosary. One of the fattest men I've ever seen comes by and looks at this sturdy-looking plastic chair next to the whirlpool, asking me,
"You think it will hold?"
I say,
"Maybe. Why don't you test it?"
He sits into the chair, a semi-reclining gray number, and we begin to talk. I ask him how much he weighs and how tall he is. He says "460" and 6'5". We discuss diets. Now I really get into it and begin to speak about the demons I got rid of - the fat demons as described in my food articles under "Creation."
He seems interested in this because he's had some experience with both demons, and as it turns out, Souls in Purgatory. His house has been not only infested, but is now haunted.
I begin to give him advice, but like most people - especially men - he wants to do most of the talking. Time and again I have to say to him,
"I have not finished what I was saying," in order to finish my thought.
Just as I get to the good part, there's an explosion. The entire chair shatters loudly and the man is on the floor. The pool attendants come running, and of course the man is fine as the chair was only inches off the floor, but he's embarrassed. They get him a metal chair and he settles in.
There is a lot I have to tell him and he asks how much I would charge for an exorcism of his house. I never had anyone ask me this and I tell him I help people at no charge, but I do all the exorcisms at home. He can't understand that. We don't get into how it could be done, but it is true that both salvation and deliverance does not have to be done ON THE SPOT. You can do anything by remote control. Most people would not be able to figure that out, but I know it because I've done it. I know that when I baptize someone not with me - they receive the grace, and when I do an exorcism for someone far off, it works. Prayer works regardless of time and space. God's world is not limited. God walks through walls.
But in the end, the man goes sour on me. He basically wanted to chit chat rather than be taught. He begins eyeing a young attendant as I am explaining an important point, and chatting with her. I just walk off, knowing that his being that rude to me, he doesn't deserve my help. And that is the end of the story.
The fat man also lied about his diet. Why do fat people lie so much about what they eat? Why don't they just own up to the fact that they are eating too much and the wrong things? To hear him, you would think he was on a 1200 calorie a day plan. What rubbish. What lies. What fools these mortals be.

Rasa Von Werder
February 15, 2005