CAN WE CHUCK THE EARTHLY
GURU & PLEASE THE INFINITE GOD?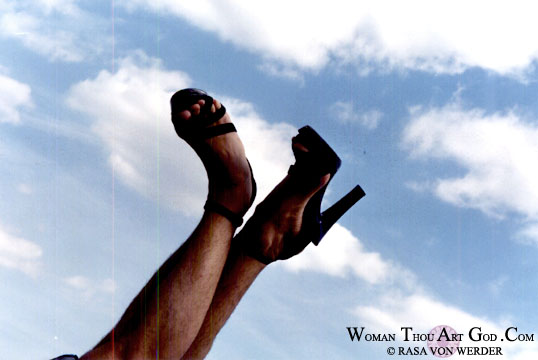 Photo © Rasa Von Werder
MIKE TROTMAN & RASA DISCUSSION
Mike responds to my article:
'TO ALL DEVOTEES ON ALL MY GROUPS'
Dearest Rasa, you're irreplaceable. I know we must frustrate the hell out of you, but none of us can move forward without you. Please be patient with us a little while longer!
RASA: YOU ARE BEING REALLY KIND AND GENEROUS TO THE MISCREANTS. THEY ARE THE SQUEAKING WHEELS THAT GET ALL THE GREASE, WHILE THE VIRTUOUS, NON LETHAL ONES WAIT IN THE SIDELINES FOR ATTENTION. YOU'RE THE GOOD GUY, SO TAKE NO BLAME FOR THIS.
Perhaps part of the problem is that so many people find you when they are already at a high state of spiritual agitation that as soon as they make contact and receive your blessing, they are more than primed to charge ahead.
RASA: THAT IS A NICE WAY OF SAYING IT. IS IT TRUE? THEY DEFINITELY HAVE TO BE READY TO RECEIVE THE SHAKTI, AND MANY HAVE.
You seem to open a relief valve in a lot of people whose souls are restless if not fevered. I think some of that neglect of the proper relationship between devotee and guru is just a runoff of excess spiritual energy.
RASA: WELL WE WILL HAVE TO DO SOMETHING ABOUT THAT AND MAKE SURE THE RELATIONSHIPS ARE PROPER FROM NOW ON. I MUST NOT DALLY WITH DELINQUENTS, BUT MOVE ON SUPER FAST BEFORE THEY HOBBLE ME.
I think as we settle down and begin the very difficult work of transformation,
RASA: THEY DO NOT UNDERSTAND THAT THEY NEED ME FOR AFTERCARE. THEY WANT THE SHAKTI AS A BIG LUMP, LIKE A WAD OF MONEY, AND THEN THEY FEEL THEY CAN HANDLE IT THEMSELVES. THAT IS LIKE GIVING IN SOME CASES, A MILLION DOLLARS TO AN 18 YEAR OLD. THEY HAVE IT, BUT WILL THEY HANDLE IT PROPERLY, SQUANDER IT, LET IT GROWN, HIDE IT UNDER A BUSHEL. ALTON HAS RECEIVED IT AND NOW HE IS SUPPOSEDLY GOING OFF TO FIND HIS PERFECTION WITHOUT ME. HE PRETENDS HE IS OFF ALONE AND LEFT ALL GROUPS, AND YET HE HAS A BUNCH OF FAKE ID'S AND IS POSTING ON THEM AND AT GURU RATINGS AS SAI, AND SAI IS THE OWNER OF EX F, NOT ALTON. SO ALTON AND SAI ARE ONE PERSON. HUMBUG STUFF, BULLCRAP. AND WRITING PERSONAL LETTERS TO ME AND A FEW OTHERS, DEMANDING I SET UP ALL KINDS OF THINGS THAT TAKE MILLIONS (WHY DOESN'T HE GO TO DONALD TRUMP) AND DEMANDING I TAKE DOWN THE SARLO SITE, AND ALL THIS OR ELSE - OR ELSE WHAT? I WILL NOT BE HIS #1 GURU (LIKE I CARE) & HE WILL TAKE ME DOWN FROM HIS GROUP (SO? GOOD RIDDANCE) THEY GET THE SHAKTI AND SWAMI G SAID TO ME

'THE UNIVERSE WILL NOW KNOCK THE WIND OUT OF THE SAILS OF THEIR ARROGANCE'

IF THEY TURN THEIR BACK ON THE GURU WHO GAVE THEM THE SHAKTI. ALL I CAN SAY TO THE ALTONS IS GOOD LUCK, YOU WILL NEED IT. TEN YEARS FROM NOW HE WILL ACHE AND CRY TO GET A GOOD GURU AND NONE WILL BE AROUND. HE WILL STILL NOT BE IN A STATE OF PERFECTION. BECAUSE HE LOST THE GREATEST CHANCE HE HAD AND FAILED!
...your love and guidance will be more valuable than ever. So please, mother, give us a little more time to try out these new legs! They'll carry us back to you.
RASA: SPEAK FOR YOURSELF. YOU NEVER WENT AWAY. THOSE THAT GO AWAY I WILL NOT WAIT AROUND, I JUST MOVE ON. THEY JUST MIGHT HAVE TO WORSHIP OR DEVOTE TO ME FROM AFAR IN THE FUTURE, AS I DOUBT I WILL HAVE TIME. THE CHURCH IS GROWING. IN THREE MONTHS WE GOT 30 DEVOTEES. NOW IN A YEAR WILL BE 120 OR MORE. GRANTED, THEY WILL NOT ALL BE ACTIVE, BUT THERE WILL BE MORE WHO ARE ACTIVE, EVEN NOW, I CAN NO LONGER KEEP UP WITH INTERPRETING THE IMPORTANT DREAMS. AND SO, I MUST CONNCENTRATE ON THE DICTIONARY SO THEY CAN DO SOME OF THE WORK THEMSELVES.
I wonder if it would help if devotees had assignments or practices they were responsible for.
RASA: ARE YOU KIDDING? I HAVE ASKED A DOZEN OF THEM TO POST MY ARTICLES ON MANY GROUPS, WITH THE SITE URL ON TOP AND A GROUP URL AT BOTTOM. SO FAR ONLY MAUREEN HAS DONE SO ON HER PAGAN GROUPS. SHE IS THE ONLY ONE WHO OBEYED, TAKEN AT HER WORD. I HAVE NOT SEEN HER GROUPS AND WILL ASK HER FOR THE LINKS TO THEM, AT LEAST A SAMPLE REPRESENTATION. A DOZEN DEVOTEES TURNED ME DOWN, INCLUDING THE LASTEST, KUNKIN, WHOM I HAVE GRACED WITH PROFOUND ECSTATIC EXPERIENCES. THEY ALL HAVE EXCUSES. HOW CAN THEY MAKE PROGRESS WHEN THEY ARE NOT OBEDIENT? THE ANSWER: THEY CANNOT. THEY WILL STOP THE FLOW OF THE SHAKTI POWER BY BEING DISOBEDIENT TO ME. SOME ARE MERELY DISOBEDIENT, OTHERS, LIKE SHARON AND ALTON, ATTACK, AND INSULT, AND DO HARM TO ME. IT IS UNBELIEVABLE. I GIVE LOVE AND POWER TO PEOPLE, AND THEY REWARD ME WITH THIS.
At least one day per week or month (God knows your time isn't infinite even if your love is!) could be restricted to the devotees demonstrating to you that they've done their work. You might pose a question to all of us, or tailored to our individual level of development, and we have to sit with the question, try our best to answer, and then come back to you with our answers and with ONE question for you based on what you had us think about. For example, you might ask some of us to reach a moment of real presence in our relationships and then explain how your teachings are reflected in what is abundant or lacking in these relationships. We can then come back and ask you, as our beloved guru, how do we access the higher power that could carry us past our sticking point or cement us at a point of joy and fulfillment and true love if we're blessed enough to have it in our relationships.
RASA: THAT SOUNDS COMPLICATED TO MY WAY OF THINKING. ALL I WANT IS THE DEVOTEES TO READ MY ARTICLES, ASK QUESTIONS ABOUT THE ARTICLES AND ABOUT GOD. IS THAT TOO MUCH TO ASK? ANYTHING ELSE YOU WANT TO DO, DO IT AND LET ME KNOW HOW IT WENT. IT SOUNDS LIKE ANOTHER DEVOTEE (FORGIVE ME).

TELLING ME WHAT TO DO, HOW TO DO IT. REMINDS ME OF THE SCRIPTS GUYS GAVE ME IN FEMALE DOMINATION, INVOLVED, COMPLICATED SCRIPTS OF WHAT THEY WANTED. AND I HAD TO FOLLOW. I AM THEIR SERVANT. YES, OF COURSE, I AM STILL YOUR SERVANT. BUT AM I NOT THE AUTHORITY HERE?
FROM WHAT I HAVE READ IN THE ASHRAMS IN INDIA THERE IS MUCH RESPECT FOR THE GURU. HERE THEY ARE MOSTLY LOOKING AT ME AS SOMEONE TO USE. I HAVE NEVER BEEN IN INDIA BUT I KNOW THEY BRING PRASAD. PIECES OF CLOTH, FOOD, MONEY, PERFUME, FLOWERS. THEY BRING ME ONLY FLOWERY LETTERS.

THEY ARE JUST LIKE GUYS WHO WANT TO GET LAID, AND FLATTER YOU TILL THEY GET IN YOUR PANTS. AFTER IT'S OVER THEY CAN'T WAIT TO GET AWAY AND EVEN CALL YOU A WHORE. THIS IS WHAT THEY ARE DOING TO ME IN A SPIRITUAL VENUE. GO TO HER, GET THE SHAKTI POWER. THEN RUN AWAY, DENIGRATE WHAT HAPPENED AND HER. THIS IS EXACTLY WHAT IS HAPPENING BY BOTH THE MEN AND THE WOMEN. NO WONDER OTHER PEOPLE MAKE THEM ALL PAY IN ADVANCE. GET THE MONEY FROM THESE FRUITCAKES, AT LEAST YOU HAVE SOMETHING TO SHOW FOR YOUR EFFORTS. I GIVE IT TO THEM FOR FREE, AND I AM TO BE USED. I HAVE NOTHING BUT GRIEF FROM TOO MANY DEVOTEES.
For myself, I would want to know how I might access the feminine power to connect and draw strength from connection.
RASA: WHAT IS KNOWN AS FEMININE IS NOTHING MORE, NOTHING LESS, THAN THE HOLY SPIRIT. EACH RELIGION IS REPLETE WITH THE SAME 'OLE INSTRUCTIONS. HUMILITY, PURITY OF HEART, OBEDIENCE, A CLEAN CONSCIENCE, ALL ACCESSES THE FEMININE DIVINE OR THE SHAKTI/HOLY SPIRIT. THE OPPOSITE TURNS IT AWAY. THESE DEVOTEES, LIKE ALTON, WHO HAVE RECEIVED IT AND THEN BECOME ARROGANT ARE PUSHING AWAY ALL THE POWER THAT WOULD CONTINUE COMING TO THEM, AND ALSO SQUANDERING OR ABUSING WHAT THEY ALREADY HAVE. THEY HAVE REALLY GONE ON A BAD PATH. IT WILL HURT THEM MUCH, AS THOSE WHO RECEIVED MUCH HAVE MORE TO BE ACCOUNTED FOR.
Can I access it directly, or would I always be limited by maleness to draw it indirectly from the women in my life?
RASA: THE FEMININE DIVINE IS SPIRITUALITY, HOLINESS AND SHAKTI. IF YOU ARE VIRTUOUS YOU WILL RECEIVE IT. WOMEN USUALLY HAVE MORE BECAUSE THEY ARE MORE VIRTUOUS. BY BEING A GOOD PERSON YOU RECEIVE MORE OF GOD, IT IS SIMPLE.
And if I cannot enter mystical marriage, what is the best I could hope for?
RASA: YOU CAN ENTER MYSTICAL MARRIAGE. MAUREEN, JUANA, KUNKIN(DALLA), KATHLEEN AND OTHERS HAVE ENTERED IT WITH MY HELP. WHY CAN'T YOU? PUT NO LIMITATIONS ON YOURSELF! JUST SAY 'TO THE TOP'. HOW TO BECOME A SAINT: WILL IT.

I am content to learn; is it honorable just to be a student?
RASA: WE ARE ALL STUDENTS. ALL LEARNING. IT NEVER STOPS. I HAVE A GURU ALSO, SWAMI G. NOTHING TO BE ASHAMED OF, EVEN GURUS HAVE GURUS, AND THAT IS PROPER. I CONTINUE TO LEARN FROM HER, ANOTHER VERSION OF SEEING GOD, HER WAY. IT IS DIFFERENT THAN MINE. SHE ALSO HAS MUCH EXPERIENCE AS A GURU RUNNING AN INTERNET AND EVEN A PHYSICAL ASHRAM, I HAVE NOT. IN ALL WAYS, I BOW TO HER. I HAVE HAD GURUS SINCE THE AGE OF 26, ONLY TWO LIVING THOUGH. THE LIVING ARE THE MOST DIFFICULT AND PERHAPS THE MOST VALUABLE TO HAVE. MOST PEOPLE DO NOT WANT TO DO THIS BECAUSE IT IS DIFFICULT, AND IT IS EASIER TO SAY JESUS, RAMAKRISHNA, MUKTANANDA AND NITYANANDA ARE MY GURUS. ONE GUY SAID TO ME A DOZEN TIMES HE WAS MY DEVOTEE. AND SOMEONE ON A GROUP ASKED HIM WHO HIS GURU WAS. HE SAID,
'INFINITY.'
THEN I SAID TO HIM,
'THEN GO TO INFINITY.'
SO EASY TO IMAGINE THAT GREAT GURU IN THE SKY, SO DIFFICULT TO SERVE THAT ONE ON THE GROUND. CAN EVERYONE SEE THAT? NOW THERE IS A QUESTION I WOULD LIKE YOU ALL TO ANSWER. WHY IS THE GURU FAR AWAY, THAT YOU HAVE NO PHYSICAL RELATIONSHIP WITH, SO EASY TO LOVE AND SERVE? AND WHY IS THE ONE OVER HERE, IN PERSON, SO HARD TO ACCEPT AND OBEY? THERE IS THE QUESTION FOR ALL, I WELCOME YOUR ANSWERS.
Just thinking out loud here. Perhaps the other devotees, who are much more intensely connected to you, could help!
RASA: THERE ARE QUITE A FEW RIGHT NOW WHO ARE INTENSELY CONNECTED TO ME BUT BASICALLY I AM THEIR 'SHAKTI COW.' TIME TO MILK THE COW AND DRINK IT. COME BACK TOMMOROW FOR MORE MILK.
In any event, please know, Rasa, how fiercely our hearts ache for you, even though we've still got a heck of a way to go toward serving you properly.
RASA: ONLY GOD KNOWS WHAT HAS TO HAPPEN AND WHAT WILL HAPPEN. I AWAIT GOD'S PLEASURE. ALL GLORY TO GOD AND TO SWAMI G!
Best always,
Mike
February 23, 2006
DISCUSSIONS ON