PASTOR LETTER TO SEEKERS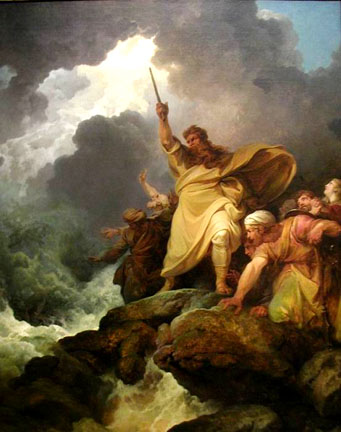 The Destruction of Pharaoh's Army
Philip James De Loutherbourg
AGAIN, I MUST STATE EMPHATICALLY THAT WHAT I AM DOING HERE - ALL THE MIRACLES AND THE HEALINGS, ENLIGHTENMENTS, VISIONS, MOVING HIGHER INTO CONSCIOUSNESS MUST BE EXPRESSED PUBLICLY IN ORDER TO BUILD THE CHURCH.
YOUR ONE SENTENCE BITS AND PIECES DO NOT ASSIST THE CHURCH OR INSPIRE ANYONE AS NO ONE HAS ANY IDEA OF WHAT YOU ARE TALKING ABOUT. SO HOW CAN IT HELP?

IF YOU LOOK ON THE DREAM VISION EXPLANATIONS ON THE DEVOTEE AND DREAM PAGE YOU'LL SEE WHAT IS NEEDED.

AS FAR AS MY KNOWING I ONLY KNOW MY OWN DREAMS AND VISIONS. I HAVE APPEARED TO SOME IN BILOCATION, TOTALLY SOLID, AND YET HAD NO IDEA OF WHAT I HAD DONE. IT IS MOSTLY THE UNCONSCIOUS, POWER WITHIN ME, THAT IS MANIFESTING. IT IS NOT MY CONSCIOUS FLESH, SO HOW COULD I KNOW?

AS FAR AS PRIVATE, THE INTERNET IS PRIVATE, TOTALLY PRIVATE. HOW MUCH MORE PRIVATE CAN YOU GET? ANYONE CAN MAKE UP A FAKE NAME.

IF YOU DON'T WANT TO SEND STUFF TO ME UNDER THIS NAME THEN I CAN SIMPLY REMOVE YOUR NAME, GIVE YOU A NEW NAME, AND THEN POST IT AND PUT IT ON MY SITE IF IT HAS VALUE.

DO YOU CONSIDER YOURSELF A DEVOTEE OR BELIEVER ONLY? DEVOTEE IS ONE WHO IS COMMITTED TO ME PERSONALLY. BELIEVER IS IN GENERAL.

AS FAR AS ME OR WHO I AM SHOWING FORTH - GOD AND I ARE ONE. THERE IS NO SEPARATION BETWEEN GOD AND MYSELF, ALTHOUGH MY CONSCIOUS MIND DOES NOT SEE IT EXCEPT WHEN I AM IN DEEP SAMADHI (TRANCE) AND SO THAT WHICH I MANIFEST OR SEND OUT IS ALSO ME. WHEN THE POWERFUL GOD ANOINING GOES TO PEOPLE THROUGH ME, IT IS ALSO ME. IT IS THE GOD/ME......NO SEPARATION, NO DIFFERENCE, LIKE I SAID. MY SPIRITUAL DNA GOES WITH THE GOD/ME, AND HAS MY IDENTITY AND SIGNATURE WITH IT. IT IS BOTH GOD AND ME.

NOW DO WE PROCEED INTELLIGENTLY OR DO I END THIS? I DO NOT HAVE TIME FOR THESE DIALOGUES LEADING TO NOTHING.

AS FAR AS PERSONAL MEETINGS THAT IS NOT TO BE PUSHED. WHAT IS MOST IMPORTANT IS THE SPIRITUAL POWER THAT I HAVE WHICH I CAN TRANSMIT TO OTHERS AND MY FLESH IS NOT THE POWER. MEETING MY FLESH IS NOT THE MAIN ISSUE HERE. AND CERTAINLY SHOULD NOT BE SOMETHING TAKEN FOR GRANTED OR EXPECTED. I AM LEADING A LIFE OF SERVICE FOR ALL, AND TO INCONVENIENCE ME OR PUT ME OUT OF MY WAY BY YEARNING FOR PERSONAL MEETINGS COULD DERAIL MY WORK AND SCHEDULE.

INFINITE LOVE,
RASA
FEBRUARY 28, 2006
DISCUSSIONS ON