WHAT HAPPENS WHEN GOD
GOES TO WAR?
Photo(s) © Rasa Von Werder & St. Michael
the Archangel Slaying the Dragon
LET GOD ARISE!
This will be written in broad brushstrokes because there is much to say and I want to move through it like Sherman through the South.
Let God arise! Where does God arise and what happens when God rises? What does it mean to rise?
It's kind of like Kundalini. It sits there, at its base and does not do much. UNTIL IT IS AWAKENED.
But God is Everywhere, and Everything is God. OK yogi, but let me be Christian for now. Let me talk my lingo and you listen.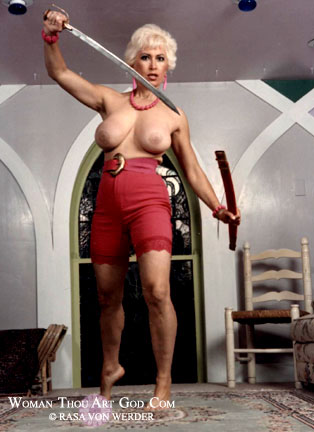 On the earth plane, we have what is called the normal life, not the supernatural life. But now and again, things get spiritually hot. There are appearances, say, of Our Blessed Mother. She appears somewhere and it is a HOTBED of spirituality. People flock, She talks and people see Her, and all kinds of things happen. Miracles happen, healings, visions, people get saved. This is a hotbed, a center, of the Presence of God.
From this one center, this Link, the power of God spreads or emanates, and this power, energy, Holy Spirit and Shakti, does its work.
Now you say, what has this 'war' to do with Our Holy Mother? She came to bring Peace, not war, so what are you saying here? Not so fast, Mother Mary also protected Her children, and when She had to, She killed. She killed King Herod, for example, according to the visions of Anne Catherine Emmerich, (one of the two greatest visionaries who ever lived.) So whether it is saving souls or killing demons - the power of God is made manifest.
Now I have read numerous cases of faith healers and saints who employed their God power to take care of business. Not always such pleasant stuff but sometimes God had to lay a heavy hand upon someone. One funny example. Maria Woodworth Etter was preaching in a roughneck town and one hick kept razzing her. He needled her daily and would not stop. One day she pointed her finger at him directly, and said,
'God will judge you!'
Instantly his tongue swelled up into a banana and he ran out of the tent screaming. He visited doctors to no avail. No one could cure him. After days of not being able to eat, with difficulty drinking, he came back to her, but would not bend the knee and receive God. And so, she did not cure him. Finally, when it got to a point he was frantic he returned and received God. She slapped him hard, the banana went down.
Those magic words,
'God will judge you'
were put on many a God basher, and disaster came upon them.
I do not have to tell you how many times God visited folks in the Bible, especially the old Testament. There was the Flood, Sodom and Gomorrah doused with fire and brimstone, Moses doing all sorts of tricks on Egyptians and even Jews, prophets burning up the other priests - all sorts of shenanigans, all done by the name and power of God.
John Hagee comes to mind, of present day fame. There is one man I wouldn't want to mess with. Many stories, I will tell one.
Parents came to John Hagee for help. Their son was mixed up with drug dealers, but had seen the light and wanted to change. But they wouldn't let him. They told him they would kill him if he quit. The parent shed tears, begging for help.
John Hagee told them,
'You make a supper. A great supper, where you invite all six of the drug dealers to your house. And then you do this.......'
All six came for the supper. It was great. Now at the end of the meal, the Dad said to them, according to the instructions of John Hagee,
'Now my son is going to quit. And you leave him alone. If you do not, I will turn the WRATH OF GOD upon you!'
They laughed, and left the house. Within six months, ALL OF THEM WERE DEAD.
Another John Hagee story - totally true - heard it from Roberts Liardon. John Hagee comes to work in a city. There are three famous young preachers there - hot stuff, popular, smart, guys. They all denounce and ridicule John Hagee. Some time passes and what happens to the three heroes?
They all became homeless bums on the street. So help me God. Some ministers saw one of them with his bags, going to hang out under a bridge. They offered him help to get him back on his feet. He refused, and moved away. He had to be where he was. What happened? It was the anointing. What is an anointing?
An anointing is the Gift or Link a person has with God, which renders them able to do God's work. God gives gifts to each according to the needs of his/her ministry. And also, of course, according to what the minister earned by way of serving God. There is a great variety of gifts and anointings, so many I would not want to get started here. To put it in a short way, God ENABLES the person to do what has to be done, and the link is ALWAYS there, even if the person was no longer faithful to the calling. (God NEVER repents a gift!)
Example of a gift 'squandered' but unrepented of God. Samson is not faithful to God. He raises hell and does not obey his holy calling. He does more whoring and drinking than fighting for his people.
They finally capture him and even blind him. But there, between the columns of the great temple, Samson calls upon his anointing the last time, and the temple comes crashing down, killing all.
Now I will channel Mother God who will help me explain from another perspective, what happens when God 'goes to war.'
Rasa: Mother, explain to me what happens when an instrument of God is attacked, there is severe conflict, and the attackers will not quit. I call it a time of war. I warned them to stop, but they did not. I now feel it is not in my hands any more, that it has been transferred to God and the anointing has taken over. Will you explain this?
MOTHER: YES, MY DEAR DAUGHTER..... FIRST OF ALL, THOSE WHO ARE ATTACKING YOU - IT IS FOR A REASON. I WILL NOT EXPLAIN ALL OF IT NOW, BUT YOU WILL SEE AT THE END THE WISDOM OF GOD'S WAYS. MUCH GOOD WILL COME OUT OF IT.
YOU WILL PROVE YOURSELF AS A GURU. THESE MADMEN HAVE CHALLENGED YOU, NOT ONLY INSULTING YOU AS A WOMAN AND IN OTHER WAYS, BUT SAYING YOU ARE NOT A GURU. YOU WARNED THEM, THEY WOLD NOT STOP.
IT IS SIMILAR TO THE TIME WHEN MOSES WENT TO PHARAOH, AND SAID,
'LET MY PEOPLE GO.'
PHARAOH DID NOT LOOK UPON MOSES AS HAVING ANY CREDIBILITY AND HE LOOKED DOWN ON HIM. AFTER ALL, HUMAN REASON SAID THAT POWER WAS ON THE SIDE OF PHARAOH, NOT MOSES. MOSES WAS JUST A HEBREW (A DOWNTRODDEN RACE, THEY WORKED FOR THE EGYPTIANS), NOT A KING, AND HE STUTTERED. HE WAS POOR, HE DID NOT HAVE THE DIGNITY OR PRESTIGE OF PHARAOH. SO BASICALLY, HE WAS LAUGHED AT.
SO GOD STARTED SENDING PLAGUES, BECAUSE GOD HAD ANOINTED MOSES.
NOW ONE PLAGUE, NO RESPECT. TWO PLAGUES, NOT YET, THREE PLAGUES, NO. PLAGUE AFTER PLAGUE, MOSES PROVES THE POWER OF HIS GOD.
BUT IN THE BIBLE, IT SAYS THAT GOD MADE PHARAOH HARDEN HIS HEART.

THERE WAS A REASON WHY PHARAOH DID NOT GIVE IN AND IT WAS BECAUSE GOD WANTED TO PROVE SOMETHING, AND MOSES HAD TO DEMONSTRATE HIS ANOINTING; PROVE HIMSELF AS LEADER, CAPABLE OF TAKING GOD'S PEOPLE TO THE PROMISED LAND.
FINALLY, THE LAST PLAGUE. PHARAOHS SON IS DEAD, AND HE SAYS OF MOSES,
'HIS GOD - IS GOD.'
PHARAOH GIVES IN. THEY LEAVE. PHARAOH CHANGES HIS MIND AND CHASES MOSES. MORE DISASTER FOR PHARAOH.
Rasa: Yes, I understand, MotherGod, but what happens now? We will not have any physical altercations. This will be all in the spirit.
MOTHERGOD: WHEN YOU WERE DRIVING TODAY I PUT THE IDEAS IN YOUR MIND OF WHAT IS GOING TO HAPPEN. JUST WRITE IT DOWN AND YOU WILL HAVE YOUR ANSWER.
God's Presence Warms the Holy Soul but Burns the Wicked.
When a person dies, they go to the immediate judgment, where they see God for one instant kind of face to face. At that time God shows them their entire life and what they have earned. For the soul who has been righteous in the eyes of God and who has suffered and paid God for all their sins, when death arrives they see relief. They see joy. Their sufferings are finally over, and now, they will be happy with God forever. God is the most ecstatic vision possible, God is the greatest lover who ever lived.
(Now of course, there are those who are not so perfect, and at the time of death when they see God for a moment, they realize they are not clean enough, and cannot enter heaven permanently until all sins are paid for. They gladly enter purgatory, eager to be cleansed. They eagerly await the bliss that God will give them in Her mercy.)
Now take the third type of person. The person who has never opened their heart to God, never received God and therefore is spiritually dead. They lived for the flesh and the world - maybe for the devil too. This person now faces God and God is a frightening sight. Suddenly they are judged, they are convicted. They see God and they see a reflection of the Truth in their souls. They see how evil they were, totally and completely against God. They see how they ignored grace, ignored what was important, meaningful and eternal for the here and now. God reached out to them many times in mercy and love, but they refused the initiative. They hate what they see. God is so frightening, their own soul so ugly, that they do not want to see one more moment of of this, and they want to get away from God, as far as possible. God actually gives them such intense pain, that they would like to hide in the deepest recesses of hell to get away from it. And in a sense they are begging God to be allowed to fall into Hell.
(Now the saints, especially St. Alphonse Ligouri, do explain how even in Hell the greatest pain is the absence of God, yet there is this contradiction. They cannot bear the sight of God, yet not having God is their greatest pain....and indeed, after that initial momentary sight of God, they go back to being exactly what they were on earth, spiritually dead and alive to hate....If they could they would bring down all their friends and relatives into hell.)
Now to put it to what happens during the time of the war on God. When people hate God, it is understood that God is an Infinite Pure Being who cannot be hurt. So naturally, they can do nothing to God directly. But they vent their spleen on the Instruments of God - the ones who carry God's grace. Here it is easy to find a target, because God sits in the flesh. The flesh has feelings, a mind, soul and heart. A human can easily be hurt, relative to God, no matter how holy they are, . And so, those who hate God and Truth, attack the Just, the Righteous.
What happens, in this case of the subject at hand, is they have summoned the anointing. The anointing is the Presence and Power of God. When the anointing expands or explodes the Light of God goes to all who are participating. It goes to the attackers and the defenders. It even goes to the bystanders. This explosion of Light or Shakti (Holy Spirit) affects each person in their own way. To some, they are born again. Others have visions and dreams. Some get 'good luck', others get chastisement, to each, it is according to their disposition, merits, or vices and demerits.
To those who are wicked, the Light of God has an effect similar to that of the person on their way to hell. But it is not the time of death yet, and so, they do not go to hell. But they might feel terrible things, depending on their sensitivity , or mystical ability. Some are totally hardhearted and will feel nothing ( they are deader than doornails inside - think of the Stalins, Hitlers and serial killers.) Others after the Light hits them, will be opened up, and see the error of their ways. The Light would enter them and put them through a thorough cleansing. The Light would burn out their impurities - you could even smell it at times, like burning flesh. (I smelled my own soul burning at the time of 1971, when meeting my first guru.)
Now every human has free will. When the Light explodes (expands) in an anointing there will be some who resist it to the end. In Jesus time, He was crucified and those who tortured and killed him were not stopped (as it had to be) but they saw punishment afterward. The High Priest, Ciaphas, went mad. There is a whole list of disasters that came upon Jesus' torturers in the visions of Anne Catherine Emmerich. Everyone who shed Jesus' Blood, injured, ridiculed, slapped, scourged, beat, ridiculed, humiliated Him and so on, each one was visited by the Power of God in the way matching to what they had done to Jesus. It is all explained in her books.
A 'war' of God as here is simply the power of the anointing, going to everyone according to their merits or demerits. The good receive grace and blessings, the evil are burned with the same Light, which will save them if they do not resist it. There are so many manifestations of God's Light that I cannot explain them. All manner of spiritual and physical phenomena occur, some good, some bad. It is like karma coming upon everyone at an accelerated pace to each according to what he or she has earned.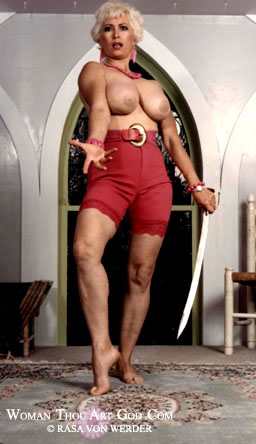 And that is all that will happen in this war. The power of God is manifesting, even now, and each is getting what they deserve.
---
---