WHY RASA STANDS
WHEN OTHERS RUN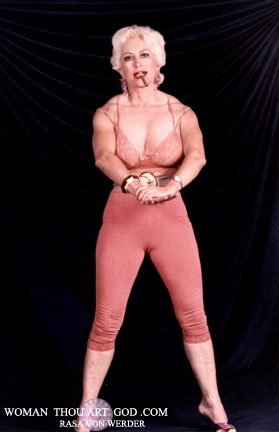 Photo © Rasa Von Werder
Thank you for your valued support in this struggle with liars and frauds who defame gurus.
These wolves disguised as sheep (in the clothing of spirituality) are infested with the worst kind of sins - the sins that send men to hell. They disguise hate under a blanket of sophisticated intellectual thinking; to wit, Sarlo, Bruce Morgen, Onniko and others. They pretend they are above the guru, higher and mighty in their own conceit. They sit in the seat of the scornful. They also show their true colors by an onslaught of insults that would make most women run for the hills.
Why doesn't Rasa run? Why did they pick on wrong person to pick on? Because Rasa has fought worse monsters. They thought they made short work of Amma and our Satguru Swami G. Swami G gave up with the feeling they are hopeless (and beyond redemption?) But Rasa is a guru of another color, a different stripe. The drums by which she dances the Rasa Dance sound a lot different than that of other gurus.
She has fought many monsters, many fire-breathing dragons. And defeated them. She has learned. She has learned, above all, to have faith in God. Have faith in God, do what is right, and God will take care of it.
Have no fear. Look at all of this as a heavenly joke. Yes, they are trying to destroy Rasa. So what? God can destroy them and send them into hell. They have spit out all vile to degrade a woman and impeach a guru, but with all this vomit Rasa remains standing not vain and proud but tall in her faith, brimming with confidence and maintains her good sense of humor.
Like Gary said, these guys can't laugh any more. They take themselves too seriously. They look in the mirror and think they are brilliant. But what is it that looks back at them? Conceit. Oh pride, pride, pride goeth before the fall.
They are on the mountaintop of pride, looking down at gurus, and it was so easy to attack Rasa. She is an easy target. Sarlo called her:
'A FAT JUICY TARGET'
and when Rasa quoted him he said,
'FUCKING RIGHT'.
Now they are calling Rasa 'an old whore looking for a new way to make money.'
Apparently Sarlo likes this because he has not deleted these guys, but Rasa is deleted.
Sarlo says he is on the side of the goons who are slandering, defaming and ruining her good reputation, but he is not on the side of Rasa.
There are three sides to every story, they say; his, hers and the truth. Where does the truth lie here? Where is God? Do the Sarlo goons have God. Does their hate have God? Does their pride contain God, their conceit, their rage, their ranting against gurus? This is God?
Adithya had a great dream about Rasa. It told the truth. He saw how Rasa came to reach the unwanted. They see her, they relate to her, and they reach the white light through her, he said. This is true.
How could Rasa reach the unwanted, the homeless, the prostitutes and the rejects of society? Because for one thing Rasa has been there. She knows how it feels to be kicked around. It is so easy to beat up on a woman who was in the 'sex trade.' So easy to spew their filth, to judge.
And the guys who judge Rasa and others, what have they been up to? Who knows? What sins have they committed? What sex activities have they been into? Porno, prostitutes, gay life, buggering and being buggered, pedophilia perhaps? Who knows? Anything is possible. (If anyone has information on them please forward it to the church and we will keep it confidential.)
Rasa has fought bigger monsters than these. She has learned not to be afraid, to fear God only. She has given her life in the martyrdom of the Divine Stigmata. This is already noted by God with great medals and gifts.
The perpetrators? The verbal predators that continue to sting and sling arrows at her? Can she endure them? Indeed, Gary, Duke of Dharma, you noticed that most women disappear when attacked on this kind of level. They cannot stand being called whore, old, fat, etc. They cannot bear the physical reproaches of patriarchy-stained men. Why can Rasa bear it? Why does Rasa not disappear but stand her ground and fight?
We welcome your answers and the thoughts of all members. Why can Rasa fight when other women run?
Thank you for standing with us in this battle.
DISCUSSIONS ON

---
---