ISSUES OF THE GOONS,
ANSWERS OF THE DOLLS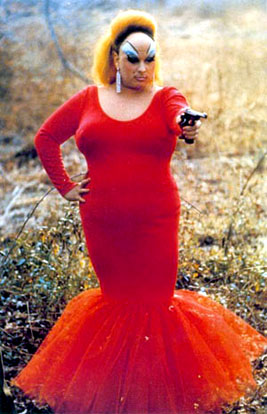 JODY'S 'APOLOGY' TOO LITTLE, TOO LATE. SARLO NOT RESPONSIBLE? DO NOT PUT SINS OF SON ON FATHER?
APOLOGIZE TO GOON MAMMA'S FOR MEN SUCKING TOES?????
OK, ONE GOON AT A TIME. FIRST, JODY'S FAKE AND PHONY APOLOGY - HE CAN CAN IT. HE'S NOT SORRY FOR HIS SINS - YET. (BUT HE SOON WILL BE WHEN THE LIGHT OF GOD GETS HOT ENOUGH)
BESIDES, HIS CONDITIONS FOR TAKING DOWN THE THE INSULTS AND LIES AGAINST ME ARE LAUGHABLE. HE TAKES DOWN HIS LIES, AND I DELETE MY ANTI SARLO SITE! GIVE ME A BREAK!
ANY DECENT HUMAN BEING, ONCE HE REALIZED WHAT A GOON HE WAS (THROUGH BETTER MEN EXPLAINING IT TO HIM LIKE JP & GENE POOLE) - WOULD TAKE DOWN THE LIES OF THEIR OWN FREE WILL. WHY DO YOU HAVE TO PLACE CONDITIONS ON TAKING DOWN CRUEL AND INNACURATE WORDS? CASE CLOSED, END OF STORY ON JODY FOR THE TIME BEING.
---
NEXT CASE. GENE POOLE SAYS SARLO IS NOT RESPONSIBLE FOR 'WHAT JODY DID' & THE ANTI SARLO SITE IS WRONG.
ARE YOU KIDDING? SARLO AND ALL THE GOONS WENT AFTER ME, DEFAMED, DEFILED AND DAMAGED ME AND IF IT HAD BEEN FOR THEM, I'D BE SITTING ALL ALONE SOMEWHERE LICKING MY WOUNDS. BUT I AIN'T THAT KIND OF A GURU.

(I TRIED TO TELL THEM, BUT THEY WOULDN'T LISTEN.)
JUST IN CASE I SMELL THE SCENT OF YOU GUYS NOW PUTTING THE WHOLE BLAME ON JODY - NO WAY. JODY STARTED IT, AND YOU ALL JOINED HIM, HELPED HIM, AND SOME OF YOU WERE WORSE THAN JODY. BRUCE MORGEN, DANNY, ERIC P., ONNIKO, GYAN, COME TO MIND. (GYANS LAST WORDS TO ME WERE TO LICK HIS ASSHOLE..... ONNIKOS SWEET WORDS I AM AN OLD WHORE LOOKING FOR A NEW WAY TO MAKE MONEY....AND JODY IS THE BLAME FOR EVERYTHING?)....... (AND MANY OTHERS. BUT I WON'T WORRY ABOUT THE FARTS, I AM MORE CONCERNED ABOUT THE SHITTERS.)
NOW WHAT IS THE PLACE OF MR. SARLO IN ALL THIS? HE IS THE PUBLISHER. HE IS THE LEADER WHO SETS THE 'TONE' AND THE RULES OF THE GROUP. HE DECIDES WHO HE LIKES, WHO HE DOES NOT LIKE. WHO HE LIKES STAYS, WHO HE DOES NOT LIKE, GOES. SO I GO, AND EVENTUALLY, ALL MY DEFENDERS GO. WHO STAYS? THE SHITTERS STAY. HE LIKES THEM. HE HELPS THEM. I AM A FAT JUICY TARGET, FUCKING RIGHT SARLO SAYS. SARLO NOT RESPONSIBLE? WHEN A PUBLISHER PUBLISHES A BOOK AND THE AUTHOR HAS WRITTEN LIBEL, THE PUBLISHER CAN BE SUED. BUT ESPECIALLY IF THE PUBLISHER HIMSELF WRITES LIBEL IN THE BOOK. SO DON'T INSULT MY INTELLIGENCE BY SAYING MR. SARLO IS NOT TO BLAME, HE IS JUST THIS INNOCENT NICE AND HONEST NEAT GUY OWNING A GROUP, AND JODY DID IT ALL BY HIMSELF..... I'LL SELL YOU A BRIDGE IF YOU BELIEVE THAT. JODY GOT A LOT OF HELP. JODY COULD NOT DO THIS ALL BY HIMSELF, HE'S NOT BIG ENOUGH.
---
THE CASE OF THE SUCKING TOES. NOW I AM SUPPOSED TO APOLOGIZE TO A GOON GROUPIE FOR SOME GUY WANTING TO SUCK HER TOES???????

THAT TAKES THE CASE OF ALL TIMES.
WHY DOES NOT THE HONORABLE SHRI SARLO ASK APOLOGIES FROM THE FOLLOWING MEN TO ME:
BRUCE MORGEN, DANNY, GORAKH, BORO & ERIC
(the big shitters, and also the little farts whoever they may be)
and also
SUSAN, SALINA & ONNIKO
The mean spirited sisters who like the smell of the blood of other women and hang around for the thrill of the kill of other women and even join in for a lick and taste of blood of hurting women here and there.
NICE CROWD YOU HAVE THERE. NOW THAT WE HAVE SETTLED THE ISSUES, MAY I GO BACK TO MY WAR? THE WAR YOU STARTED, SO I CAN WIN A QUICK VICTORY INSTEAD OF PROTRACTING IT FOR A WHOLE YEAR?
THANK YOU VERY MUCH,
COMMANDER
GURURASA
JANUARY 10, 2006
DISCUSSIONS ON

---
---