GOD'S GIFT TO HER ENEMIES
DO NOT BEMOAN THE WAR OF GOD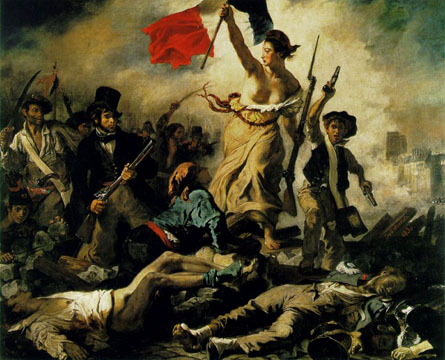 Liberty Leading The People
Delacroix
I find it amazing and amusing how so many think that God's war is wrong. How can God do wrong? By the very definition, God is all good. And so, if God makes war, it is for good!
Let me explain carefully the good that God brings to enemies as well as friends.
When God explodes and expands in Holy War power, imagine this. The shakti of God goes to all the participants. Now each person in the war receives according to his and her inner state.

The shakti goes to a soul and searches out its inner depths. As it courses through the mortal, it comes against places of darkness. These the shakti burns through aggressively, for in war, the power is great, and it has been sent, and will not wait for an invitation that may take years.
In war there is FORCE. In the case right now, God and I sent out the shakti and it has been working for about two weeks. (Since days before Xmas) The shakti going out with aggression is the 'soldiers' of God - what we do as human is part of it, but not the decisive part.
What is different at the time of war compared to the time of peace is the force and the aggression. During a time of peace everything happens slowly. Karma moves along at it's regular rate, slower than slow in most cases. But in wartime this accelerates and all kinds of things happen. My devotees are getting more visions and dreams than ever, and the people who are on the side of Sarlo who are good are getting same.
I have no idea what is happening to Sarlo, Bruce, Gorakh, Danny, Onniko and a host of other characters I call goons. They would certainly not share with me their inner workings, dreams or visions if any.
I only know about one of them, and that is Jody. Since the beginning I have had dreams of Jody, and they were good. Have had about three and Kathleen, my General, has had one.
This morning I dreamed a wonderful and remarkable thing. Jody is just about ready for mystical marriage, and I was the one God sent to escort him there. I can't wait for this to happen, because this is his union with God! He and God will become One!
I will explain this dream later on, indeed, will put up all the dreams we had about Sarlo, the war and Jody, with detailed explanations.
Please do not think of spiritual war as negative. It is positive, healthy, and meaningful. God never comes to destroy anything but evil - the evil in the world and the evil in the soul. It is done by shakti. Do not regret the war. It cleanses. Would you regret the cleansing of a soul that would bring it closer to God?
Please friends do not believe that this war is filled with personal vengeance. I must admit I would like to slap a few of these guys, but there is something bigger and better going on.
Now I will have to say one thing. In the cleansing, people do have to suffer. But they get through it, and on the other side is God. In some rare cases perhaps a person absolutely refuses God, and then, I cannot predict what happens. That is up to God and God alone. We all have time to live and repent and refusing God today may change tomorrow. As soon as we repent, it is forgiven and God fills the soul with love.
I ask the participants to understand this is HOLY WORK and as important as any of the works of God!
Much Love,
Rasa Von Werder
January 11, 2006
DISCUSSIONS ON

---
---