IS THERE PEACE WITHOUT
JUSTICE & RIGHTEOUSNESS?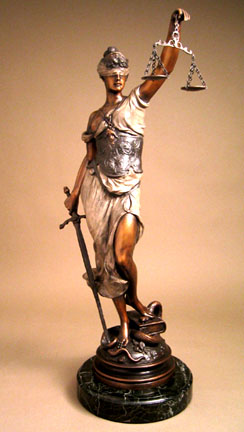 Lady of Justice
Nicolas Mayer
IT IS IMPORTANT TO REMEMBER, THAT GOD DOES GO TO WAR, AND PEACE IS ACQUIRED AT A COST.
MY WAR HAS NOTHING TO DO WITH BUSH, REAGAN OR ANYOHNE ELSE. IT IS MINE AND GOD'S.
IF YOU OR ANYONE CANNOT AGREE WITH IT, THEN GO ELSEWHERE. IT IS NOT THAT I DON'T LOVE YOU, BUT I NEED NO ONE STAND IN MY WAY.
SO IF YOU DISAGREE WITH THE WAR, THEIS IS THE HEADQUARTERS, AND I HAVE SAID WHAT I AM ABOUT. I DO NOT NEED ANY OPINION AGAINST IT, BECAUSE IT WILL MEET ITS COURSE.
I WILL EXPLAIN MORE IN A N ARTICLE I AM WORKING ON NOW.
COMMANDER RASA
IT IS EASY FOR PEOPLE TO BE AGAINST WAR, BUT WHEN THEY ARE WRONGED THEY CALL THE POLICE. WHEN SOMEONE BREAKS INTO YOUR HOME, DO YOU TOIK, CALL THE POLICE?
THEY ARE LAW ENFORCEMENT, THEY ARE JUSTICE.
NOW WHEN SOMEONE BEATS YOU UP, ROBS YOU AND RAPES YOU, DO YOU CALL THE
POLICE? IF SOMEONE WIPES OUT YOUR FAMILY DO YOU CALL THE POLICE?
IF SOMEONE COMES AT YOU WITH A GUN, WILL YOU CALL THE POLICE? WHY DO YOU CALL THE POLICE? THEY ADMINISTER JUSTICE ANDJ EVENTUALLY, PPUNISHMENT.
THERE CAN BE NO SUCH THING AS PEACE AS LONG AS THERE ARE WRONGDOERS. IS THAT SO DIFFICULT FOR YOU TO UNDERSTAND?
WHAT SOME PACIFISTS DO IS THEY LOOK FOR A FALSE PEACE, A PEACE WITHOUT HONOR.
NOW IF YOU WERE AROUND DURING WW II YOU WOULD HAVE ALLOWED HITLER AND STALIN TO TAKE OVER THE ENTIRE WORLD, AND WE WOULD BE LIVING UNDER THE THIRD REICH AND STALIN'S VERSION OF COMMUNISM. IS THIS PEACE TO YOU?

IS THIS WHAT YOU WOULD WANT? THINK, LAME BRAIN.
COMMANDER RASA
JANUARY 11, 2006
DISCUSSIONS ON

---
---