SAINTS & HEROES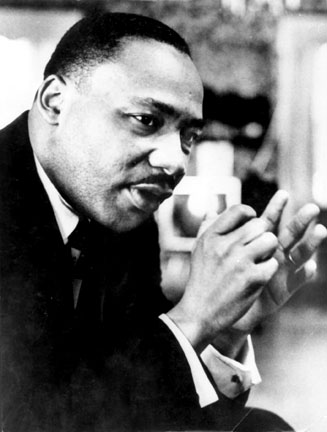 LETTER TO DEAREST HERO DEVOTEE KATHLEEN
ON THOSE WHO MOCKED MLK ON YAHOO
OH, THOSE PIGS! HOW DARE THEY CRITICISE MARTIN LUTHER KING, JR.
I DID SEE THEIR LETTERS BUT COULD NOT READ THEM. AM TOO BUSY WORKING FOR OUR MOTHERGOD TO BOTHER WITH GOON SHIT. FROM THE HEADINGS I THOUGHT THEY WERE PRAISING HIM.
NOW WHAT YOU ARE SAYING THEY SAID IRKS ME TO NO END.
SO OUR SAINT HAD SEX? SO HE HAD SEX WITH MORE THAN HIS WIFE? AND? THEREFORE WHAT? WHO CARES? AS LONG AS HE DID NOT DO IT TO CHIDREN, I AM FINE WITH THAT.
WHAT THESE NUMNUTS FAIL TO SEE (& THE WORLD IS FILLED WITH NUMNUTS, NOT JUST THE GOONS) IS THAT WE ARE HUMAN. SURPRIZE, SURPRIZE.......NOW TO HUMAN IS TO ERR....BUT IS SEX ERRING?
GIVE ME A BREAK. WE ALL NEED A GOOD SHAG ONCE IN A WHILE UNLESS WE ARE TOTALLY CELIBATE LIKE RASA & NO LONGER HAVE SEX DRIVES. (I AM HAPPY IN MY SKIN BUT DO RECALL WHEN LUST WAS AT HAND....HAHAHA) AND IF YOU ARE WITH THE SAME PARTNER A LONG TIME, IT GETS BORING. VARIETY IS THE SPICE OF LIFE.
NOW WHO MADE NORMAL SEX A SIN? PATRIARCHY. F_CK PATRIARCHY. BRING BACK FREE SEX, AS LONG AS IT HURTS NO ONE.
AND SO TO BREAK 'THE LAWS' OF PATRIARCHY IS TO BREAK NOTHING. PATRIARCHY SUCKS, THEIR LAWS SUCK. THEY CREATED THE PATRIARCHAL MARRIAGE TO ENSLAVE WOMEN. BRING BACK A MATRIARCHAL SETTING WHERE WOMEN RULE, OWN ALL THE PROPERTY AND POWER AND MALES CAN HAVE ALL THE SEX THEY WANT WITH WHOEVER LETS THEM. CASE CLOSED.
NOW ABOUT HYPOCRISY, PERFECTION AND ALL THAT. THESE SAINTS WHO DID SEX ARE NOT HYPOCRITES BECAUSE THEY DID NOT GO AGAINST GOD OR AGAINST THE ABSOLUTE LAW OF GOD. THEY DID NOT SIN AGAINST CHARITY UNLESS THEY HURT SOMEONE. ROMPING IN THE HAY WITH CONSENTING ADULTS DOES NOT HURT ANYONE. (OF COURSE, IN A MARRIAGE, TWO CAN PLAY THE SAME GAME AND IF HE DOES IT, SHE ALSO HAS TO BE FREE)
I WILL HAVE YOU KNOW THAT I HAVE HAD SPIRITUAL COMMUNION WITH MARTIN LUTHER KING JR. AND HE IS NOT ONY A SAINT, BUT A GIANT SAINT.
HE APPEARED TO ME IN A SERIES OF DREAMS AND VISIONS, HELPING ME WITH THE WORK FOR MATRIARCHY, A COUPLE OF YEARS AGO. I ASKED HIM,
'WHO WILL SLAY GOLIATH?'
AND HE APPEARED AND WAS SO POWERFUL, SO HUMBLE, SO SELF SACRIFICING, THAT I TOLD HIM,
'STOP, STOP! I DON'T WANT YOU TO SUFFER ANY MORE !'
IF GOONS WOULD MEDITATE ON THE GOODNESS AND THE GREATNESS OF THIS MAN THEY WOULD CAST ASIDE THEIR PETTY COMMENTS. HE WAS A MARTYR! HE KNEW THAT HE MIGHT BE KILLED - VERY GOOD CHANCE OF DEATH - AND YET HE WENT ON......AND FINALLY, HE WAS MARTYRED. AND THEY WHO CAN DO ZILCH HAVE THE TEMERITY TO CRITICIZE? WHEN HAS SARLO FACED MARTYRDOM? WHEN HAS JODY OR BRUCE MORGEN OR DANNY OR GORAKH OR ANY GOONS FACED A MARTYR'S DEATH FOR THE SAKE OF GOD? QUIT JAW-WAGGING, YOU GOONS, AND GET ON YOUR KNEES BEFORE GOD!
ST. MARTIN LUTHER KING, JR. AND I ARE AT ONE, ONE HEART, ONE MIND, ONE SOUL. WE ARE TOTALLY LINKED AND I LOVE HIM WITH ALL MY HEART.
PRAISE BE TO OUR DEAR BELOVED, HOLY SAINT OF RIGHTEOUSNESS!
ON TOP OF THAT I WOULD LIKE TO ADD TO THE GOONS AND WHOMEVER THAT WE HAVE ANOTHER SELF SACRIFICING SAINT RIGHT HERE. HER NAME IS KATHLEEN.
THEY DON'T KNOW IT, BUT KATHLEEN'S LEG IS FILLED WITH METAL, ONCE HAVING BEEN COMPLETELY CRUSHED. SHE LIVES IN CONSTANT PAIN BUT DOES ALL THE THINGS NORMAL PEOPLE DO.
KATHLEEN ALSO IS A FIREFIGHTER AND HAS GONE INTO BURNING BUILDINGS AND CHEMICAL EXPLOSIONS. SHE WENT INTO FIREFIGHTER SHOWERS WITH BURNING CHEMICALS OOZING OFF HER SKIN. SHE DOES THIS AS A VOLUNTEER.
SHE AND HER HUBBY TOOK CARE OF THE OLD, INFIRM RELATIVES IN THE FAMILY FREE OF CHARGE, WHILE OTHER RELATIVES SOLD THE HOUSES AND GOT ALL THE MONEY. KATHLEEN AND HUBBY DID THE CARETAKING, COMPLETELY FOR FREE, AND NURTURED THESE TWO INFIRM, INCONTINENT OLD LADIES (AT DIFFERENT TIMES, IN THEIR MODEST HOME) UNTIL PEACEFUL DEATHS CAME TO THEM. THEY KNEW THEY WERE LOVED - KATHLEEN DID NOT LET THEM GET PUSHED INTO OLD FOLKS HOMES. THE OTHER RELATIVES WHO WERE ALREADY RICH BUT GOT EVEN MORE MONEY, PAID THEM NOT ONE CENT FOR THIS.
KATHLEEN IS RIGHT NOW WORKING FOR THE SPANISH SECTOR IN HER COMMUNITY, PROTECTING THESE PERSONS WHEN OTHERS THERE ARE FILLED WITH FEAR, HATE AND PREJUDICE. SHE LOVES THE SPANISH-SPEAKING RESIDENTS. SHE HAS BEEN WORKING A FEW DAYS A WEEK FOR THE COMMUNITY COMPLETELY VOLUNTEER - NO MONEY AT ALL.
BESIDES THAT, SHE HAS BEEN WORKING ON HER SPIRITUAL LIFE EVERY MINUTE 24/7..........THAT IS WHY SHE WAS SO HAPPY TO FIND ME, AND I HER - BECAUSE WE ARE ONE MINDED.
NOW ON TOP OF ALL THIS KATHLEEN IS TOTALLY CHEERFUL, POSITIVE, NON JUDGEMENTAL NOR CONDEMNATORY. CHARITY SHINES THROUGH HER HEART, MIND, BODY AND SOUL. SHE DOES NOT NIT PICK, CRITICISE NOR FIND FAULT ENDLESSLY IN OTHERS. SHE IS ALL HEART.
AND SO, IT SEEMS TO ME THOSE AT GOON RATINGS WHO ARE CONDEMNING SAINTS AND THE RIGHTEOUS ARE A BUNCH OF SICK PUPPIES. THERE ARE A LOT MORE OF THEM THAN THERE ARE KATHLEENS. OR MARTIN LUTHER KING JR.'S. PRAISE BE TO THE SAINTS AND HEROES.
DISCUSSIONS ON

---
---