PATH OF LOVE BETTER THAN
COLDHEARTED ADVAITA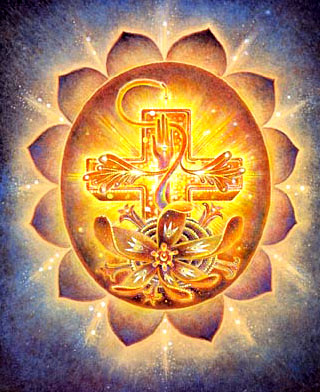 RASA ANSWERS LETTER FROM FLEMMING ON YAHOO
I AM NOT A SOPHISTICATED HEAD-SHRINKING THEOSOPHIST OR ADVAITIST. I DO NOT THINK THAT BEING INTELLECTUALLY SUPERIOR NECESSARILY BRINGS ONE CLOSER TO GOD. BIG HEADS, NO HEARTS IS WHAT SOME OF THE GURU RATING WHIZ'S ARE.


ALL I KNOW IS LOVE. IT IS MY PATH, IT IS WHAT I BELIEVE IN. WHEN ONE LOVES, ONE IS UNITED WITH THE BELOVED. THAT IS NONDUALISM TO ME. SWAMI G HAS THE GOOD VERSION OF ADVAITA, BUT IT IS NOT MY CUP OF TEA - BUT IT IS A GOOD CUP OF TEA FOR HER AND OTHERS ( I LOOK TO HER AS MY LIVING GURU, BUT I HAVE A DIFFERENT PERSPECTIVE)


WHEN ONE GROWS IN LOVE, ONE GROWS IN VISION. WHAT GOOD IS INTELLECTUAL UNDERSTANDING WITHOT LOVE? (FRANKLY I AM NOT FAMILIAR WITH THE WORKS OF THE PEOPLE MENTIONED. I ONLY STUDIED SAINTS & THE TEACHINGS OF SAINTS FOR THE MOST PART)
I HAVE OBSERVED THAT AS A REWARD FOR SELF SACRIFICING LOVE, GOD HAS GIVEN ME INSIGHTS, BREAKTHROUGHS AND INTELLECTUAL VISION. AH, THAT IS WHAT I WANT! AND THAT IS WHAT MY DEVOTEES ARE GIVEN!
I WOULD RATHER TASTE SUGAR THAN BE SUGAR.
WHY? BECAUSE IT IS THE PATH OF LOVE. IT IS WARM, TENDER, MATERNAL, INTIMATE.


I FIND AN ADVAITA POINT OF VIEW COLD, IMPERSONAL AND ALOOF. SOME ADVAITA TEACHERS CHILL MY HEART DOWN TO THE BONE. (THE GOOD ONES LIKE SWAMI G, I DO NOT PUT IN THAT CATEGORY) I DO NOT WANT THIS BECAUSE THE WORLD IS COLD ENOUGH AS IT IS, WHY WOULD I SEEK MORE COLDNESS?


I SEEK THE WARM, TENDER LOVE OF A MOTHER, A LOVER. THAT IS WHAT I GIVE MY DEVOTEES, ALSO. WHAT ECSTATIC EXPERIENCES THEY ARE GETTING AND IT THRILLS ME TO THE BONE! HOW I LONG TO BRING LOVE TO POOR, LONELY, REJECTED, HEARTBROKEN, THIRTY, HUNGRY SOULS! THEY HAVE SUFFERED SO LONG IN LOVE STARVATION! WHEN THEY INSTALL ME INTO THEIR HEARTS THEIR HEARTS & MINDS ARE FILLED WITH DELICIOUS NOURISHMENT!
INFINITE LOVE TO YOU, FLEMING!
RASA
JANUARY 20, 2006
RASA & FLEMMING

Celestial Queen Rasa! Hey, I'm 50 years today and You know what,the best B-day present I ever got is that You have come into my life! Thank You so Much,Beloved Rasa! - When I think of You I feel younger and stronger and more rocking than ever!

Well, here's an interesting article about feminine mystique,for those lucky souls who have the time it's
worth reading:


http://www.time.com/time/magazine/1997/int/970811/spl.mystique.html


God Save The Queen!
Lasting Love,
Flemming
January 18, 2006
HAPPY BIRTHDAY FLEMING. 50 YRS YOUNG AND JUST GETTING STARTED. MAY THE FEMININE DIVINE ENCOMPASS YOU WITH POWERFUL ARMS OF LOVE AND NURTURING, GIVING YOU MOTHER'S MILK AND ALSO THE MEAT OF TRENGTH WHEN YOU ARE READY.

MAY THIS TRULY BE THE BEGINNING OF A NEW HEARTFELT SPIRITUAL LIFE HERE YOU FIND NEW ECSTASIES WITH MOTHER GOD AS YOUR LOVER. HAPPY BIRTHDAY!


Thank You so Much, Darling Rasa!! Mother's Milk?? - Ahh,yes,at least I have two very FINE reasons for loving You! - But I can think of dozens of other reasons too!
Anyway,I have a question for You, Beloved Kali Rasa,I've been thinking about Theosophy, figures like Madame Blavatsky, Alice Bailey, Rudolf Steiner, Annie Besant - Do they in any way come into Your "System"??

Or do You think we should forget about all this Esoteric Knowledge and rather concentrate on loving MotherGod (YOU)??
I know You're extremely busy,so just ignore my question - but if You find the time some day would You write just 2-3 lines about GNOSIS (knowledge)?
Love minus Zero (plus Rasa)
Jai Ma!
Flemming
January 19, 2006
DISCUSSIONS ON

---
---