PASTOR'S LETTER
JULY 30, 2005
ADVICE TO DEVOTEES
IT PAYS TO GIVE TO MOTHERGOD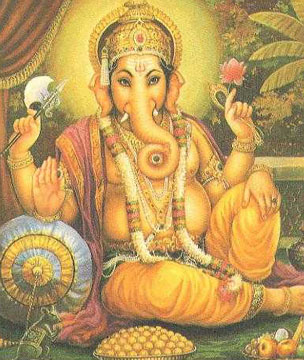 GANESH, THE HINDU GOD OF PROSPERITY
DEAR MOTHERGOD,
I AM LOOKING FOR A NEW JOB, AS MY EMPLOYER HAS CUT MY HOURS DOWN A WHOLE LOT. I INTEND TO SEND IN A MONETARY PLEDGE MOTHER, I AM JUST HAVING A HARD TIME FINANCIALLY RIGHT NOW. I DO LOVE YOU AND I PRAY TO YOU EVERYDAY. I WORSHIP YOU, FOR I KNOW THOU ART GOD. THIS IS HOW I PERSONALLY FEEL ABOUT YOU. I AM SURE YOU ARE FEELING PAIN AND MY HEART ACHES FOR YOU BECAUSE OF THIS. MOTHER, I AM REAL AND I BELIEVE IN MATRIARCHY WITH ALL MY HEART, SOUL, AND MIND. I ALSO BELIEVE YOU ARE THE ONE WHO HAS BEEN GIVEN THE POWER TO MAKE MATRIARCHY A REALITY IN THIS DAY AND AGE. IT IS SORELY NEEDED. MEN HAVE DESTROYED THIS WORLD WITH PATRIARCHY AND THE LIES OF SATAN. I FEEL TERRIBLE BECAUSE I AM ALSO A MAN, YET I HAVE REJECTED PATRIARCHY BECAUSE I KNOW IT IS A LIE FROM HELL. I AM REALLY SORRY I HAVE NOT BEEN POSTING, I GUESS I FELT LIKE BECAUSE OF MY SITUATION I WASN'T NEEDED OR WANTED. I DO NOT BELIEVE THOUGH IN MY HEART OF HEARTS THAT THIS IS TRUE IN ANY MANNER. SO I AM KNEELING RIGHT NOW WITH MY WIRELESS KEYBOARD AND TYPING THIS TO THEE. HAIL MOTHERGOD RASA, MY SALVATION AND STRENGTH. I LOVE YOU, MOTHER. I PRAY EVERYTHING IS ALRIGHT. HAIL MARY, THE GREAT GODDESS AND MOTHER OF CREATION.
DEVOTEE RICK

RESPONSE FROM RASA
DEAREST RICK,
THESE ARE FINE WORDS. NOW I WILL VERBALLY SPANK YOU FOR NOT COMING THROUGH IN THE PAST, AND THE KARMA YOU ARE SUFFERING NOW IS A RESULT OF IT. IN OTHER WORDS, YOU HAD FINE WORDS BEFORE AND YOU PLEDGED YOUR LOVE AND SUPPORT, BUT YOU DID NOT COME THROUGH. I GAVE YOU MY LIGHT AND LOVE AND TIME, BUT YOU DID NOT DONATE OR HELP. WHAT YOU DID WAS MINOR IN ASKING ONE SEARCH ENGINE TO CONTACT ME, AND MY PAID WEBMAN DID THE WORK. YOU SAID YOU WOULD PAY FOR A SEARCH ENGINE TO PUT ME ON TOP, BUT YOU DID NOT DO IT. (THAT PART WAS OK) THE OTHER THING, WHEN I WROTE MY STERN LETTER CONCERNING DONATING AND VOLUNTEERING (BECAUSE I WAS SICK OF THE GUYS NOT HELPING) INSTEAD OF COOPERATING AND AT LEAST PLEDGING A DONATION OR ANYTHING, YOU DROPPED OUT FOR A WHILE. NOW WAS I MAD? NO.....WAS NOT. SOME OF THE GUYS SENT IN LETTERS PLEDGING HELP, WHICH WAS A NICE THOUGHT. ONE MAN, BOB, SENT ME A CHECK FOR $80. WHICH THE VERY NEXT DAY AFTER SENDING IT TO ME, GOT IT BACK AT THE CASINO. BUT YOU DISSAPEARED. YOU SENT NO LETTER, NO PLEDGE, NO NOTHING. AFTER A WHLE YOU WROTE NICE LETTERS AGAIN, BUT NO HELP. I WAS GLAD YOU WERE STILL WITH US.

NOW I MUST SPEAK TO ALL OF YOU ABOUT THE PRINCIPLES OF PROSPERITY. THIS WILL BE A KIND OF SMALL ARTICLE.


PRINCIPLES OF PROSPERITY


IF YOU GIVE TO GOD - ESPECIALLY TO THE SPECIFIC PERSON OF GOD WHO IS INSPIRING, HELPING YOU, GOD GIVES YOU BACK TENFOLD, OR EVEN MORE. GOD DOES THIS FOR A REASON - TO REWARD YOUR LOVE. GOD WANTS YOU TO LOVE AND GOD WANTS YOU TO UNDERSTAND THAT WHEN YOU GIVE OUT OF LOVE GOD WILL RETURN TO YOU MANY TIMES. NEVER BE AFRAID TO BE GENEROUS. HAVE FAITH THAT YOU WILL LOSE NOTHING, BUT YOU WILL GAIN MORE. I TELL YOU FROM MY EXPERIENCE AND FROM ALL I HAVE READ, THAT THAT WORKS TOTALLY, PERFECTLY AND ALWAYS AND NEVER FAILS. IF YOU ARE GENEROUS, YOU RECEIVE MORE, AND GOD WILL ALWAYS TAKE CARE OF YOU IN SOMETIMES A MIRACULOUS WAY. BUT YOU MUST GIVE OUT OF LOVE, NOT THE DESIRE TO BE RICH. THE DESIRE TO BE RICH BY GIVING - THAT IS A PERVERSION OF THE PROSPERITY PRINCIPLE. IF ALL YOU DESIRE IS TO BE RICH RATHER THAN RICH WITH GOD, THEN YOU STAY ON A LOWER LEVEL. MANY PEOPLE GET STUCK ON THAT PLANE AND DO NOT REACH ENLIGHTENMENT. NOW YOU SAW THE THREE TESTIMONIES THAT EXPLAINED RIGHT HERE IN THE LAST DAYS, WHEN BOB GAVE GOD GAVE HIM BACK. WHEN KEVIN GAVE, GOD GAVE HIM BACK THROUGH HIS DAUGHTER. AND THE DAUGHTER WON BACK TEN TIMES WHAT SHE GAVE TO MOM AND DAD! AND I TOLD YOU HOW RECENTLY I GAVE $500. TO POOR RELATIONS AND GOD SAVED ME THAT AMOUNT INSTANTLY ON MY TAXES! (AND BELIEVE ME, MORE IS COMING FROM GOD BY YOUR KINDNESS. YOU GET LOVE, AND LOVE INCREASES AND EXPLANDS ALL AROUND, TO MANY PEOPLE!)

BUT OF COURSE, THE OPPOSITE IS TRUE. THAT IS TO SAY, IF YOU DO NOT GIVE, YOU DO NOT GET AN INCREASE. IN FACT, IT IS A GOOD LESSON FROM GOD, THAT WHEN YOU REFUSE TO GIVE, SOME OF WHAT YOU HAVE IS TAKEN AWAY FROM YOU! YOU GET BAD LUCK WITH MONEY WHEN YOU DO NOT GIVE! OR ELSE, YOU JUST STAGNATE AND DON'T GET AHEAD. WHY IS THAT? BECAUSE GOD TEACHES US THAT IT IS NOT A GOOD THING TO SEE YOURSELF IN AN EGOTISTICAL/SEPARATE WAY. WHEN YOU HOLD ON TO THINGS, AND MONEY, AND REFUSE TO SHARE, YOU SEE YOURSELF AS AN ISLAND AND YOU SEE YOURSELF AS LIMITED AND YOU HOLD ONTO SOMETHING BECAUSE YOU THINK THERE WILL BE LESS FOR YOU. YOUR FAITH BECOMES WEAK, YOUR LOVE GROWS SMALL. THIS IS VERY BAD FOR YOUR SOUL. GIVE AND IT SHALL BE GIVEN TO YOU!

PEOPLE WHO REFUSE TO PAY THEIR SHARE WHEN A BUNCH OF PEOPLE GO OUT TOGETHER: THERE WAS A WOMAN LIKE THAT. NEVER PAID HER SHARE OF THE MEALS. AND SHE WAS THE ONE WHOSE PURSE GOT STOLEN! THERE ARE REVERSALS, BAD BILLS, TICKETS, LOSSES, BAD FINANCIAL DECISIONS AND BAD MONEY LUCK, FOR THOSE WHO DO NOT GIVE. THEY SUFFER FOR THEIR STINGINESS! THE UNIVERSE MAKES YOUPAY, ONE WAY OR ANOTHER!

I WAS NOT PLANNING TO PREACH ON THIS SUBJECT, ASSUMING YOU WOULD ALL GIVE GENEROUSLY. HOW WRONG I WAS. HOW WEAK FAITH AND LOVE IS IN SOULS, AND HOW STINGLY PEOPLE ARE. THEY MUST BE TAUGHT, AND I AM THE TEACHER. AND SO, I MUST NOW PREACH PROSPERTY, AS PEOPLE DO NOT UNDERSTAND. I LEARNED FROM THE NUMBER ONE TEACHER ON PROPERITY, CATHERINE PONDER. THE YEAR I LEARNED HER LESSONS, I SENT HER ALMOST $4,000. AT THE END OF THAT YEAR. IN A FEW YEARS, I WAS WEALTHY, EARNING A GREAT DEAL OF MONEY IN MY OWN BUSINESS. MY GIVING MADE ME RICH, JUST LIKE SHE SAID. I DID NOT DO IT FOR THAT REASON - I DID IT FOR THE LOVE OF GOD. I DID NOT HAVE TO SEND HER THAT MONEY, BUT I WANTED TO. SHE WROTE THE BOOKS, I READ THEM AND LEARNED, AND SENT HER MY TITHE. THE NEXT YEAR, I MADE MUCH MORE THAN THE PREVIOUS. THE MORE YOU GIVE, THE MORE YOU GET BACK FROM GOD AND THE UNIVERSE OF OF GOD!

NOW LET ME TELL YOU THIS. I RECEIVE SUCH GOOD WORDS FROM SOME OF YOU GUYS. YOU KNOW WHO YOU ARE. PROMISES. BAIT. IT GOES LIKE THIS, "I PROMISE YOU EVERYTHING GOOD.....ETC."

YOU PROMISE, BUT YOU DON'T DELIVER. YOU THINK YOU CAN FOOL GOD? PUT YOUR MONEY WHERE YOUR MOUTH IS. YOU MUST GIVE TO THE CHURCH BOTH FINANCIALLY AND IN OTHER WAYS. THEN YOU RECEIVE THE LIGHT, LOVE AND POWER OF THE CHURCH. IF YOU GIVE NOTHING BUT E-MAILS AND PHONE CALLS, (WHERE I AM HELPING YOU), YOU ARE REALLY DRAINING THE CHURCH. YOU MAKE ME TIRED. YOU ARE WASTING MY TIME, ENERGY AND YOU ARE DISSAPOINTING ME. AND YOU ARE STAYING BABYISH. DON'T BE A BIG BABY. IF YOU GIVE YOU GROW UP. RESPONSIBILITY IS A SIGN OF MATURITY.

END OF LESSON FOR NOW

NOW RICK, YOU SEE THE RESULT OF NOT GIVING. IS THERE ANYONE ELSE OUT THERE WHO HAS SUFFERED FOR LACK OF GIVING? HUMBLE YOURSELF AND LET ME KNOW. REMEMBER GIVING MAKES YOU GET BACK AND BRINGS YOU GOOD LUCK IN EVERY WAY, AND STINGINESS BRINGS THE OPPOSITE. TEST IT OUT. SEE FOR YOURSELF!
MUCH LOVE,
RASA VON WERDER