LETTER TO A DEVOTEE ABOUT
GURUSEVA & DONATIONS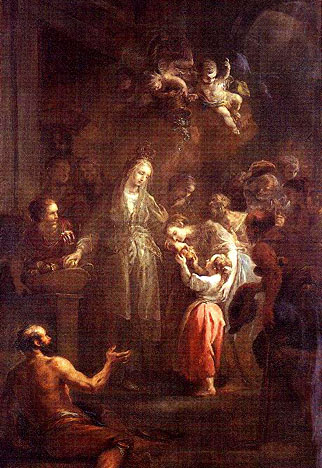 St. Elisabeth Distributing Alms
Martin Johann Schmidt
DEAR SON, A VERY LONG TIME AGO I ASKED YOU TO POST FOR ME BUT THAT DID NOT HAPPEN. NOT ONE PERSON, FOR SOME REASON WILL DO THIS. YOU ARE ONE OF THE 8 OR 9 I ASKED WHO REFUSED. AND I EVEN SENT YOU MY LIST. IT IS SO EASY. I JOINED 100 GROUPS IN 2 DAYS RECENTLY. YOU HAVE TO WORK AT IT TO MAKE IT WORK AND I DO. BECAUSE YOU HAVE TO LEAVE MANY OF THEM THAT AREN'T EFFECTIVE & JOIN MORE.

THE SECOND THING YOU COULD DO SINCE #1 FELL THROUGH IS MAKE COMMENTS ON MY ARTICLES AND POST THEM ON ALL MY GROUPS - I HAVE TEN - AND A FEW FEMDOM/MATRIARCHY STYLE GROUPS I ALSO POST ON ALL THE TIME. READ MY ARTICLES AND MAKE INTELLIGENT COMMENTARY.

IF THAT DOES NOT APPEAL TO YOU HOW ABOUT DONATIONS?

DURING THE 18 YEARS I WAS IN THE 'DARK NIGHT OF THE SOUL' AND I COULD NOT FEEL THE PRESENCE OF GOD OR PRAY EFFECTIVELY OR FEEL ANY ILLUMINATION, BUT WHAT I DID DO WAS WORK AT BUSINESS AND AT ONE POINT BECAME MORE SUCCESSFUL THAN EVER. AND ALL I COULD GIVE WAS MONEY. SO I GAVE MONEY TO THE MISSIONS FOR MASSES FOR THE SOULS IN PURGATORY. DEPENDING ON HOW MUCH MONEY I HAD, I GAVE BETWEEN $2,000. TO $11,000. PER YEAR, WHICH CAME OUT OF MY GROSS RECEIPTS NOT THE NET. I WAS ALWAYS A GENEROUS GIVER, EVEN WHEN I DID NOT HAVE MUCH, GAVE A LARGE AMOUNT IN PROPORTION TO WHAT I HAD, AND GOD PROSPERED ME. THE LAW OF PROSPERITY IS A WONDERFUL THING AND GOD RETURNS WHAT WE GIVE IMMEDIATELY, AND TEN TIMES IN THE LONG RUN.

RECENTLY I SENT A DONATION TO SOMEONE WHO REALLY NEEDED THE MONEY. THIS PERSON WAS HELPING THE CHURCH, SUPPOSEDLY, BUT HAD ONLY DONE ONE SERMON FOR US WHEN SHE ASKED FOR A COMPUTER. I HESITATED AS THEY ARE ALWAYS SCAMMING PEOPLE FROM 3RD WORLD COUNTRIES. WHILE I HESITATED I GOT A STRING OF BAD LUCK AND MY CHECKS BOUNCED, CAUSING FINES OF $250. AND OTHER PROBLEMS. I THEN WROTE AND SENT THIS LADY A CHECK, FIGURING IT WAS GOD'S WILL AS SHE WAS DESPERATE.

WITHIN TWO DAYS A MAN WHO WAS ONE OF MY BEST FRIENDS, WHO STILL LOVES ME, MADE ME A DONATION FOR THE CHURCH WHICH COVERED NOT ONLY MY CHECK FOR HER COMPUTER, BUT THE FINES FOR THE BOUNCED CHECKS. THAT WAS GOD. . AND NOW I KNOW THAT I WILL ALSO GET MORE PROSPERITY, AS LONG AS MY HEART IS IN A GIVING AND GENEROUS STATE.

I HAVE BEEN TALKING TO YOU A LONG TIME. YES, YOU HAVE LEFT MANY TIMES BUT YOU ALWAYS RETURN. HOW LONG WILL THIS GO ON?

WHAT IS IT YOU FEAR?

INDEED, MANY WERE ACTIVE FOR A FEW WEEKS AND JUST LEFT. BUT I ASSURE YOU, THEY WILL NOT PROSPER SPIRITUALLY OR TOTALLY IN OTHER WAYS AS THEY ARE SAYING NO TO GOD. SOME OF THESE PEOPLE HAVE BEEN PUT ON A VERY GOOD PATH AND THEY ARE IMPROVING, BUT THEY WOULD GET MUCH BIGGER BLESSINGS HAD THEY STAYED CLOSE TO ME AND BEEN FAITHFUL.

I ASKED ONE DEVOTEE TO HELP ME POST AND HE REFUSED. HE HAD MANY ECSTATIC VISIONS. SINCE THEN I HAVE NOTED HE HAS NOT HAD ANY ECSTATIC VISIONS. COULD THERE BE A CONNECTION? IF HIS ECSTATIC VISIONS DIMINISHED BECAUSE HE REFUSED TO DO GURUSEVA (THEY ALL DO, ALL ARE TOO BUSY TO HELP THE CHURCH!) THEN IT MEANS THE FOLLOWING: THEY THINK THEY HAVE GOTTEN ALL THEY CAN OUT OF THE ANOINTING. BUT THERE IS ALWAYS MORE, MUCH MORE. BY TAKING AND RUNNING THEY HAVE STOPPED THE FLOW OF THE ANOINTING, TO SOME DEGREE, EITHER PARTIALLY OR ALL THE WAY. THEY THINK THEY HAVE 'GOTTEN AWAY' WITH SOMETHING BUT ALL THEY HAVE DONE IS STOPPED THE CONTINUED FLOW OF POWER COMING FROM ME TO THEM. FOR THAT - ONE HAS TO DO SERVICE, GURUSEVA.
THIS SEEMS LOGICAL TO ME. WHY WOULD GOD KEEP FLOWING POWER INTO THE DEVOTEE IF THE DEVOTEE REFUSES TO COOPERATE AND DO THE WORK OF GOD? DOES THAT MAKE SENSE TO YOU.
MY SON, DO WHAT YOU CAN. IF YOU CANNOT HELP PROMOTE THE CHURCH, SEND DONATIONS. BUT DO SOMETHING. IF YOU DO NOTHING DON'T EXPECT THE ANOINTING TO KEEP FLOWING TO YOU IN ITS FULL POWER. YOU MIGHT RECEIVE SOMETHING, AS LONG AS YOU LOVE ME OR KEEP YOUR HEART OPEN. BUT HOW CAN YOUR HEART BE SINCERE IF YOU WISH TO DO NOTHING AND HAVE NO CHARITY TOWARD THE ONE WHO GAVE YOU THE ANOINTING?
INFINITE LOVE,
RASA VON WERDER
MARCH 6, 2006