HUNGER FOR GOD
EXPLAINED IN LETTER TO DEVOTEE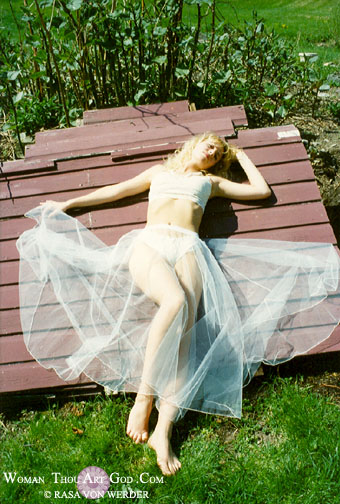 Delilah
Photo © Rasa Von Werder
BLESSED ARE THE POOR FOR THEY WILL INHERIT THE KINGDOM OF GOD
DEAREST SON, THE HUNGER WHICH IS SATISFIED IS USUALLY WHEN A PERSON WANTS GOD MORE THAN ANYTHING ELSE WHEN ALL OTHER AVENUES HAVE FAILED.

THAT IS THE WAY HUMAN NATURE USUALLY WORKS. EITHER EVERYTHING HAS FAILED AND FALLEN APART - OR ELSE - THE PERSON HAS TRIED EVERYTHING IN LIFE AND REALIZES NOTHING GAVE THEM TOTAL SATISFACTION, AND THEY FEEL EMPTY, ALONE, UNLOVED, UNFILFILLED. THERE MUST BE A POWERFUL, OVERWHELMING DESIRE FOR GOD AND USUALLY THIS IS BORN OUT OF PAIN. THIS IS SAD BUT TRUE.


ANDREWS GOOD IDEA
You are thoroughly correct, there is no excuse. There is absolutely no point in cultivating desolation. Gandhi himself realized that we have nothing to lose and everything to gain if we ONLY take the necessary steps. It is a shame that pain and loss are most often needed as a catalyst for action (and insight). I will contemplate your teachings and adapt them to the structure of my life and identity.
RASA ANSWERS ANDREW
GOOD WORDS. THE HUMAN PROBLEM IS THAT MOST OF US (INCLUDING MYSELF) THROUGHOUT OUR LIVES HAVE TO BE HUMBLED BEFORE WE ARE HUMBLE AND DEVASTATED BEFORE WE TOTALLY SURRENDER
AN EXTREMELY WISE PERSON WILL TAKE THE LESSONS H/SHE SEES ALL AROUND ONE AND THE LESSONS FROM SCRIPTURES, AND THEN APPLIES TO TEACHINGS TO THEIR LIFE. THIS WILL CUT DOWN ON SO MUCH OF THE USUAL PAIN AND DEVASTATION NEEDED TO TAKE THE NARROW ROAD AND THE RIGHT PATH.
AFTER ALL WE ARE INTELLIGENT CREATURES CAPABLE OF INDEPENDENT THOUGHT AND ANALYSIS. AND LOOK AROUND YOU AT ALL THE LESSONS OF LIFE AND YOU SEE EVER SO CLEARLY THAT IT IS IN SUCH CONDITIONS THAT HUMANS SEE THE LIGHT, WHILE IN THE OPPOSITE, WHEN ALL IS GOING WELL, THEY JUST WALK THE BROAD HIGHWAY TO HELL.
DISCIPLINE YOURSELF AND DO NOT TEMPT THAT BIG MEGAPHONE OF GOD TO COME AND GET YOU! TO NOT BECOME SPOILED, HARDHEARTED, CALLOUS AND ALL COVERED UP BY THE SOFT PLEASURES OF LIFE AND THE DISTRACTIONS OF THE WORLD, WHICH ALL WILL TRULY LEAD ONE TO HELL.
BEAR IN MIND ALSO THAT THE MAJORITY OF PEOPLE DO HEAD STRAIGHT FOR HELL - SO SAY ALL THE SAINTS.
SEE YOU IN HEAVEN, ANDREW
RASA
MARCH 9, 2006