ABOUT ABORTION & THE DEMON OF LUST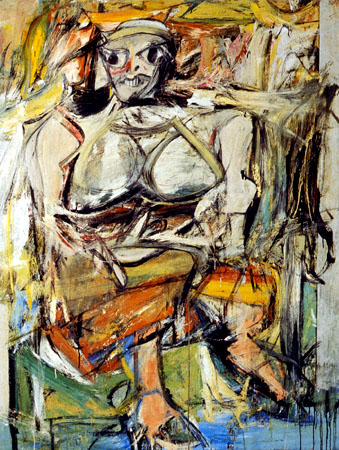 Woman I
Willem de Kooning
RASA'S RESPONSE TO CARMEN ON YAHOO
Confess I've been lurking, learning something from watching the postings. And have read your site. I concur readily with most all of what you say your site, not sure about limiting women's freedom of choices in reproduction.
RASA: MISUNDERSTANDING HERE. I DID NOT DO THIS. I AM AGAINST ABORTION BUT I WOULD NOT PASS LAWS AGAINST IT, BUT HELP CHANGE SOCIETY SO WOMEN CAN SAY NO TO MEN AND THEREFORE NOT HAVE UNWANTED PREGNANCIES, AND ALSO PROMOTE USE OF CONDOMS, CELIBACY, OR FREEDOM OF CHOICE OF WHEN WOMEN REFRAIN FROM SEX RATHER THAN BEING PRESSURED INTO IT. AND MATRIARCHY WILL GIVE WOMEN ECONOMIC FREEDOM SO THEY DON'T HAVE TO PUT OUT TO MEN FOR MONEY OR SECURITY.
Personally, I've been through my femdom phase and my cross dressing phase and Pagan phase. All this in an effort to be more in touch with the Goddess within me, as well as a rejection of orthodoxy and conventionality.
RASA: YOU HAVE BEEN THROUGH GOOD LEARNING EXPERIENCES I IMAGINE.
Want to develop my spirituality and being and awakening my consciousness. Wonder about issues like prayer and "right-thinking".
RASA: THIS IS ON THE SITE. LOADS AND LOADS OF IT. WHAT HAVE YOU BEEN READING?

Hope you could share your insights, teachings about this. And confess to an ambivalence about my weakness for pornography.
RASA: ADDICTION TO SEX IN ANY FORM, PREOCCUPATION WITH IT, WILL DILUTE AND DESTROY ALL YOUR SPIRITUALITY. YOU CANNOT ATTAIN ENLIGHTENMENT WHILE BEING ADDICTED TO SEX, PORN OR ANY KIND OF SEXUAL INTEREST.
RECENTLY I GOT CLOSE TO ONE OF MY DEVOTEES BY MAIL & PHONE AND HE TRANSMITTED TO ME HIS DEMON OF LUST. I WOULD NOT HAVE GUESSED OR SUSPECTED HE HAD ONE. REMEMBER, ANYONE YOU GET CLOSE TO, YOU GET ALL THEY HAVE. SO UNLESS HE RESISTS THIS DEMON AND STRUGGLES AGAINST HIS LUST THOROUGHLY, I CANNOT BE CLOSE TO HIM ANY MORE. I CAN GET IT AWAY BY EXORCISM AND I HAVE, BUT IF HE KEEPS PERMITTING THIS DEMON ENTRANCE IT WILL COME BACK AGAIN AND AGAIN, AND I WILL NOT BE HIS DAILY EXORCIST. HE HAS TO DO THE WORK HIMSELF.

SO REMEMBER, ANYTHING YOU GIVE INTO THAT IS A VICE, IT USUALLY BRINGS THE DEMONS OF THAT VICE WITH IT, BE IT LUST OR WHATEVER.

AND AFTER ONE DEMON GETS IN, OTHERS FOLLOW - OF DIFFERENT TYPES. THEY ARE LIKE A GANG OF HOODLUMS, LIARS, CHATERS, THIEVES, MURDERERS, ETC. WHEN ONE HOODLUM GETS IN, HE BRINGS HIS FRIENDS AS WELL. THERE IS NO SUCH THING AS ONE HOODLUM, AND NO SUCH THING AS ONE DEMON, THEY HANG OUT TOGETHER AND CONNECT TO EACH OTHER. BE WARNED.