PASTOR'S LETTER
MARCH 26, 2005
GOD HAS REBUKED ME
REGARDING VISUALIZATION CHARTS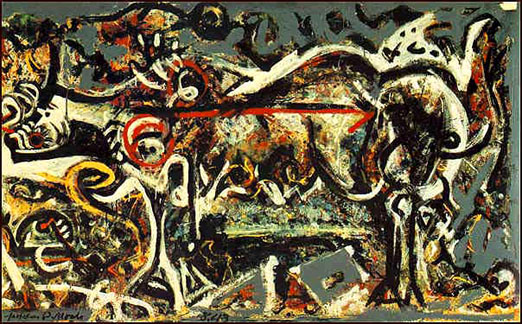 Wolf
Jackson Pollack
The other day I spoke of visualization and doing charts, when God stopped me by the following dream:
DREAM OF MARCH 25, 2005
A police officer arrested some prostitutes and was teaching them to dance.
Then, I was with a man trying to follow him in dancing. He was shorter than me and wore a hound's tooth jacket. He went five steps, but I told him it should be four. I asked him if he knew how to tango, as I did, and then, I could follow him.
MEANING OF THE DREAM
As I interpreted this dream I was sitting in the parking lot of Staples, ready to go in and get my chart materials. But I could not, because I soon realized God was saying,
"YOU ARE TELLING GOD WHAT TO DO."
I was sickened by my own self, because I had already adivised my children to do visualization.
In the first image, the cop is my guardian angel. The prostitutes are workers for God, who are saving souls by loving them. The guardian angel (who I pray to daily to keep me in perfection) is saying "stop" (the arrest.) Let ME teach you, not you teach me.
Then, the man in the houndstooth is Nityananda/God. Houndstooth is black and white and so means "clear as black and white" or "clear as the printed page." Houndstooth is also said to be "clean as a hound's tooth." There is a message OF CLARITY for me. One, I am taller. Two, I am suggesting to Him how to dance so I can follow, and even what dance to do. The moral:
"Don't be bigger than God. Don't tell God what to do."
God reminded me that when I did these visualizations, (in the 80's and 90's) I was in the "dark night of the soul" after the Divine Stigmata. It was a place of little mental illumination or vision. Prosperity was a part of my study then not because I was brilliant, but because I had fallen down to a lower level. (Not due to any sin of mine but because of the grace mentioned.) Here I was functioning as a spiritual babe, a "baby Christian." Baby Christians tell God what they want, and visualization is part of that.
As God spoke to me, I felt confused. Why can't a person lay out, so it's clear in their minds what they want? Because, it slowly sank into me, you aren't supposed to want anything but God, to do Her will, to obey, and simply follow God. You don't lay out to God what you want to do; you ask God what God wants you to do and for the obedience to follow.
God warned me, that if I did visualizations, be very careful, and make sure everything was simply to surrender to God, trust in God, and not try to figure out all the things you want. As I said in an earlier Pastor letter, don't be a heron meditator. They meditate on fish and they get fish, not God. If you make a chart and it has everything you want, and God doesn't give it to you, does that mean God doesn't love you? It would seem that way. I have been humbled. I have stumbled.
What I must do is simply trust that God knows what must be done, how it is to be done, and just simply relax and let go. Pray daily that God will give me the vision to obey, and do righteous things daily, to find what God wants me to do and where God wants to put me. I must learn to be happy in whatever circumstances I am, rich or poor, alone or with others, or whatever. Uniformity with God's will is the secret to success.
I thought about the charts. Putting pictures of all the things I want and fantasize about, indeed, would be so childish. It would be like showing your spouse the diamonds you want, the car, the house and all that. If he is a rich and generous man, let him decide what to give you and don't demand or suggest anything. When he gives you what he does, it's a proof of his love, not the pressure of your demands.
I have been humbled.
I also want to say to you seekers that the rebukes are as important as the praise. If God did not rebuke you, you would fall off the razor's edge of perfection. If you would read my "how to pray" articles in Mystical Theology and Beatific Vision, I have everything correctly explained.
Visualization is a child's type of prayer. If you are on the low to intermediate levels, it is alright. But when you are reaching the heights of sainthood, the magic word is TRUST.

Rasa Von Werder
March 26, 2005