PASTOR'S LETTER
MAY 20, 2005
RESPONSE TO OBJECTIONS VOICED ON THE
NUDITY ILLUSTRATING WOMAN THOU ART GOD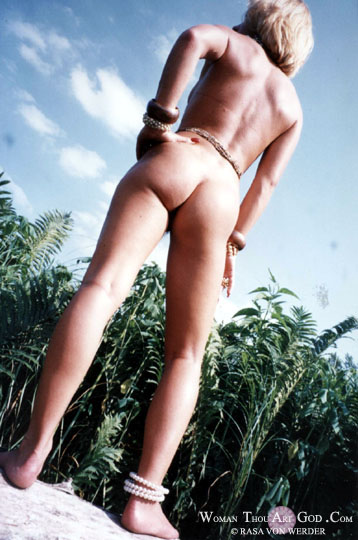 Camilla
© Rasa Von Werder
What I am doing here is not a census bureau, where I, as an artist, am obligated to represent everyone that exists. Imagine the insanity of telling Peter Paul Rubens that he was amiss by representing only fat white women; that he should have included fat asian and fat Afro women, and he should have painted more penises. Or for Michaelangelo, he should have gone easy on the dicks and less muscles, thank you. An artist does what she wants to do! Whatever means something to the artist is what the artist does. An artist is not necessarily a social reformer or statistician. (I walked into a museum (not a gallery, a museum) in New York City where a whole room was devoted to the paintings of this guy who created only sargeant's stripes - hundreds of pics of sargeants stripes. I walked out scratching my head...) Now in terms of your patronizing remarks about how I could help rather than hurt humanity, just look at my site. Does anyone read?
You will find about a hundred articles on my site which help humanity in terms of activism, animal rights, anti-sexism, female empowerment, and my favorite, how to attain union with God. There are interviews of women who survived polygamy (whom I personally interviewed) and my personal interview of the woman who discovered the living amazons - to name a few. But you are latching onto my images and trashing me with them. OK. It's your ballgame and I'm playing. Nudity doesn't bother you - only the nudity and sex appeal on my site. Because they aren't old and fat, they have impossible porno bodies and they don't represent all of humanity. I would like to see the lineup for the photos of your grandmother naked, or the average out-of-shape person. What is the interest of seeing the average person? I have been to nudist camps and I know what they look like. Naked ugly. I personally do not like ugly art - which is in vogue right now; the same as I do not like ugly music. I like classical music and opera and ballet, and classical art. I was told by a dealer ugly art was in, because he saw it as a commercial venture. I don't care about commercial, it's my heart I want to inspire. There you see some of the best artists of all time on my site, Maxfield Parrish, Boticcelli, Vasquez, Rubens, Chagall, Lord Leighton and many others who represent beauty and meaning to me.
Along with that I have my own photos which you don't like. Why? Because you don't like women in the poses I present or the paraphernalia of domination - leather, cigars, whips, etc. But yet, will you accept, I am sure, without whining, the images of voluptuous goddesses from the Hindu tradition? Why do they have such round bodies, full breasts and ample rear ends, all curves and thighs? Why can't they make them look like the average woman? Skinny, flat chested or with saggy pancake breasts? They have impossible bodies and are doing impossible things - they are an ideal of womanhood rather than the average. We see the average every day. Someone forgot to tell these artists they are all wrong. Why put porno bodies on goddesses? And also, they are not representing the whites. They all look like Hindus. They forgot to tell them to make white goddesses and African goddesses. Oh, they are not helping humanity! And the paraphernalia! Shocking domination and violence! Belts with arms swinging from them, and maces and swords and spears and axes and all sorts of weapons of destruction! My living goddesses represent the same things. They are female power, matriarchy, and female ascendency in the family and the world. I am not your average feminist who believes that all women should have respectable professions and that nude modelling hurts women. I say women do what they have to do until matriarchy comes back. My art makes the statement I want to make. You do with your art what you want. It's like Gaughan yelling at Van Gogh: "I can't live like this...I can't work like this...Why are you putting so much paint on?...Who wants to go outside?...Are you crazy, the wind will knock everything down,..." and on and on. I am hurting women? I paid the models I used. And I did not turn any away because they weren't perfect. Every woman who answered my ads got to work, even if they had flaws. I worked around the flaws of a 51 year old woman and turned her into a dominanting force. It changed her life, as no one had seen her that way before. I thank you for the nice things you said but I don't believe any self- respecting artist - no true artist - would agree with any of what you said.
Rasa Von Werder
May 20, 2005