NOVEMBER 13, 2005
DIFFERENCE BETWEEN CONVERTING
RELIGION & SAVING SOULS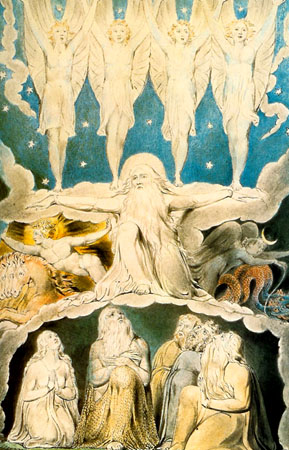 The Morning Star
William Blake

A MISTAKE MANY OFTEN MAKE IS ATTEMPTING TO CONVERT A PERSON RATHER THAN SAVE HIS OR HER SOUL. FOR EXAMPLE, JUST SO THEY COULD HAVE MORE MORMONS. I DO NOT AGREE WITH THEIR RELIGION BUT I DO ADMIRE MANY GOOD QUALITIES THEY HAVE AS I HAVE DONE A LITTLE STUDY ON THEM. I HAD MORMONS COME HERE AND EXPLAIN THE WHOLE DEAL TO ME. AND BASICALLY I ASKED THEM IF WOMEN HAD EQUAL RIGHTS IN THEIR ORGANIZATION AND THE MALE AND FEMALE BOTH EXCLAIMED NO. IN FACT, SHE SAID IT WOULD BE ABNORMAL FOR A WOMAN TO BE A MINISTER.

THAT CLOSED THE CASE FOR ME ON MORMONS.

PLEASE BE AWARE THAT CONVERTING PEOPLE TO ANOTHER RELIGION AND SAVING SOULS ARE TWO DIFFERENT THINGS.

SAVING SOULS IS WHEN YOU FIND A 'DEAD' SOUL OR A PERSON THAT IS NOT LINKED WITH GOD. THE DEAD IN SPIRIT CANNOT RECEIVE THE GRACE OF GOD. THIS IS WHAT WE ARE FIGHTING. WE ATTEMPT TO 'BRING TO LIFE' OR BIRTH THE SOULS WHO ARE NOT LINKED WITH GOD. THESE PERSONS, IF LEFT UNATTENDED, WOULD GO TO WHATEVER HELL THERE IS, WHATEVER WAY ONE INTERPRETS HELL. BUT THEY CERTAINLY WILL NOT ENTER INTO THE GLORY OF HEAVEN.

SAVING SOULS IS TO PREVENT PEOPLE FROM THIS DISASTER AND MAKE SURE THEY ARE LINKED WITH GOD AND ENTER GLORY. THAT TAKES WORK, AS SOULS WHO ARE DEAD HAVE NO IDEA THEY ARE DEAD - BECAUSE THEY ARE TOTALLY IMMERSED IN SENSE, TIME AND SPACE. IT IS YOUR JOB AS A MISSIONARY TO CONVINCE THEM THEY NEED TO OPEN THEIR HEART AND MIND TO GOD AND LET THE GRACE OF GOD ENTER THEIR SOUL. I HAVE DONE LOTS OF THIS KIND OF WORK AND SOMETIMES IT SEEMS IMPOSSIBLE, AT OTHER TIMES, FAIRLY EASY. SOMETIMES IT HAPPENS IN STEPS OVER A PERIOD OF TIME, OTHER TIMES, RIGHT HERE RIGHT NOW.

I AM AWARE THAT THERE ARE THOSE WHO ARE MISGUIDED - IN PARTICULAR FUNDAMENTALIST CHRISTIANS WHO ARE FANATICS - WHO PREACH AND IRRITATING AND FALSE MESSAGE THAT YOU CAN ONLY BE SAVED BY THE NAME OF JESUS CHRIST. AND OF COURSE, THEY WOULD CONSIDER EVERYONE NONCHRISTIAN TO BE LOST AND HEADED FOR HELL. THEY MAY BE SINCERE BUT MISGUIDED AND YOU CAN ADMIRE THEIR ZEAL AND CONCERN, BUT NOT THEIR DOGMA.

(REMEMBER JIMMY SWAGGART WHO SAID MOTHER TERESA OF CALCUTTA HAD TO BE SAVED? THESE TYPE PEOPLE WOULD CONSIDER SWAMI G, GANGAJI AND ALL OUR FAVORITE YOGIS UNSAVED)
ASIDE FROM THAT, THERE ARE OTHERS WHO SEE THE GOD IN ALL RELIGIONS AND THE BORN AGAIN EXPERIENCE IN ALL RELIGIONS, AND THEY RECOGNIZE THAT SOULS WHO LOVE GOD ARE LINKED TO GOD, WHATEVER RELIGION THEY ARE IN.
DISCUSSIONS ON