MATRIARCHAL WOMEN, ATTENTION!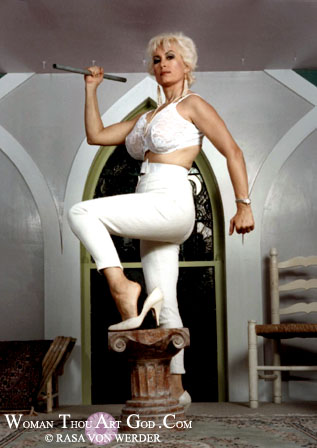 PHOTO © RASA VON WERDER
IS FEMDOM THE PLACE TO FIND
A MAN FOR A MATRI-CENTERED RELATIONSHIP?
It does not go unnoticed that the matriarchal world is stocked with femdom men. Femdom men are the obvious participants. They aggressively seek out 'matriarchal links' and 'matriarchal groups' because they are seeking dominant women. Recently I began to get more ads from femdom men (on my WTAG group): 'Dominant woman wanted.'
Some of my lady friends are catering to, or at least, warmly tolerating these men, feeling that from this group a worthy catch can be made; the ideal man we powerful ones are seeking; that obedient, giving man who will supply our needs. The femdom guy sounds like he hits the spot. Look at all the things he says! He sounds too good to be true. If only half of what he says is right, he should be ok.
Now I am going to appeal to women to hear me out, and trust my experience. Although all logic says, 'They are right for matriarchy', I will tell you from experience that they are not. Or at least, no more so than regular guys. Matter of fact, I would wager by a margin you could find a better guy in the 'real world.'
I lived in the world of femdom for most of twelve years. During this time I auditioned men for roles as 'slaves,' 'actors' and 'friends.' I had a good number that fell into those categories, and from this comes my experience. Obviously I also associated with men from the regular crowd. Take advantage of what I went through.
I have learned this: Those men who are aggressively seeking to be dominated have a Pandora Box of needs, fetishes, fixations and desires that you might not want to face on a regular basis. These guys have raging sex needs, even more so than the average guy. Men in general (as even women) have problems, but these guys have problems on top of problems. They need therapy, role playing, theatrical productions, fetish playout, and extreme attention. They do not want 'regular, normal sex.' They want things unusual, which are difficult to play out. Most of these men do not need a wife, they need a professional domme or mistress. Some of them have wives or long-time girlfriends, but they go elsewhere for their needs. They just don't have the guts to bring their strange desires to the little lady - with good reason. Usually, she can't wait to get a divorce or send him to a psychiatrist (this happened to some of the guys I knew in the scene.) Few regular women would put up with it. The men who are in the game are so needy, so very needy, they make ordinary guys, (who are sex pigs without a doubt) look like schoolboys!
My advise is to cast a wide net, when looking for a man, and make sure that net includes the regular world. If I had to guess where you could find a decent guy I would put it like so: 75% of all men in femdom are inappropriate for matriarchal mates, and maybe 60% of the 'regulars' are unfit. There is more of a chance finding a 'relaxing' and therefore appropriate male in the regular world than femdom.........The femdom men, once they get you alone, and live with you day in day out, would make you want to kill yourself, if you know what I mean.
It all comes down to this: need. Men in general are immature, weak and needy compared to women. But those in the domination scene are even needier, and many are passive-aggressive. They are demanding and that is the opposite of what you want! And if you think you can ignore their needs, think again. They become sullen, moody, depressed and totally uncooperative and if the needs are not met! They cannot function without their outlet. Some are fixated in childhood scenarios or pre-puberty, playing out fixations again and again. Others have compulsions with their fetishes, which they manage to hide in their conventional life, which would now be your responsibility. If you think, and believe, that those ads they write are for real, then I'll sell you a bridge. By 'intelligent, educated, docile male' seeking 'dominant woman to serve' really means,
'intelligent, educated man seeks woman who will put up with him following you into the toilet every time you go, and will try to put his head in it,' or,
'intelligent, educated man will want to sit in a hole underneath your couch while you watch tv for hours,' (not supposed to bother you a bit while he has his fetish fun, just relax), or
'intelligent, educated man cannot get an erection unless you put on dirty socks every day and let him chew on them,' and then he will prefer masturbation to sex, or
'intelligent, educated man will want to talk to you about the feet of all the women he saw on tv, in the movies, or at the PTA, and then while you are making love, will want to talk to you about what he saw while having a raging climax thinking of the high heels of the president of the PTA' or,
'intelligent, educated man have you walking on top of him for fifteen minutes before he can get erected, or else, have you buy whole chickens from the market and then run over them with the car in the driveway, before he can think about having sex,' or
I could go on and on! In storage I have about 14,000 letters I received from men giving their scenarios - Now this shit would be loaded on you!
Dear lady, these men are seeking to 'serve you' in only the most limited way. They just might do for you what any regular man would do, if you serve them as well! It might not be a bargain - THERE IS NO SUCH THING AS A SLAVE! Not only are slaves illegal, they don't exist. Every 'slave' or 'servant' out there will make you pay for whatever they give you, I assure you. Take all that they say with a grain of salt. Unless you are a professional dominant woman, my advise is to forget it.
Well then, who is out there? They are the guys who do NOT put ads in the paper or groups. They are just ordinary men, wishing that some great woman will see or notice them, because they might not be aggressive or macho. They may be slightly timid with women, or shy. They might tend to be obedient, or docile, but not sissies or wimps. They could be strong men, but true gentlemen. They would not be the type who DEMAND and AGGRESSIVELY post ads all over the place. They would be more likely to WAIT for a woman to find them, rather than actively seeking one out. Oh yes, they might be around in public, waiting and hoping. But since they do not have the raging sex needs of the 'femdom' guys, they do not solicit aggressively. They are the kind of men who can spend time alone, and might not be the best talkers, the most articulate or charming with women, but they are sincere and have good character traits. That is EXACTLY who you are looking for.
Here are the traits to seek:
• SHY - GOOD TRAIT
• NOT THE MOST POPULAR - GOOD
• DO NOT GO BY LOOKS, EXAMINE THE SOUL - BETTER AN AVERAGE GOOD MAN THAN A HANDSOME DEVIL
• NOT AGGRESSIVE WITH THEIR NEEDS, NOT SELF INDULGENT OR HEDONISTIC
• CAPABLE OF HOLDING DOWN A JOB, TAKING RESPONSIBILITY & DOES NOT WASTE MONEY
• SINCERE IN WHAT HE SAYS
• HONEST, GOOD CHARACTER, HAS VIRTUES
• MAKE SURE HE HAS NO VIOLENT TENDENCIES (THESE COME OUT BY MANY HOURS OF CONVERSATION. YOU CAN LEARN ALMOST ANYTHING IF YOU MAKE HIM TALK LONG ENOUGH)
• A GENTLEMAN, YES.
• HOW HAS HE TREATED HIS MOTHER, THE WEAK, LITTLE CHILDREN AND ANIMALS?
• HOW SELFISH OR UNSELFISH IS HE? STAY AWAY FROM THE ME ME ME GUYS.
• IS HE CONSIDERATE? DOES HE LISTEN AND CALL AND SHOW UP WHEN HE IS SUPPOSED TO?
• DOES HE CARE ABOUT YOUR NEEDS AND PROBLEMS?
• IS HE HONEST OR DOES HE LIE? STAY AWAY FROM ALL LIARS, AS CHEATING AND STEALING GOES WITH LIARS.
• IS HE SEXUALLY AGGRESSIVE? BAD BET. THAT MEANS SELFISH, AND SELFISH IS BAD.
• IS HE AN ALCOHOLIC OR DRUG ADDICT? KEEP MOVING
• FIND OUT HIS HOBBIES AND INTERESTS - VERY IMPORTANT. ARE THEY HARMLESS?
This is just a small list of who to stay away from and who to seek. Remember, as a matriarch you are seeking to meet YOUR needs and he has to be, up to a point, willing to see to that. At the very least, he should not be demanding or stand in your way. (And if you think you are going to get a man like that out of femdom, think again.)
Yes, my sisters, I do understand that it is not going to be effortless. In the patriarchal world we have been taught to serve and be self sacrificing. Now it is going to be the other way around. In most relationships it is not 50/50. The woman gives at least 60, maybe 75%. It will not be easy making this transition to freedom, but we must start. We are taking the first steps to matriarchal liberty. Men have to change, women have to change. And you, the woman, mustn't feel guilty. It is better for them if they serve us than for us to serve them. It is as God wants it. And by having a man's support, we can get a lot more done in the world. The world needs us. It's time to stop serving the male and his lower needs. The world cries out for salvation, and this is done by the woman now attending to larger issues.