PROOF MEN LISTEN WITH
ONLY HALF THEIR BRAIN!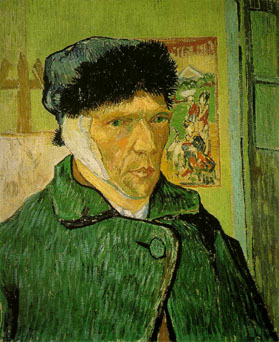 Self Portrait with Bandaged Ear
Van Gogh
WILLIAMS INFERENCE CENTER REPORT:
TOWARD MATRIARCHY
Volume 27, No. 18, December 9, 2000
SUBMITTED BY DEVOTEE PB
We have gone from a tremendous assertion of masculinity at the beginning of the century to an ideal of the sensitive male and gender-neutral society at the end. Looking forward, there are basic changes in our society that favor women.
The female brain with its larger corpus callosum (connector of left and right brains) is better suited for the demands of a communications - oriented economy. Recent research using brain imaging suggests that men really do listen with just half their brain. Brain scans in women showed increased blood flow in both temporal lobes when listening, while scans in men showed activity confined to the left temporal lobe only. These findings by Indiana University School of Medicine suggest that women's brains are more "bi-laterally dominant".
EDUCATION
Women still face sexual harassment, lower wages than male colleagues, and a "glass ceiling", but this is changing.
The rate of increase for women earning college degrees between 1982 and 1995 was three times greater than the rate of increase for men. According to federal Department of Education statistics, women obtained more than half of the degrees awarded since 1987. That year marked the first time that women graduates outnumbered men. Since then, the gap has continued to widen from a plurality of 5,000 in 1987, to more than 122,000 in 1995.
Many business schools have thrown open their doors to women, even actively recruited them. Woman now make up 30 percent of business school classes, according to the Education Department, up from 6 percent two decades ago. Almost 40 percent of new M.B.A.'s are women, up from less than 5 percent 30 years ago. Also, women hold about half of the middle management positions-up from 5 percent.
WOMEN & THE MARKET PLACE
Hammers with smaller handles; light-weight electric saws; gloves with reinforced finger-tips-These products are coming to hardware stores, and they are made specifically for women. Women accounted for 38 percent of all do-it-yourself purchases last year, according to the Home Improvement Research Institute.
· At Ford Motor Co., 30 female engineers, known as the Windstar Moms, were recruited by the company to make the Windstar minivans user-friendly for its core customer base: women with children. Family-friendly designs from the Windstar Moms include thinner steering wheels, a drop-down "conversation mirror" for checking on little passengers in the rear seats, a rectangular cup holder for juice boxes and a 26-gallon gasoline tank so mothers will not have to stop as often to fill up as they make the daily rounds with their children.
· Managing family finances is becoming a women's domain. For many wives, this means being in charge of paying the family bills. A graduate student at U Mass-Boston who is training to be a teacher, concurs that family money is always on his wife's mind. I have no idea how much we have in the bank," he says. "All I know is that I'm given $150 a week for grocery money."
"Actually," his wife corrects him quickly, "it's $130."
THE NEXT GENERATION
· This Christmas, Mattel released tens of thousands of "Barbie for President" dolls-all looking to move from that Dream House to the White House. The agenda is simply to get little girls to believe that they can become women with power.
· Hallmark stores sell a variety of products to empower young girls. You Go Girl, for example, is a small book of quotations with sayings like: "A guy might be able to slow me down, but he is not going to break me."
· The Girl Scouts want people to know that they are more likely to be kick boxing, designing Web pages and rock climbing than cooking and sewing.
· T-shirts with boy-bashing slogans are popular in teen specialty stores from coast to coast. The T-shirts read, "Boys Are Great, Every Girl Should Own One" or "Boys Make Good Pets." Some see marketers taking advantage of girls' newfound assertiveness by encouraging cynicism and hostility.
· Camp Start-Up in Wellesley, Massachusetts was created to give teenage girls of many ethnic and economic backgrounds an edge in the business world. The camp shows girls the practicality of understanding business basics. Demand for such programs appears to be great.
This younger generation will add impetus to the trend already established to create more power for women.
The future in the U.S. could conceivably be a matriarchal society. Women have the brains for it.
FOLLOW-UP COROLLARY
Volume 28, No. 2, January 12, 2001
Politics: For women, the real theme of this year in Washington was money. Mrs. Clinton received a lot of press, but Maria Cantwell of Washington was also being sworn in, after having spent $10 million of her own money to get there. Instead of relying on well-heeled husbands, women can now earn obscene amounts of money all by themselves and then blow it on a Senate seat.
Youth: A new line of dolls, under the Get Real Girl label, aims to give young girls dolls with more realistic bodies and career expectations. They are geared to encourage girls to compete with Ken rather than just date him.
Global: The German military opened up its combat units to women for the first time. The move comes less than a year after the European court ruled that German laws restricting women from the armed forces violated European Union laws against sexual discrimination.
New research indicates that many men fret over the size of their pecs. A study from Boston's McLean Hospital compared 30 normal weightlifters to 24 men with muscle dysmorphia-a disorder defined by a pathological preoccupation with increasing muscularity. Like people who have eating disorders, these men typically perceived their appearance inaccurately-they thought they looked puny, when in fact they were extremely muscular. "This is a widespread, secret phenomenon," explains Harrison G. Pope., M.D., co-author of the recent American Journal of Psychiatry study.
The rise of women in society, according to our WIC report, is a direct function of women's bilateral brains.
---
---