MORGAN STANLEY PAYS
$75 MILLION TO 350 WOMEN FOR SEXISM!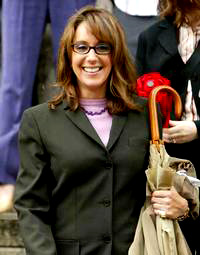 Former Morgan Stanley bond seller Allison Schieffelin
will get $US12 million of the $US54 million settlement.

By Patrick McGeehan
New York, July 14, 2004
The Age.com.au
Former Morgan Stanley bond seller Allison Schieffelin will get $US 12 million of the $US 54 million settlement.
Wall Street brokers Morgan Stanley will pay $US 54 million ($A74.2 million) to settle a sex discrimination case.
Morgan Stanley chose to settle rather than stand trial on a government accusation that it denied equal pay and promotions to women in a division of its investment bank.
The settlement, which could cover up to 340 women, is the second largest the Equal Employment Opportunity Commission has reached with a company it sued and is the first with a major securities firm.
It came minutes before a lawyer for the commission was to have switched on a projector and laid out the statistical evidence against the company.
It averted the possibility that a jury could find Morgan Stanley, one of the most prestigious firms on Wall Street, guilty of sex discrimination. Testimony was expected to include details about trips to strip clubs and allegations of sexual harassment.
Monday's settlement came after a weekend of negotiating involving Morgan Stanley's chairman and chief executive Philip Purcell and the chairwoman of the commission, Cari Dominguez. Advertisement Advertisement
Besides paying the money to settle complaints, Morgan Stanley, which did not admit to any wrongdoing, agreed to spend $US2 million on diversity programs overseen by an outside monitor. According to a consent decree it signed with the commission, the diversity programs are to improve the chances that women will succeed.
The company also must provide anti-discrimination training for managers and employees in the division that deals in stock trading for institutional clients.
Morgan Stanley officials have vigorously denied accusations of harassment and unequal treatment of women.
At least $US12 million of the money to be paid by Morgan Stanley will go to one woman, Allison Schieffelin.
Ms Schieffelin, 42, was a successful bond seller for Morgan Stanley, earning more than $US1.3 million a year, when she first complained that she had been denied a promotion to managing director because of her sex.
The consent decree is a watershed in... protecting the rights of women on Wall Street.

- Judge Richard Berman
Ms Schieffelin hugged her parents after the settlement was announced in Manhattan Federal Court.
"I am so happy that there is a great settlement that's good for everybody," she said outside court.
The settlement ended the first phase of resolving the disputes between the company and women who worked in the investment banking division since 1995, including Ms Schieffelin. Of the $US54 million, $US40 million will be set aside for women who qualify to make claims under the consent decree.
"The consent decree is a watershed in safeguarding and protecting the rights of women on Wall Street," US District Judge Richard Berman said as he approved the deal.
The settlement prevented a trial that would have emphasised Wall Street's continuing difficulties with integrating women into a sometimes crude and overwhelmingly male environment.
Up to 20 current and former Morgan Stanley employees were to have testified about how they were denied raises and promotions and exposed to sexist behaviour, including all-male outings to strip clubs and hostile comments.
---
---