MYSTICAL MARRIAGE
WHAT IS IT & WHAT HAPPENS WHEN WE REACH IT?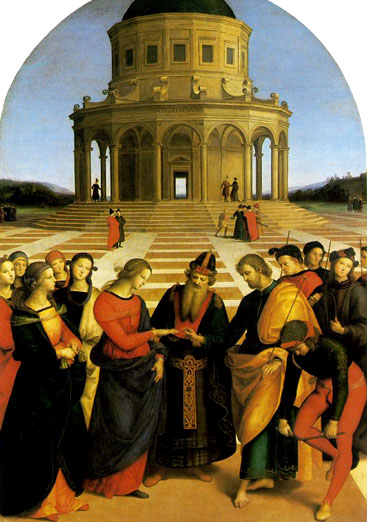 The Betrothal of the Virgin ('Sposalizio')
Raphael
INCLUDES PAGAN PERSPECTIVE
TO MAUREEN, JEN AND ERROL
MAUREEN WRITES
I really am trying to understand. You see. I am pagan as well, so Rasa is my guru. She brought me to full mystical marriage with the shakti and the sahasrara.
RASA: WHILE UNDER MY SHAKTI, MAUREEN ATTAINED THE HIGHEST STATE. SHE ENTERED QUICKLY INTO HIGHER REALMS OF HEAVEN (SHE WAS ALREADY HIGH UP) AND THE AJNA AND THEN THE SAHASRARA CHAKRA. SHE SAW IT AS MARRIAGE, WITH MYSELF AS THE MINISTER JOINING HER AND A MAN TOGETHER, AND THE MAN WAS SYMBOL OF GOD, SAHASRARA, BRAHMAN, SHIVA, BUDDAH, OR BY WHATEVER NAME YOU CAN CALL GOD.
THE SHAKTI IS BRINGING PEOPLE INTO THE SAHASRARA. WHAT HAPPENS HERE? IT IS ELEVATION, IT IS WHEN YOUR CONSCIOUSNESS REACHES THE SUMMIT. YOU ARE AT THE MOUNTAIN, THE PEAK. YOU ARE ONE WITH GOD, SEEING GOD, YOU ARE GOD. YOU ARE ONE WITH GOD.
BUT THE UNDERSTANDING IS NOT ALL THERE NECESSARILY. YOU MAY BE THERE IN FACT, BUT NOT THERE IS MYSTICAL CONSCIOUSNESS ALL THE TIME. THAT IS TO SAY, YOUR SOUL AND YOUR INNER SELF IS TOTALLY ONE, BUT YOUR CONSCIOUS MIND IS NOT AWARE OF WHAT THAT MEANS AND PERHAPS YOU ARE NOT FULLY CONSCIOUS OF THE PRESENCE OF GOD, AS YOU KIND OF HAVE TO HAVE THE 'ENLIGHTENMENT' OF IT PENETRATE YOUR HUMAN MIND.
THIS VARIES FROM ONE PERSON TO THE OTHER. SOME PEOPLE WHO HAVE STUDIED WHAT UNION MEANS FOR A LONG TIME, MAY HAVE A HIGHER UNDERSTANDING AND AWARENESS OF WHAT 'GOD' MEANS. (ASSUMING ALSO, OF COURSE, THAT THEY HAVE REACHED THAT STATE. THEY HAVE REACHED IT, AND BECAUSE THEY STUDIED WHAT HAPPENS IN THAT STATE, THEY CAN UNDERSTAND AND EXPLAIN IT BETTER.) OTHERS, WHO MIGHT SEE GOD IN A DIFFERENT WAY, MIGHT NOT HAVE A 'REGULAR' RELIGIOUS WAY TO EXPRESS THIS. SINCE MAUREEN HAS BEEN PAGAN ALL HER LIFE, SHE THINKS BY THE PAGAN TERMINOLOGY OR VOCABULARY. PERHAPS ONE WAY TO DESCRIBE MYSTICAL MARRIAGE TO A PAGAN IS THIS: THE LORD AND LADY GOD HAVE BEEN UNITED. NOW INSIDE ME, THE LORD AND LADY LIVE AS ONE, AS UNITY. I AM BOTH LORD AND LADY GOD. WE ARE UNITED FOREVER, TOTALLY INSEPARABLE.
NOW THERE IS AN ELEMENT TO THIS CALLED 'ENLIGHTENMENT.' ENLIGHTENMENT IS PART OF ALL THIS. WHEN YOU REACH THE SAHASRARA YOU HAVE ENLIGHTENMENT IN VARIOUS DEGREES. BUT THIS MARRIAGE AFFECTS DIFFERENT DEVOTEES IN DIFFERENT WAYS. THE CONSCIOUS MIND - THE SPECTRUM OF CONSCIOUSNESS YOU ARE AWARE OF IN THE WAKING STATE, VARIES. WHAT I MEAN IS WHEN MAUREEN DREAMS, SHE HAS A PERFECT AWARENESS AND CONSCIOUSNESS OF HER AND GOD. BUT WHEN SHE AWAKENS, SHE DOES NOT. HER CONSCIOUS MIND HAS TO ADJUST TO WHAT IS THE REALITY INSIDE. INSIDE SHE IS TOTALLY ONE, OUTSIDE SHE DOES NOT SEE ALL OF THIS. SHE WILL ADJUST, IN TIME, SHE WILL KNOW ABSOLUTELY SHE IS ONE AND THERE IS NO SEPARATION BETWEEN HER AND GOD AND IT WILL BE A STATE OF PEACE AND BLISS.
YOU MIGHT ASK A QUESTION - BUT IS THIS NOT TRUE OF ALL PEOPLE? NO, NO WAY. ALL PEOPLE ARE NOT ONE IN THEIR SOULS WITH GOD. THE AVERAGE PERSON IS NOT EVEN BORN AGAIN, IS SPIRITUALLY DEAD. SOME OF THESE PEOPLE'S SOULS STINK WITH SIN, ARE FILTHY IN THE EYES OF GOD, BECAUSE OF THEIR SIN. THEY ARE ONE WITH GOD IN POTENTIAL, AS GOD LIVES WITHIN THEM, BUT NOT ONE WITH GOD IN FACT, AS GOD IS NOT ACTIVE IN THEIR PERSON. THEY HAVE NOT WELCOMED GOD INTO THE REST OF THEM, GOD SITS AS IF 'IN THE CLOSET.'
THEN THERE ARE THOSE ON VARIOUS RUNGS OF THE LADDER TOWARD GOD. SOME HIGHER, SOME LOWER. ERROL SAYS HE IS MYSTICALLY MARRIED WITH GOD, SO ERROL AND MAUREEN ARE BOTH ON THE HIGHEST LEVEL. SO IS KATHLEEN, JUANA, KUNKIN, AND OTHERS ON MY LIST. BY WAY OF CHAKRAS, AS YOU ASCEND CLOSER TO GOD, YOU ASCEND THROUGH YOUR CHAKRAS. WHEN YOU REACH SAHASRARA YOU ARE ONE WITH GOD. CHRISTIANITY CALLS IT MYSTICAL BETROTHAL FIRST, (AJNA) AND THEN MARRIAGE (SAHASRARA.)
SINCE I NOW KNOW A FEW PEOPLE WHO I BELIEVE AND SOME I KNOW ABSOLUTELY ARE MARRIED TO GOD, I CAN SEE THAT THESE STATES SHOW UP WITH A GREAT VARIETY IN INDIVIDUAL PEOPLE.
I CAN SEE CLEARLY THAT WHEN ONE ATTAINS THE SAHASRARA, S/HE DOES NOT INSTANTLY BECOME A GURU! THEY MIGHT BE ONE WITH GOD, BUT THAT DOES NOT MAKE THEM CAPABLE, NECESSARILY, OF MINISTERING TO OTHERS AS AN ACTIVE GURU. TRUE, THEY CAN HELP OTHERS. EVERYONE CAN. BUT BEING 'GURU' IS A TOUGH JOB. HOWEVER, ALL SOULS THAT ARE OF GOD, FROM BORN AGAIN TO MYSTICALLY MARRIED SAINTS, CAN WORK TO FURTHER THE CAUSE OF GOD'S WORLD.
WE MUST ALSO CONSIDER 'THE GIFTS' AND THE 'ANOINTINGS'. THESE VARY GREATLY, AND THE IDENTITY OF AN INDIVIDUAL SAINT GOES BY THEIR GIFTS AND ANOINTINGS. SOME ARE PREACHERS, SOME HEALERS, SOME TEACHERS, SOME DO PHYSICAL SOCIAL WORK, SOME RAISE FAMILIES AND HELP FRIENDS, SOME PRAY FULL TIME, SOME DO MIRACLES. SOME SUFFER REDEMPTIVE SUFFERINGS, ETC.
How would one be a chela from that aspect? Yes I am Rasa's devotee. I am just trying to understand, and how can one reach home faster if he or she doesn't fully understand, but spiritually she is already there. If that makes sense.
RASA: MAUREEN IS SAYING HOW CAN I GET THERE WHEN I AM ALREADY THERE? YOUR MIND CATCHES UP WITH THE REST OF YOU. YOU GET 'ENLIGHTENED.' YOU GET THE UNDERSTANDING, AND THAT MIGHT TAKE SOME TIME AS THIS GREAT INFINITE GOD IS NOT EASY TO UNDERSTAND! WE NEVER GET TO THE BOTTOM OR TOP OF GOD, AS GOD IS INFINITE. BUT WHEN 'ENLIGHTENMENT' HITS YOU YOUR MIND REACHES A HIGHER LEVEL OF UNDERSTANDING. THERE ARE ALWAYS HIGHER LEVELS, AS LONG AS YOU LIVE. ONLY WHEN YOU DIE, YOU CANNOT GROW ANY MORE.
INFINITE LOVE ON VALENTINES DAY,
RASA VON WERDER
FEBRAURY 14, 2006
DISCUSSIONS ON
---
---