'NO CHOSEN LEADERS NEED APPLY'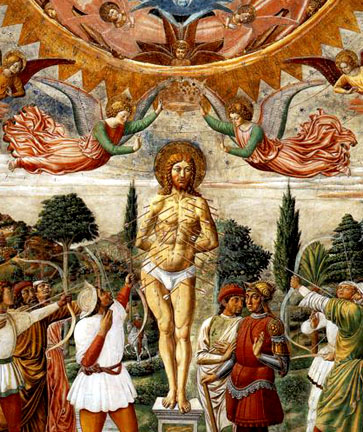 The Martyrdom of Saint Sebastian (detail)
Benozzo Gozzoli
RASA RESPONDS TO A POST FROM BEATA
ON A MATRIARCHAL GROUP

I see the growth of a Modern Matriarchy occurring as a grassroots modern social movement in which Women and men will actively participate from different racial/ethnic and socioeconomic backgrounds. The roots of Matriarchy will be established in gender relationships, families and communities as a transformative process in terms of shifting individuals ways of thinking and being. Matriarchal -based communities will spring up and expand and will vary in their diversity and composition.

The so-called femdom man can be pivotal in reshaping the construct of gender of the modern western male.
RASA: THIS POST IS OBVIOUSY A DIRECT CONTRADICTION TO MY ARTICLE CALLED 'FEMDOM MEN - CAN THEY CUT THE MATRIARCHAL MUSTARD' FEATURED ON ALL MY YAHOO GROUPS.
Thus, he cannot remain in the shadows and cannot be stigmatized or marginalized...
RASA: THESE MEN HAVE UNUSUAL FETISHES AND IT IS MUCH MORE THAN BEING STIGMATIZED FOR LIKING DOMINANT WOMEN. EVEN IF SOME OF THESE MEN CAN ADMIT THEY BELIEVE IN FEMALE SUPERIORITY, IT WILL BE A LONG TIME BEFORE SOCIETY ACCEPTS EXTREMELY STRANGE FETISHES. AND SO OF COURSE, MANY OF THESE MEN CHOOSE TO 'STAY IN THE CLOSET' AND CANNOT COME OUT OF SEXUAL SECRECY. IT IS THEIR CHOICE, BECAUSE THEY DO NOT WANT TO BE RIDICULED.
BUT NOTICE, THAT WOMEN WHO SERVE THEIR UNUSUAL NEEDS, ARE PUBLICLY VILLIFIED (SUCH AS I WAS) AND IT IS THE STRONG LEADERS SUCH AS MYSELF, REPRESENTING THEM, WHO TAKE THE HITS. I AM THEN ACCUSED OF 'BEING VIOLENT' AND 'WIERD' ETC., BUT THE MEN AND MOST MISTRESSES WHO ARE NOT WILLING TO COME OUT OF THE CLOSET ARE SAFE.
...if such men are to become role models...
RASA: WHAT DO YOU MEAN BY 'SUCH MEN?' IS A 'TOILET SLAVE' OR MAN WHO WANTS YOU TO DRIVE OVER WHOLE RAW CHICKENS IN ORDER FOR HIM TO GET ERECTED GOING TO BE A ROLE MODEL? WHAT KIND OF MAN IS GOING TO BE A ROLE MODEL?
IF YOU ARE SAYING ONE WHO BELIEVES IN WOMEN DOMINATING IS GOING TO BE A ROLE MODEL, FINE.

BUT NOTE THAT MANY MEN IN PATRIARCHY SECRETLY BELIEVE IN FEMALE SUPERIORITY (THEY HAVE TOLD ME AND I HAVE SEEN IT IN STUDIES) AND DOMINATION IN THE FAMILY AND WORLD - BUT THEY ARE NOT UNDER THE POWER OF EXOTIC FEMDOM FETISHES. THEY ARE MIDDLE OF THE ROAD ON SEX, SOME ARE SPIRITUAL, AND BELIEVE IN FEMALE POWER. THESE I CAN UNDERSTAND ARE RIGHTEOUS ROLE MODELS. BUT THOSE WHO ARE THOROUGHLY ADDICTED TO SEX, I HAVE BEEN ARGUING, AND SEE WOMEN AS ONLY A MEANS TO AN END FOR THEIR FETISHES AND DESIRES, THESE ARE NOT GOOD ROLE MODELS. SHALL WE BE SPECIFIC IN WHAT WE ARE TALKING ABOUT?
...under a Modern Matriarchy for men who are clinging to patriarchal induced gender identities.
RASA: COULD YOU BE A BIT MORE CLEAR AND STOP PLAYING, WITH ALL DUE RESPECT, THE SCHOLAR WRITING A THESIS?
Women will continue to be the primary socializing force in the family and community and eventually in the larger social institutions. However, there could be an inheritance of patriarchy for some time.


Matriarchies do currently exist in other parts of the world in the developing countries. Therefore, the cultures of the developing countries will provide models of Matriarchy for western civilization to adopt in order to solve many social problems that are inherently created by patriarchal ideologies and social institutions.


Women leadership and feminine values will become humanistic values as is already occurring now.
RASA: 'HUMANISM' BELIEVES THAT 'ALL GOOD IS WITHIN THE HUMAN BEING.' BY INFERENCE, ONE NEED NOT LOOK TO A 'HIGHER POWER.' HUMANISM, THEREFORE, HAS BEEN ANATHEMA TO MANY RELIGIOUS PEOPLE, INCLUDING MYSELF. I AM FOR THIS IDEA ONLY IN THE SENSE THAT GOD, INDEED, IS WITHIN US TOTALLY AND COMPLETELY, AND WE HAVE TO ACCESS THAT GOD. BUT TO SAY THAT THERE IS NO GOD, AS HUMANISTS DO, AND THAT WITHIN THE REALM OF THE FLESH LIES ALL GOOD, THAT I CANNOT AGREE WITH.
TO ME ALL GOOD IS IN GOD, AND ALL ROTTENNESS IS IN THE FLESH, AS YOU CAN SEE BY WHAT MEN HAVE DONE UPON THE EARTH. TAKE A QUICK LOOK AROUND AND SEE THE 'GOOD' IN THE FLESH. IT IS A DOG EAT DOG WORLD, AND PEOPLE KILL FOR MONEY. THEY LIE, STEAL AND CHEAT TO GET WHAT THE NEXT MAN HAS. THEY OPPRESS AND DESTROY OTHERS, WANTING THEM AS SLAVES. THEY DEPRIVE INNOCENT ANIMALS OF ALL THEIR RIGHTS AND TORTURE THEM. THIS IS YOUR FLESH, AND WHERE IS THIS SO-CALLED GOOD?
There will not be any one "chosen individual" to lead the movement because of its grassroots and disparate nature,
RASA: WHAT NONSENSE. DO YOU SPEAK FOR GOD? WHERE WERE YOU WHEN GOD CREATED THE EARTH? DID GOD ASK YOU PERMISSION BEFORE CHOOSING BUDDHA, JESUS, KRISHNA, MAHATMA GHANDI, MARTIN LUTHER KING JR., THE LEADERS OF THE FEMINIST MOVEMENT AND SO ON? HOW CHEEKY OF YOU, HOW PRESUMPTUOUS TO SAY NO ONE WILL BE CHOSEN!
AS FAR AS 'GRASSROOTS, DISPARATE NATURE' SUCH HAS ALWAYS EXISTED. WHY HAS IT NOT PRODUCED A MATRIARCHY YET ? BECAUSE ONLY BY THE CHOSEN LEADERS OF GOD, DO SUCH THINGS HAPPEN. IN EACH STAGE OF THE GAME, IN FEMINISM, WOMEN CAME FORWARD. IN THE FIRST WAVE, GOD CHOSE TWO WOMEN TO LEAD. IN THE SECOND WAVE, AGAIN, BETTY FRIEDAN. IN THE THIRD WAVE, THAT WHICH IS FEMALE EMPOWERMENT AND MATRIARCHY, GOD JUST MIGHT HAVE CHOSEN RASA VON WERDER. DOES THAT DISTURB YOU? HOW QUICKLY WOMEN WANT TO SAY THERE IS NO ONE CHOSEN WHEN THERE IS NO HOPE FOR THEMSELVES TO BE THE ONE.
'THERE IS NO THRONE,'
THEY SCREAM IF THEY CANNOT OCCUPY IT.
NOW, DEAR FRIENDS, THIS THRONE IS NOT ONE OF HAPPINESS. IT IS THE CROSS OF JESUS CHRIST. IT IS THE GOOD COW THE OTHERS KNOCK DOWN OVER THE BARBED WIRE FENCE TO GET TO THE APPLE TREE, AS THEY CLIMB OVER HER. SHE BLEEDS, THEY GET THE APPLES.
THIS HAS ALREADY HAPPENED TO ME SEVERAL TIMES IN MY LIFE, WHEN I HAVE BEEN CHOSEN BY THE UNIVERSE, GOD, TO DO SOMETHING NO ONE ELSE WANTED TO DO. I HAD TO SUFFER BECAUSE THEY WOULDN'T. MY REWARD? THERE WAS NO EARTHLY REWARD, ONLY BLEEDING WOUNDS. THE REWARD IS SPIRITUAL, IT IS GOD HERSELF. THAT IS MY REWARD.
NOW FOR THOSE WHO SAY THERE IS NO SUCH PERSON OR POSITION, IT IS BECAUSE THEY CANNOT OCCUPY SUCH A PLACE. THEY WILL NOT TAKE THE HITS, THE WOUNDS, THE PAIN. THEY WANT TO PONTIFICATE FROM A PLACE OF COMFORT. THAT IS NOT HOW CHANGES ARE MADE.
WHAT WAS THE FATE OF CULTURE-CHANGING LEADERS IN THE PAST? HOW DID MAHATMA GHANDI, JESUS AND MARTIN LUTHER KING JR. MAKE OUT? OH, YOU SEE, THE THRONE IS NOT EASY TO LAY UPON, IT IS A BED OF NAILS. THE CROWN? IT IS A CROWN OF THORNS. IF YOU CANNOT HANDLE IT, BEATA, DO NOT SAY NO ONE ELSE CAN.
...rather Women will have increased opportunities to lead in various sectors of the society and may even rotate serving as leaders in local institutions.
RASA: ALL THIS IS HAPPENING RIGHT NOW, BUT RATHER SLOWLY. IT IS GOING TO TAKE RASA VON WERDER ONCE AGAIN PENETRATING THE IRON DOORS OF MEDIA TO PUT IT ACROSS. RASA HAS A TRACK RECORD FOR BRINGING NEW IDEAS, FAITH, AND NECESSARY FACTS TO THE WORLD, THROUGH MEDIA. WHAT HAVE YOU DONE, BEATA? DO YOU SEE ONLY THROUGH THE PRISM OF YOUR OWN LENS, YOUR OWN LIMITATIONS? NO PLACE FOR GOD IN YOUR COSMOLOGY? NO ANOINTING, NO MIRACLES?


This is just a broad description of how a Modern Matriarchy will be established based on current trends.
RASA: HIP HIP, HOORAH! IT WILL HAPPEN ALL BY ITSELF! NO PAIN, NO STRAIN!

GOD DOES NOT HAVE TO DO ANYTHING! GOD DOES NOT HAVE TO EMPOWER ANY LEADERS, IT WILL ALL HAPPEN BY SOCIAL MAGIC. AS WE LIE UNDER A TREE, THE MOONLIGHT WILL BRING MATRIARCHY. OR MAYBE BEATA WILL APPLY FOR A GRANT AND THAT WILL DO IT.

Cheers,
Beata
March 2, 2006
DISCUSSIONS ON

---
---