OZAY'S VISIONS OF RASA & HIMSELF
EXPLAINED BY RASA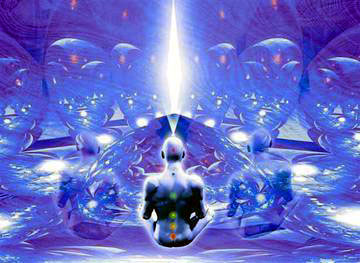 Background of visions. Ozay is an enlightened soul who came to Rasa's groups thinking she needed help to gain enlightenment. After he arrived, Rasa and devotee Achim told him, 'hey, she is already enlightened.' He was confused as he thought his purpose was to enlighten her. So he sought God to give him answers, and thence, these visions. Ozay says he interpreted them, but does not give us his explanations. Rasa supplies the answers.
Hello dear beloved friend Rasa
Ozay would like to tell you that he went in meditation today to ask question on Rasa sorry about this but Ozay need to know why he is sent to Rasa so he ask one who sent Ozay, Ozay ask who you were and if you were enlightened and as is usual for Ozay he get reply in picture.
Ozay like to share with you what came here goes: Ozay see a crown revolving around a precious stone the crown is a crown of princess, Ozay not know what stone was only it was precious.
RASA: STONE AND CROWN - THE PRECIOUS STONE IS THE PRECIOUS HUMANITY OF THE PERSON, (in this case Rasa) WHICH HUMANITY HAS BEEN PURIFIED IN TIME IN THE WAY A PRECIOUS STONE SITS INSIDE THE EARTH AND BECOMES WHAT IT IS. THIS PERSON'S BODY HAS BEEN PURIFIED IN THE PROCESS OF LIVING AND HAS TURNED INTO A 'PRECIOUS STONE.'
THE CROWN REPRESENTS VICTORY. IT IS OVERCOMING THE WORLD, THE FLESH AND THE DEVIL. 'THE CROWN OF LIFE' IN CHRISTIANITY IS CALLED PERSEVERENCE. WHO PERSEVERES UNTIL DEATH (IN FAITH) RECEIVES THE CROWN OF LIFE. BUT IN THE CONTEXT OF THIS DREAM, OZAY IS ASKING REGARDING RASA'S ENLIGHTENMENT. AND SO, THIS IS TELLING HIM YES, SHE IS ENLIGHTENED.
THE CROWN IN YOGA TERMS IS SAHASRARA, WHICH LIGHTS UP WHEN THESE ELEMENTS ARE CONQUERED. IN OTHER WORDS, WHEN ALL THE ENERGY OF A PERSON IS NOT DETAINED IN THE LOWER CENTERS, BUT RISES TO THE TOP, DOES NOT REST LOWER DOWN - ALL THE POWER MOVES UPWARD INTO THE THOUSAND-PETALED LOTUS CALLED SAHASRARA. ALL THIS ENERGY/LIGHT ON TOP SIGNIFIES A PERSON IS ENLIGHTENED. THIS IS THE SYMBOL OF THE CROWN.

Ozay interpreted this and was given answer then Ozay ask why he was sent to Rasa then Ozay was given this:
RASA: THE REASON OZAY IS ASKING, IS BECAUSE HE THOUGHT HE WAS SENT TO ENLIGHTEN RASA. NOW GOD IS TELLING HIM RASA IS ENLIGHTENED. AND SO, HE IS TRYING TO FIGURE OUT HIS PURPOSE HERE . SO GOD IS TELLING HIM THE NEXT THING.
There were many warriors and all warriors were black, one warrior stood out higher than all other warriors and this warrior also had red hair.
RASA: WARRIORS BLACK... ARE WARRIORS OF THE EARTH. THEY ARE PEOPLE. THE REASON THEY ARE BLACK IS THEY ARE OF THE EARTH AND STILL LIVING HERE. IN THE CONTEXT OF THE DREAM, THEY ARE NOT SPIRITS BUT BLACKENED BY THE SUN, BLACK IN THE FLESH. (VERY IMPORTANT SYMBOL IN THE SONG OF SONGS. SHE SAYS, 'I AM BLACK BUT BEAUTIFUL....MY BROTHERS SENT ME OUT TO TEND OTHER VINEYARDS, SO I COULD NOT TEND MY OWN, AND MY SKIN TURNED BLACK FROM THE SUN...THIS SOUL IS A CHOSEN ANOINTED SOUL OF GOD, THE ENLIGHTENED.) A SYMBOL OF BEING IN THIS PLACE OF THE BODY.
THE REASON THEY ARE WARRIORS, IS ALL THESE SOULS ARE ENLIGHTENED. THEREFORE, THEY FIGHT FOR THE KINGDOM OF GOD, THEY ARE WARRIORS FOR GOD.
ONE WARRIOR HIGHER, RED HAIR.
THIS IS AN EXTREMELY IMPORTANT SYMBOL. THE MEANING OF THIS MIGHT ESCAPE OZAY AS CONSCIUSLY HE DOES NOT KNOW RASA - HE HAS NOT LOOKED UP HER BIOGRAPHY OR DONE ANY RESEARCH ON HER. HE ASSUMES, AS USUAL, HE IS SENT TO ENLIGHTEN A SOUL. IN RARE CASES, HE MAY BE SENT TO SOMEONE FOR A REASON OTHER THAN THAT. THIS PROBABLY NEVER HAPPENED BEFORE, SO HE IS MYSTIFIED. WHY BE SENT TO A SOUL ALREADY ENLIGHTENED?
AND SECOND, OZAY MIGHT NOT UNDERSTAND CATHOLIC MYSTICAL THEOLOGY AND SO, THIS SYMBOL MIGHT ESCAPE HIM. BUT RASA UNDERSTANDS.
IN ALL OF RASA'S DREAMS, WHEN SHE PRAYS ABOUT THE DIVINE STIGMATA, SHE IS SHOWN HERSELF AS 'HIGHER THAN THE SAINTS, (MEANING HIGHER THAN THE ENLIGHTENED) IN A PLACE WITH THE MARTYRS.' SHE SEES HERSELF, FOR INSTANCE, WALKING ON BLACK OR SILVER PLATFORM SHOES. (THE BLACK AND SILVER PLATFORM SHOES REPRESENT SUFFERING, LOVE AND STANDING ON THE CROSS OF JESUS CHRIST OR BEING CRUCIFIED.) THE SAINTS ARE AROUND HER (WARRIORS) BUT SHE STANDS A FEW INCHES HIGHER THAN THEM, WITH JOAN OF ARC, WHO IS 6'1" IN HER DREAMS, AND RASA IS 6'1" ALSO. WHY IS THAT?
BECAUSE RASA (LIKE ALL SAINTS OF ALL RELLIGIONS) BECAME A SAINT AND WAS ENLIGHTENED IN JANUARY, FEBRUARY 1982. THIS IS THE OFFICIAL DATE OF ENLIGHTENMENT. BUT WHAT HAPPENED THEN?
RASA PRAYED FOR THE DIVINE STIGMATA. THIS IS A GRACE TO PARTICIPATE FULLY IN THE PASSION AND DEATH OF OUR LORD JESUS CHRIST, TO UNDERSTAND HIS LOVE WHICH CAUSED HIM TO UNDERTAKE SUCH CRUEL SUFFERING AND DEATH. THIS GRACE WAS GRANTED TO RASA IN OCTOBER, 1982. THIS IS THE GRACE OF MARTYRDOM. NOW WHEN THIS MARTYRDOM OCCURED, ALL OF RASA'S GRATUITOUS GIFTS (GIFTS OF THE HOLY SPIRIT) WERE TAKEN AWAY FROM HER AND HER SAHASRARA WAS 'REMOVED'. SHE WAS IN THE SAME PLACE AS JESUS WAS ON THE CROSS WHEN HE SAID,
'MY GOD, MY GOD, WHY HAST THOU FORSAKEN ME?'
THEN HE DIED, BUT AGAIN, HE WAS RESURRECTED ON THE THIRD DAY.
FOR RASA, THE DEATH AND BEING IN THE TOMB LASTED EIGHTEEN YEARS. SHE WAS IN THIS DARK NIGHT OF FORSAKENNESS FOR EIGHTEEN YEARS. AT THE END OF THAT TIME, THE YEAR 2000, SHE WAS RESURRECTED AND THE POWER OF THE SAHASRARA AND THE SUPERNATURAL LIGHT BEGAN TO POUR INTO HER AGAIN.
SO SHE STANDS HIGHER THAN THE ENLIGHTENED (REGULAR) SAINTS, ALONG WITH STIGMATISTS AND MARTYRS.
THIS TRUTH IS REITERATED IN THE RED HAIR. HAIR ON THE HEAD REPRESENTS THE RAYS OF THE SAHASRARA. (SAHASRARA, CHRISTIANS, MEANS THE POWER, ENERGY IN THE HEAD, WHICH IS SEEN AS HALO ON JESUS AND SAINTS.) NOW, SINCE THIS WARRIOR IS HIGHER, AND HAS THE RED HAIR, THE RED SIGNIFIES BLOOD, AND BLOOD SIGNIFIES MARTYRDOM. WHEN RASA WAS MARTYRED BY THE DIVINE STIGMATA, ALL OF THIS LIGHT 'BLED OUT' AS SPIRITUAL BLOOD. ALL OF THE POWER OF THE SAHASRARA WAS DRAINED OFF IN THE STRUGGLE TO SAVE A SOUL, AND IT GOT 'BURNED OUT' AND RASA WAS 'DELINKED' FROM THE CONSCIOUS CONVERSATION WITH GOD. AND SO THIS 'BLOOD' LEFT HER BRAIN AND SHE WAS IN THE DARK NIGHT OF THE SOUL, A COMPLETE MARTYRDOM OF THE INTERIOR LIFE. (BECAUSE WITHOUT THE SAHASRASA POWER, THE GIFTS OF THE HOLY SPIRIT, SHE COULD NO LONGER COMMUNICATE WITH GOD NOR FEEL THE PRESENCE OF GOD.)
Ozay interpreted this then Ozay ask another question to this answer which was why you want Ozay to do this...

RASA: BE HERE, WITH RASA ON HER GROUPS?
....then next answer came:
Ozay was given dark room then suddenly out of black box lid opens then it is light...
RASA: FIRST THERE IS DARKNESS, THEN THERE IS LIGHT THAT COMES OUT OF A 'BLACK BOX.' BLACK BOX REPRESENTS THE POWER AND LIGHT OF GOD - WHICH IS DARKNESS TO US (ST. JOHN OF THE CROSS) BUT WHEN THE LID IS OPENED, THE LIGHT IS SHOWN AND LIGHTS UP ALL THE ROOM. THIS IS THE PRINCIPLE OF DO NOT HIDE YOUR LAMP OR LIGHT UNDER A BUSHEL, BUT REMOVE THE BUSHEL, OPEN THE LID AND LET THE LIGHT SHINE FOR ALL TO SEE.
....and from what Ozay could make of it as it was a little in the distance he saw a teapot
RASA: TEAPOT SHARE TEA. (OZAY IS IN ENGLAND, SO THIS APPLIES WELL, THEY CALL BEING TOGETHER FOR MEALS AS 'TEA'. MEALS MEANS SHARING THE LORD'S SUPPER OR SPIRITUAL COMMUNION) FELLOWSHIP, FRIENDSHIP.
JEWELEDN TEAPOT DIVINE COMMUNION OR FRIENDSHIP. HERE THE JEWELS ARE SHOWN AGAIN. THIS IS NOT ORDINARY FRIENDSHIP, BUT SOMETHING CLOSE TO GOD. AFTER OZAY HAD OFFENDED RASA GREATLY BY SAYING SHE WAS NOT ENLIGHTENED, RASA WROTE AN ARTICLE ABOUT DIVERSITY OF GURUS AND DIVINE RELATIONSHIP. THIS IS THE SYMBOL OF THAT. NOT ORDINARY STUFF, BUT THE ENLIGHTENED TOGETHER AND SHARING GOD'S LIGHT.
...that was also jeweled this Ozay interpreted now from this Ozay is satisfied with everything as it goes and as it goes between Ozay and Rasa aka Sophia.
Ozay just pick up by looking at name Rasa is hard and Sophia is soft and gentle.
RASA: RASA MEANS IN SANSCRIT 'A RELATIONSHIP OR NECTAR WITH GOD.' THIS COULD BE THE HARD PART, OR HARDSHIP BECAUSE RASA HAD TO DIE ON THE CROSS TO HAVE WHAT SHE HAS.


SOFIA MEANS WISDOM IN GREEK. THE CROSS (TO THE EAST, IT IS DEATH OF THE EGO) IS THE GREATEST WISDOM, OUT OF IT COME THE GREATEST GIFTS, AND THE 'RESURRECTION POWER OF JESUS CHRIST' .

(MUCH LOVE TO YOU ALSO, OZAY....SHALL WE COMMENCE THE DIVINE RELATIONSHIP WITHOUT ANY MORE CONFUSION?)
Much much love dear one
LOVE PEACE COMPASSION FREEEEEEEEEDOM
Ozay
Rasa Von Werder
November 26, 2005
Ozay Rinpoche has been answering questions on:

---
---