DREAM FROM PB
& INTERPRETATION FROM RASA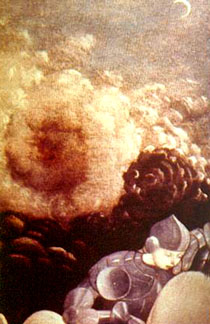 DEAR GURURASA,
IT TOOK ME A VERY LONG TIME TO FIND THE INSTRUCTIONS. I DO NOT THINK I AM READY YET TO BE A DEVOTEE. I DID READ THE MANTRA AND SAY THE WORDS GURURASA COME INTO MY HEART BUT IT WAS IN THE COURSE OF SEARCHING AND PRAYING TO MOTHERGOD.
BUT DURING THE COURSE OF MY NIGHT I DID HAVE A DREAM.
RASA: I TOLD YOU IF YOU DID WHAT I SAID YOU WOULD HAVE AN EXPERIENCE.
I WAS RIDING MY BICYCLE WITH MY CAT IN THE BASKET.
RASA: MEMORIES OF CHILDHOOD. YOU ARE GOING BACK TO MAKE AN ANALOGY. CAT COULD HAVE TO DO WITH A FEMALE.
WE WERE EXPLORING AN UNFAMILIAR PART OF TOWN. WE STOPPED AT A BUILDING THAT HAD AN OFFICE THAT WAS FAMILIAR, IT LOOKED LIKE AN OFFICE OR BUILDING THAT I HAD SOMEHOW BEEN IN BEFORE. JUST AS WE WERE ABOUT TO LEAVE A MAN SAW ME AND KNEW WHO I WAS. (I THINK THE ONLY THING THE MAN HAD TO DO WITH THE STORY WAS THAT I MET SOMEBODY LIKE THAT LAST WEEK THAT WAS UNEXPECTED, SOMEBODY I MET ONCE AND SAW AGAIN)
RASA: RIGHT NOW, TODAY, YOU ARE RELIVING SOMETHING FROM THE PAST. YOUR UNCONSCIOUS IS TRYING TO TELL YOU THAT SOMETHING FROM THE PAST RELATES TO WHAT IS HAPPENING TODAY.
AS WE TRAVELED ON WE STOPPED AT A SECOND HAND STORE AND AS I PASSED A RACK OF CLOTHING MY EYES SAW THE REAL LONG T-SHIRT NIGHTGOWNS THAT WOMEN WEAR BUT THEY REALLY LOOK LIKE MENS T-SHIRTS. I SAW TOO A BUTTON FRONT WOMAN'S NIGHTGOWN WITH SOME EMBROIDERY AND IT WAS LIKE THEY WERE A PART OF ME. IT JUST SEEMED SO NATURAL FOR ME AND I KNEW I WAS GOING TO BUY ONE OF EACH.
RASA: THIS CLOTHING REPRESENTS THE NEW YOU. YOU ARE GOING TO COME CLOSER TO GOD, BECOME MORE PASSIVE OR OPEN TO GOD. THIS COULD HAVE TO DO WITH MY ASKING YOU TO BE A DEVOTEE. THESE ARE FEMININE NIGHTGOWNS. MYSELF AND MOTHERGOD ARE ASKING YOU TO 'REST' OR FIND FULFILLMENT IN THIS OLD YET NEW EXPERIENCE. YESTERDAY, IT WAS YOUR MOM. TODAY IT IS RASA AND MOTHERGOD.
BUT BEFORE THE PURCHASE WAS MADE I FOUND MYSELF ON MY KNEES HELPING TO FIX SOME TOILETS IN A RESTROOM. I REACHED INTO THE WATER AND PULLED FROM THE TOILET A CLEAR PLASTIC BAG WITH A CHILD'S ITEMS. I KNEW IT MEANT A CHILD HAD BEEN HURT AND WAS REPRESENTING BAD THINGS THAT HAPPEN TO ALL CHILDREN.
RASA: THIS IS HEALING. THERE HAS TO BE HEALING OF THINGS HAPPENING IN CHILDHOOD BEFORE THIS TRANSITION CAN TAKE PLACE. TOILET COULD REPRESENT 'SHIT GONE BY' OR 'WAS TREATED LIKE SHIT' INSTEAD OF BEING GIVEN THE LOVE A CHILD SHOULD GET.
THE NEXT THING I KNEW I WAS IN A PART OF TOWN THAT WAS A POOR PART OF TOWN WHEN MY CAT JUMPED OUT OF MY BASKET AND RAN OFF. I WAS WORRIED THAT I COULDN'T FIND HIM BUT AS I WENT AROUND THE BLOCK HE CAME BACK TO ME. THEN I AWOKE FROM THE DREAM.
RASA: YOU HAD THOUGHT YOU LOST THE LOVE OF YOUR MOTHER, BUT IT HAS RETURNED. 'AROUND THE BLOCK' HERE MEANS A SHORT TIME. THE DREAM IS INDEED JUST WHAT I TOLD YOU WOULD HAPPEN. BUT AS YOU SAID, YOU WERE NOT QUITE READY. SOME HEALING NEEDED TO TAKE PLACE. IT HAS OCURRED, AND NOW, THE LOVE OF MOTHER/MOTHERGOD HAS RETURNED TO YOU. THIS DREAMS SAYS YOU ARE MY DEVOTEE.


WELCOME
SPIRITUAL MOTHER, RASA

---
---