PREPARING PEOPLE FOR SELF REALIZATION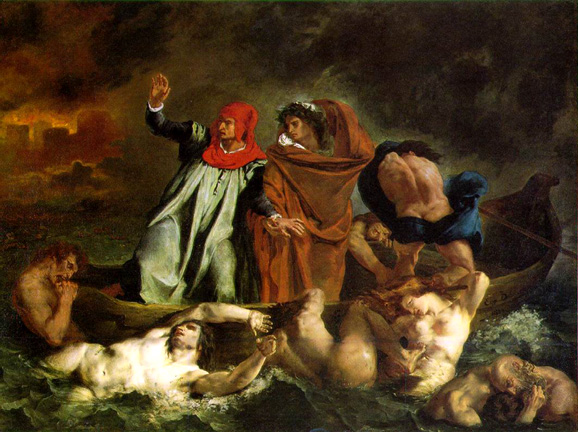 The Barque of Dante
Eugène Delacroix

I find it rather amusing that people think they need an island to find, or to convey to others, the concept of 'self realization.'
Finding out the Truth of Oneself and God can happen anywhere, anyplace. It can be at home in your apartment, while doing the most mundane and ordinary things. One does not need an ashram or a church or an island.
Most facilities that are created this way get a few people who are serious about finding God, but only a few. The hordes of people in ashrams and churches are not all serious about the subject of Self Realization.
People it seems to me go to these places to find fellowship with other people. But this is an endeavor you must walk alone - no partners need apply. It is a lonely street, just you and God.
And so to buy an island and to have lots of people to pile onto it 'seeking God' is amusing to me, as it is a dichotomy in terms. I have an island and a large wilderness, and I have Realization, but people are not burning the highways to get to me. They want to be where other people are, not here, where God and I live, with lots of empty space. This is not what people are looking for.
Most of the yogis who became successful were surrounded by those seeking ordinary and mundane things. Most, at best, the lower levels of realization, not the ultimate. I think if they had 1 - 2 or 3 disciples that were totally serious and committed, that was it. For others, it was a beginning which would end in Realization, which takes many years.
People are even seeking sex in ashrams. I was told by a friend who was there, that a famous Guru had well-to-do appointments where 'everyone wore red robes and you could basically have sex with anyone.' So this is self realization?
All the outer trappings of this path are deceiving. It can happen anywhere and just staying where you are can be the most effective way. I found God in a sixth-floor walkup in Brooklyn, taking a few months off from work to pray and meditate, keeping silent, alone, celibate, totally isolated. After some months, I saw God face to face and many other miracles happened. Of course, this came after years of preparation.
Do yourself a favor, my friend. It does not take ashrams, churches, money or exotic gurus to find Self Realization. You can do it if you are willing to live within discipline, enclosure and mortification, right in your own back yard. All those outer trappings can deceive you and make you spend more time and lots of money. I did it alone, and so can you. But few will follow.
---
---