TIME TO GET WOMEN PRIESTS PRONTO!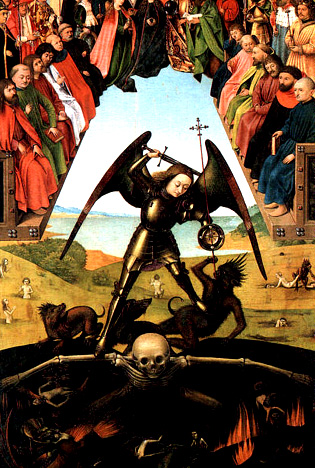 The Last Judgment (detail)
Petrus Christus
SEX SCANDAL IN AUSTRIAN SEMINARY
Guardian.co.uk
By Ian Traynor
Vienna, July 14, 2004

The Austrian Catholic Church has been plunged into its second big sex scandal in a decade when a seminary run by arch-conservatives was alleged to be the site of orgies among young priests and their teachers.
The church announced yesterday that it would investigate charges of homosexuality between priests and seminarians at a seminary outside Vienna.
A church panel in the Sankt Poelten diocese west of the capital agreed to the inquiry after the news magazine Profil published photographs showing leading clerics of the local seminary fondling and kissing student priests.
Profil said investigators had also found at least 40,000 mostly pornographic photographs at the seminary.
The director of the seminary and his assistant have both quit as details of the scandal emerged in recent days. The seminary in St. Poelten, west of Vienna, comes under the authority of the conservative Bishop Kurt Krenn.
While the Austrian Bishops' Conference issued a statement declaring that homosexuality and pornography had no place at the seminary, Bishop Krenn refused to resign and appeared to compound the crisis by saying: "This has got nothing to do with homosexuality. It's just boys' pranks." Advertisement Advertisement
The Austrian church experienced its worst modern crisis in 1995 when its head, Cardinal Hans-Hermann Groer, was accused of pedophilia. Senior church figures eventually found that he had been molesting boys for years. He was forced to retire, and died last year.
In a country that is officially 90 per cent Catholic, the scandal resulted in thousands leaving the church and hundreds of thousands joining a petition campaign for reform.
Bishop Krenn became the principal target of the campaign but he is believed to have powerful allies among conservatives in the Vatican, and the Pope demonstrated his support by visiting the diocese in 1998.
Rome's long silence in the face of the lies, hypocrisy and scandals is a severe test for the faithful. - Karl Dillinger, church reformer
Cardinal Groer was deeply conservative and loudly supported by Bishop Krenn, who has been engaged in a battle for years with the more liberal Cardinal Christoph Schonborn, now the head of the church in Austria.
While politicians yesterday demanded a criminal investigation into the disclosures about the seminary, Bishop Krenn rebuffed mounting calls for his resignation. Two senior figures at the seminary, one of them an adviser to the bishop, resigned. The director of Austria's Catholic seminaries, Martin Walchhofer, told Austrian television that Bishop Krenn was ultimately responsible for the seminary involved.
The Forum XXIII Catholic lobby for reform of the Austrian church demanded intervention by the Vatican.
Its president, Karl Dillinger, told an Austrian news agency that the church in Austria had plumbed new depths. "Rome's long silence in the face of the lies, hypocrisy and scandals is a severe test for the
faithful," he said.