SCOTT GELLER, MD
A GENIUS & INNOVATOR IN EYE CARE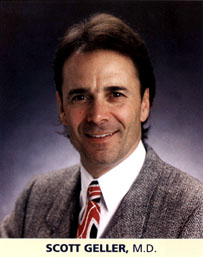 http://www.vitreousfloaters.com/
RASA'S PERSONAL TESTIMONY
CONCERNING DR. GELLER'S TREATMENT
DR. SCOTT GELLER FOR FLOATERS
DEAR FRIENDS, THIS IS AN UNSOLICITED LETTER EXPLAINING TO YOU THAT I HAVE SUFFERED FOR THIRTEEN YEARS WITH VITREOUS FLOATERS WITH NO HELP IN SIGHT. ALL THE DOCS I WENT TO - FIVE - SAID THERE WAS NO HELP. THEN LUCKILY I DISCOVERED DR. SCOTT GELLER AND HAVE BEEN TO HIM TWICE. I AM A BAD CASE, WITH NUMEROUS FLOATERS, BUT HE HELPED SO MUCH IT'S LIKE NIGHT AND DAY. I WENT FROM DESPAIR TO FEELING QUITE GOOD. HE GOT MOST OF THE ONES THAT WERE RIGHT IN FRONT OF MY VISION AWAY, AND NOW I CAN WORK AT THE COMPUTER MUCH LONGER THAN BEFORE. WHEN YOU HAVE SUFFERED AS MUCH AS I HAVE WITH NO HOPE AND THEN YOU GET THIS HELP, IT SEEMS LIKE A MIRACLE.
DR. GELLER IS A KIND, WARM, FRIENDLY PERSON AND HIS STAFF IS THE FINEST I HAVE EVER MET. THEY WILL SPEAK TO YOU AT LENGTH BY PHONE, AND THEY CARE. THIS IS THE FINEST FACILITY I HAVE EVER BEEN TO.
THERE IS NO PAIN INVOLVED WITH THIS AND IT ONLY TOOK ABOUT FIVE MINUTES EACH TIME I WENT. WHAT AN IMPROVEMENT! I AM ECSTATIC THAT I FOUND THE PERSON TO HELP ME!
I AM WRITING THIS BECAUSE I KNOW THE INCREDIBLE SUFFERING PEOPLE GO THROUGH AND THE HOPELESSNESS FROM THE OTHER DOCTORS WHO FOR SOME REASON, DO NOT KNOW OF DR. GELLER. I WANT TO INFORM OTHERS TO ALLEVIATE THEIR SUFFERINGS AND GIVE THEM THIS HELP.
THE PEOPLE I MET THERE WHO HAD JUT A FEW FLOATER GOT THEM LAZERED OUT COMPLETELY. I HAVE SO MANY THIS WAS NOT POSSIBLE, BUT MANY WERE REMOVED. AND I AM PLANNING TO GO THERE AGAIN AND GET A FEW MORE LAZERED OUT. I WAS SO FRIGHTENED AT FIRST, FEAR OF FLYING AND FEAR OF THE TREATMENT, BUT AFTER CONQUERING MY FEARS MY DESPAIR AND HOPELESSNESS WERE REMOVED. IF YOU CHECK INTO THIS WHAT CAN YOU LOSE? MAYBE JUST FLOATERS!
South Florida Eye Foundation
29 Barkley Cr. Fort Myers, Florida
Tel: 239-275-8222 or 877-371-3937 (toll free)
---