RASA VON WERDER GIVES
THE SECRET OF SAVING SOULS!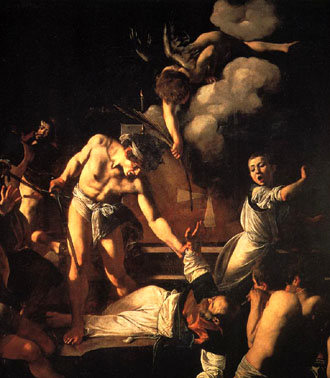 The Martyrdom of St. Matthew
Caravaggio

GO TO THEM!

I WAS DISGUSTED WITH PEOPLE WHEN I SAW THE WAY THEY DID NOT RESPOND TO SWAMI G BUT I MUST ADMIT, GANGAJI (I BELONG TO HER GROUP) (AS WELL AS OTHERS), SEEM TO BE EVEN QUIETER. I DON'T KNOW A GREAT DEAL ABOUT HER BUT SWAMI G SAYS SHE IS A QUALIFIED TOP RATE GURU, AND SHE IS THE BELOVED OF MY CLOSE FRIEND HARVEY. (HARVEY SHOWS HER VIDEOS WEEKLY FOR A GROUP IN HIS APARTMENT.)


NOW ONE THING I HAVE NOTICED. THE HIGHER YOU GO, THE LESS PEOPLE ARE WILLING TO FOLLOW YOU. WHY? IT IS SIMPLE. IT IS RARIFIED ATMOSPHERE. IT IS THE PLACE OF THE ANGELS AND SAINTS, WHERE THE HOLY OF HOLIES LIVES. HOW MANY ARE CAPABLE OF, OR DARE, TO TRAVERSE THIS PLACE?


NO, PEOPLE ARE INVOLVED IN LOWER THINGS. THEY ARE DISTRACTED, THEY ARE ATTACHED.


I ALSO STARTED OUT JUST TALKING ABOUT BEING A GURU. IT WAS FINE FOR A WHILE. I REJECTED EVERYONE ON LOWER LEVELS, THAT IS TO SAY, WHEN THEY STARTED TALKING OF LOWER THINGS I STOPPED THEM. I TOLD THEM THIS IS A PLACE FOR GOD AND GOD ALONE - NO TALK OF OTHER THINGS. BUT AS THE MONTHS WENT BY I HAD A VISION, AN UNDERSTANDING. IT WAS THIS:
GOD LOVES ALL. GOD LOVES THEM ON LOWER LEVELS AS WELL AS THE HIGHEST. YES, THEY ARE DOWN THERE IN HUMAN SENSE AND ATTACHMENTS. AND THEY WAIT FOR GOD OR SOMEONE TO SAVE THEM. MEANWHILE, THE GREAT MASTERS WAIT FOR PEOPLE TO COME AND ASK QUESTIONS. AND WAIT, AND WAIT, AND WAIT. THE MASTERS ARE WAITING, THE VICTIMS OF DELUSION ARE WAITING, AND NOTHING HAPPENS.

SO WHAT IS THE SOLUTION? MY SOLUTION HAS A FEW FACETS. ONE, WE ARE GOD IN THE HIGHEST UNDERSTANDING. THE MASTERS HAVE GOD REALIZATION, AND WORK AS INSTRUMENTS OF GOD. SO IT IS THEIR SOLEMN DUTY NOT TO WAIT BUT TO GO OUT THERE AND BRING IN THE SHEEP. THE SHEEP ARE SMALL, FRIGHTENED AND DEFENSENESS. THE MASTERS ARE BIG RAMS WITH HORNS - WITH WEAPONS. THEY CAN PROTECT THE SHEEP AGAINST WOLVES, LIONS AND BEARS. (THE SINS OF THE FLESH AND THE WORLD AND THE DEVIL) BUT THE RAMS MUST GO INTO ACTION.
GOD LOVES EVERYONE ON ALL LEVELS, INCLUDING THE LOWEST. GOD IS READY TO SAVE EVERYONE AT ANY MOMENT, NO MATTER HOW LOW THEY HAVE FALLEN. OR HOW PITIFULLY THEY ARE TIED DOWN TO HUMAN SENSE.

IN GREAT COMPASSION, THE MASTERS MUST GO TO THEM!
MY TEMPLATE FOR THIS WORK COULD BE GENERAL WILLIAM BOOTH, WHO WITH HIS WIFE, STARTED THAT PHENOMENON CALLED 'THE SALVATION ARMY.' (ORIGINS IN ENGLAND WM BOOTH 1829-1912)

GENERAL WILLIAM BOOTH HAD A SPECIAL CALLING TO THE POOR. HE COULD NOT REST ONE DAY OF HIS LIFE UNTIL HE REACHED OUT TO THEM AND HELPED THEM. HIS WIFE WAS AS IMPORTANT AS HE, WRITING ALL HIS SPEECHES AT FIRST, AND THEREAFTER, BECOMING A SPEAKER AS WELL. THE TWO WERE A POWERHOUSE.
FIRST, WILLIAM BOOTH WORKED FOR HIS TRADITIONAL CHURCH. THEY TOLD EVERYONE TO BRING IN NEW SHEEP. WILLIAM BROUGHT IN THE PEOPLE OFF THE STREETS. THEY TOLD HIM,

'THESE ARE NOT THE KIND OF PEOPLE WE WANT. WE WANT RESPECTABLE PEOPLE.'
WM BOOTH AND HIS WIFE WERE OUTRAGED AND SHE CRIED,

'HELL NO!'

THEY LEFT THAT TRADITIONAL CHURCH, NEVER TO LOOK BACK. THE TWO OF THEM WENT OUT AND DID THINGS THAT COULD ONLY BE CALLED MIRACLES. I HAVE HOURS OF AUDIO TAPES ON THEM PURCHASED FROM ROBERTS LIARDON MINISTRIES, LAGUNA CA.
THEY HAD A LIST OF WHAT HAD TO BE DONE TO 'SAVE SOULS'. GUESS WHAT THE FIRST RULE WAS? LISTEN CAREFULLY:
'GO TO THEM.'
SIMPLE, ISN'T IT? GO TO THEM! BUT YOU CANNOT SAVE A SOUL LEST YOU GO TO THEM. WHERE DID THEY GO? TO SKID ROW, TO THE BOWERY, TO THE BARS. THERE WERE NUMEROUS FIST FIGHTS AS MINISTERS STOOD OUTSIDE BARS PREACHING AND HOPLESS DRUNKS CAME OUT AND DID NOT WANT TO BE PREACHED TO. BUT SOMEHOW, IN THE LONG RUN, THE MINISTERS PREVAILED.
WILLIAM BOOTH THOUGHT OF EVERY STRATEGY IN THE BOOK TO GET PEOPLE OFF THE HOOK OF THE FLESH AND ONTO GOD. HE KNEW HE COULD NOT ATTRACT THEM WITH LOFTY TALK, IT HAD TO BE ON THEIR LEVEL. HE IS THE ONE WHO ORIGINATED THE IDEA OF THE BAND ON THE STREET, SINGING RELIGIOUS SONGS, BUT SET TO THE TUNE OF EVERYDAY POPULAR TUNES. THEY WOULD DRAW A CROWD, THEN PREACH. THE IDEA WAS, ALWAYS TO DRAW A CROWD! THIS WORKED IN EVERY AREA THEY WENT TO, EXCEPT FRANCE.
HE SENT MISSIONARIES THERE BUT THEY HAD NO LUCK. THE FRENCH PEOPLE WOULD NOT STOP AND LISTEN TO THE MUSIC NOR THE SERMONS. WM BOOTH STUDIED THE SITUATION A BIT FURTHER. HE THEN REALIZED THE FRENCH LOVED TO DANCE, IN DANCE HALLS. SO HE SET UP A DANCE HALL. THERE WAS FIFTEEN MINUTES OF DANCING, THEN FIFTEEN MINUTES OF PREACHING. THIS WORKED. MR. AND MRS. BOOTH SAVED SOULS.
IN ORDER TO SAVE SINNERS ONE HAS TO GO TO THEM. WHERE ARE THEY? THEY ARE IN HUMAN SENSE, DISTRACTED, ADDICTED, HOOKED IN. THEY ARE IN THE PLACES OF THE WORLD, THE FLESH AND THE DEVIL. THERE ARE A FEW IN 'THE CHOIR' BUT THESE ARE ALREADY ON THEIR WAY TO THE HEIGHTS. SHALL WE RESTRICT OURSELVES TO THESE ALONE? THEY ARE A SMALL NUMBER WAITING TO CLIMB UP THE LAST STEPS INTO THE PEARLY GATES. DO WE ATTEND TO THESE ALONE? IF WE DO, OUR GROUPS AND MINISTRIES WILL BE QUIET.
TO THE EFFECT OF FINDING LOST SHEEP I HAVE STARTED TO SET UP ORDINARY GROUPS WHO WORSHIP BEAUTIFUL WOMEN, AND ALSO, PAGAN STYLE GROUPS. (NOW PAGANS ARE BY NO MEANS LOST, THEY ARE SIMPLY A DIFFERENT POINT OF VIEW. NOW THAT I UNDERSTAND PAGANS AND WICCANS I HAVE MORE RESPECT FOR THEM THAN I DO CHRISTIANS!)
AT ONE TIME, I WAS A DANCER. I DANCED AND PREACHED. BETWEEN 1972 TO 1987 I TRAVELLED THE U.S. AND CANADA, DANCING AND GIVING SERMONS. IT CREATED A SENSATION AND I BECAME WELL KNOWN UNDER A DIFFERENT NAME, GETTING INTERNATIONAL PRESS ON A REGULAR BASIS. WHAT WAS I DOING? WAS I PREACHING DEGENERACY AND SEX? NO. A MOTTO WAS,

'WE GO WHERE PRIESTS AND NUNS FEAR TO TREAD.'

WHEREVER I WAS, I PREACHED GOD. ONE DAY I SAT DOWN AND BASED ON NUMBER OF JOBS AND SHOWS I FIGURED I HAD GIVEN 1,000 SERMONS IN THEATERS AND NIGHTCLUBS. WHAT AN OPPORTUNITY! WHAT OTHER MINISTER COULD HAVE DONE SUCH A THING! GOD NEEDS TO GO EVERYWERE.
TODAY, I AM RETHINKING MY STRATEGY OF FINDING LOST SHEEP AND I DON'T CARE HOW MUCH CRITICISM I GET. THE NAYSAYERS ARE COMING AT ME FROM ALL DIRECTIONS, BUT I (I AM) WILL PREVAIL. IT DOES NOT MATTER. AS LONG AS SOULS ARE BEING REACHED, AND WE CAN PREACH TO THEM AND BRING THEM THE WORD (THE TRUTH) AND THE LIGHT (THE ENERGY, HOLY SPIRIT, SHAKTI) AND THE WAY (THE UNDERSTANDING) THEN WE ARE DOING THE BEST THAT CAN BE DONE.
MUCH LOVE TO YOU ALL, I REMAIN,

RASA
NOVEMBER 7, 2005
DISCUSSIONS ON

AT THE BOTTOM OF THE SWAMI G MESSAGE,
ARE THE REMARKS OF 'RON' WHICH BEAR NOTING
RON'S REMARKS & COMMENTARY

Namaste -

The group was opened to all ------ no one is using it . Is it time to pull the group entirely off the net ?


After 6 years of working towards aiding humanity has it come to this ?


That even when opened without moderation no one posts ?


Why is it that groups that carry nothing other than nonsense are active with hundreds of posts every day ...... ?


Can anyone answer this question?


Have all the years of work born no fruit ? Is it time to simply walk away totally?


What is the saddest commentary here is that when things are given from the heart without limit without being sold in big marketing ploys no one has taken up the mantle to further this work or this guru's message to the world ......


People complain about all the fraudulent guru's ..... when you get one that has kept personal integrity and has not simply set up marketing ploys in order sell the truth -- nor to gain a big name ---- people become complacent .......


Has all that has been given over the years meant nothing other than a momentary diversion for your amusement ?


Are you serious about progressing ?


While the net can give a taste of what is given here .... it doesn't give the Whole meal ..... It is time to either begin to open up to deeper commitments such as starting having a local meditation group ....

setting up for a Retreat with Satsang - Diksha and instruction in your area ..... for which i Still hold the commitment to attend IF the transportation costs are met .....

More than this i cannot do ------ as i am not a wealthy person.....


Now which is it ?


Is this at an end ? or will it go forward ?


While yes some have voiced that the groups have been an aide and entertainment in their lives ----- my question is this. Is this all people want ? a taste ? or are you ready to plunge in ?



As I said in the other group, I just found out about Swami G through Rasa and I am still surprised every day that such a thing like this exists on the net.
This post reminds me of what recently happened with TM and Maharishi. He decided to have a rectification course for the TM teachers and start a new movement, Only those who will commit to teaching full time will be authorized to teach TM in the future. Maharihsi has trained maybe 40,000 teachers over the last 50 years.
So, about 500 people attended the course. I heard Maharishi was in shock that after 50 years, this is all that came forward. Nonetheless, it seems it is the compassion in any Guru that keeps them going regardless of the circumstances?
---
---