SEX & RELIGION
IS MODERN DAY FEMDOM THE CONTINUATION
OF ANCIENT RELIGIOUS SEX?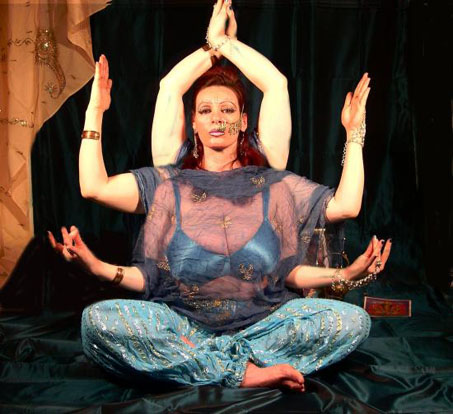 DIVYANA
Produced by Divyana
© 2005
BY WILLIAM BOND
COMMENTARY BY RASA
AND YET ANOTHER REASON FOR
BRINGING BACK "THAT OLE TIME RELIGION."
For thousands of years patriarchal religions have kept sex and religion separate. To the degree that people now completely accept that sex has nothing to do with religion. So it comes a surprise to people when they find that in India some ancient temples have explicit carvings of people having sex throughout the temple.
This was not unusual in ancient times where priestesses of Goddess temples were called `Temple prostitutes',
RASA: I WOULD LIKE TO KNOW THE ORIGINAL WORD. 'PROSTITUTE' NOW HAS A PEJORATIVE TAINT. THE WORD COULD HAVE A MEANING LIKE 'FERTILITY FACILITATOR' OR 'GODDESS OF LOVE.'
...by the priests of patriarchal religions. This was because these temples used sex in their holy rituals.
So the question we have to ask ourselves: Why has sex and religion been separated in modern religions? And why was sex celebrated in ancient religions? The answer seems to be to do with the sex of the deity being worshipped. Sexuality was celebrated in Goddess Temples but was later banned when people began to worship male gods.
In ancient times going back to the Stone-Age, people began to think about what sort of intelligence created our world. They assumed it was a Great Mother, because the whole of animal life comes into this world through the bodies of mothers. So it was logical that the intelligence that created our world was also a Mother who created it by giving birth.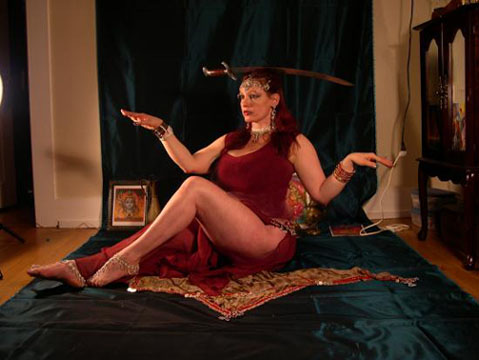 DIVYANA
Produced by Divyana
© 2005
So in the ancient religion the whole cycle of birth was seen as holy. From menstruation, having sex, pregnancy, giving birth and breast feeding. All these were sacred acts in the religion of the Great Mother. And for men they only act they could perform in the miracle of creating life, was the sex-act. So for men, sex become very sacred and holy in this ancient religion.
So when the later patriarchal religions began to be created they attacked all the holy rituals of the Great Mother. They made menstruation, `unclean' and `shameful' to the degree that the mothers of women of my generation never talked about it to their daughters.
RASA: HOW TRUE. MY MOM PRETENDED SUCH THINGS NEVER EXISTED. SHE PRETENDED SHE NEVER HAD SEX, AND YET, SHE HAD MULTIPLE ABORTIONS.


So when they were girls at the age of puberty, they suddenly found themselves bleeding and didn't know what was going on, because no-one had told them.
RASA: LUCKILY YOU GO TO SCHOOL WHERE YOU TALK TO THE OTHER GIRLS, SOME OF WHOM ARE NOT AS ILL INFORMED AS YOU ARE.
Even breast feeding was made `shameful' to the degree even today,
RASA: INDEED, WHEN I HAD MY CHILD, DR. MACK, AN OLD BLOKE, GOT MAD WHEN I INTENDED TO BREAST FEED. 'YOU MUST BOTTLE FEED'! HE SAID. THIS IS THE MALE MEDICAL MAFIA SPEAKING. THEY WERE CONTROLLING EVERYTHING. THE WAY YOU HAVE SEX, THE WAY YOU THINK ABOUT SEX, THE WAY YOU HAVE BABIES (NO MORE MIDWIVES OR NATURAL BIRTH!), THE WAY YOU FEED AND CARE FOR BABY, ETC. IT IS A TOTAL MIND CONTROL, ACROSS THE BOARD.


...many women will not breast feed in public.
RASA: BECAUSE THEY TURNED WOMEN'S BODY PARTS INTO THINGS OF PERVERSION RATHER THAN SACREDNESS, SO YOU CANNOT EXPOSE THEM.
They even made birth a `sin' and the Roman Catholics made new mother go through a ritual to `cleanse' them of the `sin' of giving birth.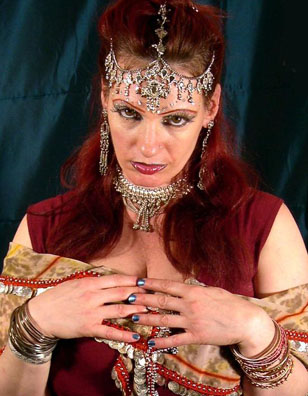 DIVYANA
Produced by Divyana
© 2005
RASA: THAT ONE I NEVER HEARD! I KNOW THE HEBREWS WOULD REQUIRE THE NEW MOTHER TO GO TO THE TEMPLE AND BATHE IN A SPECIAL POOL OF RAIN WATER, A SMALL POOL. ONE STILL EXISTS IN JERUSALEM WHERE OUR HOLY MOTHER MIGHT HAVE BATHED AFTER JESUS.
While babies were baptized to `cleanse' them of being born by a Woman.
RASA: BAPTISM IS TO CLEANSE FROM ORIGINAL SIN, AND BRING SANCTIFYING GRACE TO THE CHILD.
But the strongest attack was made on sex. Because sacred sex was done both by Women and men. So the whole sex act was made into a `sin' and referred to as being `dirty'. The attack on Women's sexuality was taken to the extreme in Islamic countries where even today they practice genital mutation.
RASA: I DID NOT KNOW THE MUSLIMS DO THIS. I HAVE HEARD MUCH ABOUT THE AFRICAN PRACTICE, THAT HAS BEEN PUBLISIZED A LOT.
Where the clitorises of young girls are cut off and the vagina sewn up.
RASA: FOR THE VAGINA TO BE SEWN UP, I BELIEVE IS TO MIMIC VIRGINITY, ALTHOUGH MANY OF THESE GIRLS WERE PROBABLY SEXUALLY EXPLOITED AND THEREFORE NO LONGER VIRGINS. SO THEY SEW THEM UP AND LET THE HUSBAND TEAR IT OPEN AGAIN.
Many young girls die of this brutal operation by toxic shock.
RASA: OBVIOUSLY THIS IS NOT DONE UNDER MEDICAL AUSPICES. THE FRIGHTENING THING HERE IS THAT IT IS DONE WITH THE CONSENT OF THE MOM AND OTHER FEMALE RELATIVES. WOMEN HAVE TO PLAY ALONG WITH PATRIARCHY, EVEN WHEN IT BRUTALIZES THEIR OWN CHILDREN.
In the west it wasn't so extreme but sexual enjoyment for Women as greatly discouraged to the degree that in the beginning of the 20th century, it was commonly believed that Women cannot orgasm. So why this attack on female sexuality? Where in Islam they cut off the clitoris of women to ensure they do not enjoy sex. While in the west, women who enjoyed sex were condemned as whores and harlots.
RASA: IN PRIMITIVE COUNTRIES THEY DO CIRCUMCISION OF THE BODY. IN CIVILIZED COUNTRIES THEY CIRCUMSIZE THE MIND.
This extreme reaction against female sexuality by patriarchal religions, suggest they greatly fear it. And a clue to understanding why comes from two religions that have survived into modern times, Taoism in China and Tantra in India. Now what both these religions have in common is that they believe sex to be sacred.
Now in the FemDom scene some dominant Women make their male partners wear chastity devices. These devices are locked onto the male sexual organs with the Women having the key. Which means the man can only have sex or masturbate when the Women unlocks him. Now this to some people seems extreme but in Taoism and Tantra they go even further. The man is free to have sex with Women but he goes through a spiritual discipline where he is not allowed to ejaculate. And many men in these two religions will go for years without orgasm, but still having sex with Women.
Roman Catholic priests and monks have claimed it is very hard for them to keep to their oath of chastity to the degree monks lock themselves away from contact with Women make sure they are not
tempted. So how much more difficult it would be to have sex with Women but withhold your ejaculation?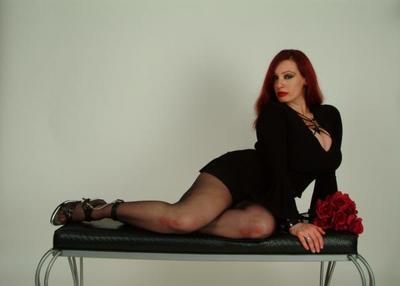 DIVYANA
Produced by Divyana
© 2005
So why do these two Eastern religions insist that men do this? In their writings they claim that men lose spiritual energy through orgasm.
RASA: I HAVE SOME MISGIVINGS ABOUT HIS SORT OF THOUGHT. I HAPPEN TO BE A CELIBATE FOR A LONG TIME AND THERE ARE NOT MANY OUT HERE. SO I CAN TELL YOU FROM EXPERIENCE THE FOLLOWING. IF YOU ENTERTAIN THE THOUGHTS OF SEX OR LUST, YOU ARE DEFEATING THE PURPOSE OF CELIBACY. CELIBACY IS TO RID THE MIND OF SEX SO THE MIND IS FREE. BUT TO GET A MAN TO GET ERECTIONS AND THEN HAVE SEX WOULD BE COUNTER PRODUCTIVE. BECAUSE IN ORDER TO GET AN ERECTION AND GO THROUGH THE MOTIONS, HIS BRAIN/MIND IS ENGAGING IN THOUGHTS OF SEX. SO THE MIND IS NO LONGER FREE, BUT STILL ON SEX.

IT IS THE MIND THAT HAS THE POWER, NOT THE SPERM. BY RELEASING SPERM YOU ARE NOT RELEASING OR LOSING ENERGY. IT IS YOUR MIND BEING ON SEX THAT DIVERTS YOUR ATTENTION FROM A PLACE OF PEACE AND FREEDOM.
But interesting they don't insist Women do the same. Woman in these two religions can have as many orgasms as she likes. Which points to another reason why these religions impose this discipline onto men. It makes sex for Women very enjoyable.
In our modern sexually liberated world, many Women have complained that men ejaculate too soon.

Also many Women are capable of having more that one orgasm during the sex-act.
RASA: LET US FACE FACTS HERE. IT IS THE CLITORIS THAT GIVES THE ORGASM, NOT THE ORGAN INSIDE THE VAGINA. INTERNAL ORGASMS ARE RARE, AND HAS NOT MUCH TO DO WITH THE PENIS GOING IN AND OUT. THE CLITORIS HAS TO BE STIMULATED SOMEHOW, WHICH USUALLY DOES NOT HAPPEN DURING REGULAR SEX.
Belly Dancing: quite possibly the oldest form of dance in existence
So it means a Women having sex with a man in these two religions do not have to worry about him orgasming before she does.
RASA: HAVE YOU BEEN TALKING TO ANY TAOSTS LATELY? IT SOUNDS RATHER AMUSING TO IMPUTE THIS SORT OF THING ON ALL TAOISTS.
And if she wants more than one orgasm she can let him continue until she in fully satisfied. And off course, this would be a good way to have birth-control. The Women can have sex for enjoyment without fear of getting pregnant.
RASA: FRANKLY, I WOULDN'T TRUST THESE GUYS. THEN WHEN THEY CHANGE THEIR MINDS, THEY FORGET TO TELL YOU.
So that TantRa and Taoism sex gives Women all the advantages at the expense of men. It is then not a surprise to find both religions worship a Goddess. Tantra worships the Goddess Kali while although officially Taoism doesn't worship any deity they called the Tao is the `Mother' or `Mysterious Female'. And it is not surprising to find that in most Tantra sexual positions the Woman is on top. As opposed to the `missionary position' which shows men on top during sex in patriarchal sex. These two religions are very ancient which suggest they were created in the last Matriarchal age.
The difference between Tantric sex and patriarchal sex is the length it take. Patriarchal sex can be over within a few minutes, but Tantric sex can last for hours. But this is only possible because the man has been trained not to ejaculate.
RASA: MAYBE YOU DO HAVE A POINT WHEN YOU PUT IT THAT WAY.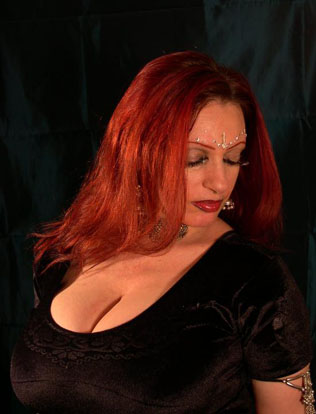 DIVYANA
Produced by Divyana
© 2005
This then gives us a insight to what the last Matriarchal age must have been like. Men were trained to give Women maximum pleasure during the sex-act. So her feelings and desires come first, and he was only there to serve her. This sound very much like a FemDom relationship where the man serves and worships the Women. This means that FemDom is not a new thing and was widely practiced thousands of years ago.
RASA: OK, NOW I SEE WHERE YOU ARE COMING FROM. YOU ARE EQUATING ANCIENT WORSHIP OF THE FEMALE BODY WITH MODERN-DAY FEMDOM. BUT IN MODERN DAY FEMDOM, WHERE WOMEN MOSTLY DOMINATE MEN IN 'SESSIONS', THERE IS NO SEX. THIS WOULD HAVE TO BE IN A LIFESTYLE SITUATION.
DISCUSSIONS ON

---
---