SHOCK 'N' BRA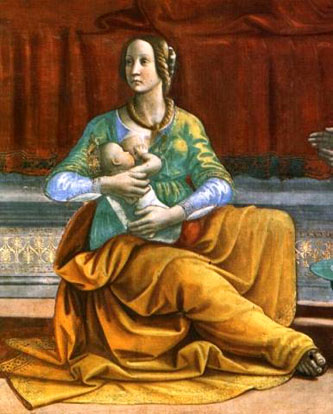 Detail of The Birth of John the Baptist
Domenico Ghirlandaio
ARTICLE & PHOTOS SUBMITTED BY JOY

I'm new to this group, this is my first posting. I read this in my local newspaper and both laughed and was outraged. What a civilization we have that nursing mothers have to get a law passed to nurse in public. This article doesn't mention that the Phoenix movement was spurred on by a Mother who was told to go to the restroom and feed her baby. Her comment on the air was "would you like to eat your dinner in the toilet?" Great slogan..."Shock 'n' Bra" approach.'


POLITICALLY ACTIVE MOMS SHOW
HOW TO NURSE THE SYSTEM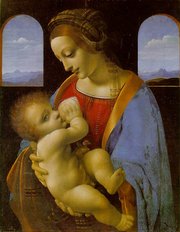 Nov. 8, 2005 12:00 AM
Arizona Republic

There is only one group of activists in the Valley who've gotten local politicians to grant their demands each time they've confronted them. They're focused. They're committed. They believe in personal freedom above government regulation, and they understand that citizens must be willing to make a public display, if necessary, in order to affirm their rights. These include the right to speak freely. The right to peaceably assemble. The right to redress grievances. And the right to bear (Or is it bare?) breasts.
The movement began last summer in Chandler, when Tempe resident Amy Milliron was asked to stop nursing her baby at a public pool. In Arizona, there is no exemption to the state's indecent-exposure law for breast-feeding.
"We're not really that organized," Milliron said. "We just spread the word when things like this come along, and people show up at meetings. It's just a heartfelt effort for a good reason, a good cause. And my hope is that people with power will see that changing this should be a no-brainer."

That is what happened when 50 or so lactating activists attended a Chandler City Council meeting, where it was unanimously agreed that moms would be permitted to feed their infants anywhere "a mother and child are allowed to be."
Last week the Tucson City Council passed an administrative directive providing for the same type of safeguards.
Not long ago, state Sen. Jay Tibshraeny told a reporter that he expects the Legislature to exempt breast-feeding from the state's indecent-exposure laws during its next session.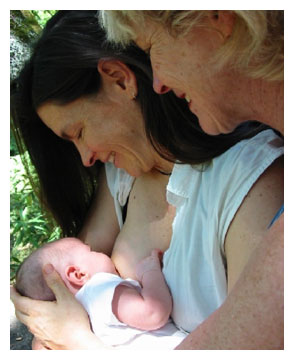 "I've been asked what we'd do if businesses show up in opposition," Milliron said. "I told people that I challenge one business to show up. There's a room full of families at these meetings, and it will be all over the media. If a business stood up and said they oppose us, I'd guess that they'd be filing for bankruptcy in no time."
When the Chandler story first broke, a caller on my voice mail accused the nursing moms of using a "Shock 'n' Bra" approach. I asked Milliron if she'd been kept abreast of other possible wisecracks involving her cause.
"Actually, no," she said, laughing. "You'll have to fill me in so I'll be prepared."
A lesser columnist would take such an invitation and attempt to humorously milk it for all it's worth. Someone of my experience and sensibility, however, refuses to fall into a simple-minded booby trap, recognizing that bad puns about serious issues are almost always a bust.
. . . OK, I'm finished.
Milliron said that while she and the mothers with whom she's been working hope that the Legislature will address the problem, they're not going to count on it.
"It's difficult for us," she said. "We have to find baby-sitters. We have to find the time. But we'll go to the local meetings until the issue is resolved at the state level."
She has been in contact with several state legislators who've indicated that they will take on her cause.
"Forty states have the exemption," she said. "And there haven't been any lawsuits. Breast-feeding is natural. Moms are discreet. This should be an easy call. We're not radicals. We just want to feed our babies in the best, most healthy way."
I asked Milliron if the lobbying approach being used by the breast-feeding moms might be effective for other groups.
"Our strategy, such as it is, is to speak honestly about an honest cause," she said.
If only it were that simple. If only the mother's milk of political success could be reduced to a two-word slogan: Got truth?
Reach Montini at (602) 444-8978 or ed.montini@arizonarepublic.com.
---
---