PEDOPHILIA & HOMOSEXUALITY
IN THE CATHOLIC CHURCH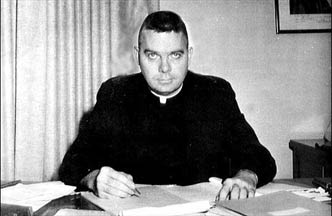 ARE THEY IMPERVIOUS TO THE LAW?
For Two Thousand years the Catholic Church has been committing the type of sins that would make a saint blush. All the while, thumbing their noses at the people they've been mistreating. The Catholic Church has gotten away with so much that they truly believed they were impervious to the law and right reason. Even now they think they are going to wiggle out of the current crisis. Their main targets have been women and children. They've tortured and killed millions of women in the Inquisition. They've completely pushed women out of the hierarchy of the Catholic Church, going 180 degrees away from everything Jesus wanted in regard to women. Jesus walked with women, talked with women daily, and his greatest disciple was Mary Magdelene. But the men would have none of it. This is an elite club of homosexuals, predators, sexists, rapists and cold hearted snobs. But what goes around comes around. Since this scandal has broke, there will be no end to it until all of their dirty laundry is put out in the open.
Mother God Church hopes and prays that every individual in the Catholic power structure will repent and will come closer to God. We just want them to stop their crimes, especially against children. Most of this nonsense would stop immediately if they would have women priests and marriage in the priesthood. But they are holding on with their last dying breathe to their homo club. We will trust that God will deal with all of this in due time.
SINS OF A PRIEST
THE JOHN GEOGHAN STORY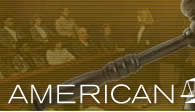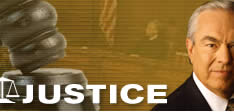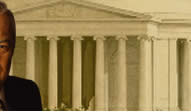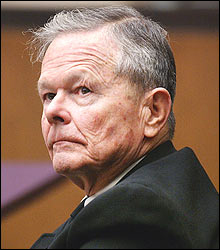 John Geoghan ( Boston Globe Staff Photo / John Blanding)
He was young, energetic and always smiling. To his parishioners, he was Father Jack. He baptized their babies and celebrated their weddings. But beneath the cheerful surface, Father John Geoghan was hiding a dark and terrible secret. AMERICAN JUSTICE: SINS OF A PRIEST: THE JOHN GEOGHAN STORY reports that for three decades Father Geoghan committed the most heinous of crimes – molesting over 140 children. He preyed on lower income families, often single mothers struggling to make ends meet, who were delighted to have a man in the house to help with their children. But after gaining their trust, Geoghan would visit the kids' bedrooms at night to sexually abuse them. He would then tell the children to keep it a secret.

AMERICAN JUSTICE: SINS OF A PRIEST: THE JOHN GEOGHAN STORY also reports that as rumors and accusations against Father Geoghan began to surface, the Archdiocese of Boston sent Geoghan for psychological treatment for pedophilia and then simply assigned him to a new parish. But the sexual abuse continued and the Archdiocese's decision to cover up the crimes would lead to the downfall of Cardinal Bernard Law, one of the most powerful men in the American Catholic Church, bringing shame and scandal and rock the church to its foundation. Interviews include reporters from the Boston Globe, victims and their relatives, a district attorney, a plaintiff's attorney, a psychiatrist, a friend of Geoghan, a member of the Boston Priests' Forum and the president of the Voice of the Faithful.
FOR EXCLUSIVE INTERVIEWS FROM THIS PROGRAM VISIT
THE AMERICAN JUSTICE "SINS OF A PRIEST" PAGE
ON AETV.COM
ABUSE IN THE CATHOLIC CHURCH
AS UNCOVERED BY

http://www.boston.com/globe/spotlight/abuse/
CONTRIBUTING REPORTERS
SACHA
PFEIFFER

Sacha Pfeiffer is a member of the Boston Globe Spotlight Team, the newspaper's investigative unit, and is one of the reporters and editors who won the 2003 Pulitzer Prize for meritorious public service for their coverage of sexual abuse by Roman Catholic priests. The stories also received numerous other honors..

WALTER V. ROBINSON

Walter V. Robinson, an assistant managing editor of the Globe and the editor of the Spotlight Team, has been a reporter and news editor at the Globe for close to three decades.


MATT
CARROL

Matt Carroll has worked at the Globe since 1987 and has been a member of the Spotlight team since 1997. Before becoming a reporter, he worked as a copy editor on the Business desk for two years.




MICHAEL REZENDES

Michael Rezendes is a member of the Globe's Spotlight Team and is one of the reporters and editors who won the 2003 Pulitzer Prize for Public Service for investigating sexual abuse in the Catholic Church.
PEDOPHILE PREISTS
Fr. JOHN GEOGHAN
John Geoghan stands out as one of the worst serial molesters in the recent history of the Catholic Church in America. For three decades, Geoghan preyed on young boys in a half-dozen parishes in the Boston area while church leaders looked the other way. Despite his disturbing pattern of abusive behavior, Geoghan was transferred from parish to parish for years before the church finally defrocked him in 1998.

After a January 2002 report on Geoghan by the Globe Spotlight Team, the case became a catalyst for revelations of other clergy abuse and church coverups. Dozens of priests were accused of abuse by hundreds of alleged victims who filed lawsuits, forcing the archdiocese to release damaging documents that showed the church's obsession with avoiding scandal and protecting its reputation.
In the Geoghan case alone, some 150 people eventually came forward, claiming they were fondled or raped by the priest. In February 2002, Geoghan was sentenced to nine to 10 years in state prison for molesting a 10-year-old boy at a pool in Waltham. Later, the Boston Archdiocese reached a $10 million settlement with 86 other alleged victims. More than a dozen civil suits are still pending.
Fr. RONALD PAQUIN
During two decades of ministry in Haverhill and Methuen, the Rev. Ronald H. Paquin made a habit of befriending young male parishioners and molesting them.
Although numerous complaints were made to the archdiocese over the years, Paquin was not removed from parish ministry until 1990. Even then, Paquin continued to molest one boy while he was living at a church treatment center in Milton, according to the victim.
Unlike most accused priests, Paquin has acknowledged his long history of abusive behavior. In December 2002, he became the first Boston clergyman to admit guilt in a criminal molestation case. Paquin pleaded guilty to three counts of raping a Haverhill boy and was sentenced to 12 to 15 years in prison. He has agreed to testify against the Boston Archdiocese in other abuse cases. At least 28 civil lawsuits are still pending against him.
Fr. PAUL SHANLEY
The Rev. Paul R. Shanley made his reputation as a Boston "street priest" in the 1960s and 70s -- a crusader for runaways and drifters, drug addicts, and teenagers struggling with questions about their sexual identity.

But those who turned to Shanley for comfort and guidance often found themselves in the clutches of a sexual predator. Thousands of pages of documents show that church officials knew of numerous sexual abuse allegations against Shanley and that the priest had publicly advocated sex between men and boys. Despite this, Shanley was shuttled from parish to parish in the Boston Archdiocese, and eventually transferred to a California church with a letter of recommendation from one of Cardinal Bernard Law's top deputies.
In May 2002, Shanley was arrested in San Diego, where he had been living, and returned to Massachusetts to face 10 counts of child rape and six counts of indecent assault and battery stemming from his assignment at a Newton parish in the 1980s.
After seven months in prison, Shanley was released on $300,000 bail in December. He is living in Provincetown while awaiting trial.
Fr. JOSEPH BIRMINGHAM
At least 50 men have come forward with claims they were abused by the late Rev. Joseph E. Birmingham during the priest's 29-year tour through the Boston Archdiocese. Parents repeatedly complained to the church about Birmingham's behavior - to no avail.

Even after admitting to police and church officials on separate occasions that he had molested children, Birmingham was allowed to remain in ministry, insisting he had been "cured."
Birmingham died in 1989, but the archdiocese continues to receive complaints and settle lawsuits brought by his alleged victims.
CARDINAL BERNARD LAW

Who resigned in 2002 after years of protecting priests who were known sexual abusers.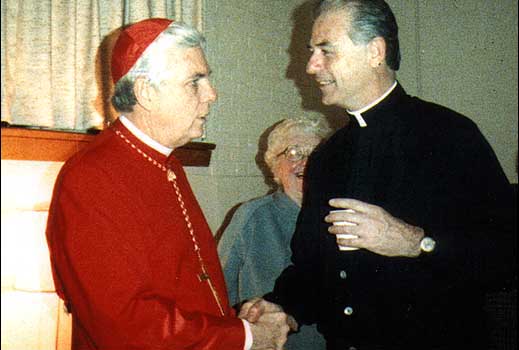 Law, left, shakes hands with former Boston "street priest" Paul R. Shanley, who would years later be accused of sexually abusing children. Courtesy of The Boston Globe.
ARTICLES FROM

http://www.boston.com/news/globe/
16 PRIESTS NAMED FOR FIRST TIME
IN SEXUAL ABUSE LAWSUITS

Published on January 30, 2003
Author(s): Michael Rezendes, and Matt Carroll, Globe Staff
The number of priests in the Boston Archdiocese accused of sexually molesting children grew to 130 yesterday, with the filing of a rash of new lawsuits that name 16 priests as molesters for the first time.
The new lawsuits, filed on behalf of 70 new alleged victims, include charges of rape, attempted rape, and fondling of minors against 40 priests and a former church worker who is believed to be a deacon. At least three of the 40 priests are in active ministry.
BISHOP OFTEN SIDED WITH
PRIESTS IN ABUSE CASES

Published on January 26, 2003
Author(s): Thomas Farragher and Matt Carroll, GLOBE STAFFSpotlight
follow-up
A decade ago, when Cardinal Bernard F. Law wanted to reassure Boston Catholics with a new policy requiring that abusive priests be removed from duty, it seemed natural to call on the Rev. John B. McCormack to help craft it.
As guardian of his church's most tightly held secrets, McCormack knew more about priests who molested children than almost any other clergyman.
But almost immediately, McCormack's penchant for protecting priests in trouble trumped his new policy.
MORE CLERGY ABUSE,
SECRECY CASES

Published on December 4, 2002
Author(s): Thomas Farragher, and Sacha Pfeiffer, Globe Staff
Desperate to contain the burgeoning scandal in the priesthood, the Archdiocese of Boston for years dealt in secret with allegations that a priest had terrorized and beaten his housekeeper, another had traded cocaine for sex, and a third had enticed young girls by claiming to be "the second coming of Christ," newly released church records show.
DIOCESE RECORDS SHOW MORE COVERUPS

Published on September 13, 2002
Author(s): Michael Rezendes, and Sacha Pfeiffer, Globe Staff
Bishop Thomas V. Daily matter-of-factly recorded for church files the 1981 arrest of a priest for lewd conduct in a public restroom at a Sears department store, and how the priest then contacted a friendly judge. Soon afterward the charge was dropped - against the priest, the Rev. George J. Rosenkranz, but not against the man with whom he was arrested.
BANKRUPTCY FILING CALLED
OPTION FOR ARCHDIOCESE

Published on August 2, 2002
Author(s): Stephen Kurkjian, and Michael Rezendes, Globe Staff
The Archdiocese of Boston is considering the option of filing for bankruptcy if it loses large judgments in clergy sexual abuse cases, including the dispute currently being heard in Suffolk Superior Court over whether it must abide by an agreement to pay alleged victims of convicted child molester and former priest John J. Geoghan between $15 million and $30 million, church advisers said.
CHURCH PLACES PASTOR ON LEAVE

Published on May 25, 2002
Author(s): Sacha Pfeiffer, Globe Staff
The Archdiocese of Boston yesterday removed a West Bridgewater pastor from parish duty and placed him on administrative leave because of an allegation that he sexually abused a child in the past.
The Rev. Edward C. McDonagh, 64, pastor of St. Ann's, becomes the 12th priest in the archdiocese to be ousted since January over accusations of sexual molestation of minors.
According to a statement issued by church officials, McDonagh was removed from his assignment after an allegation [of child abuse].
LAW KNEW PRIEST HAD BEEN ACCUSED

Published on May 23, 2002
Author(s): Michael Rezendes, Globe Staff
Cardinal Bernard F. Law apparently knew of allegations of sexual misconduct against former priest Paul J. Mahan as early as 1993, before Mahan was temporarily assigned to a Cambridge parish and before he allegedly molested one of his nephews, according to church documents made public yesterday.
In an August 1993 letter removing Mahan from parish duty, Law said he was "sorry to learn of the recent allegations" made against the priest.
LAW AIDES OFTEN DISMISSED
COMPLAINTS OF CLERGY ABUSE

Published on April 12, 2002
Author(s): Sacha Pfeiffer, GLOBE STAFF
Peter Pollard still feels the sting of it.
In 1988, several weeks after Pollard reported his alleged sexual abuse by the Rev. George Rosenkranz to the Archdiocese of Boston, the church official who handled abuse complaints said he found nothing to justify removing the priest from ministry.
The Rev. John B. McCormack, now bishop of Manchester, N.H., said Rosenkranz merely had "sexual issues,"
DOZENS MORE ALLEGE ABUSE BY LATE PRIEST

Published on April 4, 2002
Author(s): Sacha Pfeiffer, GLOBE STAFF
In the last week alone, more than two dozen alleged victims of the late Rev. Joseph E. Birmingham have come forward, some with accounts of how they fruitlessly complained about his compulsive molestation of children during the first of six parish assignments Birmingham had in 29 years as a priest.
The number of Birmingham victims is so large - as many as 25 alone from his third assignment in Lowell in the 1970s....
PRIEST ABUSE CASES FOCUS ON ADOLESCENTS

Published on March 17, 2002
Author(s): Michael Paulson, and Thomas Farragher, Globe Staff
It has become the shorthand label for a sex abuse scandal that now haunts dioceses around the nation: the pedophile priest crisis.
But the vast majority of priests who sexually abuse minors choose adolescent boys - not young children - as their targets, according to lawyers and academics who study clergy sexual abuse.
WOMAN SAYS CHURCH
IGNORED HER OUTCRIES

Published on February 13, 2002
Author(s): Sacha Pfeiffer, GLOBE STAFF
NEWTON - Jackie Gauvreau made no secret of her animus for the Rev. Paul R. Shanley.
Her hatred was so vocal that the accusations she leveled against him in the 1980s eventually became mere background noise for St. John the Evangelist parishioners - the ceaseless rage of someone mounting a bizarre crusade against a popular priest.
Her message: Shanley was a child molester.
6 MORE PRIESTS REMOVED
ON ALLEGATIONS OF ABUSE

Published on February 8, 2002
Author(s): Michael Rezendes, and Matt Carroll, Globe Staff
For the second time in five days, the Boston Archdiocese late yesterday announced it had discovered more allegations of sexual abuse of children by active clergymen, and removed six additional priests from their assignments.
In addition to the six, the names of nine other unidentified priests were forwarded for possible prosecution to district attorneys in Middlesex and Norfolk counties yesterday.
SCORES OF PRIESTS INVOLVED IN SEX ABUSE CASES

Published on January 31, 2002
Author(s): This article was reported by the Globe Spotlight Team:
Reporters Matt Carroll, Sacha Pfeiffer, and Michael Rezendes; senior
assistant metropolitan editor Stephen Kurkjian;and editor Walter V.
Robinson. It was written by Robinson.
Under an extraordinary cloak of secrecy, the Archdiocese of Boston in the last 10 years has quietly settled child molestation claims against at least 70 priests, according to an investigation by the Globe Spotlight Team.
In the public arena alone, the Globe found court records and other documents that identify 19 present and former priests as accused pedophiles. Four have been convicted of criminal charges of sex abuse, including former priest John J. Geoghan.
FAMED 'STREET PRIEST' PREYED UPON BOYS

Published on January 31, 2002
Author(s): Sacha Pfeiffer, Globe Staff
Boston's Catholics had never seen a priest quite like Paul Shanley.
Handsome and charismatic, he wore his hair long, growing thick sideburns and shedding his Roman collar for plaid shirts and jeans. He openly questioned church teachings, particularly its condemnation of homosexuality, clashing often and publicly with his superiors, including then-Cardinal Humberto Medeiros.
ARCHDIOCESE SPED RETIREMENT PROCESS

Published on January 28, 2002
Author(s): Sacha Pfeiffer, Globe Staff
By the time John J. Geoghan was defrocked in 1998, he had been retired from the priesthood for more than a year, a move he ostensibly requested "for reasons of health" in a letter to Cardinal Bernard F. Law.
But previously secret internal church documents show the Archdiocese of Boston coaxed Geoghan to retire as part of a legal maneuver designed to shield the church from monetary claims by victims of Geoghan's sexual abuse.
ACCUSERS' ACCOUNTS TELL OF
ABUSE AND ITS SCARS

Published on January 26, 2002
Author(s): Michael Rezendes, and Matt Carroll, GLOBE STAFF
New evidence in the lawsuits against convicted child molester John J. Geoghan and leaders of the Boston Archdiocese provides chilling accounts of the former priest's alleged sexual abuse of children - both boys and girls - and the long-term trauma they say they suffered.
The sworn statements by Geoghan's accusers, made in response to questions by lawyers for Cardinal Bernard Law and church officials, also provide more evidence that the church knew of Geoghan's sexual [abuse].
PRIEST SAYS HE, TOO, MOLESTED BOYS

Published on January 26, 2002
Author(s): Sacha Pfeiffer, and Steve Kurkjian, Globe Staff
His name appears in the thousands of pages of documents about former priest John J. Geoghan, with the strong hint that he, too, abused children. He left his own trail of victims in parishes in Methuen and Haverhill over 15 years, until the Archdiocese of Boston removed him from active ministry in 1990.
And last night, the Rev. Ronald H. Paquin acknowledged to a Globe reporter that he had molested boys in both communities until 1989.
POLICE PROBED PRIEST ON SEX ABUSE
AS EARLY AS 1986

Published on January 25, 2002
Author(s): Stephen Kurkjian, and Sacha Pfeiffer, Globe Staff
Not every allegation of sexual abuse made against the Rev. John J. Geoghan in the 1980s remained a secret inside the Boston Archdiocese.
In 1986, the Boston Police Department and the state Department of Social Services investigated an accusation that Geoghan sexually molested a 10-year-old Jamaica Plain boy, according to internal church documents. But Geoghan denied the allegation and the inquiry was dropped.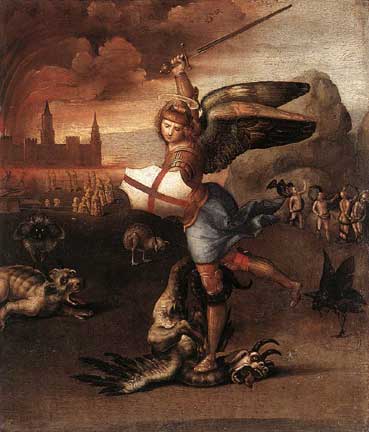 St. Michael the Archangel, defend us against those who abuse the helpless and defenseless. Stop them by whatever means necessary. Where are the Guardian Angels of those abused by the Catholic Priests and others? We invoke the Guardian Angels. An angel has more power than a human. How can a human abuse a little child that is defended by a great Angel? If enough people will pray for those who cannot defend themselves, God will surely energize the Guardian Angels to do what has to be done. Let us pray daily for God to defend the defenseless. These children have done nothing wrong, they do not deserve torture. God defend them. People pray, pray and pray more for the defenseless.
---
---