SPIRITUAL SEX & CELIBACY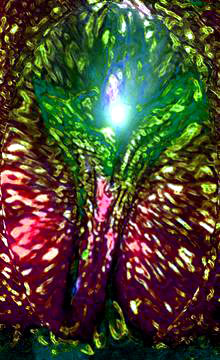 Sacred Yoni
Het Heru Hetep RaMut
LETTER CONTRIBUTION TO RASA FROM BRIGIDO ANAYA

Dear beloved Rasa,

I have been reading the postings in your groups, and I am all for respecting every body's right to express their opinion, and the freedom to do so, even if I may disagree with whatever somebody may express, I still do not like to judge anybody for their beliefs, personal opinion, or whatever...

In this vein I would like to bring the issue of Chastity, or Celibacy...

First I respect anybody desire for it, if that is what their souls desires, and need at the time, but I like to express respectfully that I do not see Celibacy as a way for the majority of people, not even a minority!

But for very few special individuals, Rasa, you may be one of them, and is not for me to question that...

My main objection to Celibacy, is that if it is True that sex is abused, and misunderstood by a vast majority of Humanity, not because of it, Sex is less Sacred even for a moment...

"For the Saint everything is Holy, for the sinner everything is sinful..."

Man/Womankind in order to grow Spirituality, need to turn Sex Sacred, and I believe the mayor purpose of embracing MotherGoddess is to bring a necessary balance to the relationship between the Sexes, for so many centuries lean in to the Masculine.

A New Age is at the door, in the last fifty years great changes had downed in the world, but that is just the beginning, many more changes are needed to bring this New Age to ripeness!

Rasa, the Goddess worship it is an Integral part of the Feminine, and therefore of the Creative process, this can't exist without Sex...

Celibacy, has to do more with the control of the senses, Yoga the science of the Rishis, they emphasize Pratihara (one of the eight limbs of Yoga) when the adept is ready to master the senses, one of my Teachers, wisely advised that the idea was not suppress the senses, but to be able to control them like when you have a switch, you can turn them on, or you can turn them off.

I understand the Western, masculine idea to control Shakti, (Feminine energy, the Serpent Kundalini) but it is the other way around Shakti control us...

Nothing is wrong with Celibacy, but if it is goal is understood, by a qualified individual, but who is to say who is in the know?

To put it in perspective forced Celibacy, like in the Catholic church, and the many disastrous pedophilia, and pederast priest that had plagued that Institution for Centuries, and that just now is coming to reckoning, I do not even recommend Celibacy, as a personal, way to find God/Dess, just for the sake of those poor souls that will distort, and would miss the point of the practice, an analogy will be to reestablish Prohibition in order to cure Alcoholism, no Celibacy should remain as a personal, and individual decision, based in our own Spiritual inclinations, at a certain part of our Journey, but not for the masses...

And finally the mayor argument against Celibacy, is that it denies the fundamental, and Natural expression of the Goddess Love, Sex! And negates the other side of God/Dess creating an illusory concept of Duality, like pure vs impure, saint vs evil, good vs bad, etc. This perpetuate the idea of an opposing force equal to God/Des rather than look at it, like two sides of the same coin...

By the way dear Rasa, last night I dreamed of throwing away the wedding ring of my ex-wife and getting a new ring for a new wife, somebody told me I should go and take the size for the ring from the statue of the Virgin hand at church, since in this way it will fit my new bride perfectly...

Will you please tell that moron CJ to stop inventing dreams for you to interpret, if his dreams would be real, he wouldn't need you to interpret them, he just made them up in order to kiss your lovely Goddess Ass, but as when this is done it generally means he wants something from you, so watch out!
Yours with Love & Sacred Lust
Brigido
---
I AM IN AGREEMENT WITH YOU DEAREST, AND I CAN UNDERSTAND THE PAIN YOU FEEL BY THE WRONG KIND OF PREACHING ON CELIBACY.

I HAVE ALWAYS SAID THIS AND I AM BEING CONSISTENT: CELIBACY IS FOR A TINY MINORITY OF PEOPLE, (AND I AM ONE OF THEM THANK GOD)

FORCED CELIBACY IS A SHAM AND A HYPOCRISY, BECAUSE PEOPLE DO NOT KEEP IT AND IT HAS CAUSED THE CRISIS IN THE CATHOLIC CHURCH AS WELL AS OTHER HYPOCRITICAL INSTITUTIONS, AS YOU SAY. JUST YESTERDAY WAS SPEAKING TO A PROFESSOR AT HARVARD (WE ARE BOSOM BUDDIES BUT HE HAS TO KEEP HIS IDENITY SECRET, YOU KNOW WHY) WHO SAID THAT THERE IS A LOT OF HANKY PANKY GOING ON IN THE EAST, IN FAMILIES AS WELL AS ASHRAMS, ETC. THIS IS ALL COVERED UP AND PEOPLE DO BUSINESS AS USUAL, WITH A FALSE FRONT.

WITH ME THERE IS NO FALSE FRONT. I DO NOT PRETEND TO BE SOMETHING I AM NOT. AND I DO NOT HIDE BEHIND FALSE NAMES AND FALSE RESPECTABILITY.

NOW I AM ON YOUR SIDE AS FAR AS SACRED SEX, THE FEMININE DIVINE AND WORSHIP OF FEMALE BODY. I HAVE SAID THAT. WE ARE GOING TO DO MORE ARTICLES ON THAT. BUT PLEASE TRY NOT TO USE THAT WORD 'LUST' AS IT HAS A NEGATIVE FEEL TO IT. PLEASE CALL IT SACRED DESIRE TO WORSHIP MOTHERGOD, OK?

WILLIAM BOND HAS WRITTEN VERY NICELY ON THIS SUBJECT AND I THINK YOU SHOULD CONTINUE WRITING THESE REVELATIONS TO ME, LIKE I SAID, AND I WILL GET THE BEST OF THIS WORK ONTO THE SITE WITH BEAUTIFUL ILLUSTRATIONS.
MUCH LOVE TO YOU,
SPIRITUAL MOTHER, RASA
---
---