NONDUALISM, BLISS & UNION WITH GOD
A CONTINUATION OF THE
DISCUSSION BETWEEN SWAMI G & RASA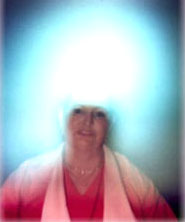 Actual Aura Photograph
of Swami G
BLESSINGS TO ALL AND PEACE

TO SWAMI G

YES, IT IS BEGINNING TO MAKE SENSE TO MY BRAIN. YOU SEE, I HAD TO UNDERSTAND THIS NIRVANA THING IN MY OWN LINGO AND EXPERIENCE ~ TO APPLY IT TO MY OWN FRAMEWORK OF CONSCIOUSNESS. NOW HERE IS WHAT COMES TO MIND. IN THE PRAYER FOR THE DIVINE STIGMATA, WHICH ST. GERTRUDE THE GREAT AND ST. FRANCIS OF ASSISI MADE ABOUT THE SAME TIME, (THE 13TH CENTURY) AND WHICH I IMITATED, THEY BOTH PRAYED FOR THE EXPERIENCE AND THE UNDERSTANDING OF THE ~JOY AND THE GRIEF~ OF THE LOVE OF JESUS CHRIST WHICH CAUSED HIM TO SUFFER AND DIE SUCH A TERRIBLE DEATH FOR SINNERS. NOW I DID PRAY FOR THIS AND RECEIVED IT, AND THE FIRST EXPERIENCE WAS THE GRIEF. OH YES, THE GRIEF CAME BECAUSE BOTH THE SAHASRARA AND HEART CHAKRA BURNED UP ALMOST COMPLETELY (PROBABLY ALL THE CHAKRAS IN BETWEEN THOSE TWO) IN THE INTENSITY OF THIS EXPERIENCE. THIS CHAKRA BURNOUT EFFECTIVELY ANNIHILATED ALL MY GRATUITOUS GIFTS - THE GIFTS OF THE HOLY SPIRIT BY WHICH I EXPERIENCED THE PRESENCE OF GOD, AND BY WHICH I COMMUNICATED WITH GOD. I WAS THEN PUT INTO 'THE SHALLOWS AND WASTES OF HUMAN SENSE' FOR MOST OF EIGHTEEN YEARS, AND THIS SEPARATION FROM GOD (THROUGH NO SIN BUT A GRACE) WAS THE AWFUL PURGATORY OR 'GRIEF' WITHIN THE GRACE.


IN THE YEAR 2000 GOD SENT ME MUKTANANDA TO THE ASCENT BACK UP AGAIN INTO ILLUMINATION. MUKTANANDA TOLD ME MY SUFFERING WAS OVER. HOWEVER, THERE FOLLOWED SOME HORRENDOUS EARTHLY TIME AND SPACE PROBLEMS THAT PLUNGED ME INTO TURMOIL, AFTER THE THREE MONTHS OF BLISS WITH MUKTANANDA. I WAS SUPPOSED TO BE 'IN BLISS' BUT YET ONCE AGAIN, I WAS NOT.

NOW IN THE LAST YEAR NITYANANDA AND I BECAME SOULMATES, AND HE FILLED ME WITH ALL HIS GRACES, AND EVEN RAMANA MAHARSHI CAME TO ME RECENTLY. (I BELIEVE YOU ARE AN EXTENSION OF HIM AND HIS GRACE OR THE APPEARENCE OF HIM IN THE FLESH.) THESE WERE UNBELIEVABLE EXPERIENCES, WITH THESE GREAT BEINGS. WHY WERE ALL THE YOGA MASTERS COMING TO ME, NOT JESUS?


WHAT WAS JESUS DOING IN ALL THIS? WELL THERE ARE TWO THINGS GOING ON. THE GIFT IS HERE, BUT FOR FIVE YEARS NOW I HAVE BEEN LACKING IN ABILITY TO TAKE HOLD OF IT - NOT HAVING THE UNDERSTANDING THAT GOES WITH IT. EIGHTEEN YEARS IN PURGATORY AND JUST RECENTLY AWAKENING AGAIN, THE BRAIN GOT CRUSTY. ALL OF THESE MASTERS HAVE BEEN SPEAKING TO ME OF BLISS, NIRVANA, AND I AM THINKING,

'SO WHERE IS IT?'

AFTER THEIR VISITATIONS BLISS WORE OFF QUICKLY, AS IT WAS THEIR BLISS, NOT YET MY OWN.


THE NIRVANA IS THE OTHER SIDE OF THE COIN OF THE STIGMATA GRIEF - THAT WHICH I KEPT ASKING JESUS ABOUT.

'HEY LORD, YOU GAVE ME THE GRIEF. OK, I GET IT. IT IS SEPARATION. IT IS SINKING DOWN INTO THE SENSES. IT IS AWFUL........BUT WHERE IS THAT SUPERNATURAL LOVE YOU WERE SUPPOSED TO GIVE ME?'

AND SO, NOW I THINK I SEE IT, THAT IT IS NIRVANA, BLISS, WHICH IS THE OTHER SIDE OF THE COIN, AND IT BEGAN IN 2000 AND I SHOULD BE FULLY REALIZING IT ANY DAY NOW.

THE REASON JESUS OR GOD HAS BEEN SENDING ME THESE YOGA MASTERS IS BECAUSE THEY EXEMPLIFY THAT STATE - NIRVIKALPA, NIRVANA, MOKSHA - WHICH CHRISTIANITY DOES NOT EXPLAIN TOO WELL. YOGA IS MORE EQUIPPED TO SEND ONE TO THE BLISS, WHERE CHRISTIANITY CENTERS ON REDEMPTIVE SUFFERING. JESUS WHOLE LIFE EXEMPLIFIED MINISTRY AND PAIN, THEN DEATH. SO WHEN YOU LOOK AT THE CROSS THAT IS WHAT YOU SEE. BUT WHEN YOU LOOK AT THE FACE OF NITYANANDA OR RAMANA MAHARSHI YOU THINK 'BLISS', NOT TORTURE. OF COURSE THIS IS NOT TO SAY THAT JESUS DID NOT HAVE BLISS, BUT HE IS A SYMBOL OF HOLY SUFFERING, AS ARE ALL HIS SAINTS. AND THAT IS WHY I THINK I NEEDED TO STUDY YOGA AND GET DEEPLY INTO IT, BECAUSE IT WOULD SERVE HERE AS THE OTHER SIDE OF THAT COIN.

SEE, I HAVE BEEN HUNG UP ON UNDERSTANDING. NONE OF THE SAINTS WHO HAD THE STIGMATA WERE JOYFUL. PADRE PIO WAS CRANKY TILL THE DAY HE DIED. HE WAS IN DARK NIGHTS CONSTANTLY. DITTO ST. FRANCIS AND ST. CATHERINE OF SIENNA AND ST. LYDWEIGN OF SHEIDAM, AND TERESA NEWMANN AND ALL THE OTHERS. NONE OF THEM WERE JOYFUL ~ THEY WERE CHRONIC SUFFERES WHO HAD ECSTASIES IN BETWEEN. SO THEY WERE MY TEMPLATE. I WALKED IN THEIR SANDALS.

BUT GOD IN GOD'S MERCY I THINK MADE ME MEET YOU IN THE FLESH TO CONFRONT THIS STUBBORN HOLDING ON I HAD TO THE PAST AND SAY,

'HEY~~THIS IS IT. LOOK HOW GOD IS GRACING YOU. SO THE OTHER STIGMATISTS PERPETUALLY SUFFERED AND THEREFORE WERE CRANKY AND MISERABLE. BUT HERE, YOU HAVE THIS GRACE BY YOGA, AND YOU WILL NOW BE LIFTED INTO 'RESURRECTION POWER.' YES, CHRISTIANS DO RECOGNIZE THIS, BUT IT IS RARE. GLORY IS SOMETHING THEY REFER TO, BUT IT COMES AND GOES QUICKLY.


AS FAR AS REDEMPTIVE SUFFERING, IT IS ALWAYS VOLUNTARY. SO THAT IF A SOUL LETS GO OF IT, IT DOES NOT CONTINUE. I COULD NOT LET GO OF IT UNTIL I COULD BELIEVE GOD WOULD WANT ME TO. SO I WILL ASK JUST ONCE MORE TO BE SURE:


HOW DOES ONE MINISTER TO SOULS IN THIS STATE? YOU SAID ALL MERIT COMES OUT OF IT.....AND SO, WHEN ONE IS IN NIRVANA, THEY ARE ABLE TO SAVE SOULS FROM DARKNESS, BRING THEM TO ENLIGHTENMENT, AND PREVENT SINNERS FROM GOING TO HELL? AND ALSO SEND LIGHT INTO PURGATORY AND RAISE THEM UP? I AM JUST MAKING SURE AGAIN, BECAUSE THIS DECISION HAS TO BE MADE, AND YOU ARE TALKING ABOUT A LIFETIME SUFFERER HERE. AND BECAUSE NO CHRISTIAN DID THIS BEFORE THAT I KNOW OF -THAT IS, HAD THE STIGMATA AND THEN GAINED NIRVANA - IT IS A TRICKY SITUATION. WITH NO EXAMPLE OR TEMPLATE ONE QUAKES IN THEIR BOOTS AT THE THOUGHT OF IT.


THAT IS WHERE I AM AT RIGHT NOW AND I THANK YOU FOR YOUR SUPPORT, KINDNESS AND AFFIRMATION AS I ANTICIPATE THE ULTIMATE REWARD OF GOD'S HOLY JOY.
MUCH LOVE,
RASA VON WERDER
AUGUST 23, 2005
---
---