SWAMI G & RASA 2 x 4 DISCUSSION PART I
SINCE YOU DO NOT BELIEVE IN MY STIGMATA,
I DO NOT BELIEVE IN YOUR SAHAJA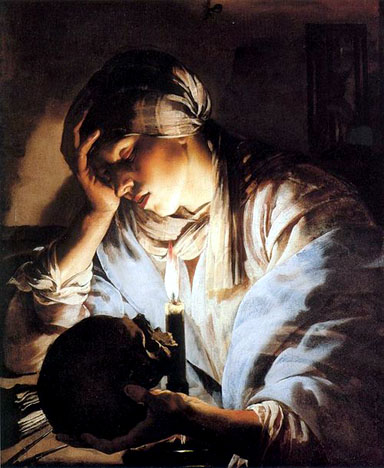 Melancholia or Mary Magdalen
Hendrick ter Brugghen
SWAMI G'S ARGUMENTS TO RASA'S PREVIOUS ARTICLE
RASA'S REBUTTLE IN BOLD ITALICS

OH, WHAT A CONTRADICTION YOU PRESENT, SWAMI G! IT IS YOU WHO TOLD ME THAT YOU HAVE NO AMBITION AND NO DESIRES. YOU SAID IT DID NOT MATTER WHETHER YOUR MINISTRY CRASHED OR NOT, WHETHER OR NOT YOU CONTINUED IT. AND SO, YOU IN EFFECT, TOLD ME YOU HAVE NO AMBITION. IF IT HAPPENS, FINE, IF IT DOES NOT, FINE.
G: A contradiction to your mind perhaps. Yes, it is true there are no ambitions nor desires. That is true IF people come. OK, if NOT, OK. I am not out all over the 'net doing promotion as you do. It is up to others whether this continues or not. If they come and are sincere then fine, if not then that is fine too.
And so, it is NOT IN MY MIND. You have here repeated that supposedly, you don't care.

THIS IS WHAT I AM SPEAKING ABOUT. WHAT I AM SIMPLY SAYING IS THIS SORT OF WHATEVER WILL BE, WILL BE, DOES NOT DO FOR A MISSION AS LIKE MINE. THIS REQUIRES A GREAT DEAL OF AMBITION, FOR THE SAKE OF GOD.
G: Has God needed Rasa's help to run the world? The ambition comes out of Rasa having a stake in things. Here there is no stake.
Once again Swami G has a different yardstick - one for Rasa and one for herself. She is in flow, she is doing good. But Rasa, when she works, is not in flow. Rasa is about Rasa, the flesh. How is this assumption made?
Swami also puts Rasa down, again, for being 'all over the net.' Is Swami not 'all over the net?' Perhaps not as much as Rasa, but to the extent that she wants to be, having approximately six groups. It is true that Rasa is more out there - but is that wrong? Why would that be wrong?
YOU LAUGH AT MY DESIRES FOR GOD, YOU HAVE CONTEMPT FOR ALL THAT I DO.
G: That has never been said. This is coming out of your judgementalism and has nothing to do with what is seen here.
My judgementalism? You ridicule me, you judge me, have contempt for me and my ministry, and you say it is coming out of my judgementalism? This is not logical.

GO ON, KEEP LAUGHING. YOU CANNOT EFFECT ME ANY MORE.
G: Who is laughing? I see that your stance is out of pain. Do I laugh at peoples pain? No. You want to right the world of the wrongs done to woman. You are on a crusade and this type of crusade stems from pain, there is nothing funny in that.
Crusades although people once could have known pain to understand pain, come out of LOVE. All the great missionaries, do gooders, evangelists, worked out of LOVE. But to Swami G, Rasa does not work out of love, she works out of PAIN. Who is the judgmental one here?
I THINK YOUARE LIKE THE YOGIS WHO SIT RECITING THEIR GITA WHILE A WOMAN LIES GROANING WITH PAIN UNDER THE BRIDGE. A CHRISTIAN COMES BY AND ASKS THE GUYS TO HELP HER BUT THEY SAY NO, THEY ARE DOING SOMETHING IMPORTANT.
G: That is absolute rubbish. I used to go out and buy lunches and distribute them to those in need, have taken people off the street and taken them into my home. I've drug a woman away from a man that was beating her in the street (it turns out the man was her husband and was wanted for murder in Hong Kong). You have no idea of what is done here. DID I NOT TAKE TIME FROM WHAT WAS TO BE A VACATION TO ANSWER ALL YOUR CALLS? DID I NOT SPEND HOURS ON THE PHONE WITH YOU ?
Pleeeeease Swami G. You make it so one-sided. It was an INTERVIEW FOR MY SITE BY WHICH I WOULD PROMOTE YOUR WORK. Indeed, at my expense, I interviewed you for a few hours, and then I created the article, and paid for it to be put up, and then I sent you a donation of $200. That was love. I make no money on your or anyone's articles on the site.
YOU HAVE MADE FUN OF MY WORK LONG ENOUGH, AND I WILL LEAVE YOU NOW, TO GO MY WAY IN PEACE.
G: Do you call this peace? No one is making fun of your work...
At the appropriate place, Swami, I will point out where you are making fun of my work and myself.
(Swami continues)
G: I say that there is a higher way but that doesn't mean I am making fun of you. I am one of the only ones on the 'net who hasn't and you have the nerve to say such a thing? You remind me of what Sant Kirpal Singh said to one of his Sadhakas, 'Everyone is born for something unique and I believe you were born to be the touchstone to try the patience of a saint.'
So stop testing my patience (smile)
I WILL NOT HOLD YOUR ADMONITIONS IN MY HEAD ANY MORE. THEY ARE IN CONTRADICTION TO WHAT GOD IS TELLING ME. THEY ARE INCREDIBLY CONFUSING AND CONTRADICTORY.
G: Fine then, go your way. It is confusing and contradictory because you are taking things at face value and not taking the time for the inner search.
YOU HATE THE IDEA OF 'SAVING THE WORLD.' YOU KEEP RIDICULING THIS ASPECT OF ME. BUT I FOLLOW JESUS CHRIST AS WELL AS ALL THE SAINTS OF ALL RELIGIONS. YOUR VERSION OF JESUS AND MINE ARE TWO DIFFERENT THINGS. I DISAGREE WITH YOUR VERSION AND WILL FOLLOW MINE, AS TAUGHT BY THE GREAT SAINTS OF CHRISTINAITY.
G: No, you are not. Since when did Jesus say cast stones? Since when did Jesus pray to Mother God? The list could go on and on but enough that you should get the point. I don't know what great Saints would hold to what you are doing.
Jesus SPIRIT has changed since 2,000 years ago and culture and understanding has changed. We now realize that it is a SEXIST THING to believe in FatherGod only. It should be Mother or Mother/Father. In his day, people were not complaining about Patriarchy and sexism and discrimination, perhaps because there was no hope of getting them removed.
Why do you keep saying I cast stones? Everyone speaks up and everyone should fight back against the bullies of this world, if they can. This is all I am doing.

YOUR VERSION OF JESUS TO ME, TO USE YOUR WORDS, IS ALL SKEWED. FRANKLY, THERE IS NO LOGIC TO IT, AS DITTO YOUR VERSION OF RAMAKRISHNA, GHANDI AND MARTIN LUTHER KING JR.
G: Really? When did Martin Luther King go after others looking for dirt?
Different situations require different operations. To get information on someone which is accurate which brings forth the skeletons in their closets teaches them a lesson: Do not throw stones. I am preventing these people from continuously attacking. I do not know why you are so upset with this, as you were their target at one time. I also helped you there by bringing forth how unfair they were to you, and how reasonable you were to them - 'too much of a lady' I said. I also posted your version of the story of the mentally ill women's suicide, which they were berating you for. I was doing good for you - my show of love - and this is what I get from you.
(Swami continues)
G: Martin Luther King spoke of mankind coming together in peace,
What else could he do? Pick up a gun like Black Panthers or something? That wouldn't work. He worked in faith, I work in faith.
G: Gandhi spoke of passive resistance. None of these things do you apparently get.
I am better informed than you know. Gandhi said,
'I PROVOKE'
It was by PROVOKING the powers that be that changes were made, and these provocations induced violence! Please, you are not talking to a fool.
Martin Luther King Jr. also PROVOKED much violence. Not wanting to, but knowing it would probably happen. And it certainly did! But they kept doing sit ins at lunch counters, and everywhere, and got beat up. And they integrated schools, and kids got hurt. They got bombed, and they still kept fighting for their freedom. Freedom came at a great cost for Hindus, for blacks, and for women, and for anyone else who fights for it, there is a price. There is usually violence, though thank God, not always.
G: Ramakrishna spoke of the many ways and paths to reality.
BY NO MEANS DID I SAY YOU ARE DOING NO WORK, THAT YOU ARE NOT WORKING. I WAS SPEAKING IN RELATIVE TERMS, OF WHAT YOU WOULD BE WILLING TO DO, AND THINGS YOU WOULD NOT BE WILLING TO DO.
G: What am I not willing to do? Yes, Rasa, I am not willing to go hate mongering after others. If you call that the work of God then you are worshiping a god I have no awareness of...
When you pick up your catty claws and call me all kinds of things, this is hate. So take a good look at what you are doing to me. So far you have said I am in ego, in flesh, but you are not. You said I am in hate and anger, but you are not. You said I am deluded, but you are enlightened. You are in the highest state, but I am only a seeker and you could not advocate me as a guru. Now what is all this - love? Or is it prejudice and judgment against me? Because I am none of what you say, and I am the best of gurus.
Have you ever checked up on my devotee pages? There you will see about thirty people who in the last few months got miracles of enlightenment and chakra awakening. Wonderful, brilliant things happening, all by the power of the shakti kundalini that is coming out of here. But you cannot advocate me. Fine, God and myself will advocate me.
IF YOU HAD HAD A BODY LIKE MINE, AND HAD BEEN A PROFESSIONAL DANCER, WOULD YOU HAVE GIVEN SERMONS ALONG WITH THE DANCE ROUTINE? OBVIOUSLY, THIS TOOK A REVOLUTIONARY FORCE TO DO THIS AND NO ONE HAS DONE IT BEFORE ME OR SINCE. I BELIEVE, FROM YOUR ACTIVITIES, THIS IS NOT SOMETHING YOU WOULD HAVE EMBRACED. (GO AHEAD, MAKE FUN OF ME, I CAN FEEL IT COMING. IT WILL NOT TOUCH ME.)
G: For awhile I did dance, are you Shocked? I understand you more than you think. I danced to support my daughter. It was a short time and during that period a painter used this one as a model for a painting on one of the clubs entrances. Am I proud of this ? No, but neither is there shame. It was a point on the journey of life that is all.
OK Swami. Now let me get this straight. You danced. I am glad you danced, because now perhaps you will have a bit more sympathy for me? You had to do it, so did I. Are you saying you had to do it but I did not? It was ok for you, but not for me. That double standard again?
Did not my first husband leave me penniless with our child? Was I not alone out there without any family or friends?
I got into the business because there was no other way to survive.
SECONDLY, WOULD YOU HAVE WALKED DOWN THE STREET FOR 2-3 HOURS A DAY, FOR 2 1/2 MONTHS, WITH A BULLHORN, PREACHING? BECAUSE THERE WAS NO CHURCH THAT WOULD LET YOU IN AND YOU DID NOT HAVE AN INTERNET SITE, WOULD YOU PREACH ON THE STREET? I DID THIS. I DON'T THINK YOU WOULD RELISH THE IDEA OF THIS WITH ALL THE HAZARDS AND THE INCONVENIENCE. WOULD YOU? (NATURALLY YOU WILL SAY YOU ARE SMARTER THAN THAT, YOU DID IT ON THE INTERNET. YOU ARE ALWAYS AHEAD AND ABOVE ME AND EVERYONE, IN YOUR MIND.)
G: Again you are WRONG. YES, I did in fact I used to sing on the street and did street ministry. I also did Street Ministry while in the Order, it was part of our discipline as well as taking in people off the street and taking care of their needs. Everything I owned was given to the Order and was used towards their work. So NO, Rasa, you have NO idea of my walk and path - I have been where you are with the woman power ideas and went further than being stuck in the same place.
Again, you assume I AM STUCK. I am not stuck! This is what God wants me to do! Can't you see that God wants you to do what you are doing, and God wants me to do what I am doing! Do you think everyone has to do exactly what you are doing and be exactly like you? No indeed, different strokes for different folks.

G: No, it is not easy to break free of where you are. I Understand it and this is why the compassion for you over and over again.
THIS IS COMPASSION? With this kind of compassion I don't need indifference. If this is compassion what do you do to your enemies? You are berating me, putting me down, trying to mow down my self esteem, etc., and this is compassion?
SO I AM SPEAKING IN RELATIVE TERMS. YOU ARE A 'NORMAL-REGULAR' PERSON. YOU DO CONVENTIONAL THINGS.
G: Really? So going the whole length of the journey of Kundalini is a normal, regular thing? Just because I didn't preach while dancing on the stage doesn't mean this life was in the normal mundane nine-to-five, that has never been the case.
We are speaking in the relative sense here! Compared to me!

I AM NOT THAT KIND OF PERSON, I DO REVOLUTIONARY THINGS, THINGS THAT ARE UNUSUAL AND REQUIRE A LEAP OF FAITH AND A GREAT DEAL OF COURAGE.
G: Well, find the faith and courage to die the death before death and then all your illusions will be at an end.
Here we go again. I am in delusion, I have illusions and I need to die the death. Dear Swami, I have died a few times, as necessary, to be who I am, which is a great soul and perfect servant of God. I went through the dark night many times, and after that was Betrothal, then Mystical Marriage, then saw God Face to Face, many miracles happened with souls in Purgatory, and then, Divine Stigmata. And then 18 years of living death to the Presence of God - which I was deprived of because of Spiritual Martyrdom.
WHAT YOU ARE DOING IS NOT AMAZING BECAUSE ALL THE YOGIS, SWAMIS AND MINISTERS HAVE DONE IT FOR THOUSANDS OF YEARS. I DID THINGS NO ONE DID.
G: Yes, I am sure that being a Stripper for God would be one that Christ would be particularly proud of. So NOW HEAR THIS RASA IS ABOVE ALL MINISTERS - YOGIS & SWAMIS who were you saying thought they were above humanity. Not only do you think you are above humanity but apparently above ALL ministers - Yogis & Swami's. How nice for you, don't get a nose bleed up there. Remember that mirror, Rasa, what were your words to me and now just look at your claims Yes, I am one with the yogis, swami's, ministers while just look at Rasa, SHE CLAIMS TO BE ABOVE THEM ALL.
Wow, did I push your buttons. Touchy, aren't we. Truly, you did what others did before you. If you are Realized and Enlightened, you follow in the footsteps of many. But there has never been a Stripper for God and I was the only one who founded female bodybuilding and preached the sermon that led to the downfall of communism and the end of the threat of nuclear annihilation. And all during these years, I also found enlightenment and self realization just as others did.
G: I and all humanity come from ONE Divine Essence - not higher nor lower. There is higher and lower for the one who's mind is within duality.
I WAS THE FOUNDRESS OF FEMALE BODY BUILDING.
G: How nice...
I PREACHED IN FRONT OF THE WHITE HOUSE, WHERE THE POWER OF FATIMA THEN
ENDED THE COLD WAR.
G: I am sure it was all due to Rasa's preaching. Rasa, you need to get over yourself. Yes, I see how you take no credit. Hahaha.
I do not take credit for the power that ended the cold war, I take credit for being the person God chose to give the sermon of Our Lady of Fatima. And because I was a STRIPPER and Stripper for God, all of the Washington Press that entire week gave the speech INTERNATIONAL PUBLICITY. Why don't you read this on my site? Why do you only judge me, intimidate me, ridicule me and negate all that I have done and all that I am doing? Why do you hate me so much? What is it? What buttons have I pushed? Or is it just a plain sort of ignorance or lack of experience?


I DID THINGS UNUSUAL, DIFFERENT, CONTROVERSIAL AND I RAISED EYEBROWS.
G: Now that is a claim to fame but so did the [alleged] gurus who preached open sex and basically do-whatever-you-want-and-get-it-out-of-your-system. Now if you take a tour of Osho's [ashram], 45 minutes into it they tell the people you have to take an AIDS test to proceed onwards. Osho did something different and it raised eyebrows and he thought he was preaching something right. I don't agree that he gave people what they wanted and they doted on it. He did something different, controversial, and raised eyebrows. So being a Stripper for Christ is special? Speaking for Christ is one thing but what is your claim to fame, 'BUT I DID IT STRIPPING THEREFORE IT WAS BETTER - BEYOND ALL MINISTERS AND YOGIS, ETC'? Rasa, shame on you enticing men with your body and then preaching Christ? OK, you want to justify it and if it were done out of ignorance then it cannot be condemned but that is like Christ handing out drugs and then preaching the sin of it, all the while patting himself on the back for bringing at once temptation with the good word.
Now I was as evil as a drug dealer and as hypocritical as one who would preach and deal drugs? I did not harm anyone's body. It is true that dancing, being nude, the sex trade, incites sex desires. That is what makes some of the world go round. But we women get caught in this net because we have to make a living and there is no place else to go. You were there once you said. For a short time, and something got you out. A husband? Whatever, but nothing got me out. I stayed in it most of my life, because I had to. I did not enjoy being there. It is indeed much suffering, and behind the scenes, not much comfort. The glamour is all for the audience, for the performer, only hard work and pressure.
I used this sometimes seedy business as an opportunity, a vehicle, to preach the Word of God and to Save Souls. Does that make me an evil person in your eyes? You seek every opportunity to turn me into a monster, a charlatan, a sinner, an egomaniac, deluded person and in need of your help. God used me where I was, and God held me up, and God has rewarded me and will continue to reward me for my efforts, no matter what the world thinks.
Why did I think you'd be any different than anyone else? Why did I think you'd be open minded and understanding? You are not. You are judgmental, prudish and you are prejudiced.
G: The good word was about coming out of that which brings and puts temptation and sin in the way of yourself and others.
YOU HAVE NEVER WALKED IN SANDALS SUCH AS I HAVE.
G: I never stripped and claimed it was for God that is true but the sandals have been walked in.
BUT IN YOUR MIND YOU ARE WAY AHEAD OF ME, YOU ARE THAT, AND TO GIVE ME A PASSING GLANCE OR A BACKWARD LOOK IS BENEATH YOU.
G: That is why I have spent hour after hour on the phone, on the 'net speaking with you, Rasa? Just because I don't say hurrah because of all you are doing doesn't mean you are being slighted. A guru gives direction, guidance, clarity. You continue to tell others I am your Sat Guru and yet you have never taken Diksha nor are you listening without continued sarcastic posts and childish behavior such is being exhibited in your latest go round.
I tried to be your friend, to help your ministry, to encourage you as the great Sat Guru you told me you are - to encourage others to look up to you, to bring you attention. I made a sort of effort to do this, I already explained this to you and this is what I get. Just hate from you and put downs.

YOU WILL QUICKLY, IN THAT EGO YOU DON'T HAVE, MAKE SHORT WORK OF MY ACCOMPLISHMENTS AND GRACES. YOU DIMINISH ME IN YOUR OWN MIND AND LIFT YOURSELF UP HIGH. HOW MIGHTY YOU ARE IN YOUR OWN CONCEIT. (OH, THIS WILL MAKE YOU MAD! THAT FEELING OF ANGER YOU NEVER HAVE!)
G: Sorry to disappoint you once again, Rasa, but there is no anger here just a great sadness that you don't recognize one that has tried to help you again and again. I never left you, Rasa, it is you that continues to pull back but this is common. People will hear only up to a point and when it begins to challenge one of their egoic supports then excuse the expression but all hell breaks loose as is seen here. The anger mounts and the mirror of ones holdings comes out. If there were anger this would not be patiently answered line by line. But again it comes from compassion knowing that where you are is heart rending sadness.
You keep saying I am sad - is it because you want me to be sad? I am in pain and suffering and I am not. Please stop saying what is not true!
G: Resistance is exactly what you are continuing to do and continuing to do according to Rasa, not according to Christ who spoke of Peace. Let the dead bury the dead; to go within, to go and sin no more;
Why can't I convince you that I am there? I am dead to self and in nondualism, now that I know what it is, no thanks to you. Ashankah explained it simply. It is where I was all the time. I have left my family for God. I am celibate for God. I received the Stigmata for God. I serve God with my money full time. I love God with every fiber of my being night and day. Day and night I serve God. I was within for years, and now I am active and partially within, and very happy. Why are you trying to torture me with all this?

G: ...who spoke of edification; who spoke what needed to be spoken and then he moved on. He did not wage self-proclaimed Wars. He never taught to wage war. He spoke out against the pharisees, etc,. He never attempted to Force any to change their ways. He spoke out against Sin (or separation from God) which causes the pain and suffering.

But did he pick up a stone? The rest of the masses did but what did Christ do?
What stone have I picked up? Where is the stone?
WE DIFFER 100% HERE, AND I BELIEVE YOU ARE DENYING THE TRUTH THAT YOU YOURSELF ARE FIGHTING. YOU ARE FIGHTING EVERYONE THAT DEFIES YOU OR DISAGREES OR SAYS THEY ARE ENLIGHTENED OR HAS GREAT GRACE. (TO YOU ALL GRACES ARE 'PHENOMENON' AND YOU ARE ABOVE DREAMS, VISIONS, AND THE GIFTS OF THE HOLY SPIRIT.
G: There is no fighting. I may disagree but fighting, no. The gifts come along the way that is all. They are not ones badge of honor.
IT MUST BE LONELY UP THERE WHERE YOU ARE. OR NOT LONELY, DEPENDING HOW ONE SEES IT.
G: No, there is no more loneliness where once there was great loneliness. There is no longer despair when once there was great despair. There is a fullness, a richness.
BUT YOU AND ONE GUY BEING THE ONLY ONES THERE, AND YOU DO NOT SEE EACH OTHER VERY MUCH, IS WHAT I MEAN....HOLY COW WHEN I GET TO HEAVEN I HOPE I AM NOT ALL BY MYSELF!)
G: Oh, you won't be. There are millions in heaven and millions in hell, you will have plenty of company .....
YOU ARE AT WAR WITH ANYONE OF THAT SORT THAT POSTS ON YOUR GROUPS. THIS IS A WAR, BUT YOU WILL NOT ADMIT YOU ARE AT WAR WITH SUCH PEOPLE.
G: What war? There is no war, Rasa, not even with you - although I am sure you might be viewing it as such but you are warring within your own mind, Rasa. You cannot war with me as I am not going to play your game, sorry. You want me to be angry with you?
This is preposterous! Did I praise you, put you on my site, write articles with you in them, because I want you to be angry? That is the last thing I wanted. You decided to get angry, and touchy, and nasty, and you did it, not me. I am merely answering your charges.
Oh, I am glad you got this way, however, whatever it is. Because now I know exactly what you think of me, and it is dismal, it is the pits. And now that you think so low of me I can walk away with good and clean conscience, knowing that in your mind, you have abused me. You have torn me down in your mind. I did not tear you down, you tore me down. So fine, it stays there. I do not receive it. I resist this opinion you have of me. I have a high opinion of myself and the graces God has given me. I have high self esteem. OK?

G: Why? Is this the Christ's way you are preaching? You can't stand that I am not angry? What type of Christly light is it that wants to make people angry?
You got angry because you wanted to. I did not ask for it. I wrote a nice article and you struck out
at me and so this started. You did it, not me.
SECONDLY, YOU WERE AT WAR WITH THE SARLO PEOPLE. YOU POSTED AND ARGUED WITH THEM - AND THIS IS WAR, ALL THAT I AM DOING EXACTLY THE SAME AS YOU DID - AND YOU POSTED ON GURU RATINGS MUCH LONGER THAN I DID.
G: I did for a time and then I wised up. Did I make sites to drag others down?
I MADE NO SITES TO DRAG ANYONE DOWN I TOLD YOU! WHERE DO YOU GET YOUR INFORMATION AND WHY DO YOU BELIEVE IT? HAVE YOU MADE FRIENDS WITH JODY OR WHAT?
G: No, I just answered their abusive posts and then I moved on when it became clear that the site was geared more to the abuses of Guru's rather than understanding them.
I WAS AT GURU RATINGS FOR ABOUT TWO WEEKS, ARGUING WITH THEM. YOU WERE AT GURU RATINGS FOR ABOUT TWO MONTHS, (CORRECT ME IF I AM WRONG ON THE TIME) ARGUING WITH THEM. YOU WARRED ON GURU RATINGS LONGER THAN I DID.
G: I don't know how long it was.
WHAT I DID DIFFERENTLY IS THAT I WENT ELSEWHERE TO CONTINUE THE SPIRITUAL BATTLE. (AND THERE WILL ALWAYS BE CONFLICT. I DON'T CARE WHAT YOU SAY. CONFLICT IS PART OF LIFE, LET US FACE IT. NO MATTER WHAT WE DO, IT WILL ALWAYS EXIST, THAT IS THE NATURE OF THIS WORLD. IT IS GOOD VS EVIL, IT IS LIGHT VS DARKNESS, IT IS TRUTH VS IGNORANCE, IT IS LOVE VS HATE, IT IS ONE PERSON'S PERCEPTION VS ANOTHERS, IT IS ONE PERSON'S INTERESTS AND NEEDS VS THAT OF ANOTHER'S.)
G: If you say so...
'ACCORDING TO RASA?' NO, ACCORDING TO GOD.
G: No, according to man's writing in the absolute there is only one - so what evil versus good? What dark versus light? It is the show of this plane of existence and it is a transient one at best.
AGAIN, YOU CLAIM TO KNOW ALL ABOUT ME - MY LIFE AND PATH, BETTER THAN I CAN IMAGINE.
G: I Never said that, what was said was I know more about you than you think. This is much different than what you are reading into it.
YOU KNOW ME INSTANTLY AND THOROUGHLY. WHAT GIVES YOU THIS GREAT INSIGHT?
G: Knowing human nature and knowing the travails that I endured through abuse, rape, kidnapping, molestation, etc. Knowing how it is to be in the woman power fighting for our rights. Being thoroughly immersed in seeking God while feeling tortured inside, feeling the pain of humanity. I have been there and also have been in the God-is-talking-to-me mode. Also the feeling one has a sense of stigmata. Yes, all this has been passed through and more ..... much more ........ at the start of the journey i used to go into a Catholic Church where the Christ on the Cross would move and look in my direction .... yes have had many various experiences .... they were not what was important ...... they were steps along the way ......
WHY IS IT THAT YOUR INSIGHT GOES DIRECTLY AGAINST WHAT GOD IS TELLING ME AND THAT GOD HAS DIFFERENT ANSWERS FOR ME THAN WHAT YOU ARE SAYING?
G: Find, don't believe what is given here. Go on your way, you are always free to do so but I know that while one hears the voice (of God) it is most often tinted by our own mundane mind with it's foibles, wants, desires and aversions.
NATURALLY ON YOUR PART YOU WILL SAY YOU ARE SAT CHIT ANANDA, AND YOU KNOW ALL. PROVE IT TO ME. YOU DO NOT BELIEVE IN ME, AND I CANNOT PROVE MYSELF TO YOU, SO WHY SHOUD I BELIEVE IN YOU?
G: You should never believe in me, the 'me' is not what this is about. It is about that core self which is one. If you are relating it to a form and a personality then you have missed it. This is how personality cults develop, hanging onto the form and thinking it is a God or it is special and unique. It isn't.

WHY DO I AUTOMATICALLY HAVE TO BELIEVE THAT YOU ARE IN THIS HIGH PLACE WITH GOD WHERE YOU CLAIM YOU ARE, AT YOUR WORD?
G: I have never claimed to be in a high place with God. There is only God, that is a vast difference
MY FAITH IN THIS ALL-KNOWING PLACE OF YOURS HAS DIMINISHED.
G: Why because it challenges you in some manner? My Guru challenged the me over and over again. One either fights and runs or begins to look deeper, it is your choice.
WHAT DID CHRIST DO? DID HE PICK UP A STONE? YOU ASK.
CHRIST CAME TO DO BATTLE AGAINST EVIL, AGAINST HYPOCRITES AND THOSE WHO LIVE BY THE LETTER OF THE LAW. HE PROVOKED THEM, AS DID THE DISCIPLES AFTER HIM, AS DID GHANDI AND MARTIN LUTHER KING JR.
G: He spoke the Truth, that is all. He didn't chase others to return abuse for abuse. He wouldn't set up a site to dig up dirt on others, NEVER.
Again, I did not set up those blogs. Why didn't you ask me? Why do you accuse and accuse and accuse?
G: Did he pray for his executioners to feel God's wrath?
He did not have to. He knew it would happen after he died, and it did happen. I did not pray for wrath! There you go accusing me again!
G: No. Even then what did he say? 'Forgive them FATHER FOR THEY NO NOT WHAT THEY DO.'
I have forgiven all my enemies from day one, and I forgive all those who hurt me every day and have forgiven these people. But to have forgiveness and to fight a spiritual battle can happen one and the same time.
G: There was compassion for their ignorance, that is what those who wanted to stone the woman were doing living by the letter of the law, and what did Christ do? He said go your way woman and sin no more and neither do I condemn you. Or am I missing something with Christ's way?
My spiritual battle is indeed one of compassion and I have outlined that the shakti gets stronger during this type of activity and goes to many people and enlightens or chastens, depending on what is needed.

G: I may be a Swami but am also a minister and spent 3 years in contemplation of the Bible and Christ's path.

JESUS KNEW, AS ALL THE GREAT ACTIVISTS OF ALL TYPES KNOW, THAT WHEN ONE FIGHTS THE STATUS QUO, AND WHEN ONE ROCKS THE BOAT, ONE INVITES DANGER AND HAZARDS, INCLUDING MARTYRDOM. JESUS DID NOT QUIETLY, SECRETLY, FROM THE CLOSET, TEACH A SECRET DOCTRINE. HE WENT OUT INTO THE OPEN WHERE THE ESTABLISHMENT HATED HIM AND WANTED TO DO HARM TO HIM, AND HE DEFIED THEM.
G: Neither am I, this is why I am on the 'net, why I continue in spite of abuse and abusive natures, why I continue to answer your caustic mails.
If I am caustic, what are you?
G: This is why I am working with those who have Kundalini awakenings and are not privy to the secret doctrines. This is why it has been done openly - rather than making money off of classes and huge self promotion. It is easy to sell and promote but not so easy to continue to give without fanfare to those who have eyes to see and ears to hear. People account it as worthless in this society of marketing and consumerism.
THIS IS WHY I WAS TRYING TO HELP YOU! But all I have gotten is coldness and hate from you and put downs!

JESUS WAS AN EXAMPLE OF REVOLUTIONARY POWER AND FORCE, FIGHTING AND OBEYING UNTO DEATH. HE PICKED UP A WHIP AT ONE POINT AND BEAT UP THE MONEY CHANGERS, RIGHT IN THE TEMPLE IN FRONT OF THE RABBIS. HE KNEW THAT WOULD BRING THEIR WRATH UPON HIM. HE WAS FIGHTING FOR THE KINGDOM OF GOD.
G: He threw over the tables and said, 'My Father's House should be a House of Worship and you have turned it into a den of thieves.' He didn't do it to incur the rabbis wrath, he did it as a point of Truth. He didn't beat up the money changers.
EVERY APOSTLE AND DISCIPLE AND POWERFUL SOUL IN THE FOOTSTEPS OF JESUS RISKED THEIR LIVES TO SOME EXTENT, AND MANY WERE MARTYRED. THIS IS FORCEFUL WORK AGAINST THE STATUS QUO AND AGAINST EVIL. (AND I KNOW YOU WILL START LAUGHING AT ME FOR USING THE WORD EVIL. GO AHEAD. I DON'T CARE IF YOU LAUGH.)
G: Who is laughing? I think your stance is sad. If you want to go out an be a martyr then be my guest, enjoy your self proclaimed martyrdom. Does it make you feel holy and special?
You are ridiculing me here. This is what I mean by laughter. It is scorn, ridicule and derision. I have the Divine Stigmata, but I do not seek martyrdom daily. You can't kill me, I am already dead.

G: Well, you aren't, neither are any of us. Each walks in ignorance until something shakes them to their very marrow or they have fallen so far that there is no where else to go and they call out in earnest and then the long journey home begins. Special? No.

JESUS FOUGHT VIGOROUSLY AGAINST THE VERY PEOPLE WHO ARE LIKE THE SARLO BUNCH.
G: No, he spoke out again the abuses of the organized religions of the day, of the misrepresentation of Truth. He spoke about Freedom and Liberation that there is NOTHING TO FEAR ...

HE DID NOT JUST REACT, HE INITIATED WORDS AND IDEAS AGAINST THEM TIME AND TIME AGAIN. HE POINTED OUT THEIR HYPOCRISY AND EVIL REPEATEDLY.
G: He did not return abuse for abuse, no, never. He spoke the Truth, in the face of every untruth he spoke Truth no matter how the chips fall and the same will be done here.
I am not abusing anyone. Perhaps you are abusing me. God knows all.
HE SAID THE WORDS THAT WOULD DRIVE THEM INTO GREAT ANGER.
G: No, he didn't. More than likely it did just as you have taken offence and are writing out of anger and hoping to make this one angry.
Why would I hope to make you angry? Don't I have enough trouble in life? How could that possibly make me happy?
G: Unfortunately for you that isn't going to happen.
I will take a break here soon to be the final part 3. Unlike you, Rasa, it doesn't take me days to think up a reply it is right here, right now.
Sometimes I think before I speak. Am I judged for that also?

Discourse between Rasa & Swami G
March 28, 2006