SWAMI G & RASA 2 x 4 DISCUSSION PART III
SINCE YOU DO NOT BELIEVE IN MY STIGMATA,
I DO NOT BELIEVE IN YOUR SAHAJA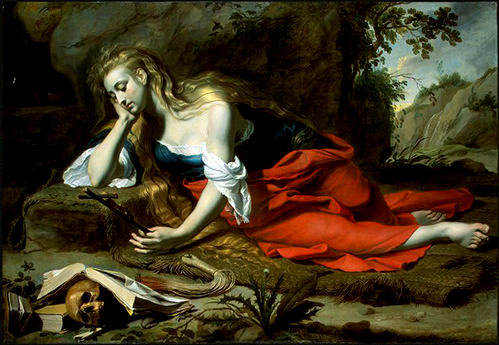 The Repentant Magdalen
Gerard Seghers
SWAMI G'S ARGUMENTS TO RASA'S PREVIOUS ARTICLE
RASA'S REBUTTLE IN BOLD ITALICS

SLUGOUT WITH SWAMI G CONTINUES, PART III
Swami has slammed Rasa pretty hard and Rasa rebutts.It all started with an article Rasa wrote about Contemplation and Advaita, where she said Swami and herself parted ways on some issues; especially the issue of spiritual battles. Swami was harsh and put Rasa down, and it caused a breach in the relationship.

Swami's entries go under 'G'. Rasa's original entries denoted with her most recent in bold italics.

HE SAID THEY WERE DEAD GRAVES (ALL BEAUTIFUL ON THE OUTSIDE, BUT VILE ON THE INSIDE), LIARS (THEY ARE SONS OF HELL AND THEY LEAD OTHERS INTO HELL BY THEIR TEACHINGS), CHEATS (EATING UP WIDOW'S HOUSES) AND HYPOCRITES (STRAIN OUT A GNAT AND SWALLOW A CAMEL). THIS IS EXACTLY WHAT I AM DOING WITH THE SARLO BUNCH. THEY ATTACK JESUS OR GOD IN THE WAY THAT THEY ATTACK THE RIGHTEOUS. I AM POINTING OUT THEIR SINS, THEIR HYPOCRISY AND EVIL. I AM SPEAKING THE TRUTH ABOUT THEM THE WAY JESUS SPOKE THE TRUTH ABOUT SINNERS.
G: You are preaching to the choir; I KNOW what Christ said.
Did I say you didn't? Just trying to make a point here.
JESUS CAME TO BRING BOTH PEACE, AND A SWORD. (WHY WOULD A PERSON HAVE TO LEAVE THEIR FAMILY IN ORDER TO FOLLOW JESUS? IS THAT PEACEFUL?
G: Yes, a sword to sever that which is against the path.
NO, IT IS FAMILY CONFLICT. IF YOUR FAMILY IS AGAINST GOD, YOU GO AGAINST YOUR FAMILY!)
G: And ?
THE PEACE THAT JESUS BROUGHT WAS IN THE SOUL, IN THE DEPTH OF MY INNER SELF.
G: There is no peace within you. Peace does not seek conflict, peace does not pursue conflict. Peace does not seek anger for others.
All lies, Swami. Lie one - that there is no peace within me. I am at peace. Lie two - that I seek conflict. I do not seek conflict. Lie three - that I seek anger. I do not seek anger. I am at peace, I do not seek conflict and anger. I try to avoid conflict and anger whenever possible, but in this world, is it always possible?
THE SWORD THAT JESUS BROUGHT IS FOR THE WORLD - WHERE THOSE WHO ARE AGAINST GOD AND MYSELF ARE ETERNALLY AT WAR, BECAUSE THEY ARE AT WAR WITH GOD.
G: I am not at war against God.
THEY ARE AGAINST GOD, I AM FOR GOD, AND SO, THERE IS A CONFLICT. THIS CONFLICT CAN NEVER CHANGE AND WILL ALWAYS EXIST.
G: From what is seen, you are for Rasa. If anyone says anything that displeases Rasa then Rasa gets angry and remains angry. God has no conflict with the world - God brings always benefit. Man's hand brings harm, man's hand and mind is separation into ego which brings suffering and keeps the wheel turning by his own actions. God is forever complete. God does not seek the suffering of others. If you seek the suffering of others then HOW can you say you honor God?
Again, that accusation. I am for 'Rasa' (rather than God) and when someone or something 'displeases Rasa' Rasa 'gets angry' and 'stays angry.' None of this is true. On a small level, of course it is true. Momentary feelings, but deep inside, no.
God has no conflict with the world? No? Certainly, the world, flesh and devil have conflict with God! Certainly the world and the flesh wars against God, wanting its own way rather than God's way.
'If you seek the suffering of others, how can you say you honor God?'
I say,
'God chastises those whom She loves... spare the rod and spoil the child.'
I do not seek suffering for anyone, nor pain. But sometimes, it is necessary. There has to be pain and suffering before there can be an awakening, before people realize what they are doing is wrong, and that of course includes myself. God has awakened me with the dire consequences of my wrong actions. God and saints have taught me the purpose of Hell and Purgatory. In Hell, people go who never learned, or never wanted to. They rejected God and love, and they are doomed. In Purgatory, they learned to repent, and therefore, have been forgiven, but must be cleansed. To wish Purgatory upon someone - cleansing - for the sake of their repentance, is not an evil thing. God wishes it, I wish it. I am totally at One with God on this. God sends the same Shakti for Enlightenment as for Chastisement, but it appears differently according to the will of the recipient.

PERHAPS THIS IS THE PROBLEM THAT YOU ARE SO MAD ABOUT.
G: No, there is no anger here, no one mad. Madness is reserved for the one who is attempting to return harm (in her hope that she may arise an anger here) with a sarcastic tongue, a vipers tongue for what kindness has been given and attempted to be shared. That is madness.
You have said such things from the start. At first I was confused. Why was Swami saying these things? Now it is nine months since we met, and a lot of water has gone under the bridge of internet internet experience. This is manipulation.
Swami gets mad at Rasa, and she attacks Rasa, putting her down. (Swami did not like Rasa disagreeing with her.) But Swami never gets mad, nor does Swami ever have a sarcastic tongue no matter what she says, no matter how many insults she flings at Rasa! Rasa is the bad one. Rasa wants to return harm. Rasa has a sarcastic tongue and a viper's tongue! There is a yardstick. This yardstick has one set of measurements on one side for Rasa, and a completely different set on the other side for Swami!
Meanwhile, Rasa was trying, in reality to help, explained before. When Swami jumped on Rasa, and when Swami's henchman Jeff put salt on the wounds, it was the last straw. So here we are. Rasa is the bad guy, Swami is all kindness and compassion!

YOU FOUGHT THE MEMBERS OF GURU RATINGS, BUT YOU DID NOT WIN.
G: There was no fight. There was answering of their abusive tones just as there is the answering now to your mis-made charges. No more and no less. But fighting them? No.
Again the double yardstick. Rasa answers critics, called 'fighting.' Swami answers critics called answering. Rasa fights, Swami answers. Both do exactly the same thing, but it is seen differently by Swami.
I AM THE ONLY PERSON WHO THEY ATTACKED WHO IS WINNING.
G: Rasa, you are winning nothing, not respect. Your anger and seeking more dirt to spread is not the actions of one who sees God at the helm. They are the actions of one reacting out of hurt.
I go by the inner voice and my dreams. God speaks to me in my dreams and either rebukes me says 'go for it.' God said, with the Sarlo situation, 'go for it.'
I AM THE ONLY ONE WHO HAS THAT GREAT ANOINTING TO CHALLENGE AND CAST DOWN THE LIKES OF SARLO AND COMPANY.
G: You are casting down nothing but your self respect and whatever aid others may have been willing to give you. Do you not see that you are acting the same as those you seek to punish (your words, not mine). When you act like the world how can you claim to be better than?
YOU WALKED AWAY WITHOUT A DEFINITIVE VICTORY, NEITHER WINNING NOR LOSING; SOME SORT OF A STALEMATE.
G: Right, I walked away, that is all. There was nothing more to say. Every avenue was used to promote Truth over Error. Every avenue was used to simply say what may have been of benefit. When none was accepted then yes, it was only appropriate to leave.
Very good. 'Promote truth over error' - will use that. That is Swami's way. Explained one way, while Rasa's work explained another way. Same work, seen differently.

BUT I AM WINNING TOTALLY AND ABSOLUTELY, BECAUSE OF THE GRACE AND POWER OF GOD THAT IS IN ME.
G: You are under a delusion in this idea. What are you winning? Do you think those you pursue are going to suddenly turn around? Are they going to sit at Rasa's feet? Are they going to bless your name? No, they will dig in their heels even more and as you have complained just recently will attack you with even more vengeance. Is it not said that 'vengeance is mine saith the Lord' - that doesn't sound like 'vengeance is Rasa's saith the Lord.'

On the contrary. Yesterday God gave me a dream and I held snakes in both my hands, like the Minoan goddess. They were garden snakes and could not harm me. I was taking them outside where they could find nourishment after hibernating in my kitchen. But a few tiny ones fell off, and I could not hold them, they fell to the floor, little ones, and I would come back for them later, I said. One caught my eye. It did not look like a snake any more, but an open shrimp. It cried like a baby and I pitied it.
These snakes are the Sarlo people, who can no longer harm me. They are in my hands. I will put them out 'to pasture' now. I care about them like a Mother over animals. I love animals. The little ones who fall are the good souls from GR who fell away from the wicked ones. They will stay with me a while longer until I come get them, presumably to let them go outside as well. The crying one I pity is Jody. He is now my spiritual son by the shakti. This war has united a few souls from there to me, while the wicked ones are no longer vipers - just garden snakes. God has done Her magic on them. Something has happened, unseen to most, seen by me. There is no hate here, no anger. It is MotherGod.

GOD IS DEFEATING THEM. GOD HAS ALREADY DEFEATED THEM, WE JUST SEE THE KARMA PLAYED OUT.
G: Karma will play out without Rasa's help. If Rasa wishes to punish others then Rasa will collect her own Karma for her actions. God won from the start for the transient world is exactly that, TRANSIENT. It is a shadow for a time, that is all.
I have no karma except the good that is waiting to be fulfilled. BTW I do not put all my stock into psychics, but one told me, (a lady who was on tv and I contacted her)
'You have the most positive karma of anyone I have ever seen.'
Nevertheless, whatever bad karma I accumulate through my never-ending faults will be burnt up before I die. God has promised me.
YOU WALKED AWAY FOR LACK OF RESOURCES PERHAPS? GOD PUT THE RESOURCES AT MY DISPOSAL.
G: You are wrong, there was no reason to remain there - lack of resources? You are the one on a warpath and fight not this one. I never wanted to fight anyone.
BECAUSE I AM TENACIOUS AND WILLING TO DO HARD THINGS, GOD GAVE ME THE POWER TO GAIN VICTORIES. YOU DON'T BELIEVE IN VICTORIES, I DO. YOU WALK AWAY, I GAIN THE VICTORY.
G: Yet this one is in peace and you are still struggling in pain, angered over many things. There is no victory in what you are doing either here OR at Sarlo's. Or is it you just like dispute?
I do not like dispute for its own sake, but when it comes, I participate fully if need be. This is for the sake of God's Truth. They started the attacks at GR and Jody's blog, and refused to stop. You attacked me, I merely answered and now I still answer to explain myself and my feelings.
(Rasa's original article continues)
G: Where a contemplative is without a doubt is a place of being 'above it all' in the highest reaches, and everything flows and happens. Go and so Find out What Flow IS .... as yet you have not tasted it ....
Everyone to some degree is in flow. You speak many mysterious words, but you will have to prove it this time because I am not going to wait around for this mystery that might not exist.
OH, GO ON SWAMI G, ON THAT HIGH HORSE OF YOURS. ONLY YOU HAVE TASTED PEACE AND 'THAT' AND GLORY. DO YOU REALLY KNOW EVERYONE? DO YOU SEE INSIDE THEIR SOULS?
G: What does seeing inside anyone have to do with flow? You are changing the subject as you cannot answer to it.
As I said, many words that perhaps signify nothing. Flow, flow flow. What is flow? Life flows, rivers flow. We flow. Is your flow different? I don't see it. You seem normal to me.
(DO I SEE JEFF AND THE USUAL SUSPECTS WAITING IN THE WINGS AS YOUR GLEE CLUB, TO COME FORTH AND CONGRATULATE YOU FOR TROUNCING ME ONE MORE TIME?
G: Who can trounce you after all you claim that you have the special powers and anointing and I am deluded. If you are trounced then you might look at your special anointing.
I never said you are deluded - never. Again the accusations! YOU said that I am deluded!
APPLAUD YOU FOR YOUR INFINITE PATIENCE WITH RASA, WHO DOES NOT DESERVE YOU, AND YOU THANKING THEM? INDEED, ONE DAY SOON WE WILL ALL FACE GOD AND ETERNITY AND THEN ALL HEARTS AND BOOKS AND SOULS WILL BE OPENED FOR ALL TO SEE.)
G: In this I am clear. Your caustic and venomous tongue are not gifts of the HOLY Spirit - they come from some other place entirely.
I do not have a caustic and venomous tongue. Certainly not toward the just or toward you. When I chastise I do have a sharp tongue toward the miscreants, but I do not poison them. It is the sharp tongue of Guru.
MY ORIGINAL GURU, REV. TALBOT, SAID TO ME THAT THE MOMENT SHE DIED, SHE WOULD ASCEND AS A MIGHTY SUN INTO ETERNITY.
G: So that was her belief...
BUT THE MOMENT SHE DIED, SHE DESCENDED INTO PURGATORY FOR TWO YEARS AND ELEVEN MONTHS, WHEREIN I MINISTERED TO HER. HOW THE MIGHTY HAVE FALLEN! HOW CONCEITED SHE WAS, HOW ABUSIVE, HOW LACKING IN COMPASSION
AND MERCY.
G: Like all the love and compassion that you are showing? She paved the way for her student this is hard to hear but miss, Rasa. Your actions have not fallen far from the tree of your first teacher. This is a wake up call, Purgatory is an invention of the Catholic Church - there is nothing in the Bible that speaks of this.
Hello Swami Protestant. There is a Purgatory. I have been there in bilocation. And I have ministered to hundreds there. I see them clearly, and other mystics and saints have experience of them. I guarantee you this.

But this is not for everyone at all times, I trust - or else why did Jesus and many others WALK THE EARTH SEEKING DISCIPLES AND PROVOKED GREAT SUFFERING FOR HIMSELF AND DISCIPLES?
G: He did not SEEK Suffering for Himself NOR His disciples it came about out of the ignorance of those whom heard NOT His message and understood it not. When they came to arrest him and one of His disciples cut off the ear of one that came. WHAT DID JESUS DO? DID HE WAGE WAR - or did he follow the path laid out for Him which was to continue to show the way OUT of SUFFERING.
OF COURSE THERE WERE TIMES WHEN JESUS SAID NO TO WAR (HE WHO LIVES BY THE SWORD, DIES BY THE SWORD HE SAID TO PETER) BUT THERE WERE OTHER TIMES JESUS CALLED FOR WAR WHEN HE SAID TO THE DISCIPLES, THAT AFTER HE WAS DEAD, THEY WERE TO CARRY SWORDS!
G: It was for their protection NOT to go after others. My God, Rasa, LOOK at what you are saying. Christ preached love all His Life. He taught compassion and you take one thing out of context and make into a way to justify what you are doing. If you want to do it fine go ahead although it must be said that you are not becoming more at peace through it. Neither are you gaining any of the respect you are so seeking. Rather than winning you are losing on every front.
You want me to fail. Will this make you happy? God wants success for me, and I will have it.
Respect? Are you not seeking respect? Does not everyone seek credibility to some degree, even Jesus, Ramakrishna, all the greats? One needs credibility to do work because 'No prophet is honored in their home town.' If not one believes in you, how can you be effective?
AS IN ALL THINGS, THERE IS NO ONE ANSWER. SOMETIMES YOU WAR, SOMETIMES YOU DON'T. SOMETIMES YOU HAVE TO USE FORCE OR EVEN VIOLENCE, WHEREAS NO VIOLENCE WOULD BE THE IDEAL. BUT VIOLENCE MUST BE USED TO STOP VIOLENCE, AND ANYONE WITH A LEVEL HEAD KNOWS THAT. PEOPLE HAVE TO BE PUT IN JAIL AND VIOLENTLY ARRESTED, AND SOMETIMES SHOT. THEY HAVE TO BE LOCKED UP, THEY HAVE TO BE FORCED INTO SITUATIONS AGAINST THEIR WILL. LET'S NOT BE SILLY HERE AND LET US FACE REALITY.
G: YOU are NOT the law. So I guess that those muslims that are taking the law into their hands and acting out of their beliefs of punishing the infidels are justified as well? Jihad means to war within ones self, until the ego has no where to turn. Just because you say you do it under God does not make it sanctioned - the same as their claims to be doing under Allah - one and the same.
I DID NOT SAY JESUS SOUGHT SUFFERING. I SAID JESUS PROVOKED SITUATIONS THAT WOULD BRING ON SUFFERING.
G: So you enjoy provoking suffering? Christ showed the way OUT of Suffering THAT was His message.
Again the accusations.

JESUS, HOWEVER, ANTICIPATED THE CROSS. WHEN PETER SAID THE CROSS WAS NOT FOR HIM (NOT FOR JESUS), OUR LORD REBUKED HIM,
'GET BEHIND ME, SATAN!!'
G: It was his path to Show there is NO death, that Life is Eternal. It wasn't to suffer, it wasn't to promote suffering.
Putting words in my mouth. I never said to promote suffering.
SO HE DID NOT SEEK SUFFERING FOR ITSELF, BUT HE SOUGHT TO DO THE WILL OF GOD AND SUFFERING WAS PART OF IT, IN THE END. AND THE SAME WENT FOR ALL HIS DISCIPLES EXCEPT JOHN. JOHN WAS THE ONLY ONE WHO DIED
PROBABLY ASLEEP IN HIS BED.
G: Where do you get this from? Thomas went to India - you are creating fantasy Bible stories here to suit your agenda. It is not reported how most of them died.
There is a place where Jesus said that only John would not die. I believe it meant not die a violent death like the other guys.
RASA'S ORIGINAL QUOTE: Same as Jesus were Mahatma Gandhi and Martin Luther King, Jr., and they also suffered Jesus' fate, as have all martyrs and many activists!
SWAMI'S ORIGINAL QUOTE: One stands up for the Truth what happens to the form is of no consequence.
I AM STANDING UP FOR THE TRUTH AND I HAVE MY OWN PATH, GUIDED BY GOD. JUST LIKE JESUS AND ALL OF THEM HAD.
G: You are showing you are guided by Rasa.
Swami's opinion.
RASA'S ORIGINAL QUOTE: And yet, should not this work be done? Should all saints become 'ENCLOSED' - NONDUAL - CONTEMPLATIVES?
SWAMI'S ORIGINAL QUOTE: Who is ENCLOSED? In flow, one works wherever they are. When one questions then that one speaks and gives what may be given as a matter of course.
AGAIN, THAT IS A RELATIVE TERM. FOR MYSELF I AM ANTICIPATING THE CONTINUUM OF A LIFE IN THE PUBLIC EYE. I DO NOT THINK YOU ARE ANTICIPATING HAVING A BOOK AND MOVIE OF YOUR LIFE PRODUCED AND GOING ON AN INTERNATIONAL LECTURE AND TELEVISION CIRCUIT.
G: You are right my work is seva for humanity, it is not for my glory.
OK again. The yardstick. Swami works for God, Rasa for earthly glory. Where is your hard evidence against me? Or can you see inside my heart and soul? No you cannot because you get no phenomena.
I COULD STAY HERE ON THIS FARM, RETIRE TO THE ROCKING CHAIR OF POSTING ON THE NET. THE NET IS ONLY THE BEGINNING, A STEPPING STONE FOR ME. NATURALLY, IF GOD WANTED ME HERE AND TO BUILD A LITTLE ASHRAM NEARBY I WOULD DO THAT. BUT GOD HAS OTHER PLANS FOR ME, AND IT IS TO VENTURE INTO THE DEEP. WHAT ARE YOUR PLANS?
G: To be wherever the universe moves this one . If humanity seeks seva it will be given. If not it is not shoved down their throats. Let the dead bury the dead, enjoy the venture as this One has already plunged into the deep where all the surface waves no longer disturb the Ocean of Consciousness.
Yes, Swami is in the highest, the deepest, the most profound, the best. But Rasa needs to be saved from herself. Swami is superior, Rasa is inferior, according to Swami. Rasa work deluded and of the flesh, Swami is All That. And who has the cursing tongue?
RASA'S ORIGINAL QUOTE: The Christian life without a doubt, teaches that CONTEMPLATION IS THE BETTER PART. NONDUALITY is the better part! But, for those who MUST BE ACTIVE IT IS THE BETTER PART FOR THEM TO BE ACTIVE!
SWAMI'S ORIGINAL QUOTE: YOU CAN'T HAVE IT BOTH WAYS - THIS IS A JUSTIFICATION OF NOT WANTING TO SURRENDER TO PEACE. Martin Luther King spoke of peace for ALL men to be equal he did not go out and wage a war NOR did he attempt to slight others. Rasa, speaking out of anger is not doing the Lord's work.
TSK, TSK, TSK. WHAT MAKES YOU THINK I AM SPEAKING OUT OF ANGER AND NOT LOVE? IN MY WORK I AM THE MIND AND THE HAND OF GOD. GOD MOVES ME, I WORK. WHY DO YOU ATTRIBUTE ALL MY WORK TO EGO AND FLESH AND ALL YOUR WORK TO SPIRIT? IS THAT FAIR?
G: It could be the sarcasm, It could be the motives such as punishment.
I WENT WITH PERFECT LOVE TO THE GURU RATINGS GROUP. THEY CHALLENGED GOD. I TOLD THEM NOT TO MESS WITH GOD. THEY MESSED WITH GOD, AND THEY GOT THEIR MESS BOOMERANGED BACK AT THEM.
G: No, they messed with Rasa. They didn't call God names they called Rasa names.
I told them I was the anointed messenger and instrument of God and they laughed and ridiculed, scorned, cursed and so on. Tried to destroy me. And the consequences now come upon them. It is fair.
AND SO, THEY HAVE TO TAKE IT LIKE IT IS. IT IS JUSTICE, RIGHTEOUSNESS AND THE PEACE THAT COMES WITH THAT.
G: You are not giving them peace.
THERE IS PEACE DEEP INSIDE ME BECAUSE I AM NOT A COWARD;
G: That isn't peace, that is self satisfaction.

AM WILLING TO STAND UP TO THIS SORT OF THING TRUSTING GOD. MY PERFECT TRUST AND FAITH IN GOD'S RIGHTEOUSNESS AND PROTECTION FOR ME IN BATTLE, IS WHAT GIVES ME COURAGE. EVEN IF I AM HURT, I AM HAPPY, BECAUSE I SERVED GOD WELL.
G: Then why have you come complaining and crying how they are hurting you? This belays that you are happy, putting on this face now doesn't fit with what you have said numerous times about how hurt you are.
Hurt is again a relative term. Hurt for a short time, but something else happens. God comes forth. God heals, God avenges.
THERE ARE VARIOUS WAYS OF DOING THE WORK OF GOD, NO ONE WAY.
G: Yes, there are many ways. There are many paths and the universe can use the hand of evil against evil and karma may be had by both. Around and round they go.
YOUR'S IS ONE WAY, JOAN OF ARCS IS ANOTHER. WHAT HAVE YOU GOT TO SAY ABOUT JOAN OF ARC?
G: Nothing, she went forth to fight for a land not because someone judged her life and called her a name.
I find your argument here without strength. Joan of Arc, called by God to go to armed warfare for France, to maybe kill if need be. And myself am only posting letters! But Joan is OK, Rasa is bad, according to Swami. That old yardstick!
WHAT ABOUT THOSE WHO FOUGHT HITLER AND STALIN? LET ME HEAR YOUR INTERPRETATION OF THAT. THAT OUGHT TO BE A GOOD ONE
G: It was part of the world's karma.
Easy answer. I am glad you found that one so easily. No individuals involved? No decisions?
NOW ABOUT ANGER. I HAVE SEEN YOUR ANGER, STEVE HAS SEEN YOUR ANGER. (REMEMBER STEVE, THE DEVOTEE WHO VISITED YOU FOR ONE WEEK?)
G: Really? He saw my anger? Yes, he visited for one week and decided the roads were too windy. Where I lived wasn't in an upscale enough neighborhood, etc, etc, etc. There was no anger there. Oh, he had anger and came to the conclusion that NO guru could give him anything and yet he can't take care of himself.
Indeed, he does not cut the mustard as a devotee, and I took his words with a grain of salt. However, he did say you were normal and got real angry.
NOW I HAVE SEEN YOU RUN THROUGH A WHOLE GAMUT OF HUMAN EMOTIONS IN OUR RELATIONSHIP OF NINE MONTHS.
G: Yes, momentary.
BUT I COULD HAVE MISSED SOMETHING. SO I ASKED STEVE, WHETHER YOU ACTED LIKE A NORMAL PERSON DURING HIS VISIT. THIS IS WHAT HE SAID,
'SHE WAS LIKE ANY OTHER PERSON. AND SHE GOT ANGRY - VERY ANGRY, WHEN I DECIDED I WOULD QUIT BEING A DEVOTEE AND JUST BE HER FRIEND.'
G: No, not true. This is the Steve that once you were praising and in the next breath was complaining how he turned on you. And this is who you go to for confirmation? Hahaha.
Not confirmation, observation. He is no devotee to anyone, that is true. But not turned on me, just sort of pushed me away. But he still sort of loves me and even you. Does not matter.
I ALREADY KNOW YOUR ANSWER - YOU HAVE GIVEN IT BEFORE. WHEN SWAMI G GETS ANGRY, IT IS DIFFERENT. IT IS FLOW, IT IS RIGHTEOUS, IT IS NOT WHAT YOU THINK IT IS. BUT WHEN RASA GETS ANGRY, ON THE OTHER HAND, IT IS FLESH, IT IS EGO....... TELL ME ANOTHER ONE.
G: There can be emotions. Yes, that is freely admitted. When they surface are momentary, in the next moment gone, not driving. But in dealing with this mail trust me, there is nothing but seeing someone that is acting out because they didn't like something that was said.
That goes both ways! Are you not acting act! I am not a little child here, I am older than you and have lived longer and might have even seen more than you!
WHAT IS IT ABOUT SWAMI G THAT SHE MUST DENY HER HUMAN EMOTIONS?
G: No one has denied them. If they are there they are, if they are not they are not. In this case they are not.
IS IT THAT YOGA GAME THAT SAYS ASCENDED SOULS HAVE NONE? I THINK IT IS.
G: No, they are momentary like ripples across a lake and a moment later gone.
IT IS A GAME WE PLAY, A KIND OF SEMANTICS. WE GET ANGRY AND JEALOUS, BUT WE CALL IT SOMETHING ELSE. WE ARE NOT ALLOWED TO BE HUMAN.
G: Really? What is human? Is it being driven by emotions?
BUT THEN ONLY SWAMI G IS ALLOWED TO CALL HER EMOTIONS GODLY, NOT HUMAN. RASA DOES NOT HAVE THAT RIGHT. RASA IS LOWER THAN SWAMI G,
G: If you say so...
So who is sarcastic?
THEREFORE, ALL THAT SHE DOES IS OF EGO AND FLESH. CASE CLOSED, ACCORDING TO SWAMI G. DITTO FOR THE REST OF HUMANITY, ALL IN EGO AND FLESH EXCEPT SWAMI MEXICO AND SWAMI L.A. THE TWO LEADING LIGHTS OF THE WORLD WHO HAVE NO EGO EXCEPT MAYBE SOME GUYS IN TIBET, AND DO NOT TAKE APPEARENCES, BECAUSE WHEN THEY GET ANGRY AND JEALOUS YOUR EYES ARE PLAYING TRICKS ON YOU.
G: Again, you are making false statements that bear nothing to what is said here. Your sarcasm is showing again. It does NOT become you, it is ugly.
(Rasa' original article continues)
RASA'S ORIGINAL QUOTE: You are called to contemplation, fine. But if you are called to action, you must be in the life of action, not in the life of the hermit!
SWAMI'S ORIGINAL QUOTE: If I were a hermit there would be NO working with you NOR would there be answering mail after mail, nor would there be traveling all over the world when asked to give satsang, diksha, darshan, etc.
I DID NOT SAY YOU ARE A HERMIT! JUST SPEAKING IN RELATIVE TERMS, IN GENERAL.
G: In general every day seva is given in one way or another. I repeat, being on a warpath is NOT the work of God - it is the illusion of ego that seeks to keep control intact.
HERE WE GO. WHEN RASA WORKS, SHE IS IN EGO. WHEN SWAMI G WORKS, SHE IS IN FLOW. WHEN RASA HAS EMOTIONS THEY ARE LOWER EMOTIONS, WHEN SWAMI G HAS EMOTIONS, THEY ARE THE FLOW OF SOMETHING OR OTHER.
G: Where is your attention at? Is it giving Truth or is it after retribution?
RASA'S ORIGINAL QUOTE: Like you, Seva and Truth is given in many forms.
(Rasa continues)
RASA'S ORIGINAL QUOTE: So St. Thomas Aquinas has taught me!
G: So who did he display to the world in their most negative light? Who did he continually chase to keep a war going?
I don't know. But probably the heretics and albigenseans, manicheans, gnostics and so forth. Who knows?
WHOSE SIDE ARE YOU ON? THOSE GUYS TROUNCED YOU, I AM STANDING UP TO THEM AND TEACHING THEM WISDOM, AND YOU ARE ON THEIR SIDE PERHAPS?
G: No, I am on neither side in this. Speaking truth and attempting punishment are not the same thing.
I AM NOT CHASING THESE GUYS! I AM ANSWERING THEM AND RIGHT NOW OTHER PEOPLE ARE BUILDING BLOGS AND SENDING ME THE LINKS. I MERELY AM POSTING WHAT IS GIVEN. NOT WRITING ANYTHING NEW EXCEPT FOR TITLES AND A FEW SMALL THINGS. TO ME, THE WAR IS OVER. THE KARMA OF IT IS PLAYING OUT, THAT IS ALL. OTHER PEOPLE ARE MOSTLY DOING THINGS NOW, NOT MYSELF. THE MOMENTUM OF IT TOOK HOLD IN THE UNIVERSE.
G: Who is it that begged people to send any dirt on those at Sarlo's so you can post it on a site you created for the purpose and any where else they will allow you to post such things? That is chasing. Enjoy what you have started.
You have benefited from this work of mine also, you have been justified from the attacks on you.
(Rasa's original article continues:)
RASA'S ORIGINAL QUOTE: (Now I am not saying Swami G is a hermit, but her life is more contemplative than active, as she does stay in the confines of a religious world. She does not go outside 'with pigs' and get dirty!)
SWAMI'S ORIGINAL QUOTE: On the contrary, many pigs have been come across but one does not need to lie down and wallow in their dirt. One feeds them whatever may be of benefit and either they eat it or not. But as Christ said, 'beware and CAST NOT YOUR PEARLS BEFORE SWINE LEST THEY TURN AND REND YOU.'
NO MORE PEARLS, SWAMI. I AM CASTING THE MUD TO THE PIGS, BECAUSE THAT IS WHAT THEY UNDERSTAND. (SMILE)
G: I hope you enjoy the mud, those who sling it will eventually be wearing it themselves. So Rasa, do you know better than Christ whom you say you follow?
GOD IS LIVING AND WORKING IN ME, I ASSURE YOU.
G: I hope so...
(Rasa article)
She stays within a certain parameter, an enclosure, of religious spirituality, and her groups are special to spirituality, no other muck need apply. She monitors out anything that is impertinent or irrelevant. She wants no MIX and no MESS!)
G: I have been in the trenches and trenches come and find me often. There is a difference is giving what may be given and having a reality check about whether it is being accepted or not versus giving yourself a reason to engage in debate and word calling and exchanges which degrade into nothing more than trying to win a war in which no one wins.
I DISAGREE. EVERYONE WINS WHEN GOD IS ON THE 'WARPATH.'
G: God isn't on the warpath, Rasa is.
I EXPLAINED EVERYTHING IN NO UNCERTAIN TERMS ON THE ARTICLES ON MY SITE, UNDER PASTOR'S JOURNALS' THE SARLO WAR. I EXPLAINED HOW WHEN GOD 'EXPLODES' DURING TIME OF 'WAR' THE SHAKTI POWER INCREASES AND IT GOES TO EVERYONE, ACCORDING TO THEIR DESSERTS. TO SOME IT BRINGS ENLIGHTENMENT, TO OTHERS, CHASTISEMENT. TO JODY IS HAS BROUGHT BOTH. ON MY SITE ALSO ARE THE VISIONS I HAD OF JODY AND THIS SHAKTI HAS BROUGHT HIM TO THE STATE CALLED BETROTHAL. ONE MORE STEP, IF IT COMES, IS THE MYSTICAL MARRIAGE. GOOD THINGS HAVE HAPPENED!
G: Do you really believe that? Jody is obviously not betrothed to anything, that is wishful thinking. I have read the interpretations of some of your visions and do not see how you can come to the conclusions that you do.
It is myself that is the dream expert, not you.
(Rasa continues)
RASA'S ORIGINAL QUOTE: But don't some people have to walk with sinners? With those who are down and dirty with sin, filthy with it, really stuck in lower planes?
SWAMI'S ORIGINAL QUOTE: I have news for you, 98 % of humanity is within that category. This is WHY Satsang is given - meditation is taught, - darshan is given, etc. If people are chasing desires and in mundane mind then they are sinners (or not knowing that God or Self is ONE) sin is simply having the mindset of separation - having a hole verses knowing one is whole.
RASA'S ORIGINAL QUOTE: Who will go there? Not many. But I will! And I do not go as righteous reformer - as far as the sex world, I've been there and I am still partially by way of appearance , but I refrain from sin. That is the only difference. (Swami G said something about my being self righteous in the Sarlo War and I admit faults of mine could creep in and have crept in, but overall, I think I am clean.)
SWAMI'S ORIGINAL QUOTE: Any guru or guide or person dealing with the world in any capacity any day goes there, dealing with conditioned minds is going there. Help those who are SEEKING - leave those who have no idea to the pig sty's where they prefer. Eventually they will begin to tire or fall far enough that they begin to question rather than rant and rave on witchhunts and self proclamations of egos grand superiority which blocks the way to surrender and liberation.
RASA'S ORIGINAL QUOTE: Now about who I am - the personality in this theater of life that I play. Am I saying that I want to be active and nothing else? No indeed, I am a HYBRID of ACTION and CONTEMPLATION. I have two sets of powerful faculties that are equally strong. (So God told me)
SWAMI'S ORIGINAL QUOTE: Perhaps Rasa's will is skewing what is heard internally.
Yes, Swami. If Rasa says anything good about herself, her will is skewing what is being heard internally. But if something, on the other hand, accused Rasa of being sinful and deluded, then Rasa's will would not be skewing it, I presume. Why does Swami want to hear Rasa is a lowdown sinner and deluded unrealized person? Why does that please Swami? Because Swami is the only guru, the only Satguru, and the only perfect person in town. Rasa she will not 'advocate.' Who is caustic here, Rasa or Swami?
AGAIN, RASA, DO NOT HOLD YOUR HEAD HIGH. NOT EQUAL OR ABOVE SWAMI G, OR THE 2X4 WILL CRACK YOUR SCULL! YOU SOUND THREATENING HERE, RASA, YOU SOUND SUPERIOR!
G: Do you really sound superior ?
(Rasa continues)
RASA'S ORIGINAL QUOTE: What does this mean? Who was like that? The best example: St. Catherine of Sienna. (There have been over 300 books written about her!) She was a perfect contemplative, no slouching there, and she was great in action, full of zeal and power. How about St. Teresa of Avila, who started multiple 'discalced' Carmelite convents, reforming the entire Order? And they both had the INTERIOR DIVINE STIGMATA, which Rasa also has!
SWAMI'S ORIGINAL QUOTE: You are neither of those
Rasa is not St. Catherine of Sienne, nor St. Teresa of Avila. Swami knows for sure. Does Swami know these saints intimately? Does Swami know Rasa intimately?

THANK YOU SWAMI. AND BY THE RETURN OF YOUR COMPLIMENT, I NO LONGER BELIEVE IN THAT MYSTERIOUS SAHAJA STATE OF YOURS UNLESS IT IS PROVEN TO ME.
G: There is nothing to prove to you. Neither does it seem to be of any value to attempt to aide you in moving beyond where you are. That was tried and when you found it takes more effort than just claiming it what happens. Immeditate reaction.
You tried to make me exactly like yourself, but that won't work, because I am supposed to be who I am, where I am. I have improved from a place of 'redemptive suffering' on my mind, to a place of
'letting go of redemptive suffering.' But no matter what I say, you don't believe me. Why? Are you like this to all your devotees and well wishers? No matter what they say, they are wrong? I cannot win with you. What is it?

SWAMI'S ORIGINAL QUOTE: It is time to let go of the claims of Interior Divine Stigmata. In all cases of stigmata they were quite visible.
I AM AFRAID TO PULL RANK ON YOU ON THAT ONE. I HAPPEN TO KNOW CHRISTIAN MYSTICAL THEOLOGY BETTER THAN YOU DO, SWAMI G. YOU STICK TO YOUR HINDU ADVAITA AND I WILL STICK TO WHAT I AM FAMILIAR WITH.
G: I have been into Mystic Christianity for years.
I GAVE THOSE TWO EXAMPLES SPECIFICALLY BECAUSE THESE WOMEN BOTH LIVED LIVES OF CONTEMPLATION AND ACTION, LIVES OF ACTION IN NONDUALITY.
G: Contemplation and action are not indicators of non duality. Now Saint John of the Cross Yes.
Swami does not know her medieval mystical theology as well as Rasa does, but Swami cannot defer to Rasa. Swami knows everything about everything - all disciplines. The truth is Swami is expert at one discipline, her form of advaita, and that is it. The rest she might know, but not expert in.
(THE OTHER GREAT MENTORS /GURUS OF MINE, ST. GERTRUDE THE GREAT AND MARY OF AGREDA HAD THE SAME INTERIOR STIGMATA, BUT THEY LIVED LIVES OF ENCLOSURE, SO I DID NOT CITE THEM.)
G: They had a mind that gravitated to the suffering Christ, it was their identification.
AND EACH ONE OF THEM HAD THE GRACE, INVISIBLE AND UNSEEN TO THE EYE - WHICH IS TOTALLY ACCEPTED BY ALL IN THE KNOW - ALL THE GREAT SCHOLARS AND THEOLOGIANS;
G: No one is denying a type of grace nor that they were thoroughly surrendered.
THEREFORE, YOU ARE TOTALLY WRONG. I GAVE YOU CREDIT BEFORE THAT YOU WANTED ME TO LET GO OF THE PAST, AND TOLD ME TO SHUT UP ABOUT THE STIGMATA AS A FAVOR TO ME - TO MOVE ON. I SEE NOW THAT IT WAS NOT A FAVOR, IT IS ONLY YOUR JEALOUSY COMING OUT.
G: What they lived and what you are speaking of are two differing dynamics. Jealousy of what?
What they lived and what I am speaking are two different dynamics? What are those differences? Do you ever present any real evidence in your arguments with me? No, because this is a ground you are not expert in. I have seen you wipe the floor with dissenters when in your own vedanta. But in my field, no. It won't work, it can't work. I can both talk the talk and walk the walk here, you can't.

YES, JEALOUSY. BECAUSE YOU THINK YOU HAVE WHATEVER I HAVE AND MUCH MORE! AND SO YOU (I PRESUME IT SOUNDS LIKE YOU ARE SAYING YOU DO) AND MANY OTHERS HAVE THIS FEELING IN THE HEART.
G: Then that would not be jealousy at all. If I have what you have and more how is that jealousy?
You don't have it. You would like to have all any other saint has, but that is not how it is. You do not have all the graces of the medieval mystical saints. You have your own grace. But you can't face that there could be any spiritual 'lack' on your part. If I claim the Stigmata, I better shut up. I do not have it. If I do have it, you and many others have it too. So let's hear from God. God knows.

DEAR LADY, IT IS SO MUCH MORE THAN THAT. IT IS MARTYRDOM. YOU DID NOT SUFFER WHAT I SUFFERED BY WAY OF THIS GRACE. IT CARRIES A HEAVY PRICE. FOR ME IT WAS EIGHTEEN YEARS IN THE 'DARK NIGHT OF THE SOUL' AND THE 'SHALLOWS AND WASTES OF HUMAN SENSE.'
G: Yes and...? Here there were also years and years of suffering. Eventually one comes out of it or one can continue to wallow in it and think it self-righteousness.
How COLD AND CRUEL you are. And I have the caustic and viper tongue? It is you.
I DID NOT WALLOW IN MY SUFFERING IT WAS A PURGATORY IMPOSED UPON ME. I don't expect you to understand it, but for the record, I will explain. First of all, there are no fully explanatory books on this subject. No one has written a book that deals with the meaning of the Divine Stigmata fully. I will write the book one day soon. When a soul asks for Divine Stigmata it is martyrdom. That is all I will say for now.
I WILL NOT CAST PEARLS HERE, BECAUSE YOU ARE NOT DESERVING OF MY TELLING OF IT. YOU DON'T UNDERSTAND. YOUR JEALOUSY HAS BLINDED YOU TO SUCH A DEGREE.
G: I have already heard it from you many times, there is no need to repeat it again.
I SEE YOUR PATTERN. YOU MUST BELIEVE IN THAT HEIGHT OF YOURS.
G: There is no height. What is here is what is the core and essence of all humanity beyond their veils of tears.
IF I HAVE THE DIVINE STIGMATA, WHICH IS THE HIGHEST GRACE A CHRISTIAN CAN HAVE - (IT IS MARTYRDOM) - AND YOU DON'T - THEN I AM HIGHER THAN YOU IN GRACE. THAT CANNOT BE. THEREFORE, I DO NOT HAVE THE STIGMATA, I MUST SHUT UP ABOUT IT, AND IT IS TIME TO LET GO OF THE CLAIM OF IT!
G: Go ahead claim it all you want. I said to be quiet because you will only be made a laughing stock by others
What a hypocrite you are here! You are calling me all sorts of names and accusations, and then you are saying you are trying to spare me from being a laughing stock to others! I have an e book on my site speaking of the experience FOR FREE. Have you even glanced at it? Of course not. Why should you. You know it all. As an act of love, I BOUGHT one of your e books. (I did not need it, I bought it to encourage you.) I wrote an entire book based on my day by day diary of attaining the Divine Stigmata, from day one when I first prayed for it, type it, put it on the internet, and you tell me I do not have it and I will be a laughing stock if I claim it. This is not derision and contempt? This is what I mean by laughing. This is you ridiculing me. Then why should I believe in your so-called Sahaja state?
G: ...but if you want to go around claiming an internal stigmata be my guest.
One of these days, I will write a second book and it will have over 100 dreams which explain the grace, where God showed me the meaning of it in dreams. This you will also be derisive about, because you don't believe in dreams, so you go ahead and be my guest. God knows all.
G: If you want to claim you are higher than any minister or guru or swami because you danced with your clothes off and talked about Christ in the same breath then be my guest.
Lies. Did not say I was higher than anyone. Said I did things that were more unique than any of the ministers and Swamis who took a more conventional road.
G: If you want to walk away then do so, you can do whatever you wish.
You expect me to stay your friend/devotee when you do these things to me? I would have to be a MASOCHIST.
I THINK IT IS TIME TO LET GO OF YOUR JEALOUSY!
G: There is NOTHING to be jealous of. Really trust me on this...
AND NOW I HAVE PUSHED THE ULTIMATE BUTTON ON SWAMI G. NEVER, EVER DID I CLAIM SOME KIND OF MENTAL HIGHER OR BETTER THAN SWAMI G'S. BUT SIMPLY BY CLAIMING STIGMATA, SWAMI KNOWS WHAT? THAT I AM HIGHER.
G: Sure you are, Rasa...
YES, AND SO, GO AHEAD AND GET INTO A RAGE.
G: A rage ? I am seeing a very sad woman who is lashing out at one of the only ones who was willing to give her a chance. I gave you a space when very few others would.
What chance? What space? The main reaction I get from you so far has been:
1. Tear apart my articles
2. Criticize my behavior
3. Tell me I do not have the graces I do
4. Say I am deluded
5. You will not advocate me as guru
6. I am caustic and have a viper tongue meanwhile it is you who is attacking and accusing me
7. Say I am in ego, suffering, anger and flesh
8. Say there is no Purgatory when I have full time ministered to Purgatory for many years and got hundreds of souls out
9. Question the motives of all my actions, when I have been respectful and loving and trying to help you by promoting you
10. Never thanked me or congratulated me for anything I did. Gave me ONE compliment in nine months of interaction.
You have been A COLD FISH to me!
I suppose JUST BY TALKING WITH ME YOU CALL THAT A CHANCE AND A SPACE that not many others would!
I am that despicable to you! You perceive me as some sort of pariah, and you, the noble soul, took me in. YOU TALKED TO ME! HOW NOBLE OF YOU! My help was meaningless, my promotion of you nothing, my donation nothing, my time nothing (my time is not precious, only yours is!) Oh, how you love yourself Swami, and how you hate me! And you can't even see it! You are kind and compassionate! You are a patient saint and I have been testing you!
'Few others' would give me a chance! Oh, the brutality of that statement. It is saying that somehow, the mistreatment at the hands of others was well deserved. And then what about the way others have also mistreated you? Was that deserved? You have been targeted also. You have been abandoned, abused, suffered ingratitude and rejection. Why do you see me as deserving this treatment?
THIS GRACE PUTS ME HIGHER THAN YOU, SWAMI G, WHATEVER YOUR STATE IS. I AM A MARTYR. YOU ARE NOT.
G: You are a martyr in your mind. You are right, I am not. I gave that up long ago but played that game for a number of years though.
You completely lack understand of what I speak. Martyrdom is not only of the flesh. The Stigmata
martyrdom is this: All the highest gifts, including the Gifts of the Holy Spirit, that the souls has earned and enjoyed ARE SUDDENLY TAKEN AWAY and the soul is left without the ability to FEEL THE PRESENCE OF GOD and the COMMUNICATION SYSTEM WITH GOD GOES DEAD and you cannot pray properly. The chakras burn up and therefore cannot contain or take advantage of the Gifts. It is like delinking programs. Now for someone who already suffered to get there and has enjoyed these fruits for only a year or so fully, and then to be totally deprived and to return to the 'shallows and wastes of human sense' is a martyrdom. It is a spiritual, emotional, and mental martyrdom.

THAT MEANS I AM HIGHER. WHOOPEE. THANK YOU GOD. EVEN THOUGH I SUFFERED FOR EIGHTEEN YEARS FOR THIS GRACE, I HAVE IT, AND NO ONE CAN REMOVE IT FROM ME FOREVER!
G: Go ahead, pat yourself on the back for the Dark Night of the Soul. It is not an accomplishment, Rasa. It is something that is passed through - and feeling the suffering of Humanity only gives one the opening for compassion. It is not a venue for attempting to gloat. How little you understand.
How little YOU understand!


WHEN I ASCEND INTO HEAVEN MY HEART WILL BE SHINING LIKE A BEACON. IT IS SHINING NOW, BUT EARTHLY SENSE CANNOT SEE IT. THANK YOU, ALMIGHTY GOD, FOR MARTYRING ME WITH THE HIGHEST SAINTS WHO EVER LIVED, FOR ENDURING IT AND LIVING THROUGH IT, AND THE POWER OF IT IS SUBLIME!

G: You haven't been martyred unless I am speaking to a ghost, you lived through it.
I explained before. Martyrdom is a state not just of the flesh. Sometimes LIVING IS HARDER THAN DYING. To die would be the end of suffering, it would be a relief. To live in 18 years without the touch and presence of God, without the warmth and feeling of God, without communication is MARTYRDOM.
But you, oh kind and compassionate lady, are laughing at me. The question here would be not why you are patiently talking to me, but why I AM PATIENTLY TALKING TO YOU!
SWAMI'S ORIGINAL QUOTE: One may feel that their heart is pierced, etc. This has happened to many on the path of the mystic but we don't go around with a banner saying we have a divine interior stigmata.
BECAUSE YOU DON'T HAVE IT. YOU DON'T HAVE MY DEGREE OF LOVE!
G: This is how you treat your Sat Guru? This is love? No, this is someone who is reacting because she thinks she has been put down. It isn't about putting you down it is about shedding some light on areas, you are stuck so you can move forward so you can look deeper. I am very, very saddened that you resort to attempting to garner anger o,r as you state, rage. Here these is none of these emotions just an overwhelming sadness that you are acting out like this ......
SWAMI'S ORIGINAL QUOTE: This is a frame of mind and consciousness that develops when one is identifying with the saints and a mystical path. It is more common that you know.
YADDA YADDA YADDA.
G: Childish, Rasa. Very, very childish. Well and the jury verdict is?
(Rasa rests her case)
Discourse between Rasa & Swami G
March 29, 2006