SWAMI G REBUKES A SEEKER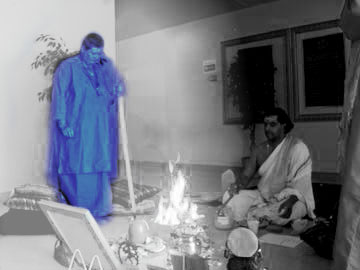 DIALOGUE BETWEEN SWAMI G & A SEEKER
A seeker is still just an unrealized self - just a separate suffering entity who looking for 'Home', and perhaps after many lifetimes of search why will it not finally just let go, and surrender? What is still holding it?
G: Here comes Kali, what is this? A separate suffering entity just looking for a home?
Stop going back into the intellectualizing - Contemplate the ONE above sentence. What a whole being sustained all in the name of keeping that separation in place.
Why, oh why, is there such a flag being waved of being a poor suffering separate entity just looking for (a) home?
Absolute doesn't have a home ....
Absolute is not an object ...
Absolute is not a home ...
Absolute is Alone - ONE without a second...
IS minus the myriad of objects of thought that cover it into many ....
let go of the desires of seeking something outside ...
let go of the judgments and identifications as an entity ...
let go of the judgments and identifications as separate..
let go of the judgments and attachments of seeking ...
let go of the judgments and mindsets as suffering ...
Only you can say if you are ready to let go of the struggle as it takes so much more energy to keep this delusion in place. Face the fear squarely without rationalizing it away or giving it some power of more than Absolute. it is only the reflective waving substance of mind that is not stilled ... face it and allow the mind to still in total surrender.
STOP - GO INTO THE BREATH .... WHEN THIS MIND DELUSION STARTS TO PLAY ITS LITANY THEN NETI / NETI (NOT THIS - NOT THIS) AND QUIT SUSTAINING IT ... QUIT FEEDING IT ....
STEP OFF THIS HAMSTER WHEEL ....
BREATHE AND WATCH - LET GO - DON'T CHASE - DON'T SUSTAIN - DON'T FEED IT.... OMmmmmmmmmmmmmmmmmmmmmmm, OHHHHHHmmmmmmmmmmmmmmmmmmmm

There is nothing to chase - nothing to sustain - nothing to feed -
Negate that which is transient ... Neti Neti Neti - let it fall away ... dissolve ....
Maha Shanti Om
0
Swami G
March 6, 2006