THE BATTLE BETWEEN
YOGA & CHRISTIANITY
CAN ONE WIN?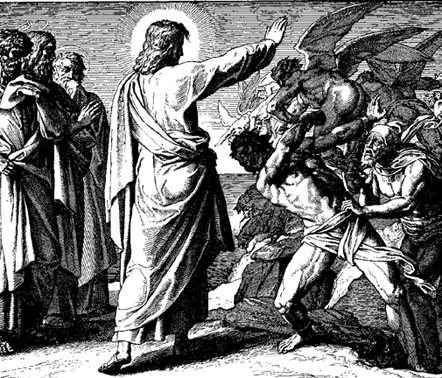 Jesus Drives Out a Demon
Julius Schnoor von Carolsfeld
PART II OF THE INTERVIEW WITH SWAMI G

Questions from Rasa Von Werder
Answers from Swami Ganga of Guru_Satsang:

Here is another question, very important, that comes to me:
QUESTION 1
Why don't you pray?
RASA: Jesus prayed. All the saints prayed.
SWAMI G: There was prayer when there was separation and seeking ... when there was suffering .... prayer is out of lack ... when there is no lack --- when God IS, within All that is where does supplication come into place ? Just speak and it will be done...


(EDITOR: THAT IS PRECISELY WHAT PRAYER IS!)
----- if one has the faith of a grain of mustard seed ....
RASA: Here is how I understand the role of an Enlightened person on earth. This person wields great power. What is this power for?
SWAMI G: To live the Eternal Truth ..... Their very Being holds Peace and Stillness a place of Equanimity ....
RASA: Is it to spend their Heaven on earth, to have come to the final place of rest forever? No - as long as you have a body, in my estimation, one has the grace for continual growth, but what is questioned here, is continual work. The Enlightened soul can bring a monument of God-power to other souls who need it.
SWAMI G: This is done every day ..... just being around others their minds begin to still ...... there is nothing that actively needs to done .... what needs to take place does within daily life .....
RASA: All the saints had various powers according the the Holy Spirit. Some were anointed preachers, some teachers, some healers, some pastors, and so on. The contemplative or cloistered ones, by their prayer, do miracles. They changed things.
SWAMI G: As a Sat Guru there is much that takes place .... Satsang means association with truth .... this is given each week for those who are seeking it ..... Healing is given ..... Energies are balanced ---- addictions fall away .... there is too much that takes place to list ......
RASA: If one does not pray it seems to me would be leading the life of a sort of spiritual vegetable. Sort of enjoying their state, lying in the field so to speak, but not doing anything.
SWAMI G: Then you have never spent any time around a Realized Sat Guru ...... there is more than you can know that takes place.....
(EDITOR: YES, I HAVE SPENT TIME WITH GURUS, SAT OR OTHERWISE. NOT THE LEAST OF WHICH ARE JESUS AND MARY, THEN GURUVERNA, MUKTANANDA AND NITYANANDA, PADRE PIO, ST. GERTRUDE THE GREAT, MARY OF AGREDA, ANNE CATHERINE EMMERICH, MANY OTHERS, AND NOW, AMMA 'THE HUGGER.' WHAT MAKES YOU THINK I HAVE NEVER BEEN WITH SAT GURUS AND DO NOT KNOW WHAT COULD TAKE PLACE?)
Also, there is a problem with semantics here. The definition of prayer. Are we talking about the same thing? When Rasa says "prayer" she means the using of God power and God realization to help others, as well as regular prayers. There are verbal prayers, mental prayers and prayers of the will... simply wanting good for all...but the definition of prayer has not been brought up.)
RASA: Of course I know that you minister and you are working right now answering these questions, and that is spiritual work and helping others. But the fact that you do not pray in any way bothers me very much.
SWAMI G: Well am sorry but that is your problem .... there is no reason to say that which is not true .....
RASA: I think prayer is a responsibility that you are not fulfilling.
SWAMI G: See it as you wish ..
RASA: Having spiritual power, one must pray. You may not see it that way.
SWAMI G: When the underlying Reality is Known to be Perfection ..... Prayer does not need to take place ......
RASA: You do not think in terms of "power" like I do. I see life as a battle on earth between God and satan, good and evil, the forces of Light dispelling the forces of darkness.
SWAMI G: Since God is Absolute and ALL stems from That ..... What battle is there ? Battle takes place due to ignorance ..... Good and Evil are within mind .....
RASA: This darkness wants to consume and destroy the human race. Many instances in the bible describe this battle. I am not a bible expert or scholar but do recall numerous references to the battles, both in old and new testaments. Of course St. Paul spoke of "putting on the whole armour of God" in fighting principalities and agents of darkness; the helmet of salvation, the breastplate of righteousness, the shield of faith, the sword of the spirit, the girdle of truth and the feet clad in the sandals of peace. Put on the whole armour of God and FIGHT.
SWAMI G: One fights the battles within themselves ..... the Chandi Path also speaks of Durga and Kali that go to do battle with the demons that had taken over ----- what were the demons ? greed - envy and the worst and most difficult to kill is that of ego ..... what were the tools ? much the same as those within the bible ...... as long as one is in desire or fear and duality and the mind is running amok then they are engaged in a battle within ....
RASA: But you do not see life as a fight. Is not darkness here to consume humans?
SWAMI G: No ..... humans consume humans ...... the darkness comes from the shadows of ignorance ...... when there is no separation from God where is the fight ? want to fight darkness then find Peace within First......
RASA: Are not demons trying to waylay us to drag us into the pit they have earned? If you do not see it that way, please explain.
SWAMI G: The demons are your own mental fears ---- constructs of minds that are lost within ......
(Editor: My Catechism and all the saints say that satan exists, and he is a living spiritual entity, not a fictional piece of our minds. He is not our ego, our thoughts, our sins, our lust and greed. He is a separate being, a fallen angel. Bob Larsen, the world's greatest exorcist, also agrees with this. I have taken his course. When I do my exorcisms, demons leave. They are not psychological states. Many in the East recognize what I am saying here, not all agree with you.)
RASA: In my own example, I remember clearly, in 1982, I had gone through the whole gamut of graces that I had been praying for. It had taken years to get to the betrothal, mystical marriage, and then, seeing God face to face. When it was over I entered into the nondualistic state. Now I was baffled as to what to pray for. And I was not suffering, and I had nothing to strive for as I had attained God realization. Suddenly I remembered Rachel, in the bible, and her prayer, and began repeating hundreds of times a day,
"Give me children, or I will die."
SWAMI G: So did you have children ?
(Editor: This refers to spiritual children and there were and will be many. If one asked Swami about her spiritual children, I am sure she would claim some.)

RASA: This went on for months. Then I remembered one grace I did not have - the Divine Stigmata. I opened the books of St. Gertrude the Great and St. Francis of Assisi to the appropriate prayers and recited them daily. This grace was granted within a few months.
SWAMI G: And what did this gain ? Where is it now ? What did it do for the suffering masses ?

(Editor: Here Swami G is derogating the Divine Interior Stigmata as if it has no value. Let me ask Swami the same: What have you gained? Where is your Enlightenment now? What suffering masses have you alleviated?..... On my site, there are records of what God has done for me and through me. There you will see the results of the grace of God. It is by the gifts God has given me, Stigmata included, that I am where I am today - able to write many good articles, for example. I can heal, preach, give shaktipat and remove demons. I can teach. I am a sat guru, just as you are. This is God. My flesh has no power.)

QUESTION 2
Why do you not meditate?
RASA: As a mortal, although you are Enlightened, you have mortal tendencies, and mortal temptations.
SWAMI G: Really ? And what temptations are those ?


(Editor: All Christian saints spoke about temptations, and took major steps to circumvent them.)
RASA: Even if one does not sin, the mystical union with God (connection with God) might suffer greatly, as a result of intercourse with the world and the flesh.
SWAMI G: What intercourse with the world ? There is no holding to the flesh .... no attachments to the world.......

RASA: In the contact with worldly living and thought, and all that comes with it, the powers of the mind are drawn downward.
SWAMI G: Without holding to thoughts .... where is the mind anyway ? Is it not anything except thoughts ? See through the thoughts and they vanish like dew on a hot summers day .....
RASA: You say this does not happen to you. If this is so, you must be totally above every saint I have studied. All the saints struggled, through prayer (and meditation, which to Christians is various states of 'meditation' and contemplation) to keep a good mystical union with God.
SWAMI G: Maybe you should study some hindu Saints such as Sri Ramana Maharishi ..... there are many others as well ..... it is not something out of the ordinary .....
RASA: One may be in union with God in FACT but not in perfect mystical consciousness, unless one practices TIME TO BE ALONE WITH GOD.
SWAMI G: And when there is no one that remains to be alone with God what then? As the Sufi mystics rightly say ...... When i am God is not ---- when i am not God IS ..... you continue to see all through the eyes of separation into self and God .... one can Never be separate from God and when that illusion falls there is Always in all times and moments Only the One without a second ..... the Ever Unborn IS ...... That is the Reality that remains as the consciousness of a Realized Being .....
RASA: Mystical theology teaches the things concerning consciousness of God.
SWAMI G: There is mystical theology ...... And then there is the Reality that is lived beyond teachings that come out of pondering ......
RASA: Now I understand that in a great miracle, one can be in perfect consciousness of God and also conducting their activities of the earth. This is not normal stuff that goes on forever - it is a rare gift. Are you saying to me that you have lived in this miracle state for about five years now?
SWAMI G: It is not a miracle state ...... it is the natural life that no longer is within separation - doubt - or seeking .....
(Editor: If this is what you are talking about, then I am within it every day, because daily I am aware of the Oneness of all things. I am beginning to realize this is a matter of WORDS - your way of expressing yourself vs that of another expressing themselves. This is a way of culture, where by words, you present a consciousness which it seems you alone have. Yet many others have it, not using the same words. I think the secret in this whole argument is WORDS. You have been taught WORDS, SYMBOLS of the nondualistic experience, and you express yourself in the correct manner to go with that philosophy. Now God help someone who does not know the right WORDS. They are automatically accused of being nondualistic and lower than you. I think this solves the mystery!)
RASA: That you are so perfect in consciousness that you do not have to pray or meditate, and go about your earthly business without losing one iota of God consciousness?
SWAMI G: Meditation is nothing other than a stilled mind that is within pure awareness .... after a time it remains as paramount ..... how can one lose God Consciousness when God is the very Essence of Consciousness ? Once the illusion drops there is only Reality ......

RASA: These questions are asked respectfully and I thank you for your valuable time.
SWAMI G: You are most welcome.
RASA VON WERDER
AUGUST 15, 2005