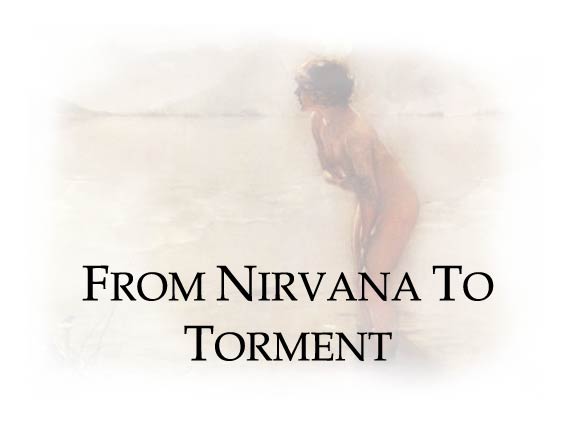 HOW DEMONS ENTER

Demons do not always enter by SIN; there are other entry ways. Satan tempted sinless Jesus - appeared to Him - spoke to Him - and they can access YOU. They CAN torment you even if you haven't done anything TANGIBLE.
How?
In this article I told you how to get closer to God. Through the grace of Poverty, and in the renunciation of ego, you have stepped across the threshhold to Heaven. But what happens if YOU TAKE ONE STEP BACK?

In POVERTY, which means renouncing all things but God, you left behind all things of the world, and all things of the flesh, and you removed the handles and links Satan would have you by. Going backward, you step back into same. How do you step back? It is innocent enough, but much evil happens through so-called innocence. YOU STEPPED BACK BY THINKING THE WRONG THOUGHTS AND FEELING THE WRONG FEELINGS. YOU STEPPED BACK BY HARBORING SOMETHING THAT HOOKED YOU INTO WORLD AND FLESH ONCE AGAIN.
Most of what I write comes through hard-won experience. I would not pass something to you unless I felt I knew what I was talking about. Now I'm telling you exactly what I've been through and how to remedy it. It is fresh on my mind because it happened YESTERDAY and I'm paying for it TODAY.
I started a project that BROUGHT BACK MEMORIES. I didn't think it would involve me that much, and all seemed well. I stood on the edge of the quicksand and said,

"This is going to work."

Filled with confidence, I got more involved. I no longer stood apart from the past but little by little, let my feelings and thoughts get involved. After all, I had to write an article on what happened. It's like a lie-detector test. You think about certain things and your blood pressure shoots up, whether or not you want it to. YOU REACT. In the past, I went through eighteen years of "normalcy," or the SHALLOWS AND WASTES OF HUMAN SENSE. I grieved and hurted. I sinned against poverty. I was in the mire and muck. And then, by thought and feeling of reviewing these things, I sank into the quicksand. I didn't FEEL it consciously, but I was there.
In the night, my dreams don't lie. The unconscious is fully open and I see into the deepest part of me - the soul. What I saw was that I WAS ATTACKED BY SCORES OF DEMONS. There were so many, and of so many kinds, that it was impossible to manage them all. They were assaulting me from all sides, just as fifty or a hundred negative people in your life would. Some invaded my privacy, some wanted to do damage, others were psycopaths, others were malingerers and just wanted to hang around, and some were liars. As soon as I'd deal with one, another with friends would appear. They invaded my house and took it over and pleaded innocence (they said they were doing their homework!) when I brought the police. They smeared my dog with tar. They tried to start a fire and burn my poor dog and my entire house down. All night I struggled and fought. All night I saw the face of evil. I chased one till I couldn't run any more. They - demons - are all pure evil. Like psycopaths, they have no conscience and their only aim is to destroy you, in whatever way they can. It was time to CLEAN UP. I woke up exhausted
from mental strain.
I knew that I had to figure out something to get myself back out of it; what went wrong and how. And I knew I HAD TO SHARE IT WITH YOU. You live through the same things I do. I must help you as I help myself.
First, you take HOLY WATER and sprinkle it throughout your premises, doing an exorcism. (I make my own Holy Water with just salt and water and blessing it.) Send TO THE PIT every kind of demon you name - whatever you think may be around and many more. Banish the liars, cheaters, stealers, murderers, haters, egomaniacs, vanity, pride, pomp, resentment, rejection, insecurity, anger, jealousy, revenge and so on.
How could you be in Nirvana one day and attacked the next? What are the ENTRIES OF EVIL?
As soon as you THINK in a way that challenges your Poverty, demons can enter. And feeling follows thought, so that you FEEL by what you think of. When you REMEMBER the past it brings back all kinds of slime you were in. Not crime or illegal or even immoral things, but things AGAINST POVERTY. Things, also, in some cases, against chastity and obedience. (By once just THINKING MAYBE this man was to be my future spouse, and it may be alright to have sex...a fleeting thought I soon renounced...I was tormented by LUST for many hours. Don't laugh. If you laugh, it may come upon you. And if anyone tells you that it is possible to be completely safe from lust, I think they err. Unless something happens to the brain, lust CAN return because it is far deeper than anyone can control. You can be celibate and with no thought of sex for years, and suddenly, IF THE DOORWAY TO SEX UNLOCKS, LUST RETURNS.)
You FOUGHT for this poverty. It took a while to work up to it, to get to it, and then to be ONE with it. You became poor by detaching from all things of world, flesh and ego. You became free. But in one moment, you start to write an article and thoughts come back. Now the demons are here. How does it happen?
It's kind of like this. If you are a reformed alcoholic, when you were fettered by alcohol a long time, and now you decide to take ONE DRINK you are SUNK. No sooner does that one drink enter your blood, all bets are off. Or a friend drinks and invites you to a bar. You tell him you can't drink. He says, just come in with me and sit and talk. You go in. As soon as you go in, in a sense, every demon in town knows you're there. One demon reminds you of the pain you were in that made you drink. The rejection, the loneliness, maybe; the failure, the self hate. You can smell the liquor. You remember how it relieved your pain. Another demon lies to you and tells you you can control it. You are now clean and can have two or three and be done with it. Your "friend" confirms this also. He has no idea how deep your unconscious pain is. MEMORIES are stimulated; memories of PAIN AND RELIEF. You cannot withstand the pressure all around you and finally give in and have that one fatal drink.
A man was addicted to gambling. His family and friends are going to a big bash at a resort that sports it. He says he won't go because he can't gamble. They laugh and tell him that there's much more there than gambling. Theres great food, entertainment and fellowship. He's cured of gambling, don't be a party pooper. He goes. He brings no cash with him just in case. He hangs around and has fun. After a while, thoughts and feelings come back that he hasn't had in a long time. Feelings of desperation and insecurity and desire. He has a few drinks and gets loose. Some of that reserve melts away. He then takes his credit card for cash, gets the cash and starts gambling. When the others are ready to leave, they can't even find him. He has holed himself up in some casino, gambling his life away. He is back in the mire. Demons took part in this. They wait for you to stand at the doorway of disaster, ready to push you in. They know all the tricks. They've been around since the beginning of time. It's that same ole, same ole scenario being played over and over again in trillions of people of every race, culture, religion and status. We fall again and again.
In the spiritual life, we deal with subtleties, not crimes that are gross. We deal with thoughts and feelings. In the real world, these thoughts that are offences against God are committed every second, trillions times trillions of times. People are in darkness. But when you leave the darkness and enter the Light, you are in a world where the least offense is noticed. It takes some of the Light away. Nirvana (Buddhist), Nirvikalpa Samadhi (Yoga), Perfection (Christian), are states with NO ROOM FOR ERROR.
For a few weeks. I was in that state and believe I still am, but my boat has been rocked. My house has to be cleaned. For the first time in years, I was reunited with my God-Self (September 23,2004) which I decided to call MomGod. It was a joyful occurence, and this on the heels of being reunited to Jesus in marriage a month ago (August 26,2004). I have reached the heights. No demons could enter - until yesterday. What was my transgression?
As I began to write this autobiographical article, memories came back. For the first time my mind was clear about the issue and I made good statements. I got into it more and more and more thoughts, surrounding not only that issue but others came back. I was not in a state of perfection always, so I was going back to the scene of the slime. I was going back to the HURT and the subsequent reaction to hurt: pain, anger, bitterness. And then there's ego,
"I'll tell the story. I'll make things right. I'll get the recognition I deserve. They done me wrong but I'll put it straight. Recognition and applause will follow....."
What happened to the renunciation of ego? Here, by an action, ego came back. I must go through the renouncing again, and mean it. I must stop what I'm doing. No more article, no more thoughts and feelings about the subject, and no more demons.
Exorcism is only one of the ways to banish demons. The other way is holiness, which comes from renouncement. Renouncement is another form of exorcism. Get rid of the desire of world and flesh, and you get rid of Satan. He has no handles, no loopholes to hang you on. He can only enter when you are OF THIS WORLD. Pass that threshhold from world to Heaven and HE CAN'T TOUCH YOU. Step back and he's right there, ready to do you in.
Let us make a quick review of the prayers that lead to Perfection:
1 FORGIVE EVERYONE WHO HAS EVER HURT YOU, INCLUDING THOSE WHO GAVE YOU THE VERY WORST PAIN.
2 PRAY FOR EVERYONE AND MAKE SURE YOU INCLUDE THOSE WHO HAVE HURT YOU THE WORST. PRAY FOR EVERYONE TO COME CLOSER TO GOD.
3 FOR CHRISTIANS: GIVE JESUS YOUR MIND, HEART, SOUL, BODY, STRENGTH,TIME AND RESOURCES - ALL THAT YOU HAVE IS GOD'S THROUGH HIM AND HIS CROSS. I DO THIS DAILY. FOR YOGIS: BECAUSE I AM ALSO A YOGI, I GIVE GOD, THROUGH MUKTANANDA, THE SAME DAILY. I DO NOT GIVE A PART OF MYSELF THROUGH JESUS AND A PART THROUGH MUKTANANDA. I GIVE ALL OF MYSELF THROUGH ONE, THEN THE OTHER. (You can make a separate offering to Mary by Herself, or you can know that Jesus and Mary are totally united and what you give Him, you also give Her.)...about offering...God showed me that just as one links all of their site to one place, and then to another, we link all of ourselves to one Icon-Window-Guru, and then to another. It is not in any way disloyal to link to JesusGod, then to MaryGod, then to MuktanandaGod, etc., and to link all of oneself to each. It is assumed that each linking goes to the one Eternal, Infinite, Incomprehensible God. There are many faces of God, including our own face, when we are united. In all humility, I know God is within me as Self or Highest, and I worship Her also, as "MomGod." You can give God any name you wish! FOR THOSE OF OTHER RELIGIONS: MAKE YOUR OFFERING TO GOD THROUGH THE ICON, GURU, WINDOW, SAINT, AVATAR, THAT YOU HAVE CHOSEN.
4 IN RETURN FOR YOUR GIVING OF YOURSELF TO GOD, ASK FOR ALL THE TOOLS AND MARKS OF RENUNCIATION. IT MEANS DYING TO SELF ON THE CROSS. IT MEANS PASSION AND STRIPES AND NAILS, AND SPEAR, AND SECRET PAIN. FOR THE EAST, IT IS TOTAL RENUNCIATION OF ALL KINDS, BOTH PHYSICAL AND PSYCHOLOGICAL. FOR US WHO PRACTICE EAST AND WEST, WE SPEAK OF BOTH TO GOD....BEHIND THAT CROSS AND DEATH, IS OUR REWARD. ASK FOR THAT REWARD. IT IS THE PRESENCE OF GOD AND THE LOVE AND FELLOWSHIP AND THE GIFTS OF GOD. THAT'S ALL WE WANT.
5 MAKE SURE YOU RENOUNCE ALL YOUR EGO AND AMBITIONS. THE FOUR BIG F'S OF RENUNCIATION, DONE QUICKLY, ARE:
FAME, FORTUNE, FAMILY AND FRIENDS.
I DO NOT SAY I GO AGAINST SAME, BUT I NO LONGER HUNGER AND THIRST AND YEARN FOR THESE REWARDS.
WHATEVER GOD GIVES ME IN THAT REGARD, I WILL BE GRATEFUL FOR. IF NOTHING IS FORTHCOMING, I WILL ALSO BE GRATEFUL.
6 DAILY THANK GOD FOR ALL CREATION IN GENERAL, FROM THE UNIVERSE, TO THE PLANET AND ALL ON IT, TO THE PEOPLE ON IT. THANK GOD FOR CREATING RELIGION AND THOSE WHO SHARED IT WITH THE DON'T KNOWS. THANK GOD FOR THE SPIRITUAL GIFTS OF ALL THE HOLY SOULS OF ALL RELIGIONS. THANK GOD FOR THE EVIL GOD PREVENTED AND FOR THE EVIL GOD ALLOWED IN ORDER TO BRING US CLOSER TO GOD. THANK GOD FOR YOUR PERSONAL CREATION AND GIFTS OF ALL TYPES, PHYSICAL AND SPIRITUAL, INCLUDING ALL THE EVIL GOD PREVENTED IN YOUR LIFE AND ALL THE EVIL GOD ALLOWED WHICH BROUGHT YOU CLOSER TO HIM-HER. MENTION BOTH PHYSICAL AND SPIRITUAL GIFTS. GO INTO AS MANY DETAILS WITHIN ALL THESE PRAYERS AS TIME ALLOWS.
NEVER NEGLECT OR SKIP YOUR PRAYERS. SKIP ANYTHING, BUT NOT PRAYERS. SKIP TV, SKIP RECREATION, SKIP CHIT CHAT, BUT NEVER PRAYERS.
IT'S EXTREMELY IMPORTANT TO NOTE: YOU CAN BE THE GREATEST DO-GOODER AND PRAYER WARRIOR, BUT WITHOUT SPIRITUAL POVERTY, YOU ARE NOT IN A PLACE OF PERFECTION. I say, right now, ten Masses a day for Souls in Purgatory, and two rosaries a day for souls that might go to Hell, as well as about an hour of regular prayer and meditation. But if I am not in a place of poverty, I am off the mark. When I'm on the mark, all that I do in the other areas bears much greater fruit.
Rasa Von Werder, September 25, 2004
---
---