TOWARD A THEOLOGY OF MATRIARCHY
CORE BELIEFS OF MATRIARCHY - FROM MOTHERGOD CHURCH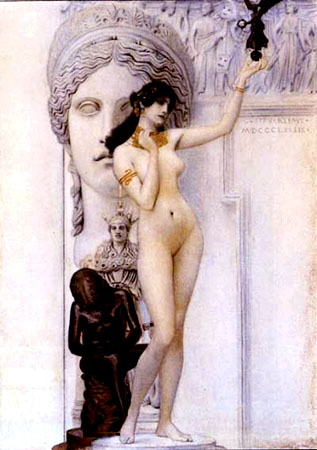 Allegory of Sculpture
Gustave Klimt
LETTER FROM BEATA ON THE TENETS OF OUR CHURCH
Greetings Dear Rasa and everyone, I was reading some of your material on the Doctrine and Theology of Matriarchy. Central to these tenets is an emphasis on the exaltation and manifestation of the Feminine Divine in the form of the Shakti, Holy Spirit, Shekinah ect. What would be the core guiding principles of a spiritual Matriarchy which would build up the church? How would the church direct its members to apply these principles in their everyday lives?
Blessings,
Beata
February 22, 2006

KNOW THAT YOU HAVE A MOTHER IN HEAVEN, IN THE INFINITE WORLD, WHO SHE IS AND WHAT SHE IS CANNOT BE COMPLETELY KNOWN TO MORTALS. BUT WHAT WE HAVE HERE ON EARTH CAN BE KNOWN; WE HAVE HER REPRESENTATION IN THE FORM OF THE FEMALE, WHO CONTAINS WITHIN HERSELF THE ABILITY TO REPRODUCE LIFE. AND IN THE MALE, WE HAVE A SECONDARY REPRESENTATION, WHO CANNOT REPRODUCE LIFE, BUT WHO CAN SERVE AND SUPPORT THE FEMALE. THERE IS THE ENTIRE UNIVERSE THAT IS ALSO MOTHERGOD, EQUAL TO HER IN QUALITY, AND THIS MUST BE REVERENCED AND WORSHIPPED AS THE BODY OF THE INFINITE GOD. ALL CREATION IS MOTHERGOD, THE SECOND PERSON OF THE HOLY TRINITY.
TO WORSHIP MOTHERGOD MEANS MANY THINGS. IT WOULD NATURALLY INCLUDE WORSHIP OF OUR UNIVERSE, OUR PLANET, ALL LIFE, ALL ANIMALS AND HUMANS. THEY ARE ALL SACRED.
WE BELIEVE FEMALE IS THE NATURAL AUTHORITY ON EARTH AND THE STEWARD OR CARETAKER OF ALL THAT IS UNDER HER INTELLIGENCE TO MANAGE. WE FEEL IT IMPERATIVE THAT WOMEN BEGIN TO TAKE ROLES OF LEADERSHIP AND RESPONSIBILITY IN THE FASTEST TIME POSSIBLE, TO FACILITATE SALVATION OF THE PLANET AND ALL THAT LIVES ON IT.
THIS IS WHAT WE NEED HERE. I CAN SEE THAT BEATA WILL BE A ROLE MODEL FOR OTHERS IN DEVELOPING THE WORK THAT HAS TO BE DONE HERE, IN ASSISTING THE LEADER AND BEING A LEADER HERSELF. MEN AND WOMEN, PLEASE TAKE NOTE OF WHAT SHE DOES AND TRY TO FOLLOW IN HER FOOTSTEPS. SHE UNDERSTANDS. SHE SEES THE PICTURE. SOME OF THE REST OF YOU ARE SEEING WITH LOVE, BUT ONLY IN PART. YOUR OWN MORTAL NEEDS ARE MIXED UP TOO MUCH INTO THE VISION, SO YOU HAVE A KIND OF SOUP OF SPIRITUALITY AND LOWER NATURE. WHEN YOU SURRENDER OR RISE UP ABOVE SOME OF THESE LOWER NEEDS YOUR VISION AND UNDERSTANDING WILL BE MORE PERFECT.
INFINITE LOVE,
RASA
FEBRUARY 22, 2006
---
---