WHAT IS THE MIND?
RASA VON WERDER INTERVIEWS HER 'ATMAN'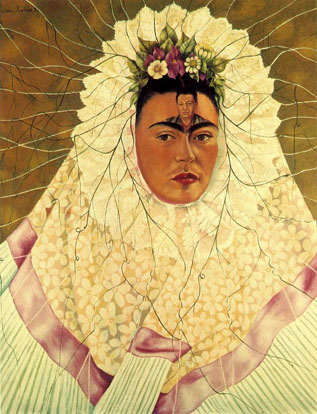 Thinking Of Diego
Frieda Kahlo
RASA: MotherGod, what is the mind?
MOTHERGOD: THE MIND IS A NEBULOUS PLACE BECAUSE IT DOES NOT EXIST AS A SEPARATE ENTITY. THAT IS TO SAY, THERE ARE NO MINDS FLYING AROUND BY THEMSELVES, THE WAY THAT BODIES OR SPIRITS EXIST.
RASA: What is it then?
MOTHERGOD: The mind is the place where you are at. While in the body, it is where your brain is at, where it is working. When you die, this 'mind', which is a metaphor for 'place you are at' becomes consciousness. Mind is a word you can use interchangeably, but let us say mind is what you have when you are in body, and it changes to consciousness when you die.
RASA: I have heard so much about the mind from yogis, and it is more confusing than helpful. So the mind is a metaphor, it does not exist of itself. Give me more explanations of what it is. Where is this thing called mind when I am asleep, when I am awake, working like now, and where is it when I am meditating in a trance?
MOTHERGOD: When you are asleep the brain can be active or fairly inactive, similar to meditating. If you are 'thinking' then your brain is producing or reacting to something. Where your 'mind' is, is where your brain is. Whatever your brain is working on, that is where your so-called mind is. In the conscious state, your brain is mostly on ordinary things. Here, as you channel me, you work by a gift of the Holy Spirit, and you hear the unconscious. But ordinary things, you just process in the ordinary way, and that is where your mind is. In a deep trance, once again, you let go of the conscious mind and your brain records a deeper reality, whatever that may be.
RASA: What happens after we are dead?
MOTHERGOD: You created a certain 'mansion' while living, and that mansion consists of consciousness, as well as inner senses. Whatever you created, that is where you will live. You will live in this consciousness, good or bad.
RASA: And so, of course, we create our own Heaven and Hell, that which we produced while living, and we receive what we deserve. And Purgatory, the cleansing of our house, is also exactly what we deserve. Is there anything else you could tell me about the mind?
MOTHERGOD: Just remember mind is where your attention is. That is all it is. You can train your attention, and should train your attention, to dwell on positive things. People don't talk enough about the will. The will is very important and the will takes you to where you want to go. Go to good places, never evil. Really, almost everything that has to do with the spiritual life and this life, has to do with the will. Make fruitful decisions.

---
---